AHL
Around the AHL: Breaking Down the Beasts of the East
The American Hockey League plays Friday and Saturday this weekend before the schedule halts for the annual AHL All-Star Classic.
When the league's 31 teams resume play next week, they face a challenging to-do list: an intensifying second-half schedule, the NHL Trade Deadline that can shift power balances, and the March-April stretch drive to the Calder Cup Playoffs.
Up this week is a breakdown of the AHL's Eastern Conference run to the postseason, starting with the eight clubs that hold playoff spots. The Western Conference analysis will follow next week.
BELLEVILLE SENATORS (OTTAWA)
Despite an ever-changing roster, Belleville is in contention for first place in the Eastern Conference.
B-Sens head coach Troy Mann has had to use 15 defencemen this season, but he has his club challenging for the Eastern Conference lead. Belleville has also had more than 100 player transactions as Ottawa continues to roster-juggle regularly.
Rookie goaltending prospect Joey Daccord has excelled with Marcus Högberg on recall to Ottawa. The 23-year-old spent time with Ottawa's ECHL affiliate, the Brampton Beast, at the start of the season. But he has made a strong push for Belleville's number-one job, going 8-3-2 | 2.54 | .915 in 14 games. Ottawa drafted him in the seventh round of the 2015 NHL Draft.
Belleville owns one of the most dangerous offences in the league as top forward prospects Drake Batherson, Alex Formenton, and Josh Norris have more than met expectations; F Vitaly Abramov and F Rudolfs Balcers also have supplied steady offensive contributions.
The B-Sens wrap up their eight-game, 16-day road trip on Friday. So far they are 5-1-1-0, their only loss a 2-1 decision at the AHL-leading Milwaukee Admirals this past Tuesday.
CHARLOTTE CHECKERS (CAROLINA)
Here comes the defending Calder Cup champion.
For much of the season's first two months, Charlotte battled to stay out of last place in the Atlantic Division and had an 8-10-3-0 record at the start of December. That has changed — and dramatically. Charlotte has won 15 of the last 18 games, including 11 of the last 12 games. The Checkers also swept a pair of two-game home sets last week and will finish their homestand this weekend with back-to-back games against the Wilkes-Barre/Scranton Penguins.
At 32 years old, Ryan Warsofsky is the AHL's youngest head coach and is quickly building a strong reputation for himself. Charlotte has excelled in special-teams play; the team is first in the AHL on the penalty kill at 88.6 percent and has a third-ranked power play (23.1 percent). They are also stingy, their 27.9 shots-against per game the third-best total in the AHL.
Leading scorer Janne Kuokkanen, who missed the championship run after season-ending surgery in March 2019, has returned full-steam. He put up nine points (one goal, eight assists) in those four games last week. The 21-year-old (6-1, 193) went in the second round of the 2016 NHL Draft to Carolina and has 34 points (nine goals, 25 assists) in 40 games.
HARTFORD WOLF PACK (NY RANGERS)
How will the Wolf Pack, first in the Eastern Conference, weather the loss of standout goaltending prospect Igor Shestyorkin on recall to the Rangers?
The early returns are mixed with Hartford at 2-2-2-0 since Shesterkin's recall January 6th. Hartford has allowed 24 goals in those six games. With the NHL All-Star break's arrival, Rangers management returned the star netminder to Hartford this week for home games against the Bridgeport Sound Tigers and Lehigh Valley Phantoms this weekend. Hartford had gone with a tandem of rookie Adam Huska and experienced back-up Tom McCollum in Shestyorkin's absence.
However, there is reason for optimism in Connecticut's capital city even when Shesterkin eventually does go back to Manhattan. Wolf Pack head coach Kris Knoblauch has built a solid defensive team. Shestyorkin excelled, but Hartford is also 13th in the AHL at 29.0 shots-against per game.
The team has also shown impressive resilience. After trailing 5-0 in the first period in a road game on January 15th, the Wolf Pack battled back with five unanswered goals to force overtime and at least earn a point.
HERSHEY BEARS (WASHINGTON)
Last season Hershey staged a furious second-half finish that erased a poor first half and put the team into the Calder Cup Playoffs. Sitting last in the Atlantic Division in mid-January, Hershey forged a .789 second-half point percentage and ended up going to the second round of the postseason.
Hershey has a much better positioning this season thanks to an excellent December. The team had an 8-9-2-3 record on November 30th. The following evening Hershey started a nine-game winning streak and won 10 of 11 games in December. Add 7-4-0-0 start in January, and the team's 55 points are tied with Hartford atop the Atlantic Division standings. Hershey's 25 wins also are tied for the Eastern Conference lead and third-most in the AHL.
Second-year head coach Spencer Carbery has the Bears playing committed two-way hockey that does not rely too heavily on one line. Hershey is second in the AHL in shots-against 26.5, and their penalty kill ranks third. What the Bears may lack in breakout offensive firepower, they more than compensate for that with a well-balanced offence. Hershey has outshot opponents 18 times this season, second-most in the AHL.
The Washington-Hershey affiliation agreement expires this season. It has been wildly successful for both parties, and there is every indication that it will continue. A 12th Calder Cup banner in Hershey would be the fourth since the two sides teamed up in 2005.
LAVAL ROCKET (MONTREAL)
Rocket head coach Joel Bouchard is loud, intense, and always on.
Even amid a pile of injuries and recalls to the flailing parent club a short Montreal Metro ride away, Bouchard has managed to keep his club in the playoff hunt.
The second-year head coach stresses — loudly, if necessary — playing a tenacious defensive game. Laval is first in the league at 26.4 shots-against per game.  Now they need goaltending to match that team play. Charlie Lindgren is with the Canadiens, and Keith Kinkaid has struggled since his demotion to the AHL. It has been rookie Cayden Primeau who has been Laval's best goaltender.
Michael McCarron finally moved on to the Nashville Predators organization in a trade earlier this month after a frustrating tenure — both for him and the Habs. He yielded F Laurent Dauphin, another project, in return. Forward Jake Evans continues to look like a future NHL forward and leads Laval in scoring at 9-20-29 in 43 games. Defensively, Otto Leskinen has adapted well to the AHL while Josh Brook is an encouraging prospect on the Laval blue line. Charles Hudon can score in bunches, and former AHL MVP Phil Varone has returned from a long-term injury.
Problems have beset the Canadiens at the AHL level for years, and a lack of consistent development has hampered the NHL club. A trip to the Calder Cup Playoffs would only be the Montreal organization's second in nine seasons and give prospects like Brook, Evans, Leskinen, and Primeau much-needed high-pressure hockey this spring.
PROVIDENCE BRUINS (BOSTON)
One possible storyline to watch is the possible addition of Boston forward David Backes to the Providence lineup.
The 35-year-old has 1-2-3 in 16 games for Boston; he cleared NHL waivers last weekend and is a possibility to join Providence later this month. While his NHL production has fallen dramatically in recent seasons, there is every reason to think that he can still be a positive addition to the P-Bruins on and off the ice. This is a long-time NHL captain who played deep into the Stanley Cup Playoffs as recently as last season for one of the NHL's top outfits.
Boston prospects are doing much of the work Providence. Along with a deep set of young defensive prospects (Jérémy Lauzon, Urho Vaakanainen, and Cooper Zech) who have experienced blueliners to lean on, rookie forward Jack Studnicka is 14-15-29 in 42 AHL games, with a league-leading five shorthanded strikes. Boston snagged Studnicka in the second round of the 2017 NHL Draft. Captain Paul Carey can always be counted on for ample offence, and Boston first-rounder Trent Frederic has added an intriguing feisty element to his repertoire this season.
With Tuukka Rask out with a concussion for Boston, Providence has had to deal with alternating recalls for Max Lagacé and Dan Vladar recently. That situation prompted the organization to sign goaltending depth via Martin Ouellette on an AHL contract. The 28-year-old spent 2018-19 at the AHL and ECHL levels in the Tampa Bay Lightning organization before a gruesome leg injury ended his season. He had a slow start in the ECHL season before going to the Utah Grizzlies, the ECHL affiliate of the Colorado Avalanche. There he posted an 11-1-2 | 2.11 | .924 in 14 games before Providence came calling.
Each season Providence may not necessarily have the shiniest set of prospects, but they always manage to develop talent quietly that can slot into roles with Boston. The P-Bruins fastidious attention to defensive detail makes them a tough second-half out.
ROCHESTER AMERICANS (BUFFALO)
A 0-5-0-2 slide had slowed some of Rochester's progress before a 3-2 overtime win at the Cleveland Monsters this past Wednesday.
But this is a club that held the Eastern Conference lead earlier in the season. So which team are the Amerks? That group that ripped off a 12-game point streak earlier in the season? This current bunch? Or something in-between?
Rochester allowed 31 goals in those seven losses. Andrew Hammond has struggled in-net lately. After posting 28 goals in 62 games last season, F C.J. Smith has been limited to seven tallies in 29 games. Another forward, Tage Thompson, is officially out for the season after shoulder surgery for an injury sustained while with Buffalo on a November recall. Taylor Leier is still another injured forward.
Top goaltending prospect Ukko-Pekka Luukkonen sampled his first taste of the AHL this past weekend after offseason hip surgery. Plenty of optimism accompanies Luukkonen after a phenomenal 2018-19 run for the OHL's Sudbury Wolves. He assembled a 38-11-2-2 | 2.50 | .920 line in 53 regular-season games winning himself OHL top goaltender honours as well as the Red Tilson Trophy as the league's most outstanding player. Buffalo selected Luukkonen as a 2017 second-rounder.
But the AHL is a different beast altogether from the junior game. Hershey tagged him for three third-period goals in a 5:28 span this past Sunday, his second AHL start. He went 0-1-1 | 3.38 | .887 in his two games this past weekend. Buffalo returned him to the Cincinnati Cyclones, their ECHL affiliate, for more playing time.
UTICA COMETS (VANCOUVER)
More than anything else, the Comets are simply a fun team, especially after a rather dour 2018-19 performance.
Utica ranks fourth in scoring at 3.59 goals per game. Elite AHL-level sniper Reid Boucher continues to pick apart opponents and holds the AHL scoring lead at 24-26-50 in 39 games. Justin Bailey's move to the Vancouver organization has revived his once-sagging career. Kole Lind has blossomed after a trying rookie season and looks every bit the player that made him the 33rd overall pick in the 2017 NHL Draft. Defenceman Brogan Rafferty, an undrafted NCAA free-agent signed late last season by the Canucks, appears to be a steal; he tops all AHL blueliners with 6-31-37 in 40 appearances. Fellow D Olli Juolevi has returned well after knee surgery ended his 2018-19 season. Sven Baertschi and Nikolay Goldobin have excelled.
Certainly, there is a lot to like with the Comets.
But two questions persist.
How much, if at all, will potential second-half organizational roster moves impact the Comets? Vancouver has surprised many critics this season and went into the NHL All-Star break first in the Pacific Division. But the safest bet for Vancouver if depth moves are needed might be to look to the Comets rather than sacrificing assets this season. Such a situation could strip the Comets of considerable talent quickly.
Second, will goaltending hold up for the Comets? Rookie Michael DiPietro has had a fine start at 13-6-1 | 2.76 | .905, but veteran Zane McIntyre has run hot and cold. The Comets blew a 3-0 home lead to the Binghamton Devils this past Wednesday and lost. That followed having to scramble for an overtime victory after they surrendered a 5-0 advantage a week earlier. But do not pin this issue on goaltending alone. The Comets are 20th in the AHL at 30.3 shots-against per game and 26th in shots-for (27.8).
In short, the Comets have been able to score their way out of difficult situations. But play tightens in the AHL as the season progresses and opponents build more defensive cohesion. Can the Comets do that?
IN CONTENTION
The Toronto Marlies lost star head coach Sheldon Keefe on promotion to the parent Toronto Maple Leafs on Nov. 20. Keefe's replacement, Greg Moore, took over full-time December 16th, but it has been a difficult ride. Recalls, injuries, and roster losses have added to the challenges for Moore that come with an in-season takeover. Toronto is 4-12-0-1 since December 11th. However, Leafs management has a well-honed tradition of working to build a winning culture with their AHL affiliate. After winning a Calder Cup in 2018, Toronto went to the Eastern Conference final last season. This is a team capable of a strong second-half run.
Goaltending issues have plagued the Syracuse Crunch, whose struggle to generate a sustained run has held them back. Already one veteran, Chris Mueller, was shipped out for defensive help (Pat Sieloff). This can be an exasperating team, because the talent is there, so one can only imagine how head coach Ben Groulx feels on many nights.
Injuries and recalls have hurt Wilkes-Barre/Scranton. So has puck luck, with an 8.8 shooting percentage. But the talent on hand can help the Pens to avoid a second consecutive postseason miss.
It is goaltending, goaltending, and more goaltending for the Springfield Thunderbirds. But now Chris Driedger is injured with the Florida Panthers, which will cost the Thunderbirds the use of Sam Montembeault after the All-Star break. Can the Thunderbirds avoid the second-half fade that shut down last season's playoff hopes? Springfield absolutely must clamp down defensively. Their 36.1 shots-against per-game, worst in the AHL, is no way to succeed long-term.
A six-game point streak (5-0-0-1) has pushed the Lehigh Valley Phantoms back into the fringe of the Atlantic Division race. Goaltenders Alex Lyon and J.F. Berube's stout play has held the Phantoms in games. Long-time star AHL defenceman T.J. Brennan fell out of favour with the Phantoms, but will any other team take him after a poor first half? Philadelphia Flyers management aggressively retooled the Phantoms this past summer, but the new mix struggled in the first half. That, plus injuries and recalls of key top prospects hampered Lehigh Valley. If this ongoing run is a sign that the Phantoms have finally figured out their issues, look out.
The Bridgeport Sound Tigers have already faded from contention. An eight-game winning streak has kept Binghamton's season alive, and the Cleveland Monsters are hanging in there even without top offensive talents Nathan Gerbe and Zac Dalpe.
BUILDING IN SAN JOSE
Soon the San Jose Barracuda might have a new place to swim, according to the San Jose Mercury News.
The newspaper outlined a plan that would expand the Solar4America Ice at San Jose, the practice facility for the Barracuda and parent San Jose Sharks, from four to six rinks; that plan would also feature a 4,200-seat arena for Barracuda home games.
Playing in the Sharks' home arena, SAP Center, the Barracuda has struggled to fill the building's 17,000-plus seats in the crowded Bay Area sports market. The Barracuda are averaging 3,495 fans per game, 27th in the AHL.
San Jose City Council will hold a vote on the plan next week, the newspaper added.
Before the 2015-16 season, the Barracuda formed part of the AHL's five-team contingent that set up on the West Coast. Since then the AHL has set up the Colorado Eagles and Tucson Roadrunners as Western Conference locations. In 2021-22, the NHL expansion club in Seattle will bring another AHL entry to Southern California, where a $250 million arena and practice facility will house their new Palm Springs affiliate.
WESTWARD BOUND
TSN and NHL Network will have coverage of the AHL All-Star Classic starting this weekend.
TSN has the Canadian rights to the event, NHL Network will cover US-based viewers, and AHLTV will stream the two-day event worldwide. Hosted by the Ontario Reign, the event is going to the West Coast for the first time in AHL history. The AHL All-Star Skills Competition will air Sunday, January 26th at 8 p.m. Eastern (5 p.m. Pacific). A night later, the AHL All-Star Challenge will be broadcast at 10 p.m. Eastern (7 p.m. Pacific).
Eleven roster changes — and counting — have been announced for the event because of injury or NHL recalls.
In are goaltenders Alex Nedeljkovic (Charlotte) and Vitek Vanecek (Hershey) along with defencemen Evan Bouchard (Bakersfield Condors), Adam Clendening (Cleveland), and Cameron Gaunce (Syracuse). Norris is a replacement forward from Belleville, joining Joey Anderson (Binghamton), Tyler Benson (Bakersfield), Brayden Burke (Tucson), Vinni Lettieri (Hartford), and Sam Miletic (Wilkes-Barre/Scranton)
Missing the event will be Driedger and Shestyorkin in net, plus blueliners Laurence Pilut (Rochester) and Rasmus Sandin (Toronto). Gerbe, Andrew Agozzino (Wilkes-Barre/Scranton), Lane Pederson (Tucson), Matthew Phillips (Stockton Heat), Mike Sgarbossa (Hershey), Ben Street (Binghamton), and Kailer Yamamoto (Bakersfield) are all out.
TAKE A SEAT
Bakersfield defenceman Brandon Manning is serving a five-game suspension for use of a racial slur in a game in Ontario this past Monday. Manning and Ontario forward Boko Imama engaged in a routine post-whistle scrum that ended with Manning being given a game misconduct.
Edmonton Oilers assistant general manager Keith Gretzky, who also serves as Bakersfield's general manager, said in a statement released by the organization: "This is a very serious matter, we are disappointed by Brandon's comment, and we fully support the American Hockey League's decision."
Gretzky also said that the organization "will work to better educate our players on appropriate conduct on and off the ice."
Manning also released a statement via the organization: "[Monday] I made comments to an opposing player that were stupid and offensive. After the game I spoke with the opposing player in person, which I'm very grateful for. He allowed me to apologize, and I took full responsibility for what I said. To say I've learned from this situation is an understatement and I promise to be better."
After being put through this situation, Imama had the last word in his own statement sent by the Los Angeles Kings:
"I have taken some time to reflect on what transpired on the ice against Bakersfield Monday night. What happened is unfortunate for everyone. No matter how intense or heated a game gets, there is no room for this in our game and no excuse. I am very proud to be an African Canadian hockey player and to stand for all other players that are in the same situation as me."
"I would like to thank the Los Angeles Kings and Ontario Reign, Edmonton Oilers and Bakersfield Condors, for their professionalism in helping me handle this situation. Last but not least, I cannot thank my family and friends for their continued love and support."
"At this time, I will not make any further statements or comments and I would very much appreciate if those wishes were respected."
WITH HONOURS
Back-to-back hat tricks last week earned Utica forward Justin Bailey the CCM/AHL Player of the Week award.
Bailey is up to 22-15-37 through 43 games. The 24-year-old, a second-round pick by Buffalo in the 2013 NHL Draft, signed with Vancouver in the offseason as a free agent.
ON THE MOVE
The NHL All-Star break means that AHL rosters this weekend will probably be the deepest they have been all season.
Leading the way is Shestyorkin, who will be accompanied by F Phil DiGiuseppe on a trip to Hartford. Providence picked up Vladar, Lauzon, and F Karson Kuhlman from Boston, plus D Steven Kampfer. Lehigh Valley will have Lyon plus forwards German Rubtsov and Connor Bunnaman in from the Flyers. Montembeault is back from Florida with the T-Birds, at least temporarily, along with D Riley Stillman. Wilkes-Barre/Scranton received a hefty cross-state haul from Pittsburgh with D Kevin Czuczman along with forwards Joseph Blandisi, Sam Lafferty, and Agozzino. Holding a seven-game point streak, the Grand Rapids Griffins are adding G Calvin Pickard, D Dennis Cholowski, plus forwards Givani Smith and Filip Zadina from the Detroit Red Wings.
Elsewhere, the Chicago Wolves have D Nicolas Hague and F Nicolas Roy back from the Vegas Golden Knights. Going from the Chicago Blackhawks to the struggling Rockford IceHogs are D Dennis Gilbert and impressive young F Brandon Hagel.
Two other NHLers are on rehab assignments. Milwaukee added Nashville F Colton Sissons. Jake Muzzin will be much-need defensive help for the Marlies.
AROUND THE AHL
Wilkes-Barre/Scranton head coach Mike Vellucci will make his return to Charlotte, where he led the Checkers to last season's Calder Cup championship and won the Louis A.R. Pieri Memorial Award as the AHL's coach of the year. He spent two seasons behind the Charlotte bench; the Checkers had 51 regular-season wins and 110 points last season. The weekend trip to Charlotte will conclude a six-game trip for Vellucci's team.
Forward Kevin Roy has heated up for the AHL Penguins, with 3-3-6 in his past four games. Pittsburgh acquired him from the Florida organization in a trade for Ryan Haggerty earlier in the season.
Syracuse goaltender Scott Wedgewood exited Wednesday's loss at Laval after a net-front collision. It was Wedgewood's second game since he returned this past Monday from a six-week injury absence. Syracuse trails Laval by three points for a playoff spot, with Toronto in between the two teams.
The Grand Rapids streak is at 5-0-0-2, including a 4-0-0-2 mark on their eight-game homestand. They welcome the San Diego Gulls to Van Andel Arena on Friday night.
The San Antonio Rampage go back on the road after a 2-4-1-1 eight-game homestand. They visit Colorado for a pair of games. After a home visit from the Texas Stars next week, the Rampage face a 10-game road trip in February. Last in the Central Division, they are still only five points out of a playoff spot. Six points separate the third- and eighth-place clubs in the division.
San Diego trails Ontario in points, 41-37, for fourth place in the Pacific Division. However, the Gulls have four games on Ontario. Bakersfield is between the teams in fifth place at 39 points. The Condors have to visit division leader Tucson for two weekend games while the Reign go to Stockton on Friday with a tilt at San Jose set for Saturday.
You may also be interested in: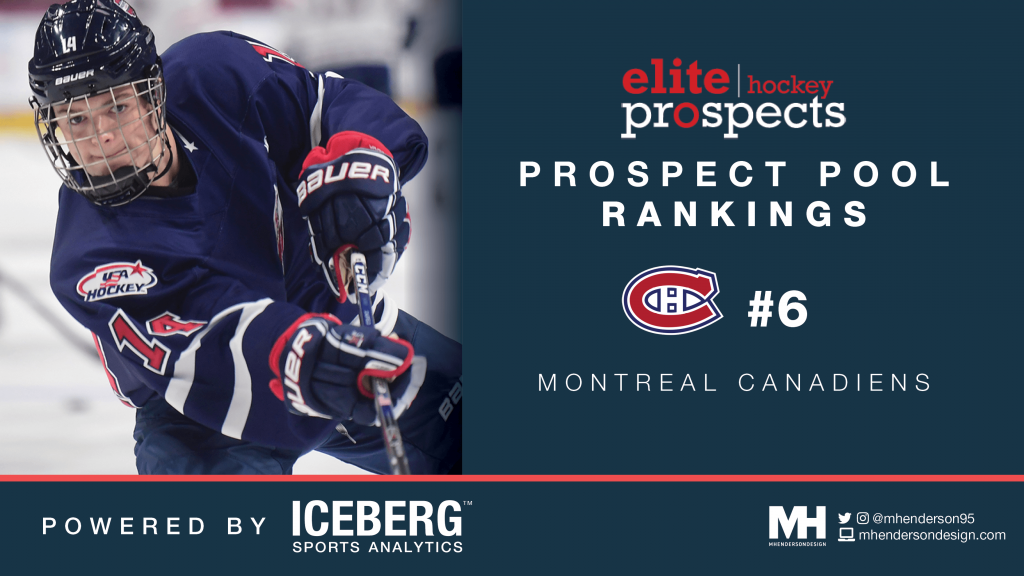 EP Rinkside Prospect Pool Rankings: No. 6 Ranked Montréal Canadiens
This article is about: