The Pipeline Show
THE PIPELINE SHOW: Alex Cotton, Guy Gadowsky, Pierre-Paul Lamoureux, & Youngblood
This week on The Pipeline Show we speak with a canadian coaching in the NCAA and get to know the draft eligible blueliner that's currently leading the WHL in scoring by a d-man. Plus, the very unique path taken by a current USHL coach that played in the WHL before taking advantage of his CHL scholarship while a student coach at a top NCAA program. Also, it's the 34th anniversary of the hockey movie so bad, it's become a cult classic.
NCAA Campus Report: Guy Gadowsky
In less than a decade, Guy Gadowsky created a hockey program at Penn State from scratch and has elevated it to the point where it is currently ranked inside the top 10 in the nation. Not bad for a guy from Edmonton, AB Canada.
Gadowsky has been on The Pipeline Show several times over the years, dating back to his tenure at Princeton with the Tigers. He is always one of the most well-spoken guests and it's easy to understand how he has been successful in recruiting top-calibre players to his program. After 20 minutes, I want to play for him too.
We spoke about this season for Penn State who, loaded with veteran players, appear to have a legitimate shot at taking a run at a national championship. Gadowsky spoke about a few individual players but only because I prompted him to. More often, the coach talked about the team and the help he has received from outside the dressing room.
2020 Draft Spotlight: Alex Cotton
After an 11-point rookie season, I don't know what most people expected from Lethbridge Hurricanes defenceman Alex Cotton but if anyone says "lead the WHL in scoring by a defenceman" then I will call you a bold face liar.
But that is exactly what Cotton is doing. The 2001-born blueliner turned 18 a month before the 2019 NHL Draft where he wasn't selected, nor did he expect to be. However, with a season under his belt and more responsibility and opportunity coming to him this year, Cotton is making the most of it and the points are piling up.
I spoke with Cotton to get his sense of how he has evolved as a player over the last two seasons and how the success he and the team are having this year has also put him front and centre for scouts. NHL Central Scouting has listed him as a middle-round prospect but at 6-foot-2 and 180 pounds, if the production keeps coming, it's reasonable to think his stock will keep rising too.
USHL: Coach Pierre-Paul Lamoureux
From the NAHL, WHL, USHL and U Sports as a player to a decade of coaching split between North Dakota, Red Deer and Fargo — you can say that Pierre-Paul Lamoureux has taken a very unique career path.
I spoke with coach Lamoureux about the various stops along the way but began the Fargo Force of the USHL, his club that is contending near the top of the western conference once again. He talked about a few of the individual players that he relies on to lead the way and how the team has played for him this season.
Then we got into his career as a player in the Western Hockey League, three seasons spent with the Red Deer Rebels, before a single season in the USHL and one more at Manitoba before a shoulder injury. From there, he made use of his WHL scholarship while at the University of North Dakota where he was a student coach and that propelled him on to the next stage of his hockey life.
Lamoureux comes from an outstanding hockey family and we touch on some of his siblings and what they are doing now as well.
Youngblood Turns 34
You may vaguely remember the 1986 blockbuster hockey movie called Youngblood. Well, blockbuster would be hyperbole, to say the least. The flick starred Patrick Swayze and Rob Lowe but also included a very young Keanu Reeves as well as former NHLer Eric Nesterenko.
A number of years ago, my then co-host Dean Millard and I had the opportunity to interview a couple of people who worked on the movie. One was longtime NHL forward Steve "Stumpy" Thomas who appeared on the show way back in season six. Another was Don Biggs, a former junior player who had to job of being Rob Lowe's stand-in during the on-ice scenes.
Both were entertaining interviews so I thought, in honour of this momentous occasion, I would open the vault and blow off the dust from those two conversations.
You may also be interested in: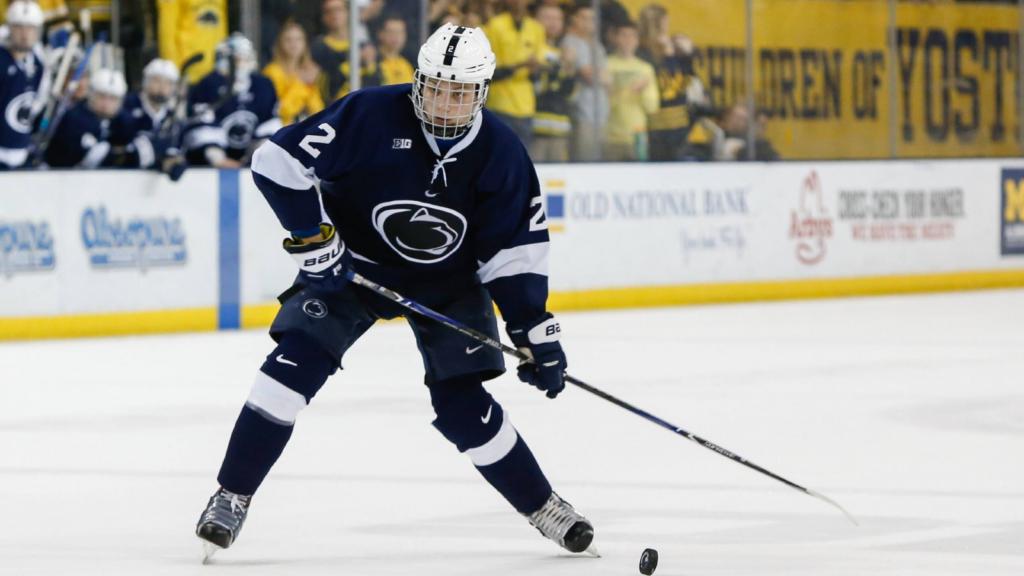 Bright future for Hults after standout year at Penn State
This article is about: