NHL Entry Draft 2019
MCMAHON: Boston College's Freshman Line is Delivering but Their Mentality is Most Impressive
BOSTON, Mass — The Eagles boast one of the most impressive freshman classes in college hockey this season, led by first-round picks Alex Newhook, Spencer Knight and Matthew Boldy.
Knight, the team's starting goaltender, is ranked in the top-10 nationally in goals-against average and save percentage. Boldy's scoring touch has come around in recent weeks and Newhook has been on fire since he was cut from Team Canada's World Junior roster in December.
The freshmen class has provided the secondary scoring that the Eagles lacked the last few seasons, and it's made a huge difference.
In recent weeks, Newhook and Boldy have been playing with fellow freshman Mike Hardman, and the line has been one of BC's best.
"Our freshman line is really starting to come together," Boston College head coach Jerry York said. "I didn't want to put them together too early in the year, but now they're on fire. They'll be a big plus as we go down the stretch drive."
Boldy's 18 points (5 goals, 13 assists) in 28 games don't jump off the page as one of the top seasons among rookies in college hockey. However, 14 of his 18 points have come in the last 12 games, since the second half of the season really began on Jan. 10 against UMass (following the World Juniors).
In those same 12 games, Newhook has 19 points, including a whopping 10 goals (with nine assists). Hardman, who is undrafted, has eight points in those games and 20 points overall this season.
"They're all playing the right way," said senior forward David Cotton. "They're not cheating the game. College hockey is a different animal. It's a huge jump from juniors, prep or even the NTDP. Until you get to college, you've never really played against guys who are four or five years older than you are, and I don't mean just in games, I mean in practice. They've all done a really good job of listening to the coaching staff and taking advice from the upperclassmen, and allowing that advice to their game."
[Read more: Hurricanes Prospect David Cotton Will Put on a Show at Beanpot Consolation Game]
Even highly-drafted freshmen aren't guaranteed immediate success. Just last season, Oliver Wahlstrom — the No. 11 overall pick — struggled to get his offence going with the Eagles and finished with just eight goals and 11 assists in 36 games.
Last season at Providence, Jay O'Brien — who the Philadelphia Flyers drafted No. 19 overall in the NHL Draft — finished with just two goals and three assists in 24 games. After last season, O'Brien went to the BCHL and not long ago committed to Boston University where he will return to college hockey next season.
"Everyone wants to get better all the time," Cotton said. "A lot goes into it. Sometimes, when a player comes into college hockey and has some struggles, it can be tough because they aren't used to not producing. But this year, with our freshmen, even if they aren't producing for a game or two, we're still getting wins and they're finding ways to help us, which is the most impressive."
Last season the Eagles lost in the Beanpot championship game and the Hockey East championship game. Two years ago the Eagles lost both Beanpot games and fell to BU in the Hockey East semifinal — that game was in overtime. In 2017 the Eagles lost in the Hockey East final to Mass.-Lowell and fell twice in the Beanpot and this season BC fell to BU in the opening game of the Beanpot (even if that game was technically recorded as a tie).
BC's last trophy was four years ago when the Eagles beat BU in the Beanpot championship.
That's something that itches at the upperclassmen on the roster, but Cotton said BC's younger players have embraced their roles and embraced that hunt for a trophy.
"We understand the feeling of coming up short," Cotton said. "We also have had that feeling of getting a big win. But as freshmen and sophomores, we know what it felt like to lose in those big games — Beanpot championships, Hockey East finals — those game stick with you. The games you remember are the ones that held you back the most. Those devastating losses that kept us out of the (NCAA) tournament. You see the reactions of the seniors on those teams after those losses, they're in tears, and you understand what this all means. It's more than just hockey. You have those experiences embedded in the back of your mind. It lights an extra spark."
That extra gear, that blue-collar mentality, is what Cotton said has impressed him about this freshman group. They understand it. They embrace it. And it's a big reason BC has been able to find the win column this season.
"A program like BC, we naturally attract the high-end talent," Cotton said. "But it takes a blue-collar mentality to build on winning. You look at guys like Johnny Gaudreau and Kevin Hayes, there have been so many guys who have come through here and carried the torch."
You may also be interested in: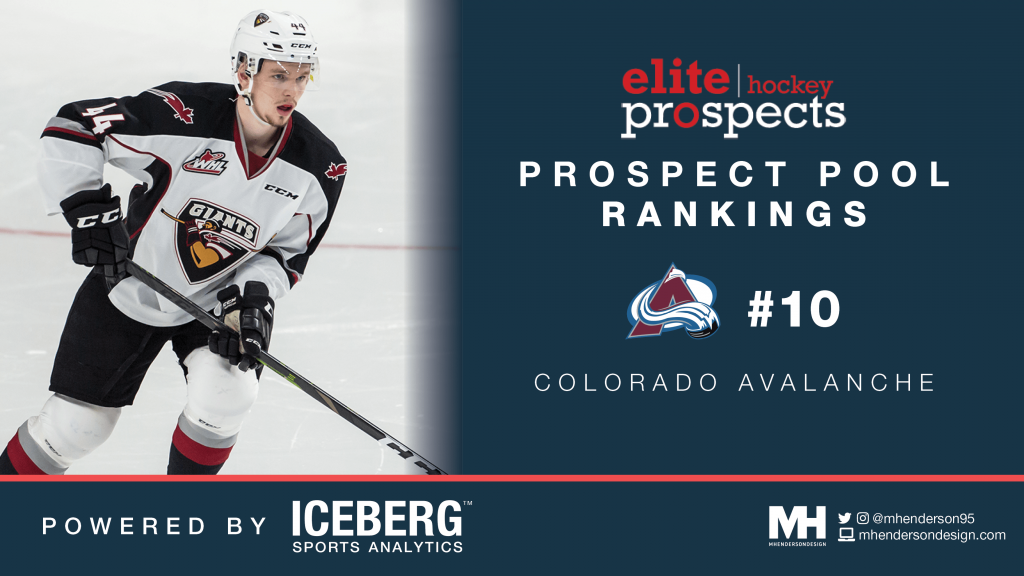 EP Rinkside Prospect Pool Rankings: No. 10 Ranked Colorado Avalanche
This article is about: