NCAA
BOULAY: Bemidji's Driscoll Takes Long Road to College Hockey Main Stage
Not every road to Division I hockey is a smooth one. There are limited opportunities for success, and some players find themselves in the wrong fit early on, even if it seemed like a match at the outset.
Bemidji State goaltender Zach Driscoll worked his way to the top of the heap of the Beavers' depth chart. The now junior is in his second season with the team and is showing what he's capable of producing. If it keeps up, it will only create more opportunities.
Driscoll is proving to be one of the most talented goaltenders at the NCAA level this season. So far, he has a .936 save percentage through 26 games, good for fourth nationally. The junior made a big leap from last season's performance when he posted a .909 in 27 games. The stark increases in ability over the past three seasons can't be ignored.
The Apple Valley, Minn., native started in Minnesota high school hockey before jumping to juniors. After splitting a year between the Austin Bruins of the NAHL and Omaha Lancers of the USHL, Driscoll joined the BCHL's Penticton Vees for the 2015-16 season. His next stop would be his first in college hockey, fighting for playing time with St. Cloud State.
Mike Gibbons, an assistant at St. Cloud, was a coach of Driscoll's high school team when he was younger. The connection helped get him an opportunity with the Huskies, but the jump was earlier than he planned. St. Cloud lost goaltender Charlie Lindgren due to his signing with the Montreal Canadiens, opening up a spot on the Huskies roster a year early.
"At the time, I thought it was a good fit," Driscoll said. "I wanted to be committed, like all my buddies. … I was supposed to play another year of juniors before I went in. I didn't really have that full time to develop like I needed to. I didn't have that year of juniors where I was 'the guy.' Going to St. Cloud, I was 19 years old, turning 20. I didn't have the chance to really mature as a goalie."
Playing for the Huskies produced mixed results. In 14 games played, Driscoll posted an .888 save percentage. He struggled and realized he wasn't ready to play at the collegiate level.
"He was a young kid when he was playing at St. Cloud State," Bemidji State coach Tom Serratore said. "He obviously went in there too young. Goaltenders need to get old. It's one position where you need experience, you need games played. … Looking back at things, he probably should have played an extra year of junior hockey at that particular time, been a starter, gained that confidence, go in a year older, a year wiser and a year more experienced."
A trip back to Omaha would prove a great destination for a reset. A .934 save percentage in 38 games got him back on track, helped him gain confidence and take another shot at college hockey.
"One of the hardest choices I ever made was going back to juniors, leaving the college I thought I'd be at for the next four years," Driscoll said. "But I think in the long-run it was a good decision because I ended up at Bemidji, finding success. Going back, maturing a bit for another year, being the older guy on the team, learning more about the work ethic that is required to succeed, the day-in-day-out taking care of your body and just being a leader, that last year in Omaha really helped me out."
While there were multiple landing spots, the best spot proved to be four hours north from his hometown of Apple Valley. Bemidji goaltender Michael Bitzer left the program, opening up the opportunity for Driscoll to make a name in his home state.
"Zach, he's not a young goaltender any more," Serratore said. "He's 23 years old, he's experienced and he's confident. We're very fortunate the second time around. We know we have a good goalie. He's put in situations right now where he can have success and he knows he's our number one guy. He's not looking over his shoulder."
As an undrafted goaltender, Driscoll will garner plenty of interest down the line, whether he decides to make the jump this year or next. In a year where there are a number of impressive performances between the pipes, the junior certainly stands out. However, due to his UFA status, he hasn't had any contact with NHL teams or attended any pro camps.
"It's just something to use as motivation," Driscoll said. "That's the level everyone wants to play at. You just let your play speak for itself. It's not expected (to get contact from pro teams) and it hasn't happened. It's obviously the end goal. (…) Time will tell. You can only keep playing good hockey, right?"
It should change soon.
Driscoll's phenomenal season is a testament to his growth as a player. He posted a .909 save percentage in part-time work last season, which just further notes the strides taken in the past year. There's still work to be done, as Driscoll is happy with his development, but his recent adjustments are why he's doing so well.
"The biggest thing that has helped me is playing at a level; it gets easier," Driscoll said. "What I mean by that is reading plays, knowing what is going to happen before it happens. You get up to college for the first time, everybody is so fast, they shoot so hard and are able to make plays so quick. It's really eye-opening as a goalie. It's my third year of college hockey. It's easier to slow the game down and see what's going to happen and reading plays. I worked a lot with my goalie coach this year on when to be aggressive and when to sit back. I adjusted my style of play to what the game is throwing at you is something I didn't pay as much attention to last year and I think that has led to success."
With the Beavers still within striking distance of the regular-season title and in the at-large mix for the NCAA Tournament, Serratore and the team will lean on Driscoll to continue his stellar play and possibly help Bemidji get to regionals weekend for the first time since the 2009-10 season.
Being a major reason the Beavers get talked about on a national stage should force people to take notice if they aren't already.
You may also be interested in: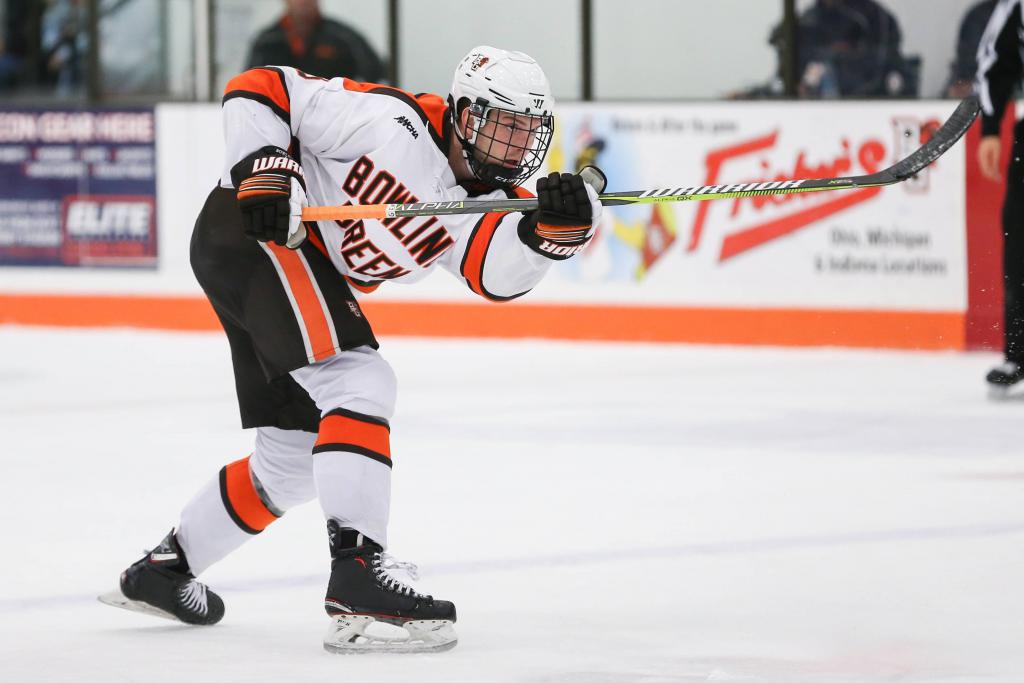 The EliteProspects Rinkside NCAA Free Agent Watch List for the 2019-20 Season
This article is about: