The Pipeline Show
THE PIPELINE SHOW: March 8th
This week on The Pipeline Show we get prepared for the playoffs in both Hockey East and the Alberta Junior Hockey League, plus the final few games in the QMJHL regular season will produce some interesting stories. There are also two 2020 Draft Spotlight segments this week featuring a top 10 ranked sniper and a defenceman looking to crack the first round.
2020 Draft Spotlight: Cole Perfetti
He's one of the top goal scorers in the draft class, but this year, Cole Perfetti is proving that he's a lot more than just a sniper. The highly touted forward of the OHL's Saginaw Spirit is about to surpass his 37 goal total from his rookie season but he's already nearly doubled his assist output. At the time of our recording, Perfetti had racked up 103 points, second in the OHL, including 67 helpers.
[Read more: Cole Perfetti is Reinventing Himself Ahead of the 2020 NHL Draft]
I spoke with Perfetti before practice on Tuesday ahead of games this week against Mississauga, Hamilton and Erie. The playoff stretch drive is getting down to the nitty-gritty and the Spirit have their sights set on tops in the Western Conference, trailing London and Kitchener by just two wins.
[Read more: The EliteProspects Rinkside 2020 NHL Entry Draft OHL Watch List]
Perfetti reflected on his season thus far, his decision to go to Saginaw rather than Michigan where he was previously committed, his development and he gave listeners a scouting report on himself as well.
NCAA Campus Report: Jimmy Connelly
With one weekend of regular season games to go, the playoff picture in Hockey East is still muddy with very few exceptions. Boston College is atop the standings followed by UMass and UMass-Lowell with a couple of upstarts programs in Connecticut and Maine locking down playoff spots too. Then things get a bit murky.
[Read more: Boston College's Freshman Line is Delivering but Their Mentality is Most Impressive]
I spoke with USCHO scribe and longtime guest on The Pipeline Show, Jimmy Connelly, to try and get a sense of what is still at stake this weekend. Northeastern won the Beanpot but has really fallen off since then including getting swept by previously winless Vermont and that was on the heels of a 10-1 spanking from rival Boston College.
Boston University and Providence are still in the mix and New Hampshire is needing a big weekend but can still earn a spot in the postseason as well.
QMJHL Insider: Mike Sanderson
As the playoffs draw closer and closer, the contenders are really starting to become clear in the QMJHL. I spoke to Saint John broadcaster Mike Sanderson, who also writes for McKeens Hockey, about some of the current stories from the league.
[Read more: The High Risk, High Reward Details in Jérémie Poirier's Transitional Play]
The Moncton Wildcats are ridiculously hot having not lost since the CHL trade deadline but the Sherbrooke Phoenix are still the top-ranked team in the entire country. Are we destined for a meeting of these two juggernauts in the league championship or are there a few clubs who could legitimately spoil the party?
We also talked about the league's debate on fighting at the junior level and if it's time to ban it altogether, leave it as is or if there is an option or two that would fall in between.
2020 Draft Spotlight: Kaiden Guhle
The defending WHL champion Prince Albert Raiders are trying to be the first repeat winners since Kamloops did it in the mid-1990s. If they can pull it off, one of the key players that will lead the charge is defenceman Kaiden Guhle.
[Read more: The EliteProspects Rinkside 2020 NHL Entry Draft WHL Watch List]
Guhle is ranked No. 7 overall in North America by NHL Central Scouting in their mid-season listing, tops of all WHL'ers, and No. 13 by EliteProspects Rinkside. Many independent scouting rankings have him pegged somewhere in the first round, as high as the teens, while others leave him into the second-round which is where his older brother Brendan Guhle was taken by Buffalo in 2015.
I spoke with the Raiders rearguard about his season, the Raiders drive to the playoffs, his background and everything a casual NHL fan would want to know about a key junior prospect ahead of the NHL draft in June.
AJHL Playoffs: Tyler Yaremchuk
On the surface, the first couple of rounds of the playoffs in the Alberta Junior Hockey League might look like a formality. The heavy hitters all got a bi into round two and even then, most people expect the same four teams to eventually reach the two division finals. However, after talking with Inside the AJHL host Tyler Yaremchuk, maybe we shouldn't just gloss over some pretty darn good hockey happening right now.
In a league where you can have one team with only nine wins all year while another only lost nine times, parity doesn't really seem to come into play. It's fair to suggest that the Sherwood Park Crusaders, Spruce Grove Saints, Okotoks Oilers and Brooks Bandits are the hierarchy of the AJHL. But everyone is beatable and even if the odds are stacked high against clubs like Drumheller or Whitecourt, a stellar goalie can steal a series.
I spoke with Yaremchuk about the playoffs, about a few key prospects in the league including a trio of notables for the 2020 NHL Draft and also got the details on his Saturday morning TSN 1260 program.
You may also be interested in: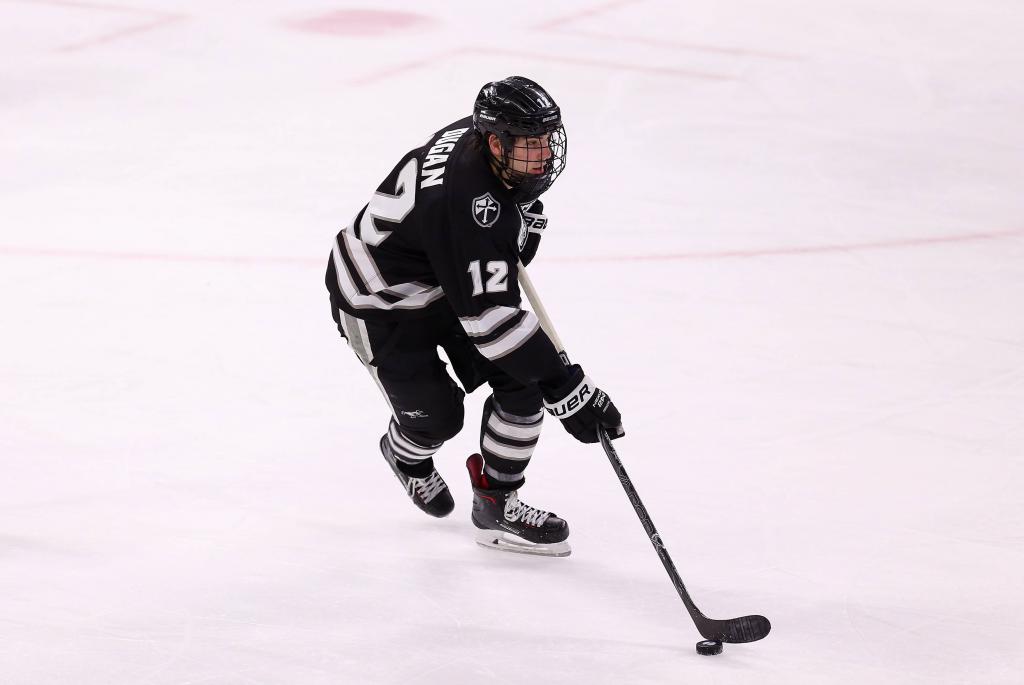 The EliteProspects Rinkside NCAA Entry-Level Contract Watch List for the 2019-20 Season
This article is about: