Scouting Reports
ALANEN: Examining Kasper Simontaival's Boom-or-Bust Game and Where That Might Take Him
Kasper Simontaival was a household name in scouting circles long before his draft year. With a track record like his, it's easy to understand why.
He annihilated the Finnish U16 circuit as a 14-year-old, scoring 42 goals in 22 games during the qualification stage — a record that will prove hard to top. At 16, he made his debut with Tappara's men's team and became the first 2002-born player to play in Liiga. He also put up 14 points in 21 games in Mestis, the Finnish second-tier men's league — a top mark among draft-minus-one players in the league's history. Simontaival was also one of four underaged players who played for Finland in last year's U18 World Championships.
Many expected Simontaival would start this season with Tappara's men's team. Instead, he spent the vast majority of the year wreaking havoc in the U20 league, only seeing spot duty in Liiga and Mestis.
One shouldn't blame Simontaival for the delayed graduation though. Tappara had one of the best winger groups in Liiga and they've been notoriously conservative with their usage of young players. Just ask Patrik Puistola or Kristian Tanus.
Simontaival finished the season with 25 goals and 57 points in 48 games in the U20 league, earning a spot on the first all-star team. Looking even more dominant during the later stages of the season, Simontaival posted five assists in two wild-card round games and two points in the first quarterfinal match before the season got cancelled.
No doubt about it — Simontaival is a high-octane offensive driver. Whether it's his strength on the puck in the corners and along boards or his off the puck positioning — there's a lot to like about Simontaival's game in the offensive zone.
Ranked 40th on our most recent draft board, Simontaival is a finisher. Though he's far from a one-dimensional sniper, the 5-foot-9 winger has a lethal release that can beat goalies from tough angles and long distances. He wields the best shot out of Finland in this year's draft.
Simontaival's wrist shot captivates with countless standout traits. He generates the sort of power one might expect from a one-time slap shot with seemingly little effort. He's devious, masking his intentions to the goaltender right up to the release, often changing the angle with pullbacks and other adjustment techniques.
The clip below shines a spotlight on Simontaival's adaptability, as he bends the defender to his will until he's operating as a screen between himself and the goaltender. He corrals the puck at the offensive blue line, and his linemate drives the net, clearing crucial space for Simontaival. He steps in, utilizes the opposing defender as a slight screen and unleashes a wicked shot, beating the goalie far-side.
There are other arrows in Simontaival's quiver though. He also boasts a powerful, accurate one-timer that makes him a power play threat today and should translate as he climbs the rungs tomorrow.
As is the case with almost every right-handed sniper on the power play, Simontaival makes his money from the left half wall. There's a lot of power behind his one-time, due to Simontaival's clean shooting mechanics (weight transfer, controlled wind-up and swing, etc.). It's self-evident that he's drilled it thousands and thousands of times.
His well-established reputation as a shooter forces Simontaival to constantly adjust his position to make himself a cross-ice option — keeping the defence on their toes. And if defences overcommit, Simontaival will make them suffer that decision. This will become increasingly important once he carves out a regular role on a Liiga power play.
This doesn't mean that Simontaival is only willing to challenge from low-danger areas in the offensive zone though. Instead, he attacks the net consistently, always looking for redirection or rebound opportunities.
In the 11-game sample of Simontaival's games that I've tracked against high-end teams in the U20 league, he averaged 2.1 shot attempts from the high-danger area. This is easily the highest number among draft-eligible skaters in the U20 league based on the games I've tracked. For comparison, Veeti Miettinen — ranked No. 62 on our most recent board — only averaged 0.9 high-danger shot attempts per game at even strength.
Though there's a lot of factors in play here, it's clear that Simontaival gets a significant amount of looks from in front of the net and slot area. Despite his 5-foot-9 frame, Simontaival isn't a perimeter player.
In fact, the opposite is true. He regularly challenges bigger defenders in corners and comes out with the puck. Simontaival might not be the most intimidating physical presence, but he's got a very strong lower-body combined with a good compete level and winning mentality.
Watch how Simontaival does a great job of protecting the puck against a bigger defenceman in the clip below. He retains possession even when getting knocked down by scooping the puck with one hand on his stick before finding his teammate in the slot.
Here's another one. In the opening shift of the game, Simontaival gets in deep on the forecheck and engages the body, separating the defender from the puck. After his linemate gets the loose puck and passes it to the point, Simontaival moves to the net front, screening the goalie and keeping his stick ready to redirect the puck. He's the first one to spot the rebound and is able to reach the puck and send it home.
Here are a few other clips showcasing Simontaival's aggressive off-puck play.
Simontaival's a dual-threat winger who draws attention and creates space for his linemates. He averaged 2.2 shot assists at even-strength in the games I tracked — another category where he's near the top in my data set. Defensive schemes must respect his shooting threat and he has the vision to take advantage of this.
He also creates by being effective on the forecheck, stealing pucks and feeding them to open linemates. Watch him make a couple of very nice passes from below the goal line, from where he has a lot of success regularly as a playmaker.
Simontaival has plenty of skill. I wouldn't call him a high-end handler, but he can flat out embarrass defenders in 1-on-1 situations from time to time. Let's have a look.
It's Simontaival's skating that raises red flags for some, as he's not a burner for his size. Mechanically, his stride is clean. The 90-degree knee bend and the proper extension are easy to spot. It's hard to stop him once he gets going. The problem is, well, getting going; his first few steps need work.
Don't get me wrong, he's still an above-average skater, and he has enough strength in other areas to strive despite not being the quickest player on the ice.
Look at the clip below. He does a good job at generating speed through cross-overs – something I'd like to see more from him — and bursts through two players in the neutral zone before challenging the defender, using nice edgework and protecting the puck for a sneaky attempt from a dangerous area.
Simontaival's consistency has been good on a game-to-game basis, which is demonstrated by my tracking data. In the 11-game sample, there was only a single match where he failed to generate a high-danger shot attempt at even-strength. There can be times where he disappears for long periods of time, though, and this was especially true in the first half of the season.
Another area for improvement is Simontaival's tendency to throw Hail Mary passes too often. There are times when going for a low-percentage pass is justifiable, but doing it too often is not an ideal way to play. Instead, it ends up dragging his overall pass completion percentage down and often results in puck possession being lost.
Like with many other gifted offensive players, Simontaival's defensive game can be a bit hit-and-miss. Sometimes he gets a bit too excited and sacrifices defence for offence. There are also positional mistakes from time to time but then again, nothing that I would be that worried about, since it's also an area where Simontaival has improved this season, even earning himself minutes on the penalty kill.
To sum it up, Simontaival's offensive skill set and raw talent are worthy of a first-round pick. Especially before this season, I would have named him as one of the biggest boom-or-bust players in this draft class and to some extent that still holds true, though his two-way play has improved.
Given his skill set, you want to have him in an offensive role. If he's not going to be good enough to play in an offensive role in the NHL, he's probably going to just become a very productive player in Europe. If he can add a bit more speed, improve his acceleration and continue to hone his strengths, there's a chance he could end up becoming a player who regularly puts up 60-70 points in the NHL.
With Simontaival, the ceiling is high but the floor is pretty damn low, too. There's no doubt he's a polarizing player among scouts. One could justify ranking him in the latter half of the first round based on his potential, but there are going to be teams who'll have him as a no-draft and to be honest, I see the arguments for both sides. Based on this, he's someone who's very likely to be available in the second round, maybe even later than that.
Ultimately, I'm someone who is willing to bet on the upside, and Simontaival certainly has tons of it.
You may also be interested in: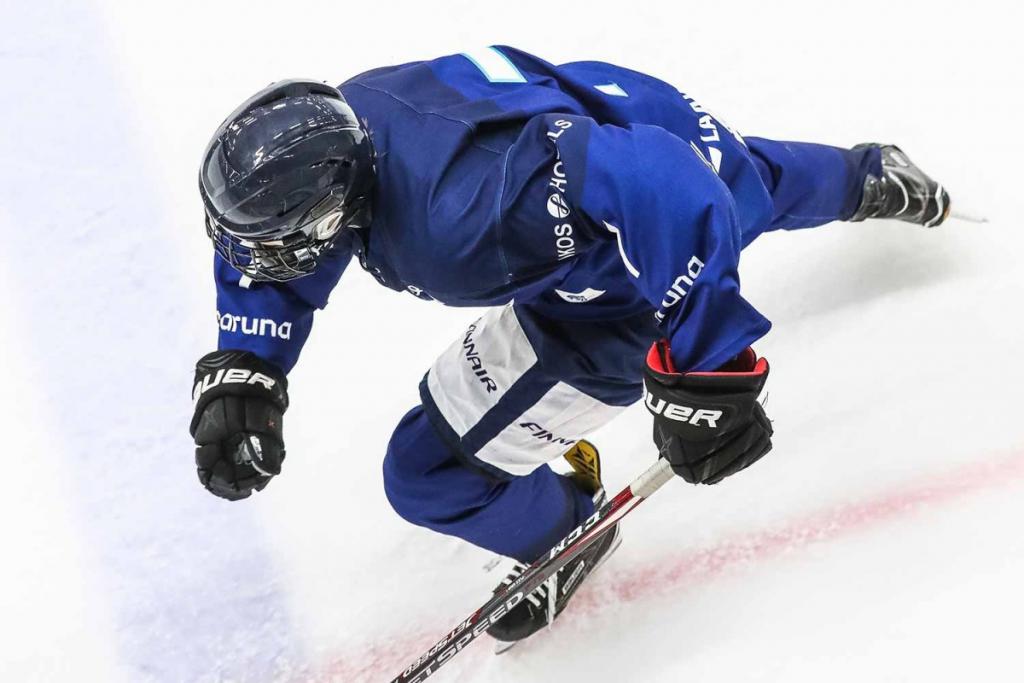 ALANEN: Joni Jurmo's Physical Toolkit Makes him one of the Draft's Most Intriguing Defenders
This article is about: