UDFA
Undrafted Free Agent Profile: Florida Panthers Sink Their Claws in Alec Rauhauser
The Florida Panthers took one of the bigger bites out of the NCAA in this year's free agent period when they signed 6-foot-3 defender Alec Rauhauser out of Bowling Green University with a one-year entry-level contract.
It's a move that fits with the mandate on South Beach (ish) to bring new blood to the blue line, one which has spurred Panthers general manager Dale Tallon to add Chase Priskie via trade and Max Gildon with an entry-level contract all his own. My sources tell me that the Panthers were in on Arizona State Sun Devils rearguard Brinson Pasichnuk right to the bitter end too, before he signed due north with the San Jose Sharks.
The commonalities among this group don't end where the coach jots them down on the lineup sheet. Each of them brings a robust offensive profile to the table, perhaps none more so, at first glance, than Rauhauser. The list of NCAA defenders that amassed more points than Rauhauser over the last decade is two players long.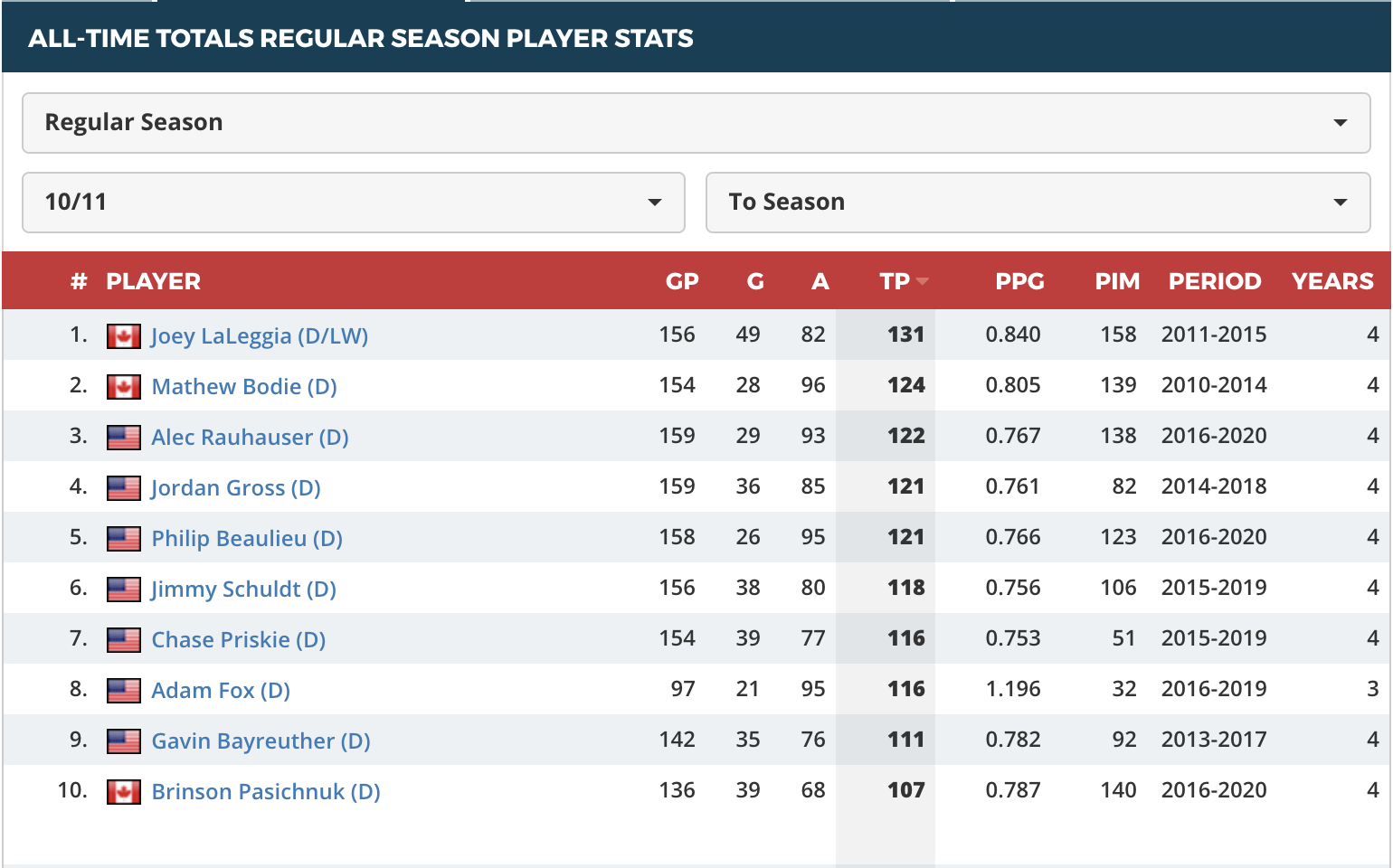 Even if his point per game adjustments don't quite stack up, that's an impressive feat all its own. Besides, I'm not especially keen on holding Rauhauser's durability against him.
The Los Angeles Kings invited Rauhauser to their development camp last summer, and my understanding is that there was fierce competition for his services this spring. What follows is an investigation into his game using film and proprietary analytics exclusive to EliteProspects Rinkside to determine what made Rauhauser such a hot commodity.
Scouting Report
The list of NCAA accolades next to Rauhauser's name would account for more paper than the crates of Charmin stashed away in the average doomsday prepper's bunker of late.
He's a WCHA Rookie of Year and WCHA All-Rookie Team member for the 2016-17 season, a two-time WHCA First-Team All-Star, a two-time WHCA Defensive Player of the Year, a two-time NCAA (West) Second-Team All-American, a WHCA Second-Team All-Star, and an NCAA (All-USCHO) Second-Team All-Star. You still with me? It's a lot to reckon with.
The tool that built Rauhauser's trophy shelf is his booming shot from the point. One doesn't score nearly 30 times in 159 games playing from the point without one of those.
As the video illustrates, it's not so simple as Rauhauser setting up shop high in the offensive zone, screaming at his teammates for the puck, and letting 'er rip. He's a deceptively strong puckhandler, with patience and calm that offers him shooting opportunities that wouldn't be available to more panicky puck-handlers.
If anything, my one critique would be that Rauhauser could stand to be less judicious in the use of his shot.
That sense of calm seems to serve Rauhauser well in the defensive zone, too. He's not one to force the puck off the boards and out, only to see the opposition regain possession and return to its sender. He'll steel himself under pressure, outwait the opposition, and make a controlled play to push the puck in the right direction.
Of course, that's one of the advantages of being a 6-foot-3 defenceman. One can mete out and absorb punishment to a greater degree than most.
Granted, a beastly defender with a thunderous slap shot doesn't pass through the draft on multiple occasions and go untouched by the NHL without their fair share of warts, and Rauhauser is no exception.
As is often the case with players of his size, the foremost issue in Rauhauser's game is his skating. He's heavy-footed, struggles with mitigating risk at the defensive blue line, and his first two steps take about as much time as the average NHL'ers first 20. It's a problem.
The Falcons played Rauhauser on seemingly every other shift, so one might allow for the possibility that he's conserving energy or taking his foot off the gas so that he might last longer. But if that means taking penalties or conceding lanes to the net as frequently as a flat-footed Rauhauser did in his collegiate career, I'm not sure it's a worthwhile trade-off.
There are occasions where Rauhauser ably compensates for these shortcomings with his immense wingspan and an active stick. It's a good sign for his long-term prospects at the next level. If the Panthers' development staff can harness that, perhaps work with his footwork defending the blue line, and play with a mobile partner — it just might work.
The odds look a lot better for Rauhauser and the Panthers than they do with most NCAA free agents. The pGPS (prospect Graduation Probabilities System), developed by Jeremy Davis, grants Rauhauser about a 1-in-4 chance of making the NHL, most likely as a depth piece. His closest successful comparable player is Matt Gilroy, another NCAA free agent.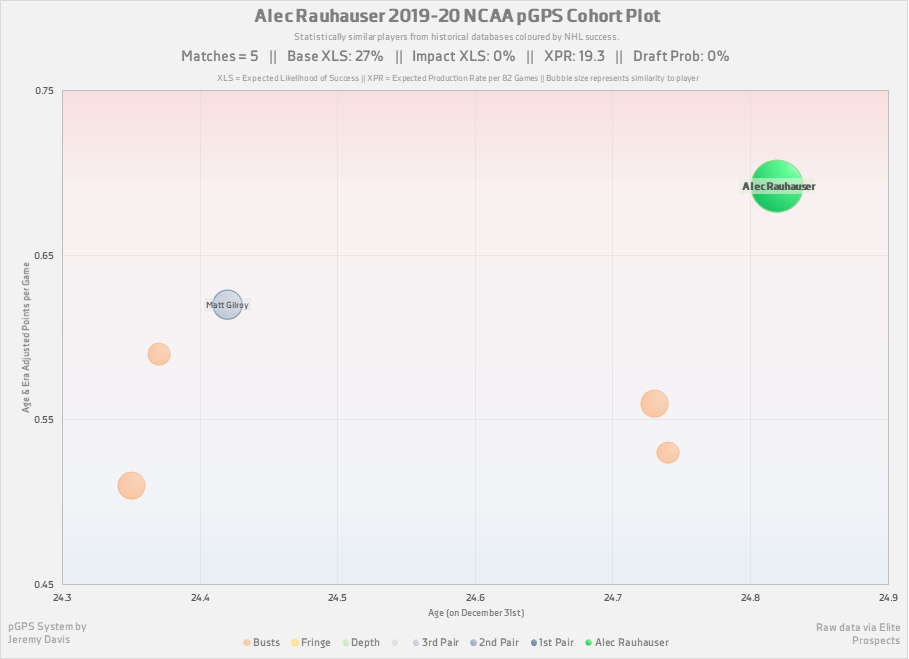 It's the continuation of a relatively positive trend in Rauhauser's pGPS profile, which has long pegged him as an interesting NCAA free agent when viewed through the quantitative lens.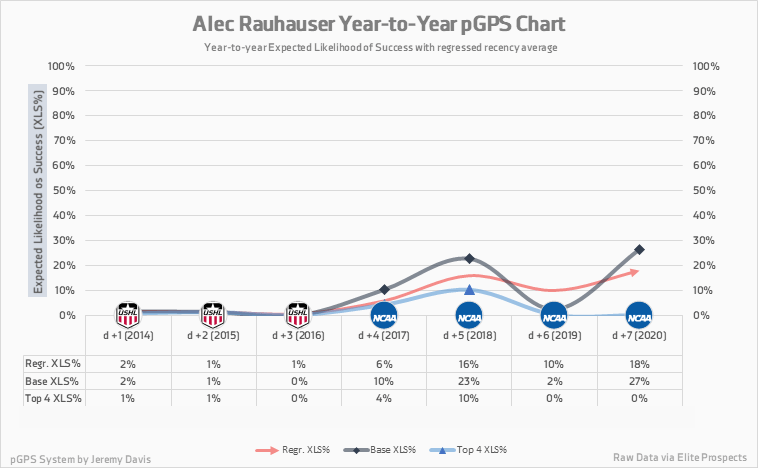 When CollegeHockeyNews' Adam Wodon profiled the most likely candidates for an entry-level contract at the end of this season, Rauhauser was near the top of the list. Wodon suggested that he could've signed in his Junior year if not even his Sophomore season. Well, now we get to see if his patience pays off. The Panthers have a sizeable stake in it.
You may also be interested in: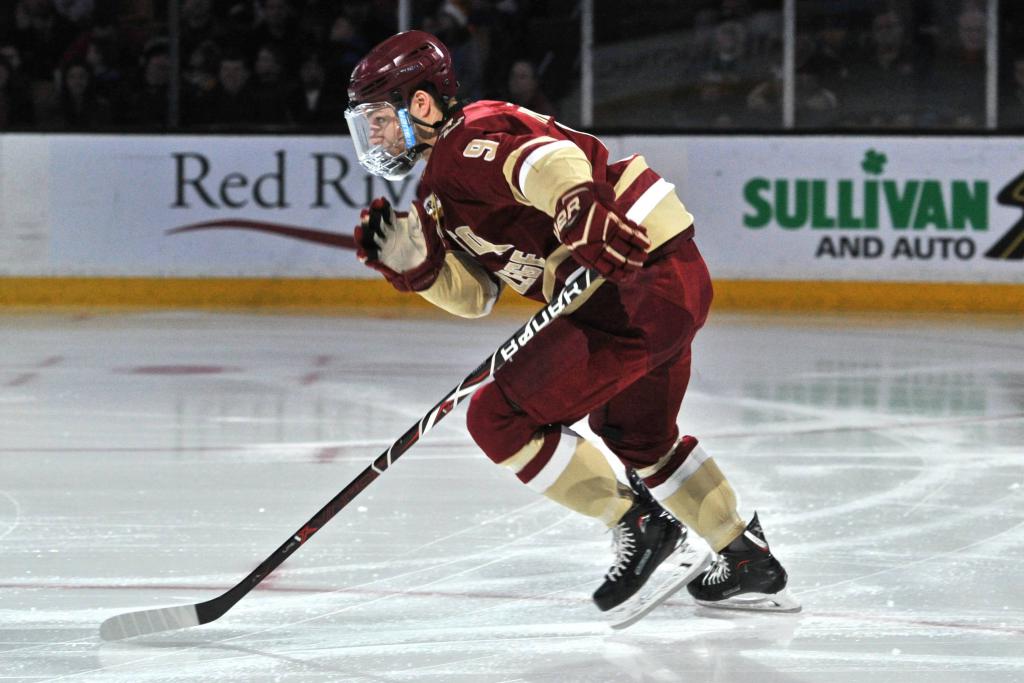 COHEN: Florida Panthers' Prospect Logan Hutsko's Perseverance Pays Off in Beanpot Consolation Game
This article is about: