Miscellaneous
The Story of how Ray Bourque's Dining Table Ended up in my Kitchen
Yes, that Ray Bourque.
When I moved to Stockholm, Sweden, a few years ago, the apartment was completely unfurnished. I bought a couch, a bed, a desk and a TV stand. I have a not-so-charming habit of always eating breakfast and dinner on the couch, and I'm not enthusiastic about decorating. So, naturally, I wasn't particularly active in my search for a dining table for the kitchen.
But one day, in early November 2017, my colleague Måns Karlsson sent me a link in our group chat. It was a market place ad with the irresistible title, "Wayne Gretzky's dining room table." In a matter of seconds, I turned from an 'I'll-settle-for-the-cheapest-table-from-IKEA'-type of person to an 'If-I'm-not-the-owner-to-this-and-only-this-table-soon-my-life-is-a-big-failure'-type of person.
I contacted Eva, the woman responsible for the ad, and received the awesome response that the table was still on the market, and she'd love to sell it to a hockey enthusiast like myself. One week later, my friend helped me transport the table from Eva's kitchen to mine. I was in heaven.
The table is crazy heavy, with carved legs and an extendable table-top. It's a solid piece of furniture. The chairs are sit-friendly and the wood is golden brown. Is it a "beautiful" table? As you might already understand from earlier in this post, I can't answer that. It's a table. Wayne Gretzky's table.
At least that's what I thought.
In January of 2018, I wrote an email to Eva to tell her how much I loved the table and that I really wanted to write a story about how it ended up in my apartment. She told me that there had been a mistake, that it wasn't Wayne Gretzky's table – it was Raymond Bourque's.
Eva bought the table from her former neighbour, Michael Thelvén, who played with Bourque during his first five seasons with the Boston Bruins (1985-1990). At a party that Michael hosted in their neighbourhood, just outside of Stockholm, Eva's dad misunderstood that the table once belonged to Gretzky.
"I don't know if Michael was just joking around with my dad, or if my dad simply mixed up the players," Eva said, adding that she was a little bit disappointed to hear the truth.
We now know that it wasn't Gretzky's table, it was Bourque's. But how the heck did it end up in Sweden? Was it really true? Could it just be a glamorized tale that we wish to be true so badly, that we keep ourselves from digging deeper, to avoid heartbreak?
A little bit nervous, as heartbreak is not a fun experience, I reached out to Thelvén who currently lives in Jupiter, Florida. He remembered the table well.
"When I came to Boston I bought a house, and naturally, I didn't have any furniture. So I got some from Ray and among other things your dining table. When I moved back to Sweden I brought some of the furniture with me," Michael said.
So it was true. It really was Ray Bourque's table standing there in my otherwise tragically decorated kitchen.
My brain was racing.
It made up scenarios about poker nights with Ray and the Bruins boys. Maybe he had a signature dish he used to cook and serve his family on that table, maybe Cam Neely spilled some milk on it when they sat there talking about life until late at night. Maybe… just maybe the Stanley Cup itself rested on the solid wood where Ray once stood grinning beside it, tying his tie ahead of the festivities for his day with the Cup?
Thelvén didn't have any specific memories that could lay the foundation for my Netflix documentary 'Ray, the table and the stories'. The table followed me to my new home in Gothenburg, and my fantasies live on. Maybe one day I will get to hear what the table meant to Ray. Maybe he doesn't even remember owning it. But to me, today, it is the finest piece of furniture in my otherwise so soulless apartment. And nowadays I always have my breakfast in the kitchen.
You may also be interested in: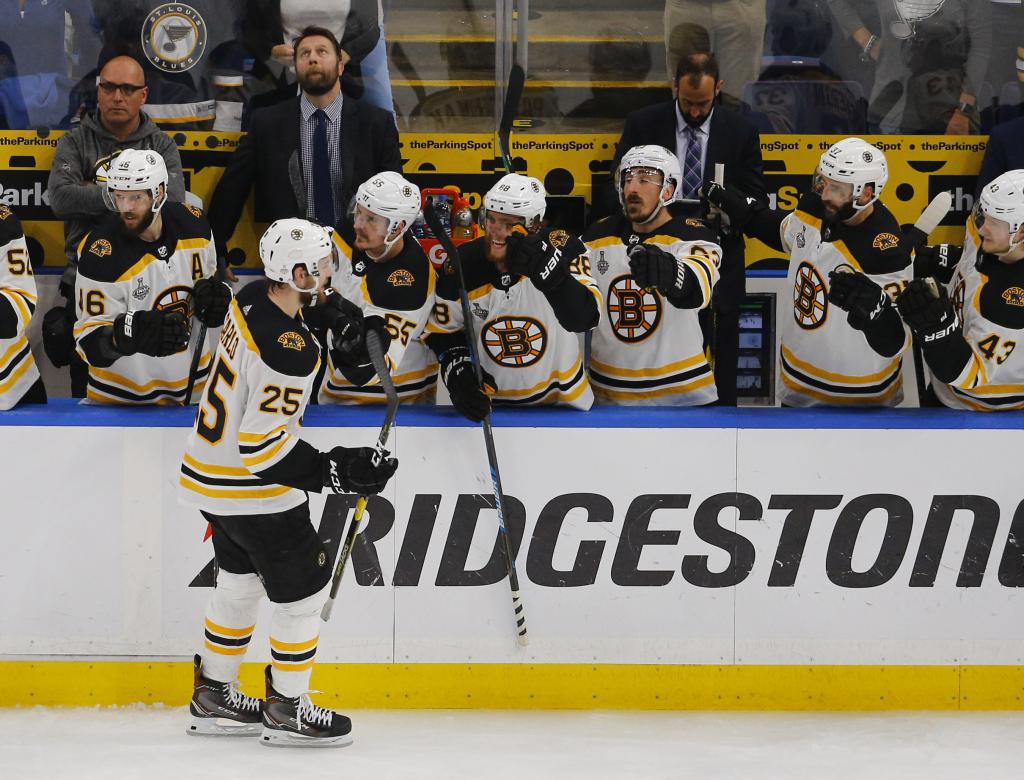 VIDEO: Bruins D Brandon Carlo Talks to EliteProspects About New Contract, Love for Boston
This article is about: