NHL Entry Draft 2020
BURKE: Previewing Phase 1 of the NHL Draft Lottery
After months of careful deliberation, the NHL is ready to let the lottery balls spin and forever change the complexion of two or three lucky teams at the annual spectacle that is the draft lottery.
This year's event — like everything else since mid-March — is going to be different from those of year's past, but not drastically so. The odds are the same for teams ranked 16-31. What's different is that we don't necessarily know which teams are going to form the shape of the group ranked 16-24. That's for the NHL's play-in tournament to determine.
Probabilities for the 2020 draft lotteries: pic.twitter.com/ViD5qVpIFx

— Micah Blake McCurdy (@IneffectiveMath) June 25, 2020
Should the Draft Lottery go off without a hitch, which in this instance involves picks one-through-three going to teams ranked in the bottom seven spots in the league, then that's it. Everything's settled.
Where things get interesting is the very real possibility that a team ranked in the eight spots that follow lands one or more of these coveted picks. Then there will be a Phase 2 of the NHL Draft Lottery, in which the losing teams from the play-in round will enter the process, battling it out for those picks.
HockeyViz's Micah Blake McCurdy said in a follow-up tweet that there is a 63.2 percent chance that one of the defeated teams in the play-in round will win the lottery.
It will certainly make things interesting if one, two, or hell, three of the top three picks land with placeholder teams. That'd dull the sting for the teams that find themselves on the outside looking in as the playoffs start in earnest. It's one hell of a consolation prize, anyway.
The team with the most to lose?
That's the Detroit Red Wings. Their season finished with 39 points and a -122 goal differential next to their name in the standings, good for 31st place in the league and then some. The league granted them an 18.5 percent chance at first overall and a paltry 49.4 percent chance at a top-three pick for the trouble.
They're hardly flush in their prospect pool. Losing, and losing often, is a recent phenomenon in those parts. Still, they've accumulated nice depth at nearly every position, good enough for the 11th-best system in the NHL by our reckoning last summer.
That number is due to rise when we revisit that series in the coming months, whether they're picking fourth or first overall. It's just that they need serious star power to turn this thing around, and it's a lot easier to do so if they're positioned in the latter of those spots.
The team with the most to gain?
It's the Ottawa Senators, and by a lot. Because they hold the San Jose Sharks first-round pick (call it karmic relief for the Matt Duchene trade), they hold the best odds of all at first overall, with a 25 percent chance. They have a better than 66 percent shot of landing at least one top-three pick.
Things are looking pretty good in the nation's capital, where their teardown rebuild has resulted in the accumulation of top-flight prospects that are the envy of the NHL.
The only thing that's missing? Well, stop me if this sounds familiar, but Ottawa could use some game-breaking talent. Maybe think something along the lines of an Alexis Lafrenière-type of prospect, like, say, Alexis Lafreniére. Quinton Byfield would make an excellent consolation prize.
The prospects at stake
We've been ramping up our coverage of the top prospects in this year's draft in preparation for tonight's lottery. At this point, we've got a little something on someone who is going to factor into this segment of the upcoming draft.
This article shows our most recent draft ranking, looking at the top 124 prospects in the 2020 NHL Entry Draft. This article includes our analysis of the top 15 players, too.
ICYMI: We ranked the top 124 prospects for the #2020NHLDraft on @EliteProspects. Shared the article on @EPRinkside.

We're releasing tonnes of great content this week leading up to the NHL Draft Lottery, too. Good time to sign up.

? ?? : https://t.co/p7USh42wqM pic.twitter.com/w8QBK0Jb2h

— J.D. Burke (@JDylanBurke) June 22, 2020
This one is quickly becoming an EliteProspects classic. It's where we open up our draft board to scrutiny from industry insiders, be they front office executives or scouts themselves, and share some of the feedback for our audience. Come for the Theodor Niederbach roasting; stay for the Ethan Edwards appreciation.
It's the return of the wildly popular follow-up to @EliteProspects draft rankings.

An article that shares the feedback NHL team executives & scouts offered concerning our top 124 skaters #2020NHLDraft ranking.

Leaving it ? for a half-hour

? ?? : https://t.co/V26g8aU0CM pic.twitter.com/sdz4ZssTMD

— J.D. Burke (@JDylanBurke) June 22, 2020
How Alexis Lafrenière's Ability to Manipulate the Opposition Sets Himself at the Head of the 2020 NHL Draft Pack.https://t.co/2bQtnqfT2J

— David St-Louis (@RinksideView) June 25, 2020
For additional context, here is a deep dive on Quinton Byfield that I did for @eliteprospects earlier this year.

It highlights a lot of the juice that this kid can pour. ?https://t.co/bgc8GQTEfN

— /Cam Robinson/ (@Hockey_Robinson) June 25, 2020
Marco Rossi is looking to change the landscape when it comes to drafting undersized players in the top-5

Come see why in this film-heavy assessment @EPRinkside @eliteprospects https://t.co/Lo5CPBRWTK pic.twitter.com/AGAiW3makE

— /Cam Robinson/ (@Hockey_Robinson) February 21, 2020
Does your team need a future No. 1 defenceman in the upcoming draft? Well, Jamie Drysdale is your guy.

Learn about his game, his story, and where he's headed in this piece by @Sportsology.https://t.co/xkdlCCIQqt pic.twitter.com/3oCOBBU78d

— EP Rinkside (@EPRinkside) February 6, 2020
Alexander Holtz can flat out score. I break down the Swedish winger's game in this edition of the Film Room for @eliteprospects and @EPRinkside

UNLOCKED for the next hour. ?

Stats and video powered by @InStatHockey https://t.co/hIR1tyUWdc pic.twitter.com/NAznLXDTh9

— /Cam Robinson/ (@Hockey_Robinson) June 24, 2020
Cole Perfetti: Reinventing His Game Ahead of the #2020NHLDraft @EPRinkside @eliteprospects https://t.co/bIq8nMEUQN

— /Cam Robinson/ (@Hockey_Robinson) January 20, 2020
This story of how HIFK centre Anton Lundell helps round out his game as a scorer with help from his father, a goalie coach on that same team, is a great look at the detailed training today's players put themselves through to get the best out of themselves. Cohen shared that story.
Here's my article on Anton Lundell for @EPRinkside . https://t.co/hkDGza5dIo. I got a lot of questions answered about this top prospect in the upcoming #2020NHLDraft

— sportsology (@sportsology) May 26, 2020
Everyone's favourite addition to the suite of features available with EliteProspects Premium? Yeah, it's the consolidated draft rankings. They update every time that a new board enters the system. You can see that in the 'Draft Center' page.
New, @EliteProspects: Consolidated 2020 NHL Draft Rankings, write-up on @EPRinkside. Available to Premium users.

We've combined the five rankings from our 'Draft Center' page & created an average ranking for the first round w/analysis.

? for 30 mins.

https://t.co/fG7UWKFW2e pic.twitter.com/hMoaWU33eA

— J.D. Burke (@JDylanBurke) June 3, 2020
Live Coverage
Tune in tomorrow, starting at 7:30 PM Eastern on the EliteProspects Twitter feed, as I take to the airwaves to break down the draft lottery's events as they take place. It's going to be a roaring good time.
You may also be interested in: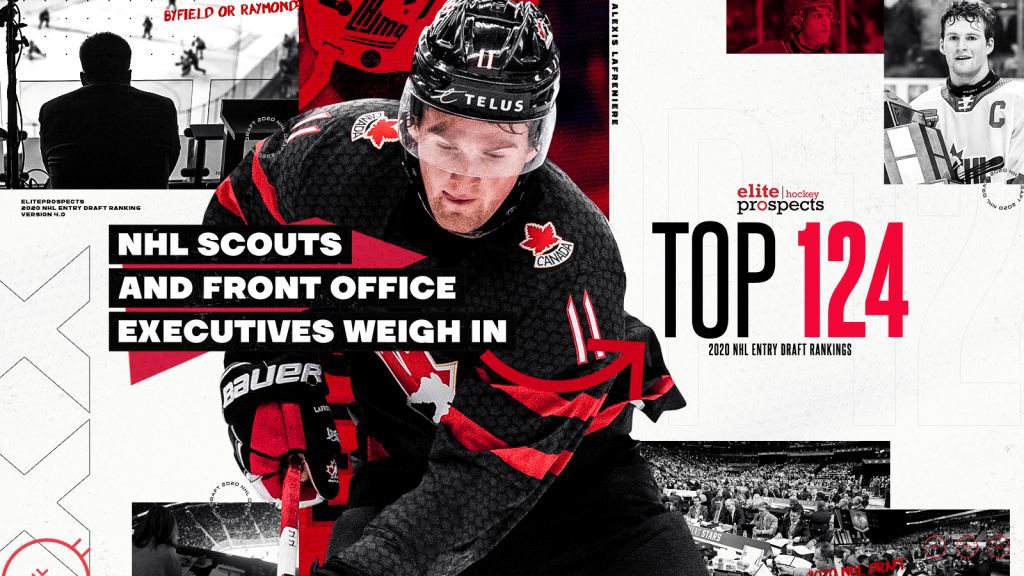 BURKE: NHL Front Office Execs & Scouts Weigh in on EliteProspects 2020 NHL Draft Ranking 4.0
This article is about: