NHL Rookies
Philip Broberg Makes Solid First Impression at Oilers Camp, Eager for Encore Opportunity
When Philip Broberg boarded the flight that would take him from Arlanda, Stockholm to Edmonton he didn't know what to expect. The plan for the 19-year-old was to gain some valuable experience during Oilers Phase 3 Camp prior to the NHL re-start at the beginning of August.
Just in case, he packed enough clothes so that he would be good for at least a couple of months.
"You never know," Broberg said.
As July has turned to August, the Örebro, Sweden, native is still in Edmonton. His performances at the Oilers camp have forced Ken Holland to reconsider their original plans.
"Isn't that kind of nice, though? That you'll never know what could happen?"
Broberg bursts with laughter from his hotel room inside the Edmonton bubble hotel JW Marriott when he takes a moment to look back at the crazy couple of weeks he's been involved in.
The 19-year-old defenceman didn't expect much going into camp this summer. He had big dreams, though. He wanted to come to Edmonton, soak up the atmosphere that surrounds an NHL team, and go back to his SHL side Skellefteå with motivation through the roof.
"I really didn't think that much when I left for Edmonton," Broberg said.
"My goal was to come here, bring my A-game, and then just see what could happen. I wanted to give myself the best chance (cracking the team) I could. I'm very pleased with how the camp turned out for me."
It isn't only Broberg himself that is pleased with his performances during Oilers Phase 3 camp. The Oilers' front office has followed the young Swede's progress with broad smiles.
"Yeah, they have been very positive. They've told me to just enjoy it all go out there and have fun and stick to my game. That's something I've done. I've played to my strengths and they've noticed. I've shown them what I'm capable of and they've been pleased, which makes me happy."
Even if his dream was to be crack the Oilers' playoff roster, it wasn't something he expected. He came from a season in the SHL with Skellefteå where he had quite a lot of ups and downs, struggling to hit a good rhythm to his game.
Then he got the invitation to come over for Phase 3 camp with the Oilers, who took him No. 8 overall in last June's draft. Broberg impressed the Oilers' coaches, but he still expected to pack his bags and go back to Sweden when the camp came to an end. Not until the Oilers actually told him that he would be a part of the playoff squad did he believe it.
"I didn't really dare to dream before they told me. I had hopes and dreams, of course, but the plan for me was to go back to Sweden. But I felt I performed well during camp and I've been really comfortable in my own game during these last couple of weeks."
Then, on Tuesday the 28th of July, Broberg made his Oilers debut in an exhibition game against fierce rival Calgary Flames. In total, Broberg played a bit over 11 minutes in his first game, getting some ice-time on the Oilers power play.
On his first shift in an Oilers jersey, Broberg was paired with fellow Swede Adam Larsson, a person that has meant a lot for the 19-year-old during his stay in Edmonton.
"When I first came over, I got to stay at Adam's. He's been taking very good care of me and was one I could turn to, no matter what," Broberg said.
"He helped me get comfortable both on and off the ice. He helped me get to know all the guys. He made me feel safe and he has helped with all from accommodation to food, but also with the mental aspect of the game.
"It's nice to have a guy like him in your corner. Adam is a fantastic guy."
In addition to Larsson, Broberg has gotten to know NHL superstars such as Connor McDavid and Leon Draisaitl, players that the 19-year-old now can refer to as teammates. There's nothing wrong with Joakim Lindström and Oscar Möller, ex-NHLers considered stars in the SHL, but the Oilers star duo is of a slightly different vintage than what Broberg is used to during practices in Skellefteå.
"It's of course very special. They (McDavid and Draisaitl) are so skilled. They're sick. You have to be on your toes all the time, you don't have any other choice.
"I've learned a lot by just watching them at practice and see how they carry themselves. Two fantastic players."
But Broberg isn't starstruck by McDavid, Draisaitl, or any other on the Oilers. He doesn't allow himself to be.
"Of course it's special the first time you walk into the locker room and see some of those guys. But I'm here to earn myself a spot on the team and in the long run to steal someone's job.
What's the biggest thing you've learned this summer?
"How important it is to have your head in the game at all times. You can't cheat. If you look at the best players over here, they're not only best when it matters the most, they're also the best performers at practice. Every practice.
"It's really inspiring. It's something I want to implement to my own mindset".
After living his first four weeks at Larssons', Broberg earlier this week moved in at the JW Marriott with the rest of the Oilers. If they go on a (really) successful playoff run, their hotel rooms will be their home to October.
"You can feel a bit trapped", Broberg laughs. "But then again, what's the option? You just have to make the most out of it. We haven't lived here for that long yet, but it sure is different from what it could have been if the circumstances were normal".
The days in the bubble can be long, but for Broberg, the NHL bubble in Edmonton has everything he needs.
"The day starts off with going down to the hotel breakfast buffet, grab a bite, and then head off to practice. I usually try to spend as much time as possible at the rink; I'm not that fond of sitting by myself in the hotel room.
"We have a yard outside the hotel, which is nice. We can hang out, eat… We have everything we need, really".
With one exhibition game to prepare, the Oilers started off their NHL play in-series against Chicago Blackhawks on Saturday. Broberg was a healthy scratch for Oilers in the first game, but if the opportunity to get involved in the playoffs would present itself, Broberg would step up to the plate, no questions asked.
"I'm ready. More than ready. If I would get the opportunity to play I would face the challenge the best way I possibly could. We'll see what happens, but I'm absolutely ready".
When the playoffs are done and dusted, whenever that will be, the plan for Broberg is to return to Sweden and Skellefteå. The Oilers' plan for Broberg is to play one more season in the SHL before making the jump to North America and while the plan is still intact, that could change in the coming weeks or months. If Broberg could decide for himself he would, of course, play in the NHL next season.
"I try to not think about all that much right now. I just try to take everything day by day, but I would be lying if I said anything other than that I want to play in the NHL as soon as possible. For now, I'm here in Edmonton doing everything I can to make it happen.
"I'm putting all my energy towards that. Then, regarding next season, we'll see what happens".
Even if he won't play in the playoffs this summer, the past few weeks have been nothing but amazing for the 19-year-old.
"It's been fantastic".
You may also be interested in: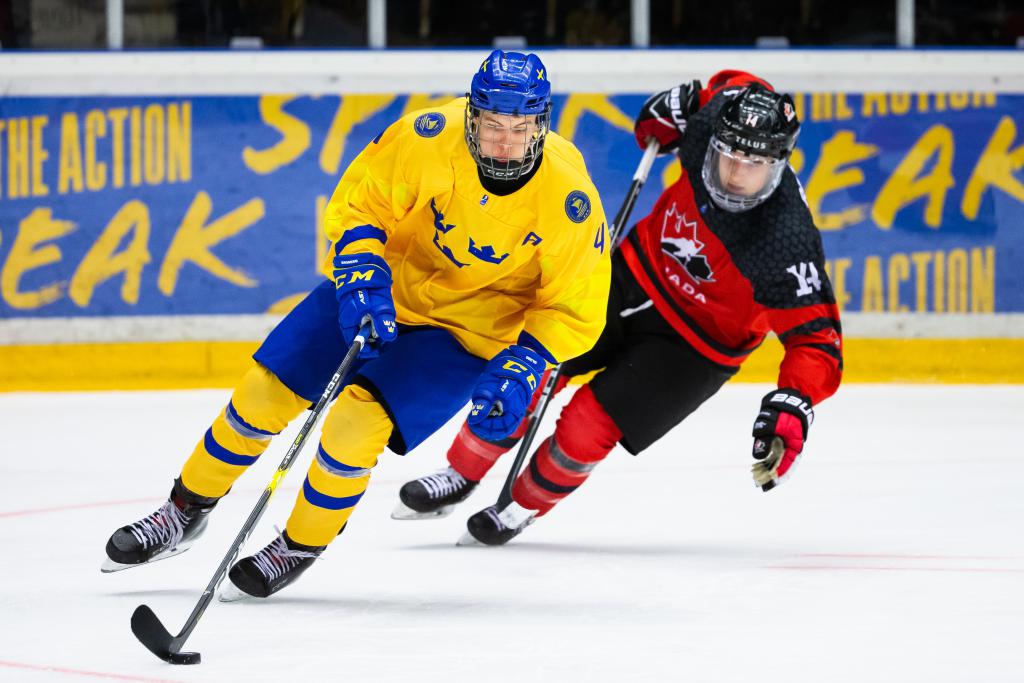 BURKE: Weighing the Risk and Reward of NHL Draft Prospect Philip Broberg
This article is about: