NHL Entry Draft 2020
The EliteProspects 2020 NHL Draft Guide is now Available
The title just about says it all, right? Wrong. Desperately wrong.
The EliteProspects 2020 NHL Draft Guide is available, but we haven't had a chance to let you know what you can expect with your purchase — we could only fit so much on the cover.
So, here's a list of items that you can expect with the EliteProspects 2020 NHL Draft Guide.
The complete ranking of the 2020 NHL Entry Draft. It's 129 players long, with scouting reports and game reports on each player.
"The Undraftables" section. It's a list of some of the relatively high-profile players in this year's draft that we've rated as DND (Do Not Draft) prospects, complete with a scouting report, and all of their game reports.
The EliteProspects Scout's Poll, in which we polled the scouting staff on this year's class to find out who the fastest skaters, best neutral zone defenders, etc. are in this year's draft.
Exclusive access to manually tracked data from Mitch Brown's CHL/USNTDP U18 Tracking Project, and of course, from our partners at InStat Hockey.
Exclusive access to Jeremy Davis' pGPS (prospect Graduation Probabilities System), and SEAL (Situation Era Age and League) adjusted scoring draft analytics models.
An early ranking of the 2021 NHL Entry Draft.
As you may or may not have noticed — there's more on the way, too.
I alluded to a technical mishap that limited our capacity to unveil the draft guide in its final form. I'll spare you the details, but it forced some tough decisions on us.
We decided that it was of the utmost importance that we deliver on our September 1st release date, without compromising on the quality of the product.
So, we did just that. In the next few days, we're going to be adding several features to the guide. Here's what you can expect when we release the updated version, at no extra cost to our users.
Tools grades and Davis' draft analytics models on the full 450-plus players in our scouting reports database.
Every game report from the players we scouted for the 2020 NHL Entry Draft, including the players that didn't make the final guide.
An additional six scouting reports on goaltenders that didn't make our final ranking.
You get access to the EliteProspects 2020 NHL Draft Guide if you're an EliteProspects Premium member, so sign up today!
If you've already signed up for EliteProspects Premium, then follow this link for download access to the EliteProspects 2020 NHL Draft Guide.
Whether you already have the draft guide or not — I'm hosting a Q&A session on the EliteProspects Twitter feed at 3:30 PM Pacific time. Submit your questions on any of our social feeds, and I'll happily answer them on the stream.
Be sure to tune in to this week's episode of the EliteProspects Podcast with J.D. Burke and Craig Button, too! They'll be sure to talk about the guide in detail in this week's episode.
You may also be interested in: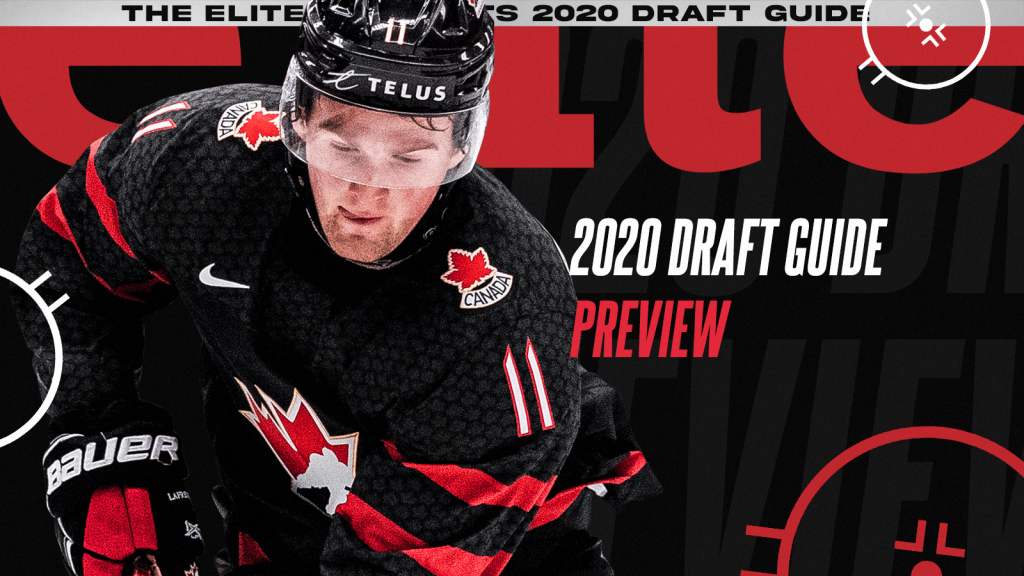 Preview the EliteProspects 2020 NHL Draft Guide
This article is about: