NHL Entry Draft 2020
Barrie Colts forward Tyson Foerster is the 2020 NHL Draft Prospect Built for the Modern Game
The game of hockey is changing. Where ten years ago players with size and strength were all the rage going into the draft, it's since shifted to speed and skill.
This year's playoffs have revealed that the NHL's best teams all have players who fit both player archetype to some degree. Barrie Colts forward Tyson Foerster has the potential to be one such player in the future.
We've ranked him accordingly at EliteProspects, at No. 34 on our final draft ranking.
One doesn't need to be a burner to play the power forward's role in the NHL but they have to be able to keep up, and barrel their way through the offensive zone.
Foerster has excellent offensive instincts, always seeking out and finding soft spots on the ice. He's shown that ability on the power play and at 5-on-5 alike.
There are some in the industry who share concerns about 18 of his 36 goals coming on the power play, good enough for the OHL lead, but that shouldn't be viewed as a negative.There are plenty of players who don't convert when their team has the man advantage
The fact that he averaged 22:54, according to our partners at InStat Hockey, showed that he is a horse. Those are huge minutes.
There's a video floating around that shows this prospect working on his skating. It's slowed down to show off his stride, etc., the only problem is that he's doing it in a straight line and by himself. Until he gets into game competition it's hard to gauge where he's at.
A lot of players in his position can make real strides, pun intended, and with this player, there's no doubt he will benefit greatly from improved skating.
Teams don't care about hype videos though. They need to see results. From the player, it's good to see he's hard at work in this strange draft-year. So strange that some players who get drafted may be playing in games at that time.
Having a good hockey I.Q. and a bit more speed will create more 5-on-5 scoring chances as he moves up the ladder. The good thing about his game is he doesn't have to be around the net to convert. He can score on either side with his one-timer and the last time I checked that's something that does translate as players move up the ladder. Now he may not have as much time to uncork it, even on the power play when he turns pro, but he can make that adjustment. The fluidity that already exists proves that.
Foerster has good defensive instincts. He had a lot of blocked shots this year. They were from all over the ice showing the kind of commitment he has to be a complete player. He did a good job showing his total game at the CHL Top Prospects Game. He was playing second-line right wing in that game, and even though he scored two goals with a helper, he did show off his complete game and scouts took notice. He was the MVP for Team White and that's something that stays in the minds of scouts even if it happened in January and that seems like a lifetime ago.
Foerster never met a shooting opportunity he didn't like. He averaged 3.88 shots per game. The fact that his teammates can count on him to impose his offensive will on the game is important. If you pair this guy with a playmaker there could be some magic.
Here's some proof of that.
One last attribute that pro-transferrable are his fast hands and the ability to not overthink it when being deployed in the shootout. There are some players who have tons of talent but just want to get the shot over with and then there are others who embrace it. They embrace the spotlight and that's who this guy is.
This guy loves to score, and in the end, goal-scorers will always be a premium and one with some size can be a weapon. The team that gets him needs to show patience. He has a lot of moving parts, but a lot of necessary tools are there and just need to be refined.
You may also be interested in: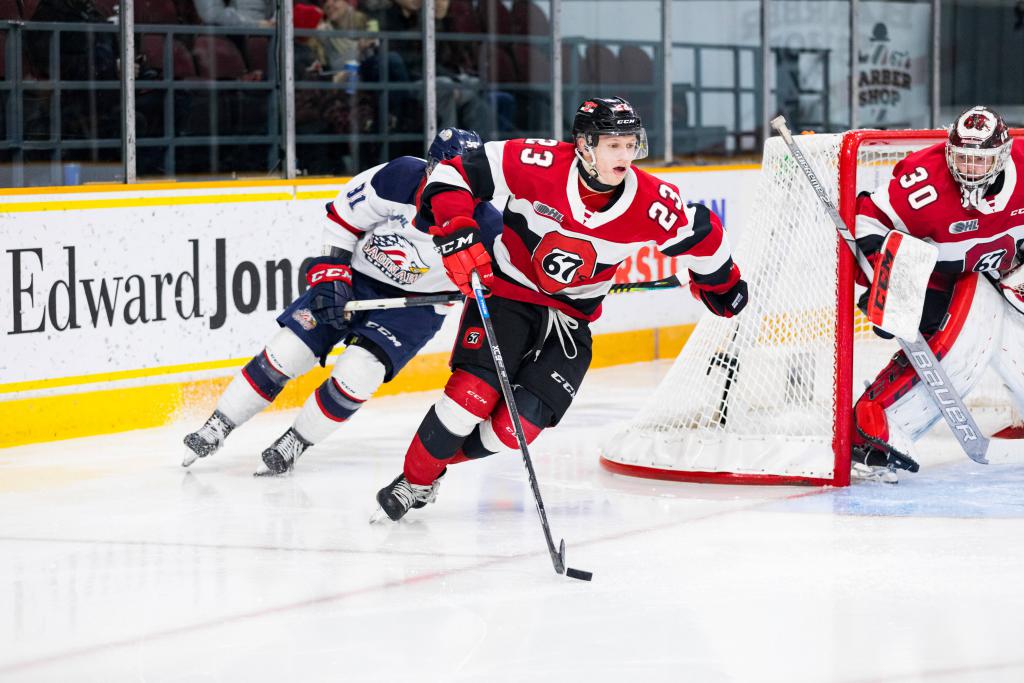 ROBINSON: Ottawa 67s Forward Marco Rossi — Undersized and Overpowering
This article is about: