World Juniors 2021
The World Junior Coaches Q&A Series: Team USA's Nate Leaman
The 2021 IIHF World Junior Championship is just around the corner, and I had the opportunity to chat with Team USA head coach Nate Leaman about this year's squad.
What follows is an exclusive question and answer session with Leaman, as we kick off a series of Q&A articles with some of the coaches participating in the World Junior Hockey Championships later this month in Edmonton.
Julie Robenhymer: Normally, you guys get together in the summer to evaluate your players. That didn't happen this year because of the pandemic. How important was it to the selection process to find time to have the evaluation camp in October, instead?
Nate Leaman: We needed to do it. We weren't sure if some of the guys would be able to play any games before the tournament, so we just needed to get everyone together, get them on the ice, meet our staff, start building relationships, get guys playing, evaluate them and see how they might be able to help us win the tournament. We tried to do it in the summer, even without the other countries being there, but it didn't work out. So I'm glad we were able to jam it in before the college season started because it was imperative for us to have something.
JR: What, if anything, was different about that camp compared to one not in the middle of a pandemic?
NL: We had to shorten the list of invitees because of COVID rules and the capacity restrictions on the space we had available to us. But mostly, it was shorter than normal. Usually the camp is 10 days, this one was only seven and normally, you're able to evaluate your players against the other countries and are able to get a better read in games against teams and players they're going to see in the tournament. We could only play against ourselves for the three scrimmages we had and, let me tell you, my hat's off to the players because they battled hard every day and because they competed hard and worked at the level that they did, it gave us a pretty good opportunity to evaluate them and feel confident in the players they are and what they could bring to the team.
JR: How good did it feel to be on the ice again?
NL: It felt real good. At that point, I think they were all just excited to play hockey and while I know they all knew what was at stake and took it seriously, I don't think anyone wasn't having fun just being on the ice again. It felt good for me to coach hockey again. It felt normal and I'm sure they felt the same about playing.
JR: What are your initial impressions of the tools you get to work with for this tournament?
NL: We're going to have 29 players at the camp and have to cut it down to 25. So there are still some things that need to get worked out, but the core of the group is pretty much selected. We're still evaluating the final eight or so spots to round out the team, but I think we have a great group of players and I'm excited to see how they all come together. Individually, they're all great players, but building a team is like a puzzle. We have to see who fits where to give us the potential for the most success.
JR: What will be the identity of Team USA?
NL: I just want us to dictate the pace and play a brand of hockey where, if we don't have the puck, we're dictating where pucks are going so we can react faster. I want us on our toes and I realize this is a tough tournament and that there will be ebbs and flows, but I just want us to dictate the game and play our game.
JR: You've been an assistant coach at this tournament before in 2007 and 2009 and coached Providence College to a national championship in 2015. What have you learned from those experiences that you can bring with you to this one?
NL:That every team has players that can hurt you and bad penalties can get you in trouble real quick. Usually, it takes longer to get the penalty kill going and there just isn't enough time to catch up to how effective the power plays are until the end of the tournament. So, your power play has to be humming so you can take advantage of the other team's mistakes and we have to stay out of the box so we don't give them any opportunities to strike. Every country has first-round draft picks and players that, if given a little more time and space, can really hurt you. So, we just really have to be disciplined and not take poor penalties.
JR: How did you narrow the list to the 29 invited to selection camp?
NL: The camp in October was really helpful in evaluating and we were able to scout on video and relied heavily on that. Every game any of these guys are playing in, we're watching them. Again, we're pretty settled on our core, so we're really focusing on the guys that could fill out those final eight spots and learning as much as we can about their game and what they're capable of and how they could fit in and help us. So whether it's USHL or college hockey, we're just watching as much as we can and having meetings to compare notes at least once a week and then we'll have a few days in Plymouth to evaluate some more and make the final decisions.
JR: When does your camp actually open?
NL: That's a good question. I know it will end on the 13th. We'll have a skate in the morning and then fly into Edmonton. As far as when it starts, it will be a sliding thing. Some guys will come in the 6th and some will come in the 10th. We're trying to work with the colleges and not have guys miss games with their teams. It's just the right thing to do. We're taking their players for a month and we want to make sure we maintain our good relationships with the coaches allowing us to have their players.
JR: Now let's talk about your players. Who surprised you the most at the camp in October?
NL: Jake Sanderson… He's a very complete player and his skating allows him to recover from any mistakes and he's just effective in every situation. Alex Vlasic too. He's big and long and he can skate. At camp, he did a really good job of managing the game and making the first play a good one.
[Read more: USNTDP Defenceman Jake Sanderson is a bona fide top-10 prospect in the 2020 NHL Draft]
I was also pleasantly surprised by the number of 02's that had a good camp and I think Cole Caufield had an excellent camp. We expected a lot from him to begin with as one of the returning players, but he was really impressive and scored three or four really nice goals at camp and he was just a really good teammate. He was all in and that was really nice to see.
JR: Cam York has shown so much poise on the blue line at Michigan so far this year. What are your thoughts on him?
JL: He's our only returning defenseman so we're expecting his experience to show and have an edge that puts him a step ahead, both on and off the ice having been through this process before and I thought Cam showed that. He was extremely poised and did well in every situation we put him in and I think he gave us exactly what we wanted to see from him.
JR: You mentioned Sanderson and Vlasic, anyone else stick out for you on the blue line?
NL: We'll be taking eight defensemen to Edmonton and I'd say York, Sanderson, and Henry Thrun are pretty much locks. Vlasic is right there with them and the other guys are all battling for the remaining four spots.
JR: You already mentioned Caufield. What other forwards stood out to you?
NL: I thought John Beecher had a good camp. One thing to note about this group is that we have the potential to return seven forwards and if all those guys are able to play for us again this year, it would really benefit our forward group. Cole, Bobby Brink and Beecher were the only returnees at camp up front – Alex Turcotte was training in Europe, Trevor Zegras was training in Anaheim, Arthur Kaliyev was in LA and Nick Robertson was in Toronto – and all three that were at camp showed the same as Cam did. They had the experience and poise and it showed.
JR: You also mentioned the 02's. Anyone in particular stand out for you there?
NL: Matty Beniers can really drive a line. I like that he's extremely competitive. He skates well and can make any play on the ice. He was really impressive and showed that he came to play.
Thomas Bordeleau had a pretty good camp and impressed us. Brendan Brisson also scored a couple nice goals at camp. Definitely still evaluating all of them and figuring out how they could fit into this team.
[Read more: Thomas Bordeleau's hockey sense, awareness makes him a legitimate first-round prospect]
JR: What about the guys that missed the cut last year. Any of them take a big step forward from your point of view?
NL: Matt Boldy had a really good camp. He showed a lot of playmaking ability, but what we really need out of him is to play big for us. We don't have a lot of size up front as a group and he's a guy that can give us a little bit of that along with having a good stick, the playmaking and his smarts.
Sam Colangelo too. He a big guy, great hands and scored two nice goals at camp.
And, John Farinacci showed that he's a Swiss army knife and can play a lot of different roles – won some face-offs, played physical. He's just really multifaceted and that kind of versatility can be really valuable in these short tournaments.
JL: Every year, there's always a player from the coach's own team that is invited to selection camp. This year, you invited three players from your squad at Providence. What can you tell me about them?
Patrick Moynihan is very competitive and came to camp understanding what his role might be with this team and had a great camp. He obviously has a history with USA Hockey after playing at the Program, so he's in the mix to earn a spot on this team.
Brett Berard is really skilled, great edges in his skating and excellent second effort on pucks, can play any type of game that needs to be played on the rink. I really like his game.
And, Cam McDonald has always been on USA's depth chart, but we didn't invite him to camp because we wanted to be on the ice with other defensemen. Like I said earlier, we were limited with our numbers at camp and I am on the ice with him every day at Providence and I know what he can do. He's very much in the mix to make this team.
JR: Finally, what about your goalies? Have you made a decision there yet?
NL: I think we have real good depth there. It's a healthy position for us with Spencer Knight being maybe the best college goalie this year and Dustin Wolf being the CHL Goalie of the Year last year and Drew Commesso had a very good camp too, so we know we have great depth there.
As far as a starter, I have no clue right now. At camp, we were just trying to get goalies games because no one had been playing in eight months at that point. Spencer might have an edge because he's the only one playing games right now being that he's at Boston College, but we'll make sure to give Dustin time in the exhibition games to show us what he can do and make his case as the starter. So, we'll see what happens, but we think it's is a good problem to have.
JR: Any thoughts on a captain?
NL: No. When we get down to the 25, we'll have that discussion and figure that out.
JR: Do you have any expectations for this team in terms of how much success it has the potential to have?
NL: No. We're focused on the process of getting better each step of the way so we can play our best when it matters the most.
—
Team USA has announced their preliminary 29-man roster and will conduct their training camp at USA Hockey Arena in Plymouth, Michigan starting Sunday, December 6th. They will finalize their 25-man roster and fly to Edmonton on Sunday, December 13th to enter the IIHF bubble. They have two exhibition games tentatively scheduled for the 20th and 22nd against Switzerland and Finland. They play their first game of the 2021 IIHF World Junior Championship against Russia on Christmas night.
You may also be interested in: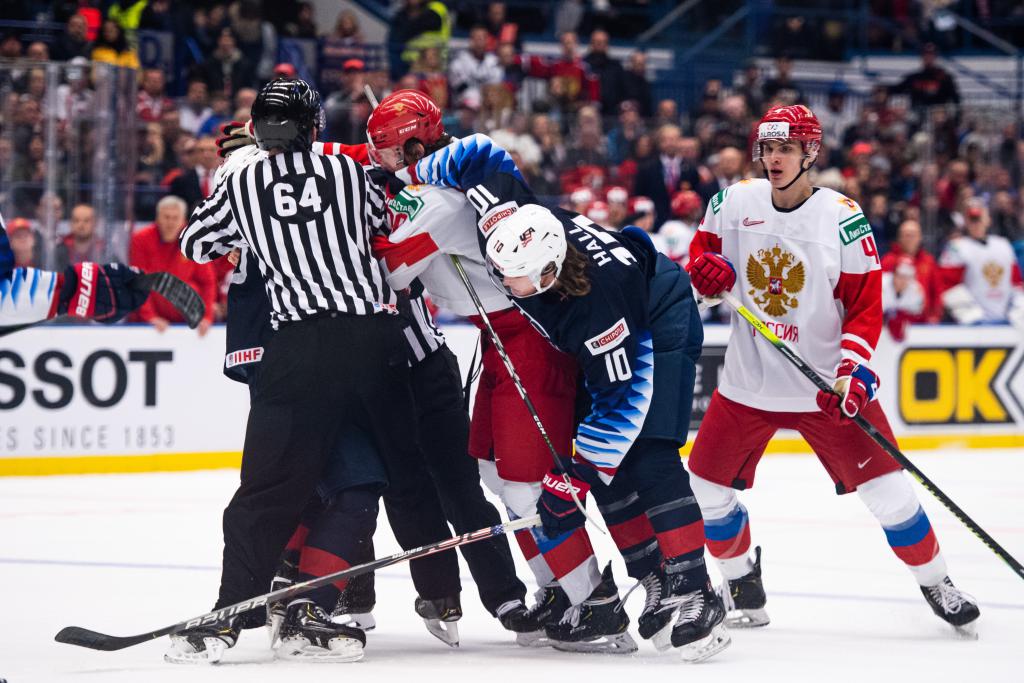 ROBENHYMER: Bruins Prospect Curtis Hall Hopes Slow and Steady Wins USA World Juniors Gold
This article is about: