World Juniors 2021
The World Juniors Coaches Q&A Series: Team Finland's Antti Pennanen
The 2021 IIHF World Junior Championship is just around the corner, and I had the opportunity to chat with Antti Pennanen, head coach of Team Finland about this year's squad.
What follows is an exclusive question and answer session with Pennanen, as we continue a series of Q&A articles with some of the coaches participating in the World Junior Hockey Championships later this month in Edmonton.
---
Julie Robenhymer: How many times were you able to get your team together after the tournament in February and what were the circumstances?

Antti Pennanen: We have had three National team camps - end of July in Vierumaki, end of August in Imatra and beginning of November we had a plan to play against Sweden in Malmö but we could only run four practices and then we had a flight back home because of COVID-19. So this has been a very new situation for all of us, and we couldn't play international level games at all, but I am happy that our players have been playing in their home teams all season and I am glad that we had those camps because, for me, this is the first year with these players, so it has been very important that I have had a chance to spend time with them and get to know them. Overall this has been a very new situation and not ideal, but I think that we handled that as well as we could.
JR: You started coaching at the junior levels, but have been with men's teams the past four years. What's the biggest difference, challenge and/or benefit of coaching at the junior level?
AP: I have been coaching for 20 years and have had many roles - junior coach, assistant coach and head coach of men`s level, club teams and national teams too. It has been a long, but very good learning process. I am happy where I am now because I enjoy coaching young players. They have an open mind and they want to learn fast and it is nice to see what they are going to achieve in the future. I liked coaching the men also because it's a very high level and demanding, but now I don't have to coach every day, I don't have to feel that pressure all the time and that gives me a chance to do something new. Part of my job is to be the head of national team coaching. I will support the other coaches and create new education programs, etc. to improve the game at all levels in Finland. So it's a good situation right now for me and I like it a lot.
JR: What was the biggest challenge for you in selecting your team this year?
AP: We didn't have a chance to play international level games against other countries. We had three tournaments scheduled that were all cancelled. This was one problem because my experience is that those games give lots of good information about the players and how we can use them and who they play well with. For that reason, I am very eager to see how we play as a team in the exhibition games.
JR: The Finns are known for playing a very solid team game. What kind of play can we expect from Team Finland this year?
AP: We believe in the team game, for sure, and our plan is that we are going to play typical Finnish hockey -- good teamwork and effort -- and we are going to bring some individual skills also. I think we have good depth down the middle - our centers are Anton Lundell, Juuso Pärssinen, Henri Nikkanen, Samuel Helenius, and Roni Hirvonen can play in the middle also. All of those players have been playing Finnish men's Liiga which is a good and high-level league to play. So that is a good thing for us and for the players.
JR: On the back end, this will be Ville Heinola's third WJC. What are you hoping he will bring to the team this year, and what can you tell us about his game?
AP: He is a very important player for us, one of the leaders. He is skillful, very good at skating and he has improved his defensive skills since last season. This year, he has been playing both power play and penalty kill in his home team Rauman Lukko and that has helped him a lot.
JR: Up front, what kind of impression has Brad Lambert made on you during this camp?
AP: During this season, he had a chance to get a role in the men's team (JYP), which I was very surprised about, but and he took it and has played well. He is a very fast and skillful player and it's going to be nice to see how he can handle a new game level at the WJC. He's on our second line right now because he's still quite young and not so strong and doesn't win the battles as we need him to, but I think he will still be successful with his skills. He has to improve his team game more - playing defense and using his teammates more - if he wants to reach the NHL level, but he has a great learning attitude and he is willing to improve his game all the time. I think this could be a really good tournament for him.
JR: Although he missed last year's tournament, Lundell has been here before… but not as one of the go-to players on this team. How do you plan to use him in this tournament?
AP: He is the first-round pick so we all know how good a player he is already. He has improved his skating ability since last season, which has been good to see. That improvement brings him more opportunities to his game. He is very humble and he wants to win and can compete so he is one of the biggest leaders in our team - and our captain - and he is ready for that.
JR: Who's a guy that no one is talking about, but we should all be paying attention to?
AP: Helenius is one of them. A big and strong centerman who has been playing good this season so far here in Finland. He is a good team player who can kill the penalties and likes to hit and he can win the battles. He has no offensive skills, but that's ok. He doesn't need them. That's not what we expect from him. His father Sami Helenius was a big and strong D-man in his NHL career and I think Samuel has been learning that competitive attitude from his father. If everything goes right he has a chance to play in NHL someday.
JR: Can you share some insight about your goalie situation and if you've decided on a starter yet?
AP: Our goalies are our biggest question mark. We have three good goalies and all of them have been playing Finnish men's second level league (Mestis), but they have been playing a lot so that is a good thing for us. We are not decided yet who is our starting goalie, but I'm leaning towards Kari Piiroinen because he's very mentally tough and I think we're going to need that from our goalie in this tournament.
JR: This will be a WJC unlike any other. What are you most looking forward to during this year's tournament?
AP: I expect that I am going to see high-level hockey and players and I am so happy that we have that opportunity to play this tournament. It's going to be a high-level tournament for sure. This has been very good learning process for me as a coach already, trying to handle all of this. It's so sad for the fans that they are not able to come to the rink but I think and hope that they will find a way to support the teams and players. When I was younger, I was a huge Edmonton Oilers fan because of Wayne Gretzky and Jari Kurri. So for me, it's an honour to come here and feel all of that history of hockey.
JR: How have you used these past four days to get better as a team? What has the schedule been like for you, your staff and the players?
AP: We had a daily program, video meetings about game and game systems and also we showed the players some videos about how you can improve your attitude and mental toughness and how you can handle your mindset and expectation. It was a pretty common daily program that we created. I also heard from Mikko Rantanen and Sebastian Aho who gave me some tips on being in the bubble and being mentally prepared for the tournament. They were on the 2016 team when I was an assistant coach and they're going to talk to the players as well.
JR: As you mentioned, you have been here before as an assistant coach in 2016 and also the men's world championship in 2019 - and you've come home with a gold medal each time. Do you think this team can help you get a third?
AP: Being part of the team that wins the gold medal was an amazing thing for me, and I am proud of that. Also, I understand how much is needed to win that trophy. It's a lot of work and luck. The best way to play and live through that kind of tournament is to stay in the moment as well as you can and improve your game and players and focus on it. Of course, we have a dream to win that trophy again, and we know that we have a good team and we can do it if everything goes right.
You may also be interested in: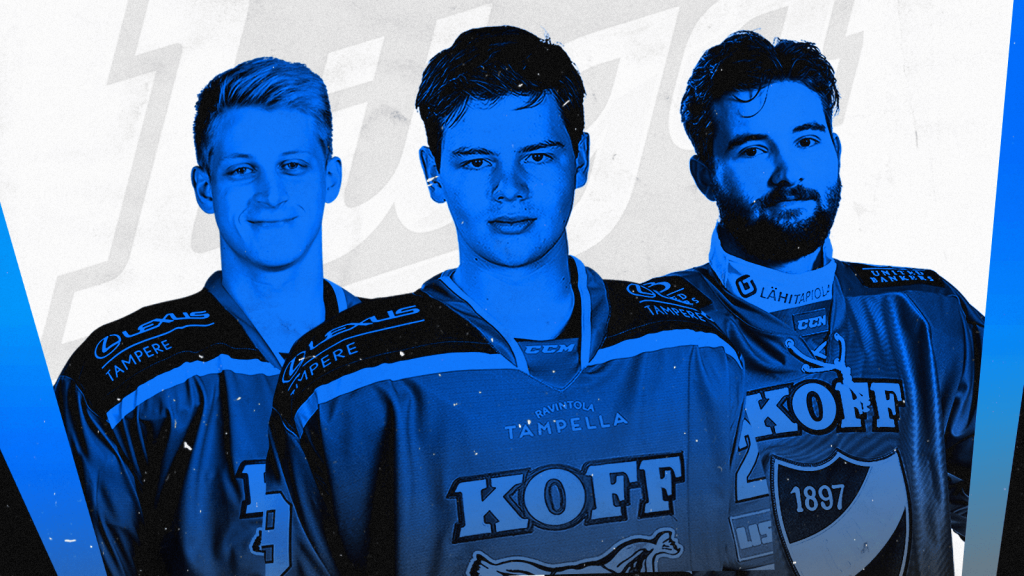 How are the Newcomer Prospects Handling Life in the Finnish Liiga?
This article is about: