AHL
Around the AHL: The NHL's top developmental league fights to save its season
What is next, as the American Hockey League's attempts to save the 2020-21 season amid the ongoing COVID-19 pandemic?
Long-time AHL President and Chief Executive Officer Dave Andrews left that post this past June after 26 seasons helming the NHL's top developmental league, and long-time NHL executive Scott Howson replaced him. Earlier, Andrews agreed to chair the league's Board of Governors and to assist Howson in the transition.
But the pandemic added another title for Andrews: Chairman of the AHL's Return To Play Task Force. A mix of NHL general managers and AHL executives, the group is attempting to guide the AHL back to the ice. This past July the league pushed back its traditional early-October start date to December 4th. But persistent pandemic case numbers throughout Canada and the United States forced the AHL to delay the season by another two months. The AHL is now scheduled to start to play no earlier than February 5th, which would be nearly 11 months since its last game. Last season the AHL had to first pause and then scrap its remaining 209 regular-season contests and the entire Calder Cup Playoffs, the first time that the league did not crown a champion in its 84-year history.
Along with Winnipeg Jets chairman and governor Mark Chipman, who has deep AHL roots from his days leading the Manitoba Moose, Andrews is heading a contingent that also includes general managers Kyle Dubas (Toronto Maple Leafs), Ken Holland (Edmonton Oilers), David Poile (Nashville Predators), Don Sweeney (Boston Bruins), and Steve Yzerman (Detroit Red Wings) from NHL clubs. Lehigh Valley Phantoms owner Jim Brooks and a collection of top AHL team executives make up the rest of the committee.
Other NHL general managers also are keeping a close eye on the AHL. But the AHL faces a thicket of widely varying rules, regulations, and lockdowns in its 31 markets involving three provinces and 15 states. Furthermore, those regulatory measures can, and have, changed on very short notice. The province of Ontario will enact a month-long lockdown beginning on Boxing Day that will ensnare the Belleville Senators and Toronto Marlies, two clubs that would help to form a proposed Canadian Division with Manitoba and the Laval Rocket. With that lockdown encroaching on that February 5th start date, it could leave the Senators and Marlies with limited time for a proper training camp.
Similar predicaments can be found around the AHL. And if a lockdown shuts down one club, that situation could impact other nearby teams in a league that would need to rely heavily on a geographically regional schedule. That ambiguity – optimism seems to fluctuate by the day in some corners of the league – has made planning a season a challenge.
"We aren't 100 percent certain what the American Hockey League will look like," Vegas Golden Knights general manager Kelly McCrimmon acknowledged in a conference call Wednesday. "That's ongoing and really important, of course, to the NHL."
Can the AHL pull off that February 5th start? Is a full 31-team contingent possible or even realistic?
Andrews and the league have a significant role to play in saving the 2020-21 season. But how do some of the league's far-flung members and other stake-holders see the landscape? Here is what we know after extensive discussions with a multitude of team personnel, coaches, and players throughout the AHL.
What is next?
The Return To Play Task Force will have a conference call this Saturday. The AHL Board of Governors will then meet on December 30th.

"That [Board of Governors meeting] will likely, but not necessarily, include a vote for plans on next season," Syracuse Crunch owner Howard Dolgon told fans in a Facebook Live town hall this week. Dolgon, who brought the Crunch into the AHL in 1994, is one of the most influential owners in the league.
What is at stake?
Manage this situation incorrectly, and an AHL team could hamper itself financially long after the pandemic subsides and eventually ends. That would be a worst-case scenario for a league that had been enjoying some of its best days before March 2020.

That said, if a team – or the league itself -- does not play this season, doing would mean taking away the AHL's main product – hockey – from fans for nearly 19 months going into the 2021-22 campaign. AHL clubs have made efforts to maintain connections with fans and sponsors, and to nurture those relationships, but that absence of on-ice play to keep fans in the habit of buying tickets is a formidable task for even the best AHL front offices.
On the ice, the AHL playing games means top NHL prospects can salvage something from this season. That is the carrot for NHL clubs.
For at least AHL clubs, the benefit to them is less clear. Without fans buying tickets, do they have an incentive to stage a season? Corporate sponsorships have also been impacted, at least for now. Some teams do feel there is a benefit to playing; others could determine that potential pay-off to playing would not merit the costs.
"[Syracuse has] been in constant contact [with the parent Tampa Bay Lightning] that we are ready to be in business to develop their players," Dolgon told his team's fans.
Would every team play?
Every team would like to play. Whether they can make that happen still must be determined, and they must protect their own financial interests and security, both short- and long-term.

So, AHL clubs say they will need financial help from their respective NHL parent clubs.
The lack of ticket and corporate revenue coming in handcuffs AHL teams. In addition, COVID-19 testing and safety protocols bear a sizable price tag. Nineteen NHL teams own their respective AHL clubs in some form. But 12 AHL teams are independently owned; that group also features some of the league's top franchises like the Cleveland Monsters, Hershey Bears, Providence Bruins, and Syracuse, among others. Without direct financial support directly from their NHL parent clubs, at least some of those teams would face significant challenges if they played.
Speculation in the fall had centred on the possibility of the Calgary Flames, Edmonton Oilers, and Vancouver Canucks moving their US-based affiliates to Canada for this season, but that talk has ended.
If some teams are not able to play, one possible option would be for players to be loaned throughout the league or for NHL clubs to form temporary on-the-fly dual affiliations. Those set-ups long ago fell out of favour among NHL general managers, but circumstances might revive them for one shortened season.
What would a schedule look like?
Predictions for a schedule have varied widely, but something in the neighbourhood of 40 games appears to be a reasonable bet. With a February 5th start date, and three games per week, such a format could wrap up the regular season by mid-May and possibly offer a window for some type of postseason play.

Other NHL-AHL affiliations see a different path, particularly to control safety, travel time, and costs. Such a move might also mean shrinking the postseason considerably.
"Our feeling that we share with Tampa is to play a minimal amount of games," Dolgon said in his fan town hall. "Two games a week, maybe 26 to 32 games, total."
"My belief, and it's a strong belief, is that this is a season to develop players, and that's it. We have, as partners of the Lightning, a responsibility [to play] if we can fulfill it. We want to keep it safe."
More games mean higher costs for teams and the AHL. But there are widely varying views on an appropriate schedule length – some opinions seemingly very passionately held from one NHL organization to the next. Of course, the league could buy itself additional time, hope that ramped-up vaccination efforts begin to suppress case numbers, and choose to delay the season still further. Such a move would necessarily reduce the schedule further, however.
In addition, there is a sensitivity to not extend the AHL season past the NHL's expected July finish as well as a sense of urgency to move into full-fledging planning for 2021-22 next fall.
"This is a year to focus on development," Dolgon said.
How are NHL-AHL affiliations and relationships faring?
NHL teams want their AHL affiliates playing. Those AHL affiliates want to play.

That dynamic between the two leagues propelled the AHL's growth from a 16-team regionally-based league to its current-day incarnation as a coast-to-coast league with an affiliate for every NHL team. Back in the mid-1990s, Andrews had a succinct sales pitch to NHL organizations – the AHL would be the ideal caretaker to prepare those clubs' top prospects for eventual NHL duty. Andrews and the league enacted a series of development-friendly measures to further that goal, and that effort eventually paid off in full when the former International Hockey League folded in 2001 and the AHL became the NHL's undisputed top developmental league.
Team executives have credited their NHL parent clubs for understanding the predicament that the AHL faces. But again, whether those AHL affiliates play -- and whether all of those NHL first- and second-round picks who typically populate AHL rosters play -- will come down to money.
After all, NHL teams have taken their own financial hits in 2020 and are not necessarily in a position to extend significant help to their AHL affiliates.
What are player concerns?
As head of the Professional Hockey Players Association, Larry Landon sat across from Andrews in many negotiations going back to the 1990s. Landon, a former player in the NHL and AHL, leads an association that represents approximately 1,600 players throughout the AHL and ECHL. It is the only minor-league players association within a major-league sport, and it advocates for a variety of player benefits, including insurance, per diem, housing allowances, per diem, and training programs.

Making sure that his members' interests always has been Landon's challenge, but there was no playbook for a worldwide pandemic before 2020.
"A lot of things have changed [since March 2020]," Landon said. "One thing that hasn't has been the uncertainty."
What worries Landon's membership?
"Insurance is an overriding concern," he said. "It's creating a lot of anxiety in the players and families."
Players, especially older players, also see the clock ticking on their careers, which have a limited lifespan even in the best of times.
"[Some] players are saying, 'You know, now may be the time for a career change,'" Landon said. To that end, the PHPA has helped 57 members enroll in a firefighting training program. When a Prince Edward Island steel factory was in need of labour, the PHPA reached out to direct players to job openings there.
"We're trying everything we can to make sure our guys have jobs as best we can," he explained. "And to make sure that if they haven't applied for unemployment [insurance], to make sure they get that."
Players have also faced uncertainty in their offseason training programs. Typically, they tailor their programs to ensure that they peak in time for training camp while also aiming to avoid overtraining. But with multiple delayed starts, those efforts have been a challenge. Finding available ice and training facilities remains a challenge in some locations.
Finally, the NHL managed to pull of the Stanley Cup Playoffs because it employed player bubbles in Edmonton and Toronto. But an AHL season would be more akin to the NHL's new 2020-21 season format – minus the chartered flights. If the AHL plays, players would be tested regularly and expected to adhere strictly to any and all safety protocols. Landon also predicted that some players may choose to leave their spouse and children at their summer home.
What does the player market look like?
Much like the NHL, free-agents at the AHL level have faced a crunch on the job market. With so much uncertainty and months of lost revenue, NHL teams have been reluctant to sign big-ticket veterans for their AHL affiliates, the type of player who can contribute on the ice and also mentor the NHL's fresh-faced prospects.

The NHL's move to use a taxi squad also complicates AHL roster construction. That plan could pull as many as six top players (including a goaltender) from an AHL club's roster, a group of players that would include some combination of experienced veterans for spot duty and prospects further along in their development. In addition, many NHL teams have loaned players to European clubs. Should NHL general managers leave those players stationed in Europe or bring them back to the AHL, where they would be able to monitor them more closely? If they do so, what happens if a player returns to North America, misses time on ice while quarantining, and a provincial or state government later chooses to enact a lockdown a few weeks into the AHL season? Might the player be better off staying in Europe? These are questions that at least some NHL teams will have to consider.
With so much talent elsewhere, AHL teams would likely have to supplement their rosters with ECHL free-agents or cobble together a roster via other means. Would such a situation merit staging a season, especially if teams are limited to little to no fans in their buildings?
Is easing the AHL veteran rule a possibility? The AHL-PHPA collective bargaining agreement had planned to tweak the rule for the 2020-21 campaign. The rule requires teams to dress a maximum of five veteran players (excluding goaltenders) in a game. The CBA defines veterans as players who have played more than 320 NHL, AHL or elite-level European regular-season games. Teams may also dress one "veteran-exempt" player (between 261-320 NHL, AHL or high-level European regular-season contests).
For the 2020-21 season, players who had not turned 25 years old before July 1, 2020 will not qualify as a veteran. Landon would like to see a further relaxing of the veteran rule for one season.
"If the vets aren't playing, they're going to lose their skillset, so there is deep concern of that," he told the Around The A podcast. Landon also stated that player salaries for a 2020-21 season would be pro-rated based on the number of games played in the campaign.
Could Canadian Hockey League players populate AHL rosters?
The Ontario Hockey League finds itself in a very similar predicament to the AHL's, announcing another delay on Wednesday because of the pending provincial lockdown. A new start date is still to be determined. The Western Hockey League is also on hiatus while the Quebec Major Junior Hockey League had to halt its season in November; the QMJHL plans to resume limited play in January.

If CHL clubs are kept off the ice this season, where would their top prospects go? The AHL could be a landing spot for some of them and also offer a step up in play at a time when many players have yet to skate in a game this season.
Take forward Peyton Krebs, who will compete for Canada at the World Junior Championship that starts this weekend. The Golden Knights selected him 17th overall in the 2019 NHL Draft. In a "normal" season, the 19-year-old would be skating for the WHL's Winnipeg Ice and not eligible for AHL play, but the WHL hiatus means that he could be out of game action after the WJC ends. The Golden Knights plan to bring him to Las Vegas to participate in the club's NHL training camp in January and make a decision from there.
If the WHL does not stage a season, could Krebs find himself with the Golden Knights' new AHL affiliate, the Henderson Silver Knights? An NHL-CHL agreement typically prohibits most players with junior eligibility from skating in the AHL until their junior club's season ends. But if there is no junior season and the Golden Knights determine that Krebs is not ready for an NHL role, then Henderson might be a fit, according to McCrimmon.
"[Placing Krebs in the AHL] would only be with an understanding of the NHL-CHL agreement where the CHL [says] 'We're not going to be able to provide hockey for players [and then] I think in turn [the WHL would] certainly be willing to let a player like Peyton join us in any capacity," McCrimmon explained.
Staffing concerns
Most AHL teams have had to furlough or lay off at least some of their front-office talent.

As one of the AHL's strongest clubs on and off the ice, the Milwaukee Admirals had the means to avoid such a decision.
"You do the best you can to keep [staff] tethered]," Milwaukee president Jon Greenberg explained, "so that they're still feeling some affinity for your organization."
"It has been a real priority here to keep our [staff] here. The team that we have in this office, this is the best group we've ever had. So, we work hard to keep everybody here. They're ready to go. I mean, everybody's just waiting. I think that's the thing, our staff is just chomping at the bit to do something."
Where do fans fit into the picture?
For now, most arena capacities would be dramatically reduced, if not cut altogether.

Then again, would fans really be in a position to flock to AHL arenas regardless of government-imposed limits?
Middle- and working-class fans and their families have long been the AHL's foundation. But that demographic has faced severe economic pressures throughout the past nine months, and that stress is not expected to lift any time soon. Teams are also sensitive to their fans' health and safety concerns that would accompany sitting in an arena while case numbers rise. There are healthcare and front-line workers who comprise a portion of the AHL fan base, after all.
"We don't want [fans] to feel nervous coming to a game," said Dolgon in his town hall. "We want [them] to feel safe."
What is the longer-term outlook?
Said Greenberg: "The thing I always tell people is this is not just the Admirals. This is everybody. This is the world going through this. The boat that you're in is the same boat that we're in."
For all of the current challenges, most people in the AHL still maintain an optimistic long-term outlook.
"We've got to make sure the 2021-22 season is a great one," Landon told Around The A. The AHL will reach a record 32 teams for 2022-23 when an expansion team in Palm Springs, Calif. enters the league as the new affiliate of the Seattle Kraken.
Said Greenberg, whose Admirals compete against the major-league Brewers (baseball), Bucks (basketball), and Packers (football), among other forms of entertainment: "We're at a price point where we're still a great piece of entertainment and a great value for people."
"We can't wait to come back."
You may also be interested in: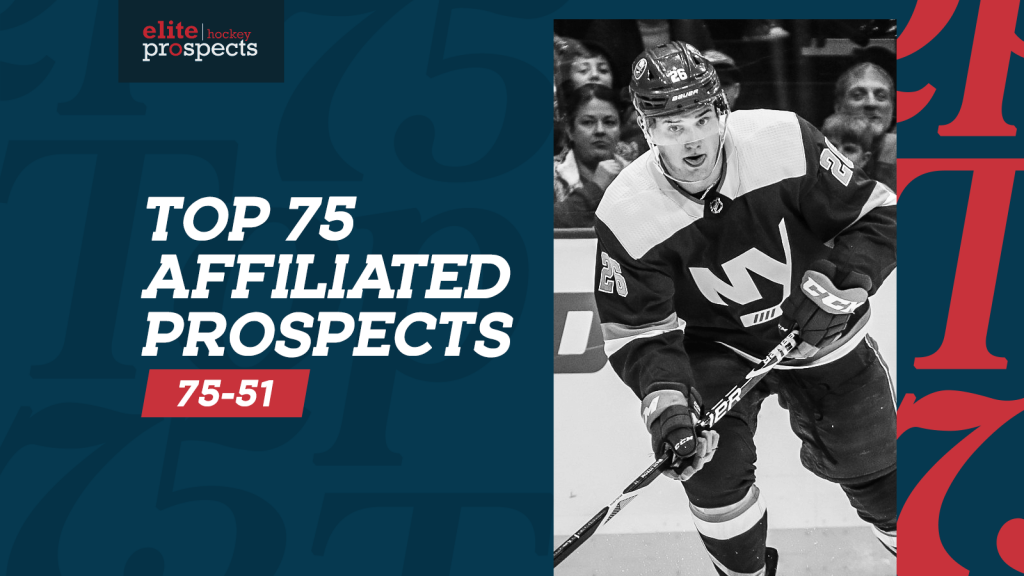 Ranking the NHL's Best Prospects, Skaters 75-51
This article is about: