World Juniors 2021
The World Juniors Coaches Q&A Series: Team Canada's Mike Dyck
The 2021 IIHF World Junior Championship is hours away from puck drop, and I had the opportunity to chat with Mike Dyck, assistant coach of Team Canada, as they look to defend their gold medal on home soil.
What follows is an exclusive question and answer session with Dyck, as we continue a series of Q&A articles with some of the coaches participating in the World Junior Hockey Championships in Edmonton.
---
Julie Robenhymer: You guys have been together for well over a month now. Why did you want to start your training/selection camp so much earlier than normal?
Mike Dyck: The main reason was that the majority of our players haven't played a game since March. We had a few guys that were in the NHL bubble and played a bit there and a couple of NCAA players and guys in the 'Q who were able to play a couple of games, but most guys haven't played since March, and since we didn't have a summer camp like we normally would, we thought it would be a good idea to have more time to be on the ice and play games, but also to get to know them better. Even as a staff, all of our communication from April to November, when we got together, was via Zoom. So even for us, it was great to get some face time and have that bit of social interaction with each other as well.
JR: Things went a little awry early on in the camp and you all had to individually isolate for 14 days after some positive test results. How were you able to use that time to get to know each other better and come together as a team, not only off the ice but eventually on it as well?
MD: It wasn't something we planned, and I thought Hockey Canada and our management and André Tourigny and his leadership did a really good job adjusting to it, as did the players, because the initial thought was, "Uh oh, we're going to be two weeks behind." But there was nothing we could do about it, so we just had to deal with it and do our best to make the most out of it by trying to stay connected. There was less technical, tactical stuff, and more interpersonal connection, more team building, more positive energy. We had a morning motivation session and followed that with a workout focused on strength and mobility and someone in Red Deer was good enough to donate spin bikes for us to use during that time. So, guys had spin bikes in their rooms and we'd have spin class in the afternoon and some yoga too. We also scheduled a social activity every night, again through Zoom, whether it was a guest speaker or rock, paper, scissors tournament. It was really all about staying active mentally and physically and I think we did a great job of that.
JR: So the five days of isolation, once you got to Edmonton, must have been easy?
MD: That was a piece of cake. Not only was it a lot shorter than the 14 days we already had to isolate, but we knew exactly what to expect and could be better prepared to use that time well. When we first went into the hotel rooms for 14 days, you're really questioning whether you can do it. But then, you get into a routine and commit to staying mentally and physically active, it goes by quickly. The one thing I did miss was fresh air and that's the first thing I did when we were allowed out of our rooms in Red Deer was going outside and getting some fresh air.
JR: Let's talk about your team and how you narrowed your roster down to 25.
MD: There were a lot of difficult decisions to make in a very short period of time. We were able to get in a couple of intra-squad games and that was helpful to see how they may have improved over the summer and since the last time we've seen them play. Combining that with their body of work over the past two years is what we used to base our decisions off of. It wasn't easy, but I think we got it right.
JR: What's going to be the signature of Team Canada at this tournament?
MD: Depth. I think we're a really deep team. We've got four really good lines and seven or eight really good defencemen, and I think we're solid in net. So, top to bottom, our depth is solid. I also think we have a nice mix of size, and speed, and skill. But, if you're going to hold me to just one, I think it's depth. That will be our biggest strength and will allow us to play any way you want to play. Whether it's a hard, heavy, physical game or a fast, skilled game, we'll be able to play it.
JR: What can you tell me about your defence, and how you plan to match guys up there because you have a lot of weapons on the blue line.
MD: Yeah, we do, but we just look for chemistry as far as guys working together and playing together and, obviously, we don't have a lot to go off of, but fortunately some guys have played together before. Like Bowen Byram and Jamie Drysdale, who played together at this tournament last year, but you look for tendencies and we like having a lefty and righty or finding guys more comfortable playing on their backhand than others. We also have two really big, physical guys playing together and we'll be able to match those guys up against lines that are bigger and heavier and need a little more muscle to defend against. We've got lots of different options to work with and we're just looking to see who has the best chemistry together.
JR: You mentioned Byram. How important is he to the success of this team?
MD: I've obviously coached him in Vancouver the past two years, so I know him really well. He's going to be able to provide leadership and experience with what the team went through last year with the set back against the Russians in the round-robin, and then maintain their composure, and be able to come back and win gold. There's certainly a lot he can bring from that point of view and, obviously, on the ice, there are a lot of expectations there too. He can bring a lot of offence, but he's still a 200-foot defenceman, and he'll get some minutes against some of the top forwards in this tournament. He's definitely got a big role on this team.
JR: Up front, are you planning to run your lines like four top lines or do you want them to fill specific roles and purposes?
MD: I think each guy brings something different, which means I think each line brings something different. There's a way that we want to play as a team and I think everyone plays to that identity, but guys will certainly have their own roles and responsibilities, whether that be offence or energy or good defensive play. There's going to be a healthy mix that we can hopefully use to our advantage.
JR: You've named Kirby Dach as your captain. He wasn't on the team last year because he was playing full-time in Chicago and it's obvious he wanted to take the opportunity to be on this team. We know what he can bring on the ice, but what can you tell me regarding what he provides off the ice?
MD: Well he wanted to come back and play. It was his choice to do so and that said a lot for us. He's got a lot of respect from his teammates, not only because of where he played last year, but his level of composure and poise and professionalism and I think that will bode well for us as we get rolling and get into some pressure-packed situations.
JR: You've faced a lot of challenges just to get to the starting line here in Edmonton. How have you dealt with it and continue to put yourselves in a position to be successful over these next two weeks?
MD: We don't have a choice. We would have loved to play more games during camp and here in exhibition, but that's out of our control. What is in our control is how we handle it and I think our guys have done a great job with every challenge and every obstacle we've faced so far and our goal is just to get better every shift and every period.
JR: With that in mind, what is the expectation for this team at this tournament?
MD: To win. We came here to win. That's it. The focus is to get better every time we hit the ice, play to our identity - be fast and hard to play against - and win another gold medal. That's the expectation.
---
Editor's note: Robenhymer filed this article before we knew the full-extent of Kirby Dach's wrist injury, a fracture that will force him to miss the remainder of this tournament.
You may also be interested in: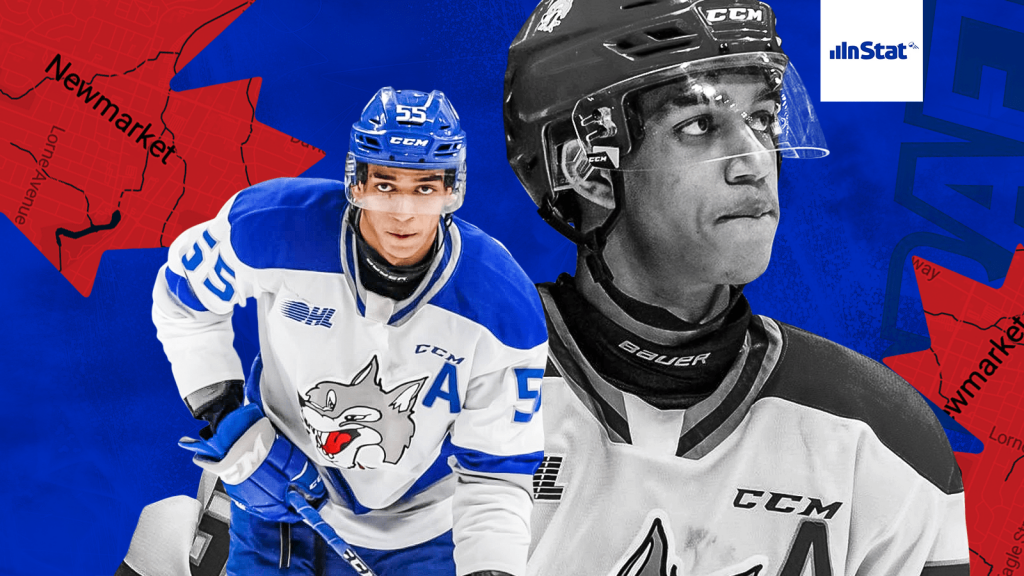 How Whichever Team Drafts Quinton Byfield can Unlock his Superstar Potential
This article is about: