Scouting Reports
ROBINSON: Seth Jarvis' Strong Second-Half Thrusts him Into Elite Company for 2020 NHL Draft
It's been a tale of two halves for Portland Winterhawks star winger Seth Jarvis. The 11th overall selection from the 2017 Bantam draft posted a successful rookie WHL campaign consisting of 16 goals and 39 points in 61 contests. He was productive and noticeable for Canada at the Hlinka-Gretzky Cup helping bring home a silver medal.
[Read more: Hlinka-Gretzky Cup Wrap-up With Commentary From Coaches, Players]
However, as the season wore on in Portland, the 5-foot-10, 176-pound right-winger found himself amongst the team's bottom-six forwards more often than not. You can attribute that to a few reasons. Portland has an exceptional team. At the time league play was suspended due to the Covid-19 virus, they led the WHL in points and winning percentage and led the league in scoring with 266 goals.
Even while Jarvis was working on lighter deployment, he found ways to produce. Through the first 21 contests, the now-18-year-old had 24 points. He earned a 'B' rating from NHL Central Scouting — indicating a player likely selected in the second or third round.
It's what he did after that has been truly exceptional.
Seth Jarvis' season in two parts:

• First 21 games – 10 goals, 24 points
• Next 35 games – 31 goals, 70 points

Keep your ? peeled for the deep dive @EPRinkside next week.

Spoiler Alert: I like him. A lot.

— /Cam Robinson/ (@Hockey_Robinson) March 6, 2020
As November bled into December, Jarvis took charge of the Winterhawks and the WHL. He's been named WHL Player of the Week three of the last eight weeks. He took home the WHL Player of the Month in January. He's rocketed up draft boards, including CSS who pegged him as the 19th rated North American skater when they released their midterm grades in January.
We at EliteProspects thought enough of the speed-driven forward to land him 24th on our last ranking. I'm confident that number will shrink when we publish again.
[Read more: EliteProspects 2020 NHL Entry Draft Ranking Version 2.0]
So, let's find out exactly what goes into the Manitoba-native's game that makes him such an intriguing prospect.
The Tool Box
I usually try to keep these breakdowns from becoming too dense. If we broke down every attribute of Jarvis, we could be here for four or five thousand words. But let's hit on the main points.
Skating
What is the most prevailing feature that an NHL player must have nowadays? Speed, speed, and more speed. If you cannot keep pace you need to own some of the best brains in the league to find a long term home. Fortunately for Jarvis, he possesses one of the better strides in the class.
This is a fairly innocuous play. It's late in the game. Portland owns a 4-1 lead. Yet here he is, pushing nearly 125 feet at full flight to provide pressure on a tired defender looking to outlet the puck and get off.
The knee bend. The extension. The recovery. It's all meticulous. Countless players would kill for that consistent and efficient a stride. It generates clean, efficient power.
In the next clip below, we can see the power he's able to generate in a short amount of time. This ability provides an impact all over the ice. He's quick to pucks in the offensive corner resulting in a forechecking wizard (more on that later).
His ability to force defensive schemes back through the neutral zone provides a buffer for offensive zone entries — another area where his game thrives. Watch below as the defenders must respect his ability to burn them and as such gives up the offensive blueline before sagging even lower. This opens up the defender option on the PP and leads to a primary, power-play assist.
This next clip coming up is one of my favourites. And it's one that never made a mark on the scoresheet.
Jarvis catches the puck in the neutral zone before going into a crossover-heavy acceleration phase. He beats one defending forward and gains the line. While continuing the crossovers, he pushes the defender back. He proceeds to send a pass into the low slot for a scoring opportunity.
Notice how he keeps his feet moving and then hunts down the opponent puck-carrier. He uses his speed to gain body position, lift the stick and force the turnover. Time to move it and then look for a change?
Nah.
He wheels around the neutral zone looking for a chink in the armour. After a slight fake, he chips the puck off of the boards and races to get it himself. He then serpentines back into the middle forces the defenders back with speed and drops to a mate and goes hard to the net.
It's the type of shift that demonstrates his dominance at the junior level.
The Shot
At the time of league suspension, Jarvis sat third in the WHL for goals with 42. That mark trailed only Ottawa 67's sniper, Jack Quinn for tops amongst CHL first-time draft-eligibles. Yet, I wouldn't consider him to be a prototypical sniper.
The ways in which he finishes are varied and for the most part, appear to be translatable variations. For Jarvis, he's averaging over 4.5 shots per game. He's finishing at a rate of 19.2 percent.
That number is sustainable by the where and how of his effectiveness. He scores an inordinate amount of his shots from the high-to-mid danger areas of the ice. We can attribute this to two reasons
He's unafraid to force his way into the more challenging portions of the rink
He's smart enough to pick his spot, not blow past a far post, or misread the play
It's tantamount to an NBA forward scoring at a much higher percentage than an outside shooter. Layups are easier than threes.
Here are some examples:
In the clip above, Jarvis gets himself set for the oncoming point shot. He tips the puck at chest level but it misses wide. He makes sure to get himself in a position to shoot while anticipating a cross-crease pass.
For added difficulty, he bats it out of mid-air.
I have a ton of clips on this kid that involve the word 'garbage'. That's not to infer that the goals are less valuable, but that they're the result of his working and maintaining position and cashing in on second or third opportunities in and around the paint.
I should take this time to mention the help from a very intelligent amateur scout, Yannick St. Pierre is accruing a ton of clips on Jarvis. St. Pierre does a terrific job creating scouting videos on YouTube. Check out his channel here.
Jarvis is also unafraid to simply force his way into the high-danger areas using speed and puck protection. A few examples:
This one above led to a penalty shot opportunity. He makes good on it.
I could do this all day, but let's take a gander at a few other ways the 18-year-old is able to finish.
The Wrist Shot
In all of these examples, we can see a player who doesn't showcase his shot too much. He also doesn't attempt to blow it by goaltenders, preferring instead to hit his spot and keeping his bottom hand up high.
He sacrifices some juice but adds quickness to the release.
That last clip was one of my favourites as it shows how he is able to corral a hot pass that is close to his skates/body yet still gets it off in a hurry and manages to find the back of the net.
The One-timer
While setting up on the half-wall as one of the premier distributors of the power-play unit, Jarvis uses that position to set up for shots at a difficult angle. The clip above showcases his ability to click on a one-time from a cross-ice setup. He catches the goalie quickly sliding across the crease and beats him five-hole.
As mentioned, this is a player who can finish in a lot of ways — some more translatable than others. I imagine he'll continue to convert from in-tight at the next level and thus maintain a relatively high conversion rate.
The Hands
One of Jarvis' best attributes is the ability to handle the puck at top speed. It can lead to him over-handling it at times, but I would much rather attempt to rein a player in than light a creative fire under him.
He's able to maneuver well in tight spaces and traffic and does so to produce quality scoring chances for himself and his teammates. He has the ability to embarrass defenders.
Passing
As a dual-threat offensive player, the ability to create for his teammates is often at the forefront of Jarvis' game. This is part and parcel of the speed-driven approach he takes on every shift. Defensive schemes must respect his ability to burn wide and as such will sag off of him, giving him more time to read the play and distribute effectively.
He also has the ability to make creative plays such as the one below where he uses his skate to kick the puck into an area for his mate to skate into, leading to a goal.
However, for the most part, Jarvis provides straightforward and efficient playmaking skills. He uses what the defense gives him, sees a lane, and makes a crisp pass.
The Analytics
Checking in on historical comparables is an important means of projecting the future of a prospect. Fortunately, we have several avenues to do so, including statistical comparisons using NextGen Hockey's co-founder, Jeremy Davis' pGPS model.
For reference, the pGPS model looks at a player's statistical and stature-based profile and compares it against that of a cohort of players who display similar attributes — size, age, production, etc. It then computes the likelihood of that player graduating to the NHL based on their cohort.
Additionally, my colleague and Head of North American Scouting with EliteProspects, Mitch Brown has sat down and manually tracked nine Winterhawks games and has produced some staggering metrics to consider.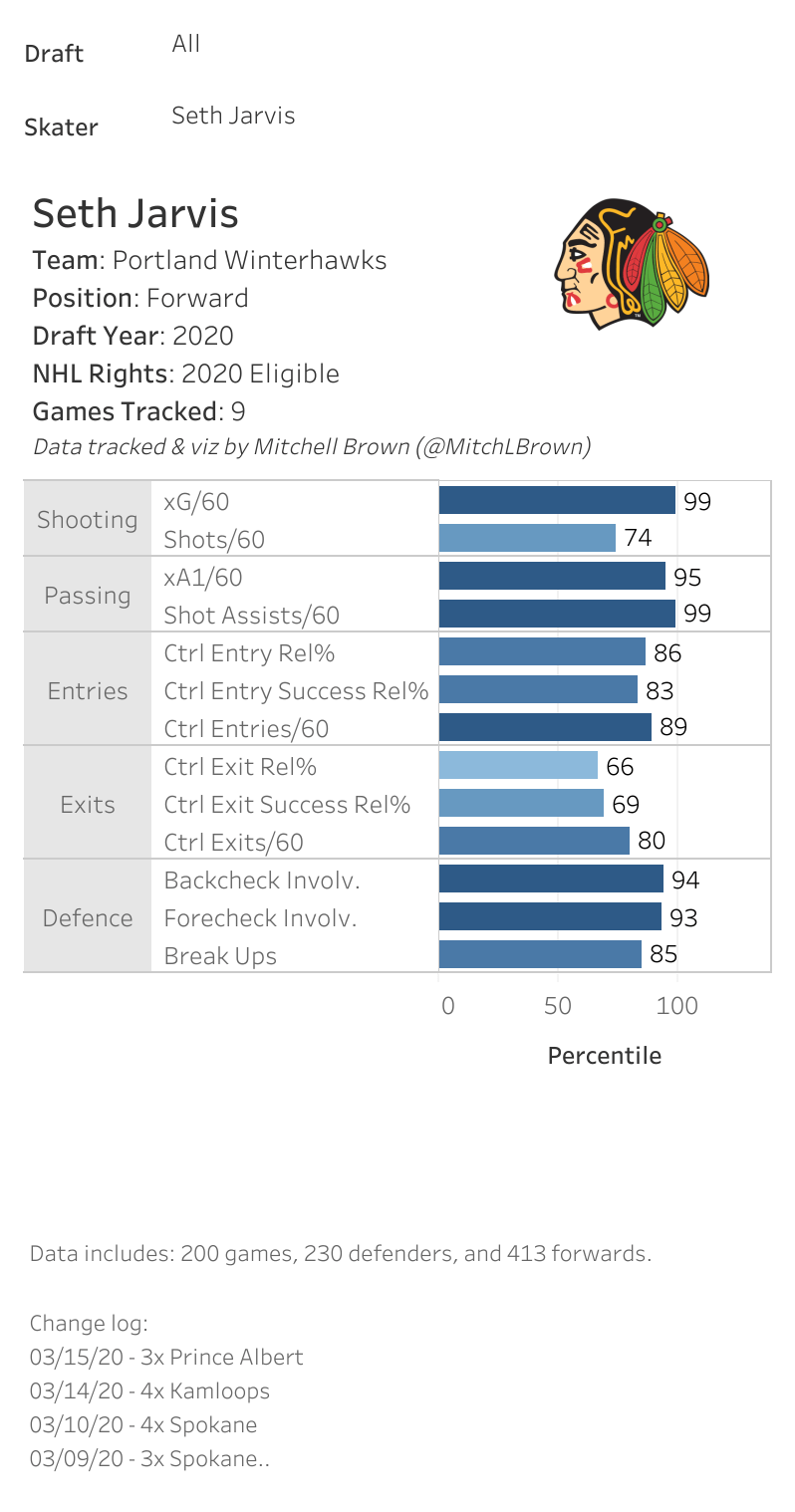 Basically, what we're looking at here is an elite asset at the junior level. His expected goals, primary assists, shot assists and forecheck involvement rank amongst the very best at his age-level. His controlled zone entries, pass breakups, and zone exits are very strong.
These numbers reflect favourably to Nick Suzuki's draft+2 season.
Conclusion
While many, myself included, seemed to have slept on Jarvis leading up to his draft-eligible campaign and during its early portions, his production and skill set appear to be NHL transferable.
There's no denying that Jarvis has been in an exceptionally favourable situation this season. His production is sky-high, especially compared to his teammates. However, few draft-year players are given an opportunity to work with such a deep and well-rounded club. Team's must gameplan for him, but they must also respect virtually every other forward on the team – something we don't see very often at the CHL level.
At the same time, it is my belief that his path to becoming an NHL top-six forward is just as clear as some of the players we've seen locked in the top-10 all season. Anton Lundell, Alexander Holtz, Cole Perfetti. Seth Jarvis should be spoken of in the same regard leading up to whenever this draft actually happens.
You may also be interested in: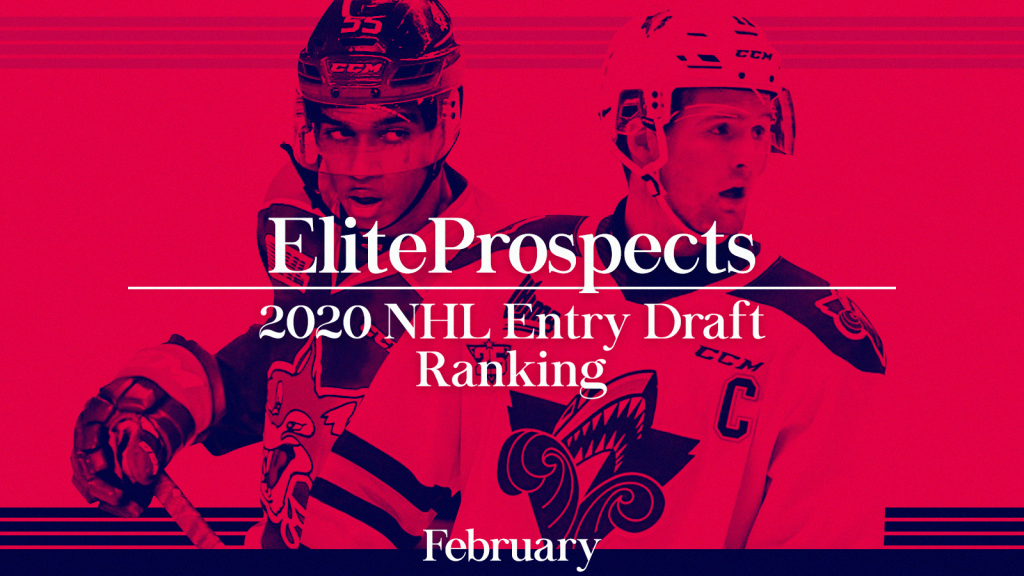 EXCLUSIVE: EliteProspects 2020 NHL Entry Draft Ranking Version 2.0
This article is about: