Scouting Reports
BROWN: How Mavrik Bourque's Gravitational Pull Makes him one of the 2020 NHL Draft's Best Playmakers
The best playmakers in hockey share one commonality — gravity. Rather than drawing one player into their orbit to make a play, they take in one or two defenders. It's an unselfish, conscious decision that creates space for their linemates.
When Sidney Crosby bounces off defenders along the boards before finding a teammate in the slot? That's gravity. When Mat Barzal cuts across the offensive zone, dragging in multiple defenders to find a teammate behind him? Gravity.
While terminology ranges, the critical feature of gravity is intentional manipulation. These players understand how defenders react to their maneuvers — they weaponize their gravity. They use physicality through body positioning, and deception through fakes, look offs and more to draw in defenders. When a teammate gets open, they have the skill to feather a pass through the tiniest of openings with multiple defenders trying to stop them.
Enter Shawinigan Cataractes centre Mavrik Bourque, our 12th ranked prospect in the 2020 NHL Draft.
While Bourque's certainly no Barzal, this top 2020 draft-eligible fits the mould of playmakers with gravity.
"(Bourque's) so good at bringing defenders to him," Daniel Renaud, the head coach of the Shawinigan Cataractes, told EliteProspects in December. "As soon as he feels two or three players sucked in, then he's going to make a play, and it's going to be a scoring chance."
Creating offence after drawing in so much attention isn't easy. Luckily, Bourque's equipped with the passing skills to navigate the pressure. He uses hook passes, and slip passes, a pair of reach-adjusting feeds that allow the player to navigate nearby pressure. The hook pass features an extension of reach, while the slip pass sees the player pull the puck in towards their body. Think of them as the passing equivalent of the curl-and-drag wrister, with the hook or slip motion changing the angle of the pass to prevent interceptions. No matter the pass type — Bourque's never rushed and consistently hits teammates through layers of sticks and skates.
Even with all that passing skill, physicality matters — to play in traffic, a player needs to find separation. Bourque's on-puck physicality helps his passing ability because it creates the space that his passing needs.
"He's very effective at putting the puck into the proper space; then, making contact and then spinning to create space," Renaud told EliteProspects.
That preemptive contact establishes distance, while the spin separates. In foot races, he uses his arms and legs to push his body in front of theirs. Then, he cuts off their hands from the play by working through the recovery route of the defender. By effectively removing backpressure from the play, he forces defencemen to divert their attention to him — sucking them into his gravitational pull.
With the skills established, let's return to intentional manipulation, most evident in transition. Bourque intentionally skates into groups of defenders — usually up the middle — to draw their attention towards him and away from teammates. As the second or third defender closes in, Bourque uses the passing skill to an open teammate.
Deception is another way that Bourque intentionally manipulates and sucks in defenders. By looking off his target, he draws in defenders and freezes goaltenders who expect a shot. He layers a glide into his look offs, making him seem like a vulnerable target, and that's precisely what he wants defenders to think. Some of his manipulations are — and I'm loathed to use this word – elite. He bends defenders to his will like few players.
Bourque deploys an array of deceptive moves, such as a look off and shooting stance. The layering shines on the power play; his manipulation moves sticks out of his desired lane. Deception is often more subtle, too. He likes to glide to an undesirable area (like the corner), tricking the nearest penalty killer into breaking rank as he fires a quick pass into a now-open teammate. As he handles the puck, he moves his hips and torso between the corner and slot, keeping defenders guessing. Combine the deception with laser-like precision, and passes like these are gamely occurrences.
Gravity is Bourque's defining trait as a playmaker, but even classifying Bourque as a playmaker a year ago would've seemed like a stretch. At 16-years-old, Bourque scored in the 26th percentile among CHL forwards in Expected Primary Assists per 60 (xA1/60) – a weighted measure of shot assists, like Expected Goals, but with the passer getting credit, too.
This season, Bourque's jumped to the 86th percentile, marking the largest draft-minus-one to draft-year jump I've seen in several years of tracking. To go from a bottom-quarter passer in the CHL to one of the best in a year — while integrating the gravity component that the best playmakers have — speaks to Bourque's capacity to learn and apply.
Bourque's goal-scoring
Before Bourque's playmaking was his defining skill, it was his shooting. He's the ever-rare dual-threat, owning one of the better shots in the draft class with scoring instincts that (almost) match.
Better than all but a few in this draft class, Bourque understands how to position for scoring chances without sacrificing his puck dominance and willingness to support the play. He circles up and away from the slot, only to maneuver back in just as his teammate moves into an open passing lane. His body positioning and awareness allow him to keep his stick free, as he gets defenders on his back. His best reads, however, are subtle pushes off a defender into a tiny pocket of space.
Bourque's off-puck reads require refinement, notably around the net. Sometimes, he's late to his spot. Others, he battles the defender but stays engaged rather than freeing his stick as the play works towards him.
Among the many differences between the QMJHL and NHL is the space available to shooters. With less space, players must not only make timed movements into pockets of space, but shoot while pressured without sacrificing power, accuracy, or release.
Good news — Bourque is unfazed by pressure. With an expansive shot variety, it seems he can score with a shot tailor-made to nearly every situation hockey throws his way. Whether a defender is checking his stick, grabbing his back, or both — his expansive shot variety gives him a perfect solution to nearly every shooting problem.
Shooting off his inside leg, outside leg, or both — it doesn't matter. He's dangerous. He predominantly relies on a wrister, set up with a sudden weight shift and a blade that masks his release point, giving goaltenders little time to read his shot. A near-perfect one-timer gives him shooting range, while a two-touch wrister gives him dexterity around the goal.
Concerns about Bourque's game
Pace has become a buzzword, but it's absolutely an issue for Bourque. Pace is mostly about strong habits, a base that Bourque has covered. He's deceptive, works give-and-go where many handle, and keeps his feet moving through pressure, passes, and pass receptions.
However, much of his scoring chance generation is the result of skating at a glide or standstill. Intentionally slowing the game and making quick feeds is a valuable tool, but he rarely creates by gearing up. He's often stuck in the slow-the-play-down loop — predictable and easily picked apart by pro-level defenders. Speeding the game up is another option; the more options a player has, the better.
Another way to improve pace is through improving skating, and Bourque's skating certainly isn't a strength. When body positioning and passes aren't factors, Bourque's speed looks QMJHL average. His stride recovery has narrowed, with his back leg now consistently recovering under his torso rather than flaring wide (helping him generate more power), but issues remain.
He finishes his recovery and begins his extension on his inside edge with his toes pointed outwards. By not landing on his outside edges and thereby shortening his stride, he's working harder for an average output. And that output won't be average in the NHL.
The inefficient stride ties into concerns about Bourque's motor. He plays big minutes, averaging 22 per night against top competition (most among 2002-born CHL forwards after Hamilton Bulldogs centre Jan Mysak per InStat Hockey). With his puck dominant, physical style, he needs to improve his stride. Using those outside edges will help preserve energy for situations where Bourque tries to conserve, like gliding when he should stride and supporting instead of engaging.
Getting stronger will be key for Bourque's development, not only as a skater but for translating his game up the ranks. While stacking the odds in one's favour with body positioning is an impressive junior, nearly everyone does it in the NHL. That puts a premium on speed – which Bourque doesn't have. Using those outside edges could help Bourque get a half-step ahead of defenders and win the body positioning battles before escaping with possession. He'll also have to work on keeping both hands on his stick while battle in the corners. He tends to free his bottom hand to stiff-arm defenders, leaving his top hand to control the puck, making him quite easy to dispossess if he's not stronger than the defender. Junior defenders rarely exploit that – NHL defenders will.
Conclusion
Bourque doesn't need to turn into a speedster to become effective. He's already so aware of his skill set, using give-and-goes, his advanced body positioning, and intelligence to rely as little on speed as possible. But no element of his games goes unaffected by his skating.
Most prospects improve; few evolve. By becoming a dynamic passing threat after showing little passing upside in 2018-19 — Bourque evolved. He's also made plenty of improvements. His stride recovery narrowed through the season. His defensive game has steadily improved to the point where it's a strength, motor lapses notwithstanding. And he became one of the CHL's most dangerous snipers, scoring in the 99th percentile in Expected Goals per 60 while scoring at a 40-goal clip – as his team's go-to playmaker, and well, everything else.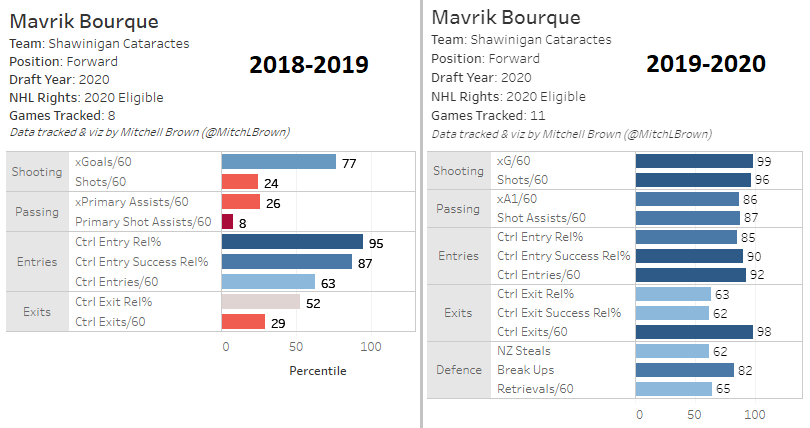 Here at EliteProspects, we've witnessed Bourque's development over two seasons. He's on a sharp upward development curve, overhauling his game more in a single season than most prospects over an entire development cycle.
Bourque's gravity and dual-threat upside largely drive our uniquely high ranking of the Cataractes centre. While he's not tracking to be an elite player, we believe he's the best bet to become a top-six centre outside of the top-10.
You may also be interested in: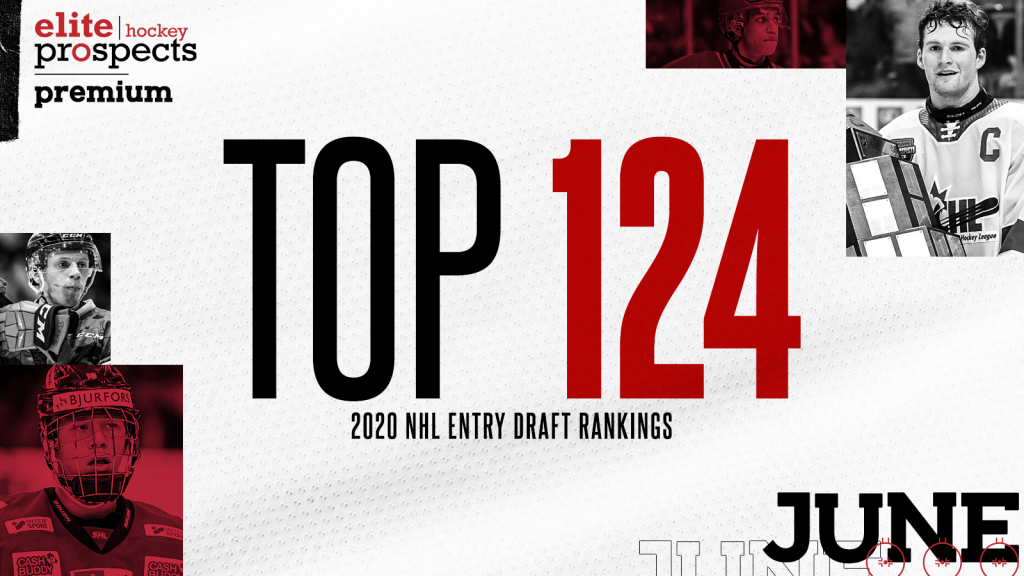 EXCLUSIVE: EliteProspects 2020 NHL Entry Draft Ranking Version 4.0
This article is about: