NHL
Tyson Foerster and Zayde Wisdom made the most of an NHL training camp introduction unlike any other
Tyson Foerster and Zayde Wisdom are two Philadelphia Flyers draft picks from the 2020 NHL Draft. It doesn't matter if you're drafted in the first round or the fourth round -- if a team decides to bring you into camp and you can play in some scrimmages with NHL talent, that's going to help your development, and the Flyers did just that with these two.
"I think it was huge for me to get in here and see everything around the city and come to the Skate Zone and train here and get better with the guys. I think it was very important for me to get down here after a long nine months of just training at home to get to know these guys and skate with them," Foerster, who also mentioned his time at the 2020 World Junior Championships selection camp for Canada, told EliteProspects.
"It was fun. I knew a lot of the guys there already. I mean, I got hurt in the first game, so that kind of sucked. We then had to do that 14-day quarantine. But all in all, I think it was a great experience for me and preparing me for next year."
Both players had good moments in training camp. They were scrimmaging and interacting with NHL veterans and an NHL coaching staff.
Flyers head coach, Alain Vigneault said, "I've liked what I have seen from the young man (Foerster). From the first time I saw him when players were skating on their own and he was working on his skill and he was talking to some of the veteran players. I had him do that first scrimmage with [Sean Couturier] and James van Riemsdyk and thought he played extremely well.
"I think we have a young man there that is full of potential, very young and raw, but very talented. It seems like he has the right type of attitude- wants to get better. I'm not sure if the OHL is going to go this year, but if they are not, he is going to be around here and who knows, he might start in the American League. Time will tell."
Back to Foerster. His work ethic really stood out. His trademark shot, a separating skill for the first-round pick back in October, was on full display, and that's something the Flyers were looking for as an organization for the last few drafts. The search is now over. His wrist shot has some real mustard on it. His skating isn't yet good enough for the NHL, but that's hardly the death knell to a fruitful NHL career just yet. Foerster made it through camp with his optimism intact.
"It is a lot faster. It took me a couple of days to adapt to the speed and the pace. I think I have been here for a week, so I have kind of adapted, and I think I am doing perfectly fine."
Wisdom won some wall battles in the scrimmages, and upon winning possession, quickly released a sneaky good pass to start some offensive rushes. One day when he wasn't on the day's chart; he was out before practice began and got in his reps. That certainly impressed the coaching staff.
"I've been impressed by him with his skating ability, his feistiness, winning one-on-one battles, and we saw a lot of that again tonight," Vigneault noted about Wisdom after the Flyers final scrimmage. "I've liked what this young man has brought on to the ice every time. Obviously a very young player. He's come here and worked extremely hard, and he is competing."
With no OHL start being eminent, the Flyers sent Foerster and Wisdom down to the Lehigh Valley Phantoms in the American Hockey League. Normally OHL players wouldn't be able to do that, but in this pandemic season, the NHL is allowing those players to hang around their NHL clubs' cities so they can get some work in.
Back in the day, Patrice Bergeron and a few other junior hockey players were allowed to play in the AHL during the lockout in 2004-05 at the age of 19.
Flyers general manager Chuck Fletcher has done a nice job of making sure some of his key prospects are getting experiences that could carry them into a season wherever they play. It's hard to keep these players sitting idle, and it's nice to see them getting ice time after the World Junior Championship.
Will both of these players get to play AHL regular season games? That's up to the OHL and the Canadian government to see if that season can ever get off the ground. In the meantime, they'll hang around Pennsylvania, get some cheesesteaks, and interact with some pros until things get figured out. It's not perfect, but it seems to be working for these two right now.
You may also be interested in: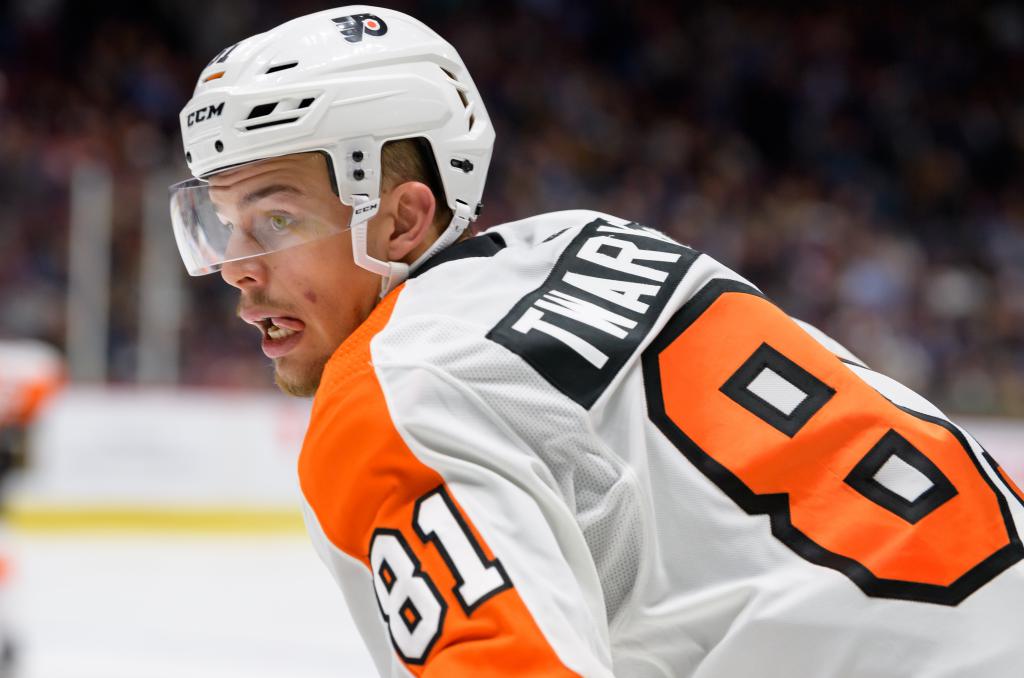 COHEN: The Unlikely Rise of Carsen Twarynski
This article is about: