NHL
What the Blue Jackets can expect from Patrik Laine
The hockey world finally exhaled on Saturday morning, as news came in that the Winnipeg Jets and Columbus Blue Jackets swapped Patrik Laine and Jack Roslovic for Pierre-Luc Dubois and a third-round pick.
While Laine was once the slam dunk second-overall pick, and Dubois the shocking third-overall selection of the 2016 NHL Draft, their fates have since switched; Dubois now appears to be the superior player.

It wasn't all that long ago, though, that Laine looked like a bonafide superstar. As a 19-year-old NHL sophomore, Laine finished second in the Rocket Richard race with 44 goals while adding 26 assists in 82 games.
Instead of leaping from that point to legitimate superstar status, Laine's production dropped to 50 points the following year, before finishing 22nd in the goals last season.

The fall of Patrik Laine probably isn't as significant as the counting stats make it out to be – most facets of his game remain the same. And in some regards, he's improved. However, everything surrounding his goal-scoring remains a massive problem for the Blue Jackets. So, let's figure out what makes Laine's a lethal shooter, identify his limitations, and figure out how much he's worth.
Overpowering shooter
There's shooting the puck hard; then there's the shooting the puck like Laine. He tries to shoot a hole through the goaltender with each one-timer. His form is perfect, turning his outside foot towards goal just as the puck comes into the wheelhouse, maximizing his hip rotation through the shot. Like every great shooter, he turns passes anywhere around his feet into one-timers and adjusts to take the pass as close into the wheelhouse as possible.

A similarly explosive wrister and catch-and-release shot allow Laine to score goals in every situation. He turns tricky passes into two-touch releases and catches the puck across his body to lead him directly into his weight shift. A quick handle before shooting gives him a bit of deception and sets up his release.
And, of course, Laine has goal-scoring instincts. He's not the in-and-around the net shooter, preferring to disappear and burst into the high slot or stretch the ice wide. His timing isn't always perfect, mainly from his foot speed and mental lapses, but his reach and skill make him a weapon when pressured or with his toes pointed towards the boards.
These are the trademarks of a perennial 40 goal scorer, provided he has teammates to get him the puck. He's not an individual shot-creator; he relies on dangerous passes from his teammates.

Offensive Inefficiencies
The holes in Laine's game start with the same skill that makes him so effective -- shooting. He's more of an overpowering shooter than a deceptive one, which explains some of his far more human goal totals at 5-on-5 (49 percent of his goals these last three seasons were at 5-on-5; 42 percent on the powerplay, via NaturalStatTrick). He's always dragging the puck back before firing, an obvious sign to goaltenders and defenders what's coming next. In-stride wristers aren't a part of either game, either.

The core of Laine's issues comes from a lack of problem-solving skills though (i.e., fixating on a play without adapting to changing circumstances).
First, Laine fixates on shooting, missing open teammates in the process. He's such a dangerous shooter that it's often forgivable, but he's prone to do the opposite, too. A passing lane will open, but he takes too long to transition from thinking shot to thinking pass, passing after the lane closes. Compounding this, he often doesn't look before passing, guessing the positioning of his teammates.
Laine's chronic overhandling directly links to his playmaking: by trying to deke through multiple defenders, he misses opportunities to set-up teammates or works give-and-goes. Odd-man rushes frequently see Laine try to beat a defender instead of slowing down to hit the middle-lane driver or making the early pass and relocating. He misses easy passes that would've created something dangerous or an easy zone entry every single game.
It's not all bad, as Laine has playmaking skills; he opens lanes with handling and fakes, occasionally uses the threat of his shot to deceive, and feathers backhand passes through seams. And his playmaking is improving, jumping to the 73rd percentile in shot assists per in Corey Sznajder's expansive NHL data set after years of landing in the mid-to-low 40s.

Laine's inefficient, though, and puck touches are a hot commodity in the NHL. The best goal-scorers maximize their touches, often by reducing the length of each individual possession: Get the puck, pass to an open teammate, and finds pockets of space from which to fire away. Instead, he tries to be a player that his lack of quickness won't allow him to be -- a dangler who beats a defender then scores a highlight-reel goal. For him to become the Rocket Richard Trophy candidate he once was, he must become the off-puck finisher.
To do that, Laine's motor must churn higher. He must accelerate out of his passes rather than glide to beat defenders to space; he must engage defenders physically before separating as the comes puck comes near; and he must keep adjusting his positioning to ensure his teammates have an easy-to-hit target.
Defensive limitations
Laine isn't just defensively limited; he's one of the worst defensive players in the NHL. That might seem harsh, but I argue it might not be severe enough. In Evolving-Hockey's Goals Above Replacement and Expected Goals Above Replacement, he's among the worst forwards in the forward – scoring in the fifth percentile last season and the fourth over the past three.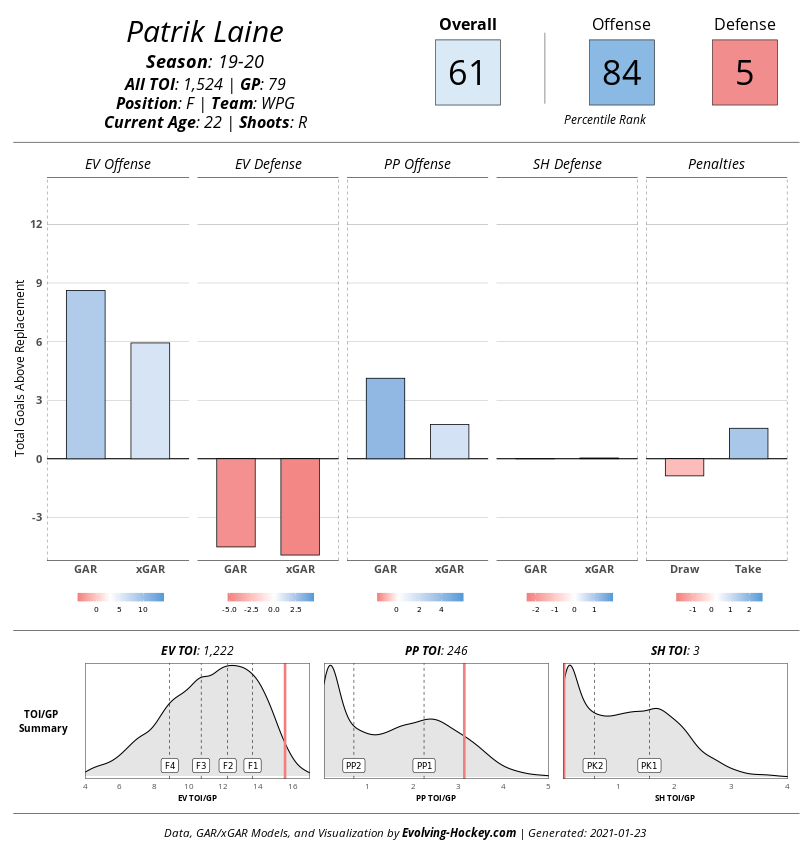 Much of Laine's defensive woes stem from an inconsistent almost non-existent motor. He doesn't take the extra stride to catch-up to the puck-carrier or catch a rim along the boards, instead preferring to reach in with limited impact. Rather than stopping on the puck, he takes these looping glide turns that leave him chasing the puck carrier. He occasionally has solid ideas, like intercepting a pass when the play moves low, but he reaches into the lane instead of taking the extra step to close the lane entirely. Even basic stuff, like stick on the ice or skating at a potential shooter, doesn't appear in his game consistently.
Effort alone doesn't explain Laine's defensive woes because even when he's engaged, he's still a net negative. A lack of scanning is the core of most poor defensive habits – Laine's no different. He defends by trying to stare a hole through the puck, rarely scanning for movement behind him or identifying options when he gets possession back. Even when he looks, his lack of small-area quickness and poor reaction speed prevent him from truly making a difference.
The result of such defensive habits has a direct impact on his ability to create offence. He has fewer touches from extended defensive zone sequences and always chasing the play. As a creator, he thinks that he always has to make the big play – and fewer touches leads to a greater urgency to make the big play – leading to turnovers, which starts the cycle again.

There's little doubt that Laine's infuriating to coach – he's frustrating to watch! His shockingly stagnant defence through four NHL seasons would be impressive if it weren't so disheartening.
Laine has the tools to become a star, from the shooting to the scoring instincts, to the flair and confidence. Some nights, he looks the part of a superstar. But too often, his poor defensive habits, inability to adapt, and over-reliance on individual skill render him wholly ineffective, or even a negative.
A killer on the powerplay, absolutely. A potential elite even-strength scorer, for sure. A unique package of skills that could – if not should – equate a star. And he's certainly not done improving. But even after four seasons in the NHL, Laine's still a developmental project.
Laine's arguably the second-best goal-scorer in Blue Jackets history after Rick Nash. But for Laine to become the superstar he has the potential to be, he must find a way to maximize his tools. Maybe maximize isn't the right word; he doesn't even have to be good defensively to become a superstar; just acceptable. He doesn't have the make the right play every time, only most of the time.
Of course, Winnipeg and now Columbus must be more creative to find ways to use his shot. He doesn't create his shots for himself often; he relies on high-quality set-ups from his teammates. It'll be up to Columbus to find ways to maximize his shooting talent.
If he does those, his touches will increase, while his missed opportunities decrease. And that should be enough to turn Laine into the superstar he shows the potential to become.
You may also be interested in: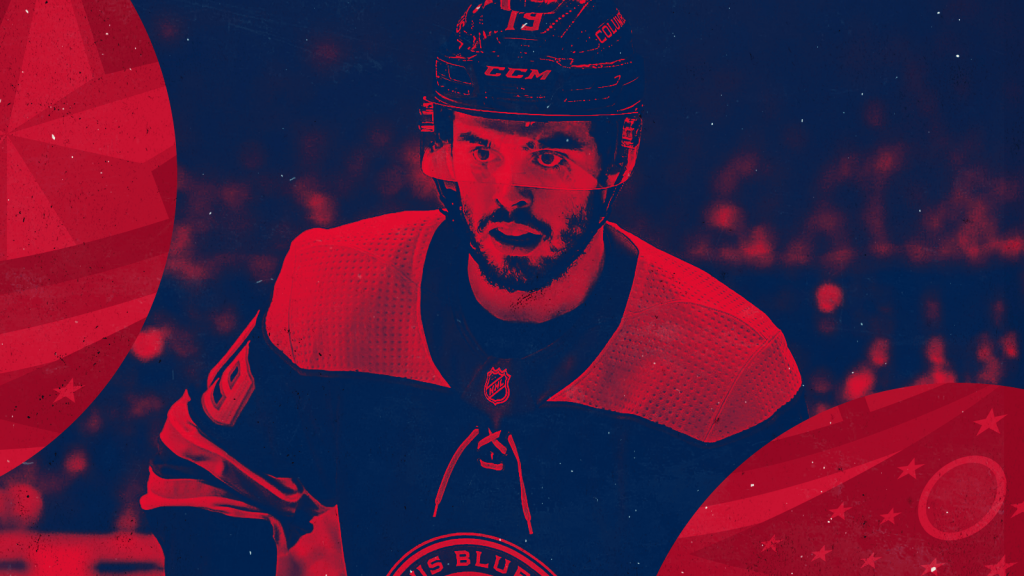 The EliteProspects Rinkside 2020-21 Off-Season Prospect Pool Rankings: the No. 31-ranked Columbus Blue Jackets
This article is about: