NHL
NHL 3 Stars: Max Pacioretty has a golden night
26 of the NHL's 31 teams were in action tonight, and the slate of games certainly didn't disappoint.

There were impressive comebacks, end-to-end overtime, and dominant periods. All but one of the 13 games was competitive.
The Arizona Coyotes out-shot, out-chanced, and out-everything'd the Anaheim Ducks but failed to solve John Gibson.
While the Colorado Avalanche steamrolled San Jose Sharks, the Columbus Blue Jackets scored three goals on just 12 shots, almost eking out a victory despite the stagnant offence.
---
First star
Max Pacioretty, LW, Vegas Golden Knights
Vegas didn't get the win, but shootouts are ridiculous anyway, especially when they follow such action-packed 3-on-3 overtime.

Without Pacioretty, Vegas wouldn't have sniffed overtime. He scored an early goal in the second period to keep the game in reach, before scoring two goals just six minutes apart to tie the game. The fourth goal was one of the best passing plays you'll see.
This is just beautiful hockey pic.twitter.com/qY79FkZvQb

— Dimitri Filipovic (@DimFilipovic) January 27, 2021
Second star
Andrew Copp, C, Winnipeg Jets
After his first career four-point game, Andrew Copp sits top-10 in the NHL in scoring – just as we all expected. Wait, what? Driving his sudden offensive outburst is the most productive five-game stretch of his six-season career (nine points). Tonight, he did a bit of everything: stretching the ice as a breakout passer, cleaning up rebounds, and icing the game with the empty-netter.

Copp's production's bound to cool, but he's one of the more interesting stories in the NHL. Undrafted in 2012, the defensively oriented Copp became a valuable piece of the Michigan Wolverines. The Jets nabbed him as a re-entry, and within three seasons, he was a key part of Winnipeg's forward core.
Andrew Copp nets the rebound!

?:@Copp94
?:@ALowsyPlayer17
?:@NikolajEhlers24

1-1 | #GoJetsGo pic.twitter.com/RzWKyFTofy

— Winnipeg Jets (@NHLJets) January 27, 2021
Third star
The entire Colorado Avalanche
The Avs weren't just supposed to be good; they were supposed to be Cup Contenders. After two losses in three games – and an overtime victory – against two teams expected to bottom-dwell, they didn't seem that good after all. Actually, scratch that. They dominated shot share in all three of those games, and finally, the goals came tonight.

Through 40, the Avs had seven goals to the Sharks' two. By the final horn, the controlled 62.2 percent of the games' shots, via NaturalStatTrick. Most impressive, 14 of 18 skaters recorded a point., highlighting the Avs' depth and balance.
---
Honourable Mention:
Johnny Gaudreau, LW, Calgary Flames
It's no secret last year was a tough one for Johnny Gaudreau and the Calgary Flames. Just look at the stat-line: Gaudreau's point totals drop from 99 points in 82 games to 58 in 70. That's a steep drop. People wondered: is Gaudreau washed?
Spoiler alert: no, he's not. Very much not.
Gaudreau added another pair of goals, bringing his point totals to seven in five games. And he tortured the Leafs' defence in transition all game long.
Johnny Gaudreau ties the game at 3-3 with a powerplay snipe pic.twitter.com/wRpIoMNzOl

— Jeff Veillette (@JeffVeillette) January 27, 2021
You may also be interested in: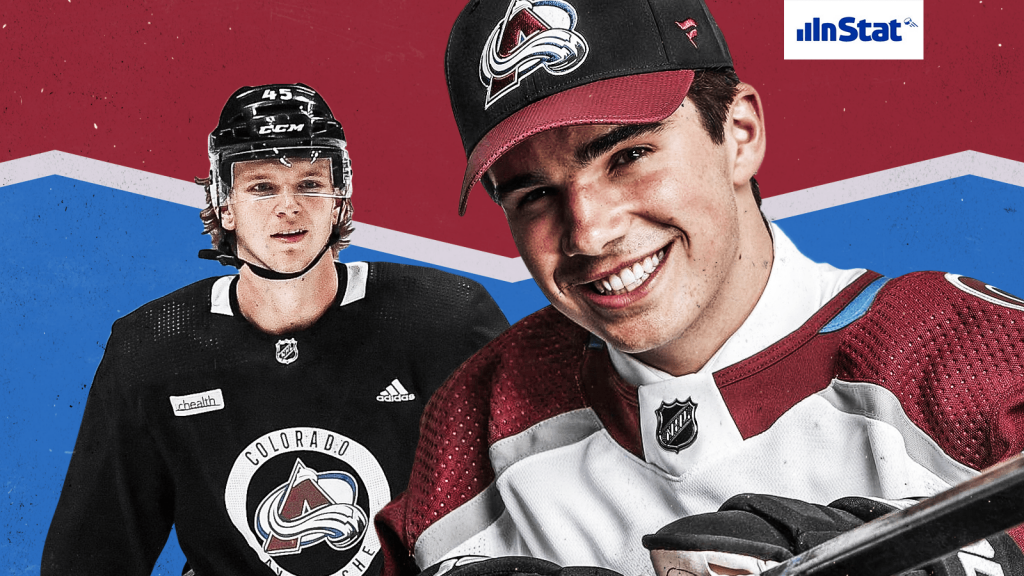 The EliteProspects Rinkside 2020-21 Off-Season Prospect Pool Rankings: the No. 13-ranked Colorado Avalanche
This article is about: