NHL
Jack Roslovic is playing the first home game of his NHL career tonight in Columbus
Jack Roslovic will walk down a familiar hallway on Thursday night as he enters the Columbus Blue Jackets locker room at Nationwide Arena. He'll recognize the doors too, as he crosses each threshold on the way to his first real NHL home game.
Those barriers separate the NHL locker room from those of the Ohio AAA Blue Jacket, where Roslovic first wore the No. 96 in union blue.

"It's neat to see it all come full circle now," Ohio AAA Blue Jackets Ed Gingher told EliteProspects in a phone interview. "Our practice rink is attached to Nationwide Arena and from our locker rooms to the big locker room it's probably 200 yards and through one set of doors."
Gingher remembers the moment he knew Roslovic would be a game-changer.
"When he was 12, we were down 5-3 late in the game, and we were on a shorthanded 5-on-3. Jack scored two goals, took the game over and scored the game-winner with two minutes left," Gingher reminisced. "When he was 16, I think he scored a hat trick in the first two minutes of the game when Miami (Ohio) was coming to recruit him."
The Blue Jackets wanted to draft Roslovic at No. 29 in the 2015 NHL Entry Draft but fate had a more circuitous route in mind. Winnipeg took him at No. 25.
He made his NHL debut in 2016-17 and struggled to find his place with the Jets throughout the next three seasons.
After the Stanley Cup Playoffs bubble, Roslovic returned home to Columbus. He skated with a few of the Blue Jackets who stayed in town during the offseason and practiced with the 16 Ohio AAA Blue Jackets team. All while fighting a contact impasse and holding out from Jets training camp.
His career changed with a phone call on Saturday, Jan. 23. The Blue Jackets had acquired him in a blockbuster trade which saw Pierre-Luc Dubois and Patrik Laine steal the headlines. Roslovic, meanwhile, was staying home.
"I've had season tickets since they started in 2000 and I've watched the team grow and I've watched the city grow," said Roslovic during media availability. "I think it's not even close to its potential and I'm just super excited to be a part of it."
Not long after the trade was announced, he signed a two-year deal with Columbus.
"I'm super motivated," said Roslovic. "That's what I've always wanted, and I'm going to take on a role here that hopefully I've been waiting for too. I'm going to make the most of it and I'm going to do it not only for myself but for our team and the city. I'm not going to shy away from anything."
It didn't take long for word to spread that the local kid was coming. For Roslovic's father, John, he couldn't believe what his son told him on the phone.
"In one way, it's almost unbelievable, and quite honestly, it hasn't sunk in for me," John said. "In another way, I think he has really found a great team and a great place to start grinding it out and figure out how to win a Cup."
Roslovic has a 26-41-67 line in 180 career NHL games spanning three-plus seasons. He was mostly on the wing in Winnipeg and was limited to a bottom-six role. In Columbus, he will begin by centring a line with Boone Jenner and Cam Atkinson.
Roslovic has spent the last four summers skating with Atkinson in the offseason.
"I'm excited for Jack and his family," Atkinson said during Wednesday's media availability. "I actually texted his parents when he signed the deal here. It's great for the city, great for the fans. I'm definitely excited for him, and I'm also excited to play with him."
Aside from the city and the fans, Roslovic's home debut is also huge for the AAA program even though he isn't the first homegrown athlete to suit for the Jackets.
According to Gingher, General Manager Jarmo Kekäläinen comes from a European model that creates a connection with the big club down all the way down to the youth level.
"I feel that Columbus has as close to that development that exists," Gingher said. "To have four of our alumni still in the organization— three as players and one as an assistant coach in Cleveland — it's pretty special.
"You don't take too much time to reflect on that stuff but when you look at it," Gingher continued. "They clearly want our players and it's not because they're from Columbus. They want them because they are good players, they're good kids and they can impact the organization. That's neat to see."
Unfortunately due to COVID restrictions, Roslovic won't be playing with his friends and family in the stands at Nationwide Arena but that doesn't stop folks like Gingher from thinking about the future of what hockey looks like in Columbus.
"I suspect you will see more No. 96's in Columbus," he says. "It's real for these kids. They can see it and it wasn't that long ago when Jack was in their skates. He is going to be a part of the community. Jack loves this city and is so thrilled to be back and I see him being very active during his career here. So yeah, I suspect you will see a lot of No. 96's in the stands as well as on the ice."
You may also be interested in: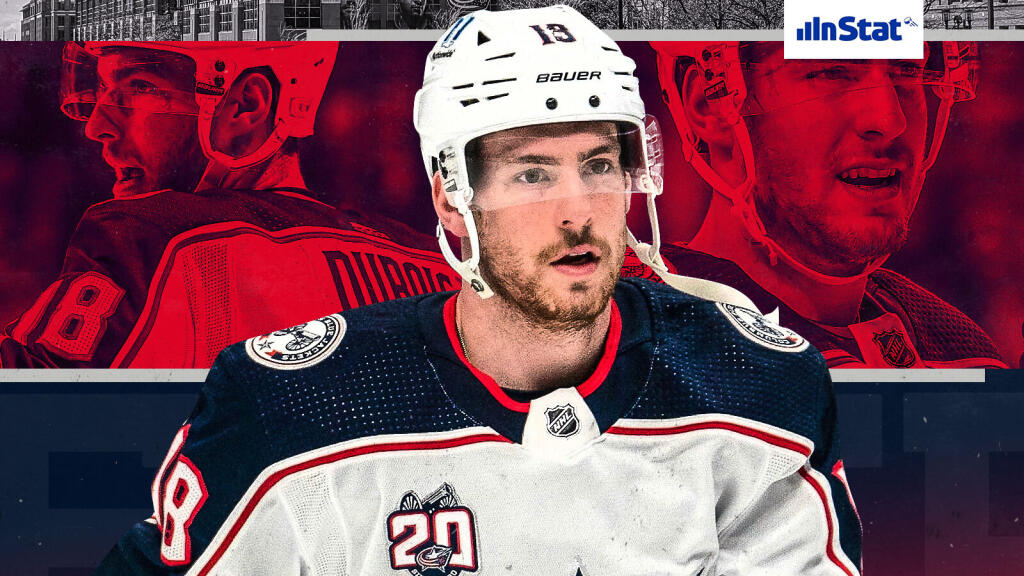 Every team should be interested in Pierre-Luc Dubois
This article is about: