NHL
The Philadelphia Flyers have Morgan Frost on the right track
Whether Morgan Frost was thought of as a first-round talent in the 2017 draft or not is irrelevant. All it takes is one scout from one organization to point out why their team needs this particular player, and that gets the ball rolling.
So many good players don't have the careers they envisioned. One of the biggest factors is a belief in the player and opportunity, and the Philadelphia Flyers continue to show this commitment to Frost.

Frost played his last hockey game in March before training camp. Even for the best-trained athletes, it's a tall order.

"I think it's good so far. Kind of just tough to come in and get the condition," Frost stated after a scrimmage. "The first couple days of camp were pretty tough, feeling a bit sore. Now that time's gone a bit on, I am starting to feel better. Even conditioning-wise in the scrimmage today, I felt better. I think the coaches have done a good job of getting everyone ready."

Frost knew the flaws in his game, and that shows his maturity. The odds of him making the team out of camp were slim, so being prepared for that mentally was the key for him what he needed to focus on.

"Just little things. You kind of see how well everyone manages the puck at this level. Even in scrimmages and drills, I think a few too many times I'm turning the puck over or get taken off of me," Frost said honestly. "I recognize that. It's the best league in the world. Just try to learn as much as I can and get better at those little things. Try to manage the puck better."
On Frosts' most recent trip to Philadelphia, Flyers head coach Alain Vigneault replaced an injured Sean Couturier, with the young centre, and he had Oskar Lindblom to his left and Travis Konecny on his right, He did get some power play time with the captain, Claude Giroux too. That shows what they think about their young prospect, and he had a nice game against the Buffalo Sabres.
In that first game back, Frost was a different player. Sure, he was stronger, but his attention to detail in the defensive zone was striking, and his work in the face-off circle paid off. Going up against Jack Eichel at times in that game, 54% was excellent for a first game back. That was tops for the Flyers. That's what the coach was hoping for; play Frost with better players and see if he would rise to the occasion, and he did. He didn't get on the scoresheet, but only one of his teammates did so there's no shame in that.

"Morgan, for a guy who didn't play in I don't know how long, I thought, for the most part, he played a good game. A smart game," Vigneault said.
In his second game against Buffalo, Sabres defenseman Jake McCabe dislocated Frost's shoulder with a hard check. Those things are easy to miss in a fast game like hockey, but one person who didn't miss it was his father, Andy Frost, who was a noted radio personality and in-arena voice for the Toronto Maple Leafs for many years.
"I thought it was a wrist injury for about ten minutes," the elder Frost admitted. "I started to think, 'Oh god, a hockey player with a wrist injury,' we got a big problem. Then at the end of the period, I rewound it in slow motion, and I thought no the reason he was holding his wrist was because of his shoulder. It was such a weird injury."
---
Pre-draft, Frost had thoughts about who he would play like in the NHL, and he didn't shoot for the moon.
"I like to compare myself after Mikael Granlund... He's not the biggest guy, but he's a playmaker, and he's turned himself into a great forward, which is what I want to become."
Here is his development story.
"When he was 12-years-old, he would do some things, and I realized at that point, this kid is good and has the potential to be a special player," the elder Frost said. "I never thought he would be a first-round pick or anything. In his junior hockey days, his teenage years, it was good for him to be far away. When he was first drafted by the Sault Ste. Marie Greyhounds, that's about eight hours from Toronto, and thought that was too far. It took me a few months to realize if he was closer, he'd be contacting me. It gave him a chance to grow as a person and gave him a chance to be a better player. It was really good for him."
Draft day is special for a lot of players and the Frost family has fond memories of how it turned out. Dad was nervous for sure.
"Based on his success in Sault Ste. Marie, I thought he was going to get selected, I never thought he would be a first-round pick, but he had some success," Frost added. "I'd see him every four or five months, and he was getting, bigger, stronger, and better, Morgan was no longer a kid. I never spoke to him about it, but I think he was just hoping a team would select him.
When it was announced that the Philadelphia Flyers had made a trade and now were selecting 27th, it hit Andy like a lightning bolt.
"Morgan was sitting next to me, and that's when I realized and said, 'uh oh, they're making this move because they want to take my kid'. I said to Morgan, 'here we go', and like two minutes later he was a Flyer."
Frost still has rookie status in the NHL and in some ways has more development than some other rookies based on that 20-game stint during the 2019-20 season. Nobody is untouchable in this league, but the Flyers had a change at the GM position, and yet their position on Frost hasn't changed a bit.
You may also be interested in: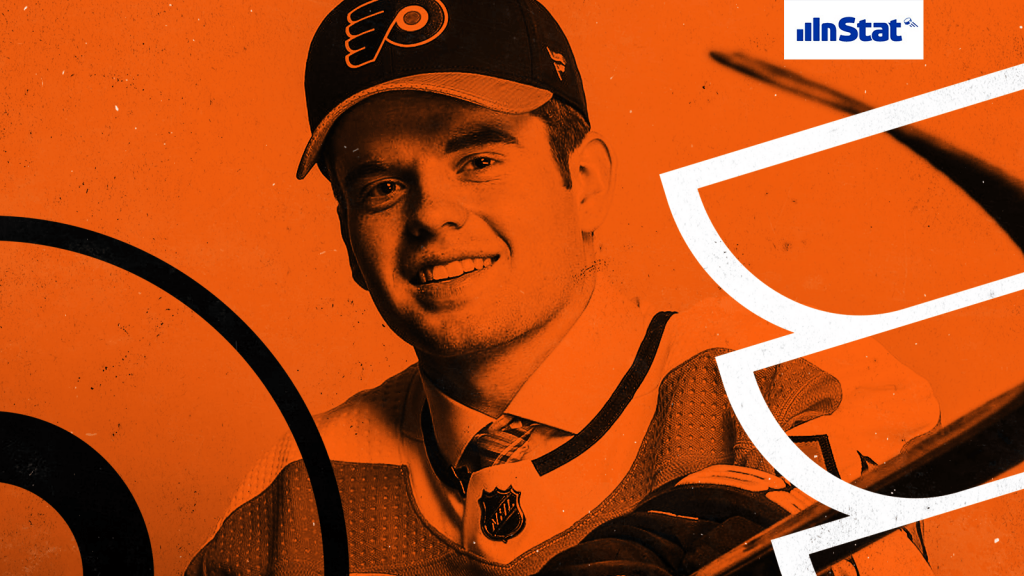 The EliteProspects Rinkside 2020-21 Off-Season Prospect Pool Rankings: the No. 21-ranked Philadelphia Flyers
This article is about: