NHL
Systems Analysis: A look at what ails the Vancouver Canucks
The Vancouver Canucks are the talk of the hockey world, and it's more of the same again, as talking heads and analysts have shifted the prism through which they view this franchise from that of a plucky upstart back to a rudderless mess.
One could hardly blame a casual observer for confusing our verticle with that of a Canucks blog. If it bleeds it leads, right? They're hemorrhaging from Rogers Arena and anywhere else they take this circus, and it's become the train crash that all the league's casual viewers can't keep their eyes from.
The losses are mounting. The Canucks are sporting a 6-10 record, good for third-worst in the North Division by cumulative points, and firmly in second-last by points percentage (the deciding factor for the playoff in a season threatened daily by the raging pandemic), ahead of only the lowly Ottawa Senators. The inimitable, invaluable HockeyViz shows the Canucks sporting a 20 percent chance of making the post-season as of this writing, and even that seems generous.
It becomes increasingly clear as one peels away the layers from this most pungent onion that it's rotting from the inside out. Shot attempts, unblocked shots, shots, scoring chances, expected goals -- no matter how one plays with the dials on Natural Stat Trick, the Canucks are surrendering the most on a per hour basis at 5-on-5 in the league. The visualization, per HockeyViz, tells that story better than any predictive metric ever could though.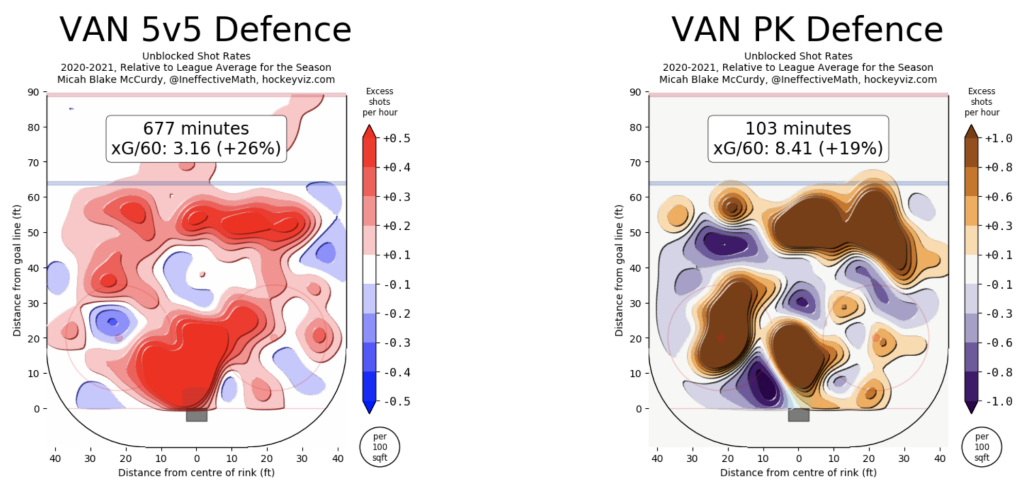 Anyone could observe the Canucks deficiencies in the defensive zone. That's the easy part. The difficult one for head coach Travis Green and his staff is finding the prescriptive measures to abate the worst of this crisis of permissiveness in time to salvage the season.
There's only so much one can glean from a distance, using game tape, and without the inside information informing Green's every manoeuvre. He's as well-respected a coach as one can find in league circles outside of the unambiguously elite at his station. One can safely assume he's turned over each of the rocks that the Canucks have stumble upon on this stretch looking for a solution.
He's not going to share those answers, though, and that's precisely what EliteProspects aims to do with this piece. With David St-Louis' technical, system's expertise, and whatever J.D. Burke is good at teaming up for this text, hopefully, there's something we can contribute to the conversation.
Access this article with EP Premium
Go Premium to access this article
Register your Premium-membership at eliteprospects.com to get access to this article and more quality, in-depth coverage at EP Rinkside
This article is about: