AHL
Around the AHL: A young goaltender's adjustment
Stopping the Syracuse Crunch (Tampa Bay Lightning and Florida Panthers) offence is a tall order for any young goaltender, and Jake Kielly of the Utica Comets (Vancouver Canucks) endured that rocky welcome this past weekend.

Syracuse peppered Kielly with 31 shots in routing the Comets, 6-1. The Crunch built a 3-0 lead, with their opening goal coming via a 2-on-1 rush and their third strike a 4-on-2 charge. Utica owns a rather unproven blue line that also includes a pair of rookies in Tyler Tucker and Jett Woo. On some nights, that means that a young goaltender like Kielly takes on the effects of that youth around him.
"We're gonna have some hiccups," Comets head coach Trent Cull said. "We're gonna have some evenings like Saturday night in Syracuse, unfortunately. And so, our focus will be to be patient, try to bring these guys along."
"It's about developing and… we want to see those guys excel and get better within [a short season]. That'll be our focus, and they're good kids trying to do the right thing, so it makes it easier on us."
Along with that raw blue line, the Comets also are attempting to mesh prospects from two NHL organizations. Utica is receiving players from both Vancouver and the St. Louis Blues, meaning that the 24-year-old Kielly is in a tandem with Blues offseason signee Jon Gillies. The Canucks re-signed Kielly to a one-year contract this past October as he attempts to establish himself at the AHL level.
Last season in the ECHL, Kielly put in 24 games for the Kalamazoo Wings, going 7-11-4 | 3.97 | .887. He also had a brief stint with the Comets (1-0-0 | 1.84 | .923 in two games), mopping up for Michael DiPietro in a loss in his AHL debut and later earning his first AHL win. Before turning pro, he had three NCAA seasons at Clarkson and was a Mike Richter Award (top goaltender in college hockey) finalist in 2018-19 as the team took the ECAC title.
"I felt like coming from the [ECHL] up to the AHL, the one big difference was the speed," Kielly said of his transition. "Going from NHL training camp a month ago into [the AHL], the speed is not too much different."
The level-to-level adjustments required for defencemen and forwards are well-documented. But what does that transition feel like for Kielly, a young netminder still adjusting to the pro game and coming out of the scrambly ECHL game?
"A lot of it has to deal with rushes," Kielly explained. "Rushes are a lot different."
"Between college, between the NHL, AHL, ECHL, guys come in quicker. They're able to make more skilled plays. In zone play, the way that guys move the puck around, there's really no hesitation."
"I found that in college and even in the ECHL, some guys kind of hesitate with the puck. They hold on to it for a little bit. That lets you sort of get behind the play almost a little bit. But in the AHL, guys know where they're going. Once they get the puck, they make those passes quickly. So as a goalie, it's just being able to get to your spot, get there quickly, almost get there before the puck gets there, so that when the puck moves to the next guy, you're able to make that push and get across."
"I felt like when I came up last year, I was a bit behind the play. And that kind of hindered some of my movements. But this season, I feel like my speed has come a long way."
Part of that adjustment process also means leaning on the 27-year-old Gillies, a one-time Calgary Flames top prospect who battled through injuries and his own difficult stretches at the AHL level.
"Jon, he's a guy who has NHL experience," Kielly said. "He's a guy who has a lot of AHL experience. He has kind of had a similar path to me through junior and college."
"It has been awesome working with him, because we both know the grind that it has taken to get here. He has been teaching me a lot, both verbally and on the ice about how to conduct yourself and, honestly, what it takes to get to the next level."
"It has been great learning from him. It has been great learning from any guy. I mean, I think [DiPietro and I] had a great relationship last year, kind of learning off each other. And we're two younger guys. But this year, it's definitely nice to have an older guy who has kind of been through some of those things."
AROUND THE AHL
The wait continues for the AHL's five Canadian Division clubs as the Belleville Senators (Ottawa Senators) and Toronto Marlies (Toronto Maple Leafs) await approval from the Ontario provincial government to lift COVID-19 restrictions. That delay has also meant that the Laval Rocket (Montreal Canadiens) and Manitoba Moose (Winnipeg Jets) are sidelined. The fifth team in the division, the Stockton Heat (Calgary), have temporarily relocated to Scotiabank Saddledome and will round out the grouping.
The Lehigh Valley Phantoms (Philadelphia Flyers) are turning to veteran help, adding long-time sniper Chris Mueller on an AHL contract. The 34-year-old forward attended Phantoms training camp and nailed down a roster spot. He contributed quickly, picking up an assist on Phantoms rookie Wyatte Wylie's game-tying goal against the Hershey Bears (Washington Capitals) that set up a 2-1 overtime victory on the road this past weekend. Last season between Syracuse and the San Diego Gulls (Anaheim Ducks), he had 19-19-38 in 60 games. He is a two-time Calder Cup winner (Texas Stars and Toronto Marlies), and he also won an NCAA championship with Michigan State in 2007. In 772 AHL games, he has 241-324-565.
As if a 331-day offseason lay-off was not long enough for the Grand Rapids Griffins (Detroit Red Wings), they are beginning their season with a four-game road trip. They visited the Chicago Wolves (Carolina Hurricanes) last week to open their season. After that 3-1 setback, they return for another road date with the Wolves to open their week before moving on for a visit to the Cleveland Monsters (Columbus Blue Jackets) this Saturday afternoon. Grand Rapids does not play at home until February 20th against the Monsters.
Henderson Silver Knights (Vegas Golden Knights) rookie forward Peyton Krebs broke out with a three-point night in his second pro game, a 6-2 thumping of the visiting Ontario Reign (Los Angeles Kings). Krebs, 19, went 17th overall to the Golden Knights in the 2019 NHL Draft. His goal and two assists earned him first-star honours.
Ontario captain Brett Sutter is the AHL's active leader in games played (872). The 33-year-old forward also has 60 NHL games on his resume with the Calgary Flames, Carolina Hurricanes, and Minnesota Wild.
Tucson Roadrunners (Arizona Coyotes) second-year pro Ivan Prosvetov's hot start continues. He led the Roadrunners to a season-opening two-game sweep of the San Jose Barracuda (San Jose Sharks). After a 36-save season debut, he turned in a 33-stop effort in the rubber match against the Barracuda, taking a 5-3 victory. Prosvetov, 21, is a 2018 fourth-round pick by Arizona.
San Jose's Alexander True picked up a pair of goals in the 5-3 loss to Tucson. With ongoing local COVID-19 restrictions in San Jose, the Barracuda will continue their road odyssey as they start a three-game series at the Texas Stars (Dallas Stars) this Friday. They will then return to Tucson for three more match-ups with the Roadrunners. San Jose is not slated to play at home until February 25th.
ON THE MOVE
The Hershey Bears lost number-one goaltender Pheonix Copley to the Washington Capitals' taxi squad Monday morning. Copley, 29, started his seventh pro season taking the 2-1 overtime loss to Lehigh Valley. Last season Copley had a 17-8-6 | 2.47 | .905 in 31 games for the Bears. Hershey also picked up forward Blake Pietila on a PTO; the 27-year-old had a 12-12-24 effort last season in 49 games with the San Diego Gulls (Anaheim Ducks). He has played 38 NHL regular-season games, all with New Jersey and had a 20-goal campaign for Binghamton in 2018-19.
Yet another 19-year-old, Ottawa 67's forward Graeme Clarke, will start in the AHL. The Binghamton Devils (New Jersey Devils) have brought him in on a one-year AHL contract. Taken in the third round of the 2019 NHL Draft, Clarke was limited to 16 contests last season with the 67's (9-8-17). The COVID-19 pandemic pushed Clarke to Slovakia earlier this season, and he played in six games with HC Nove Zamky.
Another Erie defenceman has found a home in the AHL for now as the Wilkes-Barre/Scranton Penguins (Pittsburgh Penguins) gave 21-year-old Jack Duff an ATO. Duff has three OHL seasons to his name and captained the Otters in 2019-20, going 4-14-18 in 63 games. Wilkes-Barre/Scranton also brought in NHL forward Tim Schaller on a one-year AHL contract; he had 5-1-6 in 53 games last season between Los Angeles and the Vancouver Canucks.
More reinforcements are on their way for Laval, who received defenceman Cale Fleury and forward Ryan Poehling on assignment from the Canadiens. Fleury, 22, spent much of last season with the Canadiens, skating in 41 games. The 2017 third-rounder started his pro career with the Rocket in 2018-19. Poehling, also 22, divided last season between Montreal (1-1-2 in 27 games) and Laval (5-8-13 in 36 outings). He went to the Habs as the 25th overall choice in that same 2017 NHL Draft.
Offensive help is on the way to the Rochester Americans (Buffalo Sabres) in the form of power forward Michael Mersch, who signed a PTO with the team this past weekend. At 28 years old and with 377 AHL games to his name, Mersch ran into a tight job market for forwards, but he did post 14-13-17 for Texas last season and has had four 20-goal AHL seasons while in the Dallas and Los Angeles organizations. The Amerks dropped a 3-2 opening-night decision on home ice.
The Colorado Eagles (Colorado Avalanche) fortified their line-up Monday, bringing in former Toronto Maple Leafs forward prospect Jerry D'Amigo. The 29-year-old returned to North America this season after four campaigns in Europe. He has 78-90-168 in 358 AHL games and also has 31 NHL games.
A pair of Edmonton Oilers netminders landed back in the AHL. Edmonton sent Stuart Skinner to the Bakersfield Condors while Troy Grosenick was lost on waivers to Los Angeles, who promptly assigned him to Ontario. Grosenick played the veteran mentor to Connor Ingram last season with the powerhouse Milwaukee Admirals (Nashville Predators), where he went 20-9-3 | 2.29 | .920 in 33 appearances. He shared the AHL' s Hap Holmes Memorial Award (lowest combined goals-against average) with Ingram as well before signing with the Kings in the offseason.
QUOTEBOOK
Michael Mersch on enduring a difficult free agency period:
"Some days, you're optimistic. Other days, you're not seeing guys signing. You think that's probably the last spot, then something else opens up, and then it doesn't work out. It's just a roller coaster."
"I'm really excited about this opportunity. In this game, you can never take anything for granted."
You may also be interested in: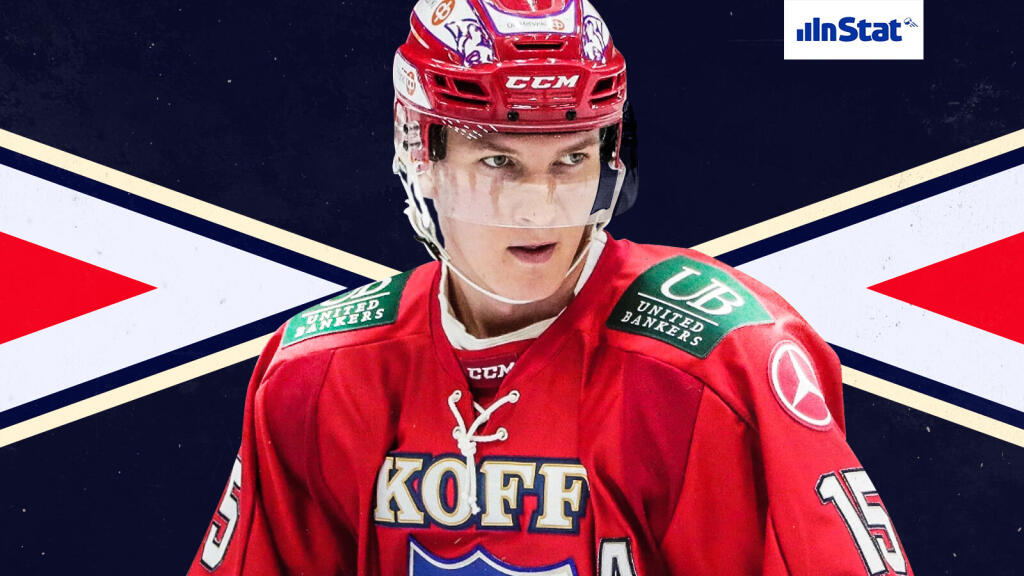 The EliteProspects Rinkside 2020-21 Off-Season Prospect Pool Rankings: the No. 8-ranked Florida Panthers
This article is about: