NHL Prospects
"A very pleasant surprise," for Albert Johansson to play for Swedish men's team at 4 Nations tournament
To play with the Swedish Men's National Team this season was not something that Albert Johansson had expected when the season started in mid-September. When Marcus Ragnarsson, the former NHL blueliner who became an assistant coach for the Swedish national team back in 2019, tried to get in touch with the 19-year-old Färjestad defenseman, he got no answer.
Ragnarsson had to shoot Johansson a text message to tell him to call him back, and at that point, the Red Wings prospect started to realize what was about to happen.
"No, I didn't answer at first", Johansson says and burst into laughter.
"When I saw his text I just had to call him back as fast as I could. It was a great conversation. I was a little bit shocked and didn't think it was true, to be honest with you".
For Johansson, next week's Four Nations Tournament in Malmö, Sweden, will be his first taste of the Men's National Team.
"It's great. This wasn't anything I thought would happen this season. I haven't thought about it that much, so, as I said, it was a bit of a shock, I have to say.
"But it was a very pleasant surprise. It should be a lot of fun".
Johansson says that he hadn't had any contact whatsoever with the Tre Kronor coaches during the season, before Ragnarsson's call. Maybe that explains why he didn't pick up the phone when the assistant coach gave him a ring. He didn't have his number.
"No, we haven't had any contact at all this season, before Ragnarsson called me", Johansson says.
Now, Team Sweden Head Coach Johan Garpenlöv looks forward to getting to know the young blueliner during this week's tournament in Malmö.
"He's a very exciting player who possesses a lot of talent. We feel that his game fits our way of playing. He did a good job in the World Juniors, where the level of hockey is very high. When you can play on that level the way he did there, it shouldn't be a problem for him to deliver at this level. We like to have this mixture of older and some younger players in our team and now he has his chance to prove that he belongs at this level. But bottom line, he is selected to this team because he's a very skilled hockey player", Garpenlöv said when he announced his roster for the upcoming tournament.
The fact that Johansson would get the opportunity to play with the Men's National Team this season was nothing that he expected heading into his final season as a junior player.
"This wasn't something that I expected before this season, at all. But it's great how things have turned out. It shows that I do great stuff in Färjestad daily, most of all", says Johansson.
Johansson thinks the way he's able to stay calm and collected with the puck and his skating is the main reason he made the Beijer Hockey Games roster for Team Sweden.
"I think the coaching staff like that part of my game. Now, they want to test me out and that's fun".
The 19-year-old has hockey running through his blood. His brothers both play hockey, and his father, Roger, is a Färjestad-icon who played both in the Olympics for Team Sweden as well as NHL hockey with both the Calgary Flames and the Chicago Blackhawks.
Albert, though, made his debut in the SHL at a younger age than his father and now gets to represent his country at a younger age.
"I had no idea about that, Johansson says and laughs.
"I didn't know how old he was when he made his different debuts, but this is something I will be sure to mention to him".
This season, Albert Johansson has played SHL hockey regularly and around the turn of the year, he got the opportunity to represent Team Sweden at the World Juniors tournament in Edmonton. The 19-year-old can look back on his season so far with great satisfaction.
"I'm very pleased with my season, so far. I started the season great and managed to even get a couple of points on the board. That gave me a lot of confidence. Then, I hit a bad run of form after I came home from Edmonton.
"Now, the last couple of weeks, I've managed to find my rhythm and my game again, which is very pleasing. Overall, I'm happy with my season. I've taken big steps in my development this year, which was one of my biggest goals coming into this season.
"I would say that I'm a little bit braver out on the ice, I dare to try more things this year, compared to last season. It feels like I contribute more to my team now and I'm always looking to have the puck on my stick, setting up my teammates for scoring opportunities".
From a distance, the Detroit Red Wings, who drafted Johansson with their 60th overall pick in the 2019 NHL Entry Draft, have kept close tabs on the 19-year-old's progress in the SHL. So far, they like what they have seen.
"They're happy with me. We talk quite often, me and Niklas Kronwall (who, since 2019, is an advisor to the General Manager Steve Yzerman). They give me a lot of tips on how I can improve my game and what I do well, out there. We have a good dialogue, for sure".
You may also be interested in: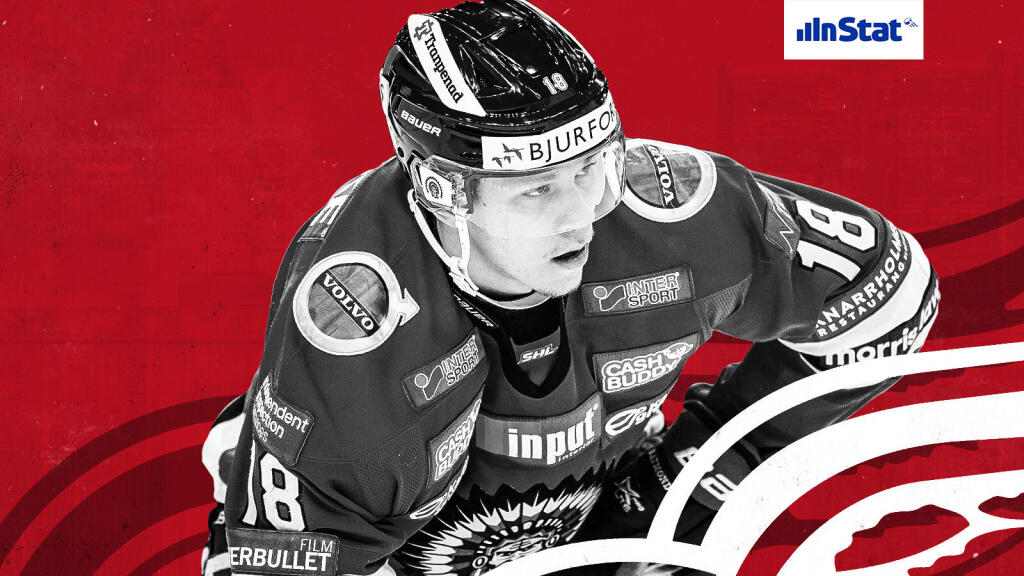 The EliteProspects Rinkside 2020-21 Off-Season Prospect Pool Rankings: the No. 3-ranked Detroit Red Wings
This article is about: