AHL
Around the AHL: Hershey's Connor McMichael scores the season's first hat trick
The AHL's Canadian Division has a full schedule for the remainder of the season. The Heat's late temporary relocation to Calgary delayed that schedule release, but the AHL unveiled the remaining Canadian Division slate Tuesday afternoon.

Two more teams will find themselves in new homes along with the Heat, who are playing out of Scotiabank Saddledome. The Belleville Senators (Ottawa Senators) will base out of Canadian Tire Centre, the NHL's parent club's building just outside of Ottawa. In Winnipeg, the Manitoba Moose (Winnipeg Jets) will play at their training facility, Bell MTS Iceplex, beginning March 8, against the Heat; that game will start a 17-game homestand for the Moose that will keep them in Winnipeg until the end of April. Manitoba had played four season-opening games at Bell MTS Place in downtown Winnipeg against the Marlies.
The Laval Rocket (Montreal Canadiens) are using Bell Centre this season. In Toronto, the Marlies will utilize Coca-Cola Coliseum.
The schedule's release also means that the Senators and Marlies finally can play home games after the Ontario provincial government gave its long-awaited approval. Following a season-opening eight-game road trip, Toronto will welcome the Moose on March 1. Two days later, the Heat will help open the AHL Senators' home calendar at Canadian Tire Centre. That contest will end a 12-day break for Belleville.
Belleville and Toronto each have not had a home date since March 7, 2020. The AHL Senators do plan to return to CAA Arena in Belleville at a later date.
"We very much look forward to returning to Belleville and our great fans once it is safe to do so," Ottawa president of business operations Anthony LeBlanc said in a written statement.
Hershey: McMichael nets AHL's first hat trick
Hershey Bears rookie centre Connor McMichael continues to roll as a 19-year-old taking on the AHL.
Taken 25th overall by the parent Washington Capitals in the 2019 NHL Draft, McMichael made more noise this past weekend with the first hat trick of the AHL season to help take down the archrival Wilkes-Barre/Scranton Penguins (Pittsburgh Penguins), 3-1. McMichael quickly has earned a fan in Bears head coach Spencer Carbery, who has experience manning benches in both the OHL (Saginaw Spirit) and the AHL.
"Connor, I think he's continued to get better each game," Carbery started after the hat trick. "The thing that I think we're going to learn to appreciate about Connor is he's a very intelligent, intelligent player. And he is adapting on the fly to pro hockey and learning.
"We as a staff, I've already had a couple conversations with him about small little things that he needs to start to do at a pro level that he could get away with in the OHL and now are going to be essential to being successful not only in the NHL, but in pro hockey in general. And he picks it up like that. Even the next game, you'll see a little of whatever I talked to him about.
"And then the other thing, you see that the puck follows him around somehow."
That puck following McMichael around the ice is not happenstance, though. On his first goal, he planted himself in the mid-slot for the rebound of a Garrett Pilon point shot, earned positioning on two Wilkes-Barre/Scranton Penguins, and shoved the puck into the net. His second goal came when he anticipated a cross-ice Wilkes-Barre/Scranton pass in the Hershey zone, stick-checked Penguins defenceman Will Reilly's attempted pass receipt, and set up a breakaway that he converted. He finished his hat trick by establishing ice in the defensive zone, intercepting another Penguins cross-ice pass, and then depositing a 150-foot empty-net shot.
Said Carbery, "I think that's what we're going to learn to appreciate about Connor's game that he's got at the elite level, that hockey sense."
That teaching process will continue as long as McMichael is in Hershey. The OHL, where he played last season with the London Knights, has yet to return to action this season. That situation means that McMichael is getting an early introduction to the pro-level game with Carbery.
"I talk to [Carbery] basically every single day and going over video and such," McMichael said. "He's done a great job, just little things like in the d-zone being more aggressive with face-off work.
"I think I [have] picked up the pro experience just playing against better players, faster [and] stronger guys. So if I do end up back in junior, it will be a really cool experience for me just playing at this pace of game. Hopefully I can continue to play at that pace if I do go back to London or if I do stay here."
Syracuse: Groulx puts on the Crunch
The Syracuse Crunch (Tampa Bay Lightning and Florida Panthers) have long been one of the AHL's premier player-development programs.
But a home loss this past weekend dropped the Crunch to last place in their division with a 1-3-1-0 record. Those four losses have followed a season-opening 6-1 home victory. Syracuse is also without top-line forwards Alex Barré-Boulet and Ross Colton, who remain with Tampa Bay on recall.
Another wrinkle in this season arose Tuesday when the Crunch announced that a game set for Wednesday has been shifted to March 1. Per Syracuse, the decision was made "out of an abundance of caution in regard to COVID-19 protocols and [was] not due to a positive COVID-19 test."
The Crunch, who took in Florida prospects in a one-season arrangement, are leaving head coach Benoît Groulx wanting a lot more. Groulx's words are never chosen carelessly, and he delivered a message to his team publicly after that fourth consecutive loss.
"[Players] know they know what we're all about," Groulx began. "They know what to expect.
"I think some guys are making the best of their opportunity. Some other guys, they're looking at the train. They're waiting at the train station, and the train's passing in front of them.
"There [are] a lot of guys doing an outstanding job or getting accustomed to this hockey. And we need more, we need more from some other guys.
"And it's now," Groulx said, his voice rising. "Tomorrow, [it is] too late; seven to 10 at night."
Still, Groulx does recognize that there are positives for the Crunch to be found, and they did pour on 39 shots in the loss. As of now, the Crunch are scheduled to resume play this Saturday, which will kickstart a run of four games in eight nights.
"We'll go one day at a time," Groulx said, "and as long as we I think if we play like many games like we did [this past Saturday], I think we're going to end up on the good side of the game at the end."
Tucson: Hayton loaned
Another top-five NHL draft pick is on his way to the AHL as the Arizona Coyotes have shipped out winger Barrett Hayton to the Tucson Roadrunners.
Hayton, 20, dressed for 14 NHL games this season (2-1-3) after starting the season in Finland with Liiga side Ilves Tampere (0-4-4). Arizona chose him fifth overall in the 2018 NHL Draft after a pair of standout seasons with the OHL's Sault Ste. Marie Greyhounds. This stint will be Hayton's second in Tucson, where he went 1-4-5 in five appearances with the Roadrunners in February 2020.
The 4-0-0-0 Roadrunners, the lone remaining undefeated Pacific Division club, missed three games against the San Jose Barracuda (San Jose Sharks) this past weekend because of league COVID-19 protocols. They commence a three-game road set at the Colorado Eagles (Colorado Avalanche) starting Wednesday night. They have averaged 4.67 goals in their past three outings.
Around the AHL
Bridgeport Sound Tigers (New York Islanders) head coach Brent Thompson has plenty of time to drill his 1-4-0-0 club. The Sound Tigers play only one game between February 19th and March 4th.
The Moose have a four-game stop at Laval this week that began with a 3-2 overtime victory in the series opener at Bell Centre.
After opening with four games in 14 days, the Lehigh Valley Phantoms (Philadelphia Flyers) will play three games in four nights this week, including a home-and-home set with Wilkes-Barre/Scranton.
Cleveland Monsters (Columbus Blue Jackets) captain Zac Dalpe's two goals 11 seconds apart set up a 7-3 blowout of the host Rockford IceHogs (Chicago Blackhawks).
Grand Rapids Griffins (Detroit Red Wings) forward Taro Hirose has three assists in his two games since being assigned by Detroit. Offseason signee Riley Barber has a five-game point streak (2-4-6).
A last-minute AHL schedule change pushed back Colorado's home opener 19 days, but the Eagles are back on home ice against Tucson on Wednesday. Before the game, the Eagles will honour team founder Ralph Backstrom, the former Montreal Canadien who passed away February 7th.
Local COVID-19 restrictions kept the Barracuda on the road in Arizona and Texas for weeks, but the team will finally be back at home this for three games in four nights, including a pair against the rival Ontario Reign (Los Angeles Kings) this weekend.
On the move
Laval swapped goaltenders with the Canadiens, with Charlie Lindgren coming to the Rocket. Michael McNiven is joining the NHL club…. Belleville captain Logan Shaw is back from Ottawa….Goaltender Felix Sandström, defenceman Derrick Pouliot, and forwards David Kase and Matthew Strome have been sent to Lehigh Valley….The Binghamton Devils (New Jersey Devils) added defenceman Colton White on assignment….Long-time AHL defenceman Tommy Cross has been placed on waivers by Florida….The Henderson Silver Knights (Vegas Golden Knights) have added goaltender Oscar Dansk.
Quotebook
"It's just he's in the right place, right time. And he sees the game that way. And that's something that as a coach, you can't teach that where you can get to the spots where the puck is going to go offensively. That's just instincts."
- Carbery on McMichael's hockey sense
You may also be interested in: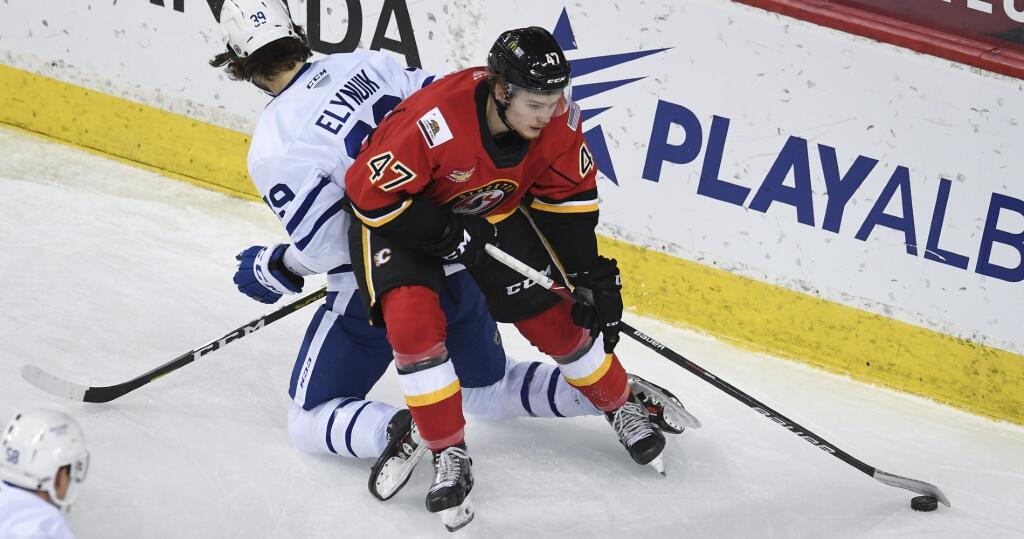 Around the AHL: The Heat is on
This article is about: