NHL
NHL 3 Stars: Quality over quantity
It was a relatively light slate of games in the NHL, with only six of them on the schedule tonight. But for whatever it lacked in terms of volume, it made up for with entertainment value. We saw a big comeback by the Oilers, lots of goals scored in Columbus, and half of the games needed overtime to determine a winner.
The result is that there are some strong performances for us to unpack. Let's do just that, using this evening's 3 Stars as a launching pad for highlighting some of the most interesting takeaways.
---
First Star
The Blue Jackets vs. Blackhawks Game
I don't know if we necessarily learned anything in this game, but it gets top billing because it was a really fun one to watch. Both teams scored a bunch of goals, with the Blue Jackets scratching and clawing their way back from a pair of two-goal deficits to tie it late. Kevin Lankinen came down to earth a little bit and had a rough go of it at times while stopping just 25 of 30 shots he faced, but came up huge on multiple occasions with Blue Jackets attackers coming in alone on him. Most importantly for our purposes, the two biggest stars also came to play and traded offensive punches back and forth all night.

First up is Patrik Laine, who was exactly the type of player Columbus was banking on acquiring when they finally decided to trade Pierre-Luc Dubois:
22:39 time on ice, easily the most he's played this season

two goals, both on the power play

one primary assist, setting up the tying goal

nine shot attempts, six on net
Laine now has six goals and four assists in his 10 games with the Blue Jackets, but he's only got 18 total shots on net in that time. When you have the type of bazooka he has, you don't have to use it often to still score a bunch of goals. But it's nice to see him get back to firing after posting just two combined shots on target over his past three games.
Patrick Kane on the other side of things kept doing what he's done all season, which is creating offence:
23:43 time on ice

one goal

three assists, all primary

three penalties drawn (one of which was offset by a penalty of his own)
He's now up to 30 points on the season, behind just the pair of Connor McDavid and Leon Draisaitl. Thanks to his exceptional playmaking ability, the Blackhawks power play unit continues to produce at the league's fourth-highest rate. They still seem like they're playing over their heads based on the underlying numbers at 5-on-5, but as long as they keep converting with the man advantage and getting decent goaltending they'll remain frisky in the Central Division.
The angle on this Patrik Laine shot is so beautiful pic.twitter.com/USTPyUFZPL

— Dimitri Filipovic (@DimFilipovic) February 24, 2021
Second Star
Ottawa's Young Players

I know people in Montréal are freaking out about the fact that the Canadiens just lost to Ottawa for the third time in four games this season, but the final result for the Senators is almost inconsequential compared to the promise shown by many of their young players. The team is now tied with the Red Wings for the worst point percentage in the league, but that short-term pain is a lot easier to swallow if you can start to see the light at the end of the tunnel.

There's still a lot of work to do and a lot of questions to answer in Ottawa before these types of results start to come on a more regular basis. But on this night, you could see the future and the promise it provides.
Tim Stützle posted career highs in shot attempts (nine) and shots on goal (six), produced an assist, and scored on a nice shot in the shootout. Josh Norris also had an assist, and finished the shootout off. Drake Batherson had a multi-point game himself, giving him two straight such games and three straight with a goal. Erik Brännström got taken to school while defending a Tyler Toffoli rush, but even he scored his first career goal.
The most notable performance was by the team's biggest star Brady Tkachuk, who was active in this one to say the least:
two goals

10 shot attempts

five high danger chances

Drew league-leading 16th penalty

Fought Ben Chiarot

Threw seven hits, was on receiving end of 5 of them
It was the perfectly chaotic Tkachuk performance. He was right in the middle of the action all night long, and he was a force. Most importantly, it was nice to see him keep turning his endless supply of chances into some goals finally. This gives him three goals in the past two games, and five in the past six. The eight goals in 21 games he has for the year now may not seem like anything special, but for those paying attention to his fascinating career trends just seeing him start converting his looks is an awfully encouraging trend.
Two beauties for two points! #GoSensGo pic.twitter.com/nDwBcqFx7d

— Ottawa Senators (@Senators) February 24, 2021
Third Star
Kasperi Kapanen, W, Pittsburgh Penguins

This was an important performance for Kapanen, especially coming off being benched in Pittsburgh's most recent game. The Penguins made a big investment in him this offseason when they not only traded premium assets to acquire him, but chose to spend their limited financial flexibility on taking his contract off Toronto's hands.

I'll be honest that it was a move I was skeptical of. While Kapanen's ability to skate really fast seems like a good fit on the surface with how the Penguins want to play, I was less sold on his ability to process the game at a high enough level to succeed alongside Sidney Crosby. Maybe Mike Sullivan wasn't so sure himself, because it took him a while to finally put the two together for any extended period of time. The trio of Jake Guentzel, Crosby and Kapanen had played less than 30 minutes together at 5-on-5 prior to this game. But after Evgeni Malkin struggled to find any sort of chemistry with him, Kapanen finally flipped spots with Bryan Rust and jumped onto the top line.
The result for Kapanen tonight was about as good as you could possibly hope for:
18:54 time on ice (the second most he's played all season)

one goal, which was the overtime winner

one assist

With him on the ice at 5-on-5, shot attempts were 23-12, shots on goal were 13-4, and high danger chances were 5-0 in favour of the Penguins
I wanted to specifically highlight the winner in overtime because it was hilariously telegraphed by Kapanen, who clearly wanted it to help ingratiate himself with his new club.
He started winding up for it all the way outside of the offensive zone, having to wait for what must have felt like an eternity until Teodors Blugers finally sold the shot for himself and created the perfect passing lane. Once the puck finally got to Kapanen, he certainly made no mistake by completely hammering it into the net.
It's just one game, but it's a good one for both Kapanen and the Penguins. If he's able to keep playing well on Crosby's line and showing that he can fit in, it allows them the luxury of keeping Bryan Rust on Yevgeni Malkin's wing. The two of those have had nice chemistry dating back to last year, and helps Pittsburgh tend to the most important thing on their immediate agenda - getting Malkin back to playing
WE LOVE THIS... A LOT. pic.twitter.com/WR2ycm8bFY

— Pittsburgh Penguins (@penguins) February 24, 2021
Honourable Mention
I wanted to find a way to squeeze this one in here just because we wouldn't be accurately capturing this evening's games without including mention of it. The Oilers went down 3-0 early to the Canucks, before storming back with four unanswered goals to complete the comeback. While Connor McDavid was his usual dazzling self on the rush and with the puck on his stick, the performance that needs to be highlighted here is the one by Leon Draisaitl.

He played 22:58 in this one, helping set up three goals. The last two were of the primary variety and were perfect encapsulations of what makes him so special as a playmaker. You can see that the defense is so worried about his abilities as a shooter, that they have to respect that as an option when he has the puck. With them focusing on him, he first lasered a puck over to Dominik Kahun for what equates to hockey's version of an alley-oop dunk. Then he sucked in the Canucks penalty kill into the middle of the ice, before dishing it off to McDavid with a yawning cage for him to bury it into.
The combination of size, vision, and hands to execute those plays is something special. It feels like we almost take these types of numbers from him for granted because he seems to do it so often and make it look easy doing so, but that doesn't make it any less amazing. He now has 33 points in 21 games, which somewhat remarkably puts him slightly ahead of the 110 points in 71 games pace he finished last year's Art Ross season with. Ho-hum.
🇩🇪🇩🇪🇩🇪🇩🇪🇩🇪🇩🇪🇩🇪🇩🇪🇩🇪🇩🇪🇩🇪🇩🇪
This goal brought to you by Germany
🇩🇪🇩🇪🇩🇪🇩🇪🇩🇪🇩🇪🇩🇪🇩🇪🇩🇪🇩🇪🇩🇪🇩🇪#LetsGoOilers pic.twitter.com/mws9n7ceFm

— Edmonton Oilers (@EdmontonOilers) February 24, 2021
You may also be interested in: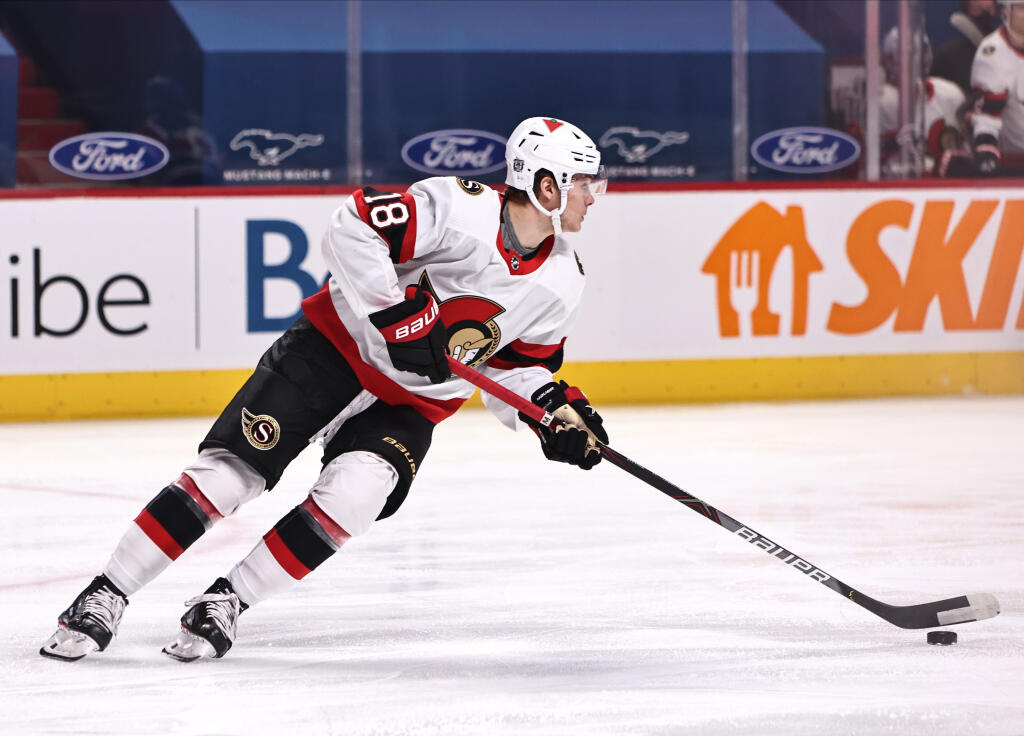 Tim Stützle's overwhelming NHL potential is already on display in Ottawa
This article is about: