AHL
Around the AHL: Jack Quinn keen to learn
Rochester Americans (Buffalo Sabres) head coach Seth Appert is making every minute with rookie right wing Jack Quinn count.
The NHL-CHL development agreement usually limits players with remaining CHL eligibility from playing in the AHL. But this season's delays across the CHL created by provincial COVID-19 restrictions has allowed a parade of first-round NHL draft picks to compete in the AHL as 18 and 19-year-olds.
One of those players is the 19-year-old Quinn, who went to the Sabres as the eighth overall pick in the 2020 NHL Draft this past October. Because the OHL has yet to begin play this season, Quinn has been able to report to the Amerks rather than heading back to the Ottawa 67's.
"I mean, it's a great opportunity for me to be able to play in this league this year," Quinn said, "so the quicker I can adapt to playing against older men and figuring out how to win my battles, the quicker I'm going to improve. It's a great opportunity for me to challenge myself and improve my game in that aspect."
Although quarantine restrictions delayed Quinn's entry into the Rochester line-up, he now has an opportunity to skate at the pro level with the Amerks. That means having veterans Remi Elie, Jean-Sébastien Dea, and C.J. Smith as linemates, along with second-year forward Brett Murray. Through two games, he has contributed an assist and notched a shootout tally in his pro debut last week.
Before going to Rochester, Quinn tore apart the OHL last season playing for head coach Andre Tourigny, ending up second in the league with 52 goals in 62 games. His 37 assists left him at 89 points, and Quinn credits those numbers to Tourigny teaching him to drive the net more effectively. Clearly that approach worked against OHL defencemen, but the AHL competition poses a much bigger – literally – challenge for the 6-foot, 176-pound rookie. Those AHL blueliners also possess better strength and hockey smarts than what he faced in the OHL.
That situation is where Appert comes in; the pair have worked closely on video to bring Quinn up to the pro standard, to learn what will and will not work against pro players.
"[Quinn is] getting accustomed to the pro game," said Appert, whose background with elite talent includes his time with the US National Team Development Program. "The demands of it, the strength of it.
"He and I had a good 20-minute video session [Tuesday], just to go over things that he's doing well, things that he needs to clean up, habits, things you can get away with in the OHL that you can't get away with in the American Hockey League.
"The [AHL] guys are too good. You try to make a cute sauce pass through the slot in the [AHL], the guy's picking it off, and they're going the other direction. So just some of those things, those clean-up things, a recognition of them. And he's a really smart player, so he recognizes those things. The reality is when you're a player of his caliber, you can get away with certain things at a lower level, but you just simply can't at this level, and those are things that we talked about."
Appert also wants Quinn to pick his spots physically against bigger competition.
"I think he was almost trying to compensate for the physical side too much. And he's a competitor, so he was leaning in and trying to engage, and that's great. But he's playing against men. And so sometimes he needs to realize when is the time to use your mind and your skill to exploit your opponent, and when's the right time to get your nose over a puck."
Driving the net is one such focus area for Appert's work with Quinn, continuing a process that began last season in Ottawa with André Tourigny.
Said Quinn, "That's another thing Andre worked on with me a lot last year, just getting to the inside and not being stuck on the perimeter. I kind of changed my game. That gets me inside a lot more. I've obviously tried to do the same thing here in this league, but guys are bigger and stronger, so they're not going to let you get ice, to the slot, to the net, as easily. I think it just changes that it's a little harder and you've got to fight a little harder to get there."
"Yeah, he had a couple of [drives] that succeeded," Appert said. "A couple [that] failed miserably, and that's okay. I showed him a few of those clips, and I was like, 'I love the intention. I love the mindset. But you need to know when you have a chance at this and when you don't, right?
"That defenceman, in this particular case [is big]. He's a good skater, he has a good angle, you're not getting there. It's just not gonna happen. But you can make him feel like you're trying to get in there and then escape out the other direction and exploit his lack of skating ability against yours, right?
"Those are things that you want to point out. Some of it, he's going to just have to feel his way through and know when he has a defenceman vulnerable and when he wants the defenceman to feel that he's vulnerable, even though Jack knows he isn't.
"We talked about those things. I think that he was good last week, and I expect these to be better in this next seven-game stretch to come."
But that teaching straddles a fine line for a coach like Appert. Filling Quinn with too much information might stifle the creativity and skill that made him a top prospect in the first place.
"Jack has a high level of intelligence, offensively and defensively," Appert said. "Jack is well-coached. Andre is a really good coach, so he's coming more prepared than a lot of guys would coming out of junior hockey. So, Jack has a really good base, and so you can have deeper conversations with him.
"And when a player has a good, deep base of hockey sense, hockey intelligence, and he's had a background where he has been coached properly, now you've got to make sure that you don't coach so much on video that you take creativity and his own intellect away as a player, right? Players have to be able to have freedom to play and do things that they see properly on the ice. Within structure, there has to be structure, but they have to have that freedom to make their own decisions, they have to be able to do those things [quickly]."
"It happens so fast on the ice, and if you give them too much, you can make them slow and reactionary, and you never want to play or any player to play like that."
Toronto: D'Agostini digging down
With the Toronto Maple Leafs, nobody is ever considered to be too old to be a prospect with the Toronto Marlies, their AHL affiliate. That includes Marlies goalie Andrew D'Agostini, who continues to impress his coaching staff and teammates.
The 27-year-old turned in another stout performance Tuesday night in Calgary against the Stockton Heat (Calgary Flames), putting aside 30 of 31 shots to help the Marlies cruise to a 5-1 win. D'Agostini entered a return match-up with the Heat on Wednesday owning a 4-2-0 | 1.86 | .933 line in his first six career AHL games. With prospects Joseph Woll (NHL taxi squad) and Ian Scott (groin) unavailable, the Marlies continue to turn to the ECHL veteran, who had suffered a long bout with pneumonia that disrupted his 2019-20 season.
In addition to adjusting to the AHL calibre of play, D'Agostini has already played six games in nine nights.
"There's always room for improvement, but things are happening fast right now," D'Agostini told Marlies reporters Tuesday. "So I'm really just trying to manage my energy."
He has relied on Marlies goaltending coach Jon Elkin, who has worked at the NHL level with the Flames and Arizona Coyotes, to help through that stretch. D'Agostini's move to the Marlies this season reunited him with Elkin, his goaltending coach from his 2009-10 OHL rookie season with the Peterborough Petes.
"When you've got a handful of days, that's when you go to the chalkboard and start to think about some things and maybe reflect on some goals-against. But right now, Jon Elkin's been fantastic with helping me make sure that I'm ready for these games. And he's got a lot of wisdom beyond just playing hockey, and it has helped me get through what has been a tough week.
"After the [eight-game road] trip, we can probably reflect on some goals-against and some things that we can be working on."
The Leafs have shown a willingness to take chances on less-heralded players and utilize them with the Marlies and their ECHL affiliate, the Newfoundland Growlers. Along with D'Agostini is another such player in 6-foot-6 forward Justin Brazeau, who is in the second year of a two-year AHL contract that he signed coming out of the OHL. In 2018-19, Brazeau piled up 61-52-113 with the North Bay Battalion and followed that effort last season with the Growlers (27-28-55). So far with the Marlies, the 23-year-old Brazeau has tallied once in six games.
"[Brazeau has] really gained more confidence with every game," Marlies head coach Greg Moore told Toronto reporters after Tuesday's win. "He's a big body who utilizes that skill and that asset in the games. Our assistant coaches have really been putting in the time to watch video with players and really give them some perspective as to how they can take advantage in this level in this league.
"Brazeau is one of those players that asks the right questions, he's always wanting to learn. He has a good sense of himself, as an athlete and as a person. His process so far has been great."
Rockford: Morris locks down first win
Stockton remains the only AHL club without a win so far after the Rockford IceHogs (Chicago Blackhawks) rallied Tuesday night to knock off the visiting Cleveland Monsters (Columbus Blue Jackets), 3-2.

Coming out of Notre Dame, IceHogs goaltender Cale Morris had 35 saves to fend off the Monsters. After Cleveland took a 2-1 lead in the third period, Andrei Altybarmakyan and 19-year-old defenceman Isaak Phillips supplied late goals.
Rockford is 1-5-1-0 going into a pair of weekend dates in Cleveland.
Henderson: Krebs back to the WHL
First-year Henderson Silver Knights (Vegas Golden Knights) head coach Manny Viveiros has seen both sides of the NHL-CHL agreement during his various career stops.
One of those players was left wing Peyton Krebs, taken by the Golden Knights as the 17th overall pick in the 2019 NHL Draft. During his time in the AHL, Krebs showed that he could handle the AHL pace and had 1-4-5 in five games, including a three-point performance in his second pro game February 8th.
Krebs, who just turned 20 on January 26th and thus fell under the NHL-CHL agreement, also had an opportunity to skate on lines with Lucas Elvenes, Tomas Jurco, Danny O'Regan, and Gage Quinney, among others. But Krebs returned to the WHL's Winnipeg Ice this past Sunday. The Ice will begin bubble play on March 12th, which means that the NHL-CHL agreement requires his return to the WHL.

Viveiros coached three seasons in the WHL, including last season with the Spokane Chiefs, where he had New Jersey Devils first-round pick Ty Smith.
So what does Viveiros think about what this move means for Krebs?
"Well, I think the biggest thing, and I saw it last year with [Smith], my advice that I gave to Peyton is when you go back, there's no question he's going to be probably [one of the best], if not the best, player on the ice every single night, which you do want.
"But for me, my advice that we gave him as a staff to go back [was], 'Don't lose the tempo and the speed that you play with here in the American Hockey League. If you can continue to push yourself, even though the level and the tempo [are] not as high -- whether it's in practice or also in games -- at that [AHL] or NHL speed, you're just going to be that much better when you get back again."
"A lot of times, it's easier said than done, there's no question. [The WHL is] a lower level, a very, very good level. But still, there is a difference of pace, and that's something that I think he's fully aware of also."
Golden Knights management did catch a break with their 2019 second-round pick, defenceman Kaedan Korczak, who is three days younger than Krebs. Because Korczak's WHL rights belong to the Kelowna Rockets, and the British Columbia provincial government has not approved WHL play so far, he can remain with Henderson for now.
Around the AHL
Laval Rocket assistant coach Alexandre Burrows is on his way back to the NHL as part of the Montréal Canadiens' coaching shake-up Wednesday. Burrows will serve as a Canadiens assistant coach. A replacement for Burrows on the Rocket coaching staff has not been named.
Utica Comets (Vancouver Canucks and St. Louis Blues) forward Wacey Hamilton has retired at age 30. He played 28 games with the Comets last season, finishing 4-7-11. In 432 AHL regular-season games, he was 44-88-132.
Providence Bruins (Boston Bruins) forward Jakub Lauko (lower body) will be back in the line-up for a match-up with the Bridgeport Sound Tigers (New York Islanders); he missed one game. Providence will also have defenceman Josiah Didier for the first time this season.
AHL COVID-19 protocols involving the Iowa Wild (Minnesota Wild) postponed their game at the Texas Stars (Dallas Stars) on Wednesday. Texas has not played since February 13th. The San Jose Barracuda (San Jose Sharks) have another postponement as well. League COVID-19 protocols involving the Barracuda have postponed their home opener for Thursday. Earlier this month, San Jose's season opener was cancelled, and the Barracuda also missed a game last week at Texas because of inclement weather.
On the move
The Washington Capitals returned goaltender Ilya Samsonov to the Hershey Bears before their road game at the Wilkes-Barre/Scranton Penguins (Pittsburgh Penguins)….Going from the Syracuse Crunch (Tampa Bay Lightning and Florida Panthers) to the Bakersfield Condors (Edmonton Oilers) is rookie defenceman Max Gildon. A 2017 third-round pick by the Panthers, he turned pro following three NCAA seasons at the University of New Hampshire, but he found himself crowded out of the Crunch defence corps with nine players in Syracuse….Columbus defenceman Andrew Peeke has been sent to Cleveland. The 2016 second-rounder had 0-2-2 in six NHL appearances this season. He was 5-11-16 in 29 AHL contests in 2019-20….The Colorado Eagles (Colorado Avalanche) added forward Jayson Megna on assignment. He had 18-16-34 in 43 AHL games last season.
Quotebook
"He [was a] 19-year-old stepping into the American Hockey League. He's been really good. I like his poise and composure on the ice. He's certainly not playing like [his age]."
- Viveiros on Korczak's adjustment to pro-calibre play
You may also be interested in: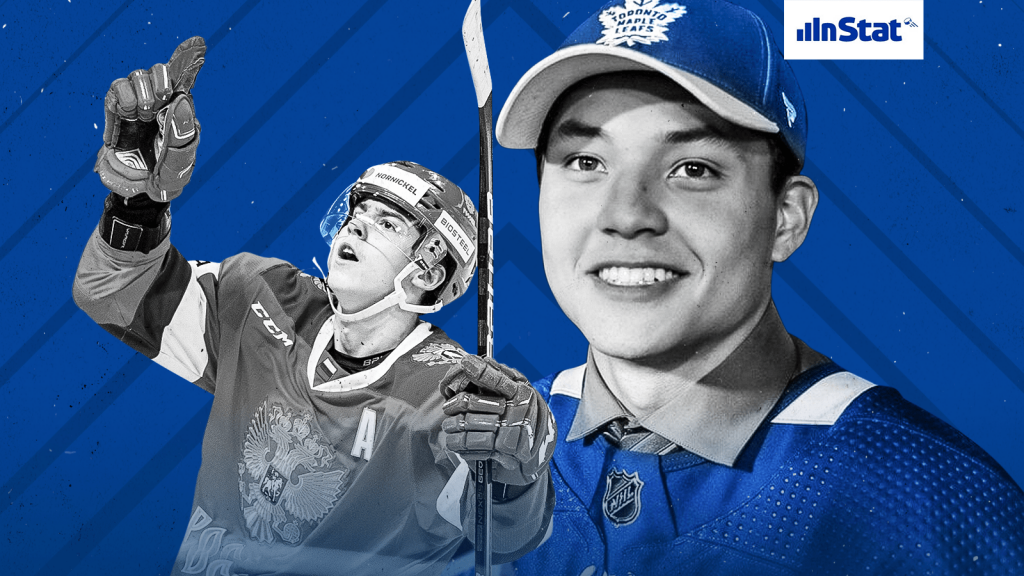 The EliteProspects Rinkside 2020-21 Off-Season Prospect Pool Rankings: the No. 10-ranked Toronto Maple Leafs
This article is about: