Fantasy Hockey
Bumps and Bruises: Matthews and Andersen return, Crosby and Johansen go into protocol and goalie injuries galore
Injuries and COVID protocols have landed several players on the IR. Here is a list of who is coming back soon, who isn't and who is questionable.
The following should help you with your fantasy hockey lineup, if you need to make some last-minute changes.
---
East
The Penguins' captain found himself on the COVID protocol list on Monday afternoon. We await further word on how long this could last.
Coach Sullivan confirms that he is not permitted to say anything about the statuses of Sidney Crosby and Todd Reirden. "It's in the league's hands."

— Pens Inside Scoop (@PensInsideScoop) March 3, 2021
The Bruins centre has been out for nearly three weeks but is expected to return to the lineup ahead of Wednesday's game against the Capitals.
Another Bruin who has been sidelined for nearly a month, Gryzelyk is expected to suit up on Wednesday evening.
The Sabres goaltender has been out since February 24th and recently head coach, Ralph Kruger stated they expect the 27-year-old to miss at least a month. This is a real shame. Ullmark has been excellent for Buffalo - providing an above-average .919 save percentage through 12 games. Carter Hutton should keep getting the lion's share of starts, but he's been poor. Jonas Johansson could sneak in there more if he proves a better option. Watch closely and snap up on the wire if you're in dire straights.

Nico Hischier
The Devils' captain did not skate on Tuesday with the club and is still being evaluated by doctors after taking a PK Subban slap shot to the face. It's been a very difficult start for the 22-year-old. I expected this to be his breakout season, but that is going to be hard to hit now. Let's just hope he's okay and recovers quickly from this one before reevaluating our expectations.

OUCH!!!#NJDevils Nico Hischier takes a deflected Subban slapshot off the shield - he's cut. ?
? @MSGNetworks pic.twitter.com/uB02Nz9wwm

— Here's Your Replay ⬇️ (@HeresYourReplay) February 27, 2021
West
The Ducks defender has been out for several days with an undisclosed injury. It sounds day-to-day at this point so keep a close eye on the situation. The 27-year-old could become an attractive trade chip if the Ducks decide to start selling ahead of the trade deadline. He has another year at 5.75M so a purchasing team would be locking in a very real top-four defender for more than just this weird campaign. Lindholm is a safe bet for a 25-30 point pace with minimal power-play time. If he goes to a strong offensive team, those numbers could inch up a tad.
The Blues' star winger has been inching closer to a return. He's travelling with the club and could make his season debut on Friday night. This will obviously be a major shot in the arm to the St Louis forward corps and the fantasy landscape. Just don't expect him to light the world on fire to begin. He's played a grand total of 14 games over the last 22 months.
The Blues' winger continues to be out indefinitely from the lineup due to a lower-body injury.
The Blues' defender continues to be out indefinitely from the lineup due to an undisclosed injury.
The Coyotes top netminder remains sidelined with a lower-body injury. This means Antti Raanta will take the ball for now. Raanta has clearly been below the level that Kuemper has set these last few seasons, so I don't expect Kuemper's job to be in jeopardy whatsoever.

Update on Darcy Kuemper, here's what we saw. pic.twitter.com/hnuwCDpes1

— FOX Sports Arizona (@FOXSPORTSAZ) February 25, 2021
The Vegas' netminder continues to rehab his injury and has yet to return to practice. That means the Marc-Andre Fleury show will continue on. It will be tough for Lehner to peel off more than backup starts when he does return with the way MAF has been going.

Cale Makar
The reigning Calder Trophy winner returned to Denver to nurse an upper-body injury while his teammates continued on their road trip. Colorado is back home on Friday, but we'll need to see the star defender skate ahead of predicting such a quick return.
Another Avalanche defender on the shelf, but at least Byram stayed with the team on the road. He's been ruled out of Wednesday's game against the Sharks but could become an option for Friday against the Ducks. If he is, and Makar remains out, look for him to see some advanced deployment.


Central
The Preds' defender has been officially sidelined for the next 4-6 weeks with an upper-body injury. This is a huge blow to the Nashville back end. Another dagger in a seemingly lost season.
The power winger will be out of the lineup for the next 2-4 weeks with an LBI.

Ryan Johansen
The big centremen finds himself on the COVID protocol list. It is unknown for how long.
The Preds goaltender did not practice with the team on Tuesday after leaving Sunday's game after being hit by Carolina's Nino Niederreiter. The club has not announced it, but it sure appeared to be a head injury. If Saros is out long term, Pekka Rinne will be the play here - even as the Preds find themselves as bottom-feeders this season, Rinne should still provide some short-term value.
Nino Niederreiter fined $5k for this collision with Juuse Saros in the first period of last night's game. https://t.co/VGiNEeeFX4 pic.twitter.com/oddiyG55EC

— Brett Finger (@brettfinger) March 3, 2021
All about the goalies today! Mrazek continues to skate with the club and is expected to return shortly. Potentially as soon as the Canes' next game on Thursday. Watch for Alex Nedeljkovic to return to the Taxi Squad even though he's mostly outplayed James Reimer.

Teuvo Teräväinen
The Canes' top-six winger has continued to skate on his own while the team has been on the road. We have yet to have an update on his status over the last few days but expect that to change with Carolina heading home.
The Blackhawks pivot remains sidelined with a concussion. The team has not provided an update on his condition so we can expect it will be a fair amount longer. The Hawks have had their centre ice depth tested in a major way this season losing Jonathan Toews and Kirby Dach all season, and now Strome has missed nearly two weeks. They're really testing how badly Patty Kane wants that Hart trophy.
The Red Wings top centre hopes to return to the lineup in the next week or so according to recent reports. Detroit is destined for another lottery finish in 2021, but they'd sure love their young captain back to help guide the ship.

North
The Toronto superstar will draw back into the lineup on Wednesday evening after missing the last two games with a wrist injury.
The Maple Leafs' starter draws back into the lineup ahead of Wednesday's tilt against the Oilers. The back-ups did an admirable job in his absence, but this is Freddie's crease and he should see the lion's share of starts while healthy.
Auston Matthews and Frederik Andersen both return to the #leafs lineup tonight in Edmonton.

— Chris Johnston (@reporterchris) March 3, 2021
The hulking Habs' winger has been skating on his own ahead of practice and reports indicate he's looking quick out there as he recovers from an LBI. Montreal could certainly use his infusion of speed, skill and tenacity as they look to reclimb the Canadian division standings.

Jacob Markström
The Flames backbone returned to practice on Tuesday morning - the first time he's skated with his mates since going on the IR 10 days ago. This is a great sign for a struggling Calgary team that desperately needs their ace back in goal.

Per Calgary Flames head coach Geoff Ward, goalie Jacob Markstrom getting final medical clearance today & could be good to go for tomorrow versus the Ottawa Senators.

— Salim Nadim Valji (@salimvalji) March 3, 2021
You may also be interested in: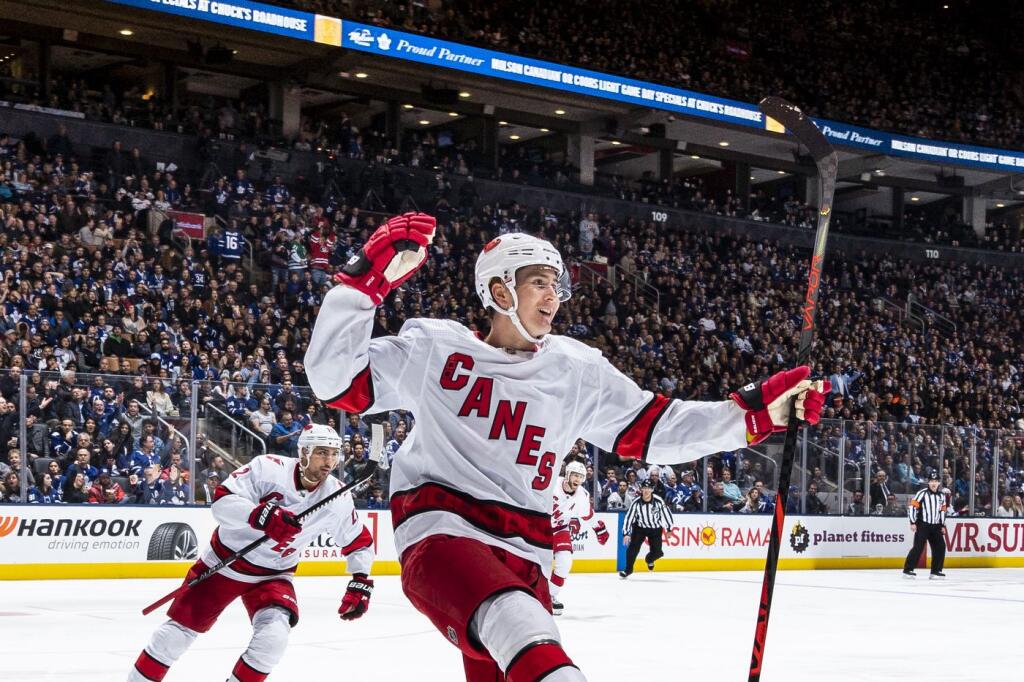 Fantasy Weekly: DeBrincat, Batherson, Pettersson, Bean, & Necas
This article is about: