2020-21 Trade Deadline
Montréal Canadiens acquire Jon Merrill from Detroit Red Wings for 5th-round pick, Hayden Verbeek
The Montréal Canadiens have acquired defenceman
Jon Merrill
from the Detroit Red Wings for a fifth-round pick in the 2021 NHL Entry Draft and
Hayden Verbeek
.
The Canadiens have acquired defenseman Jon Merrill from the Detroit Red Wings, in return for a fifth-round pick in 2021 and forward Hayden Verbeek.#GoHabsGo pic.twitter.com/BEiUjl9zx7

— Canadiens Montréal (@CanadiensMTL) April 11, 2021
The Canadiens also announced in a corresponding move that they'd placed defenceman Victor Mete on waivers to create space for Merrill.
It's a transaction that seems reminiscent of the Joel Edmundson acquisition of the off-season. The Habs found a big, rugged, defensive defenceman and pried him from a difficult environment. Now, the reason those environments were challenging is drastically different - one team was fantastic with an ill-fitted system to the player, and the other is leaving perhaps the league's worst non-Buffalo team with sound results -- but the point nonetheless stands.
Merrill played second-pairing minutes in Detroit, feasting on a steady diet of high-leverage defensive deployments at evens and on the kill alike, and leaving those minutes relatively unscathed.
Jon Merrill, acquired by the Canadiens, has quietly been one of the league's most effective stay-at-home scoring chance-suppressing defencemen in the past two seasons. Was playing 2nd pair minutes for the Wings this year. #GoHabsGo pic.twitter.com/lbbAnNxtXe

— JFresh (@JFreshHockey) April 11, 2021
The Patric Bacon WAR (Wins Above Replacement) model's defensive outputs to Merrill's credit, as expressed in this JFresh player card, place him in the very upper crust of the league's in-zone defenders. The Evolving-Hockey RAPM (Regularized Adjusted Plus-Minus) metric, which also takes into account a player's environment (like Bacon's WAR model), frames his contributions similarly.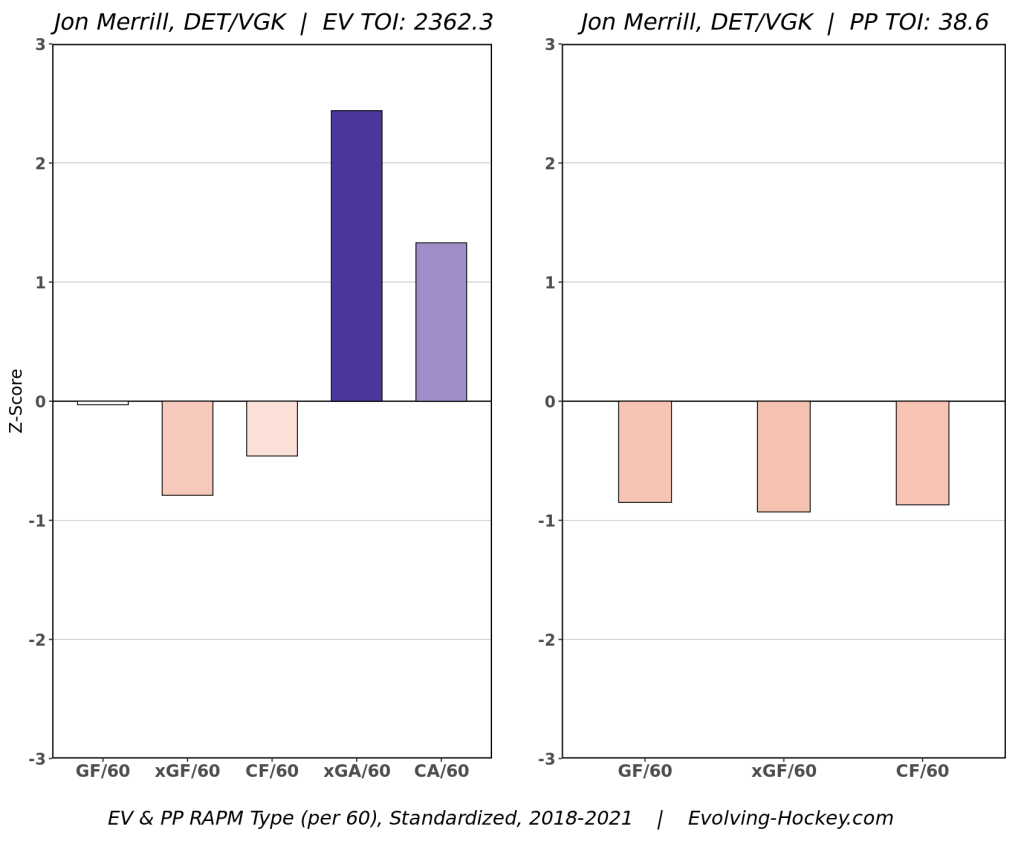 As does Micah Blake McCurdy's model for isolating defensive impacts, a tool which one can avail themselves of at the indispensable HockeyViz.
Jon Merrill (traded to Montreal for a fifth) is a good shutdown defender, useful on the PK, not a shooting threat to speak of. pic.twitter.com/LatIrxrnuY

— Micah Blake McCurdy (@IneffectiveMath) April 11, 2021
The connective tissue between each model? That Merril's best work occurs in the defensive zone -- really damn good work at that -- and that he can't be relied upon for much if anything in the final third of the ice.
Sounds like a perfect depth defenceman for a playoff run to me!
Verbeek, meanwhile, is a 23-year-old, barely clinging at all to prospect status (even that seems generous...) and is destined for the Grand Rapids Griffins. I suspect the Habs included him to make the contract numbers work.

The obvious caveat here is that there's an opportunity cost at play by virtue of the Habs decision to expose Mete to waivers to make room for Merrill. JFresh wrote a pretty extensive article on Mete's account, and made a compelling case for the 22-year-old, smooth-skating blueliner. There's plenty of runway left on his career, and he's only on the books for $735,000 this season; it wouldn't surprise me in the slightest to see a team pluck him off the wire.
At which point, the trade effectively becomes a fifth-round pick, Mete, and Verbeek for Merrill.
Whatever one thinks of Mete, it's hard to imagine he was going to blossom in this spot, and his form at present is probably a downgrade on Merrill. Which is to say, the Habs have served their short-term goal of improving the quality of their blue line for the remainder of this season and the playoffs, and that much really isn't up for debate.
Whether that's a worthwhile endeavour or not? Well, that's another matter entirely.
You may also be interested in:
The EliteProspects Rinkside 2020-21 Off-Season Prospect Pool Rankings: the No. 3-ranked Detroit Red Wings
This article is about: