NHL Entry Draft 2021
Matthew Coronato versus Mackie Samoskevich, and 9 other thoughts from USHL tracking data
By points, the top draft-eligible prospect on the Chicago Steel is clear as day: It's Matthew Coronato. Coronato's 41 goals in 45 games, along with 34 assists, is basically unheard-of production for a USHL first-time draft-eligible prospect.
Meanwhile, frequent linemate Mackie Samoskevich's production is far more worldly, scoring at 1.06 points per game. That's still impressive for a USHL draft-year player – but it doesn't scream first-round pick.
Dig a little deeper, and there's plenty of evidence that Samoskevich's just as good of a prospect than Coronato, or better.
Despite the chasm between their respective outputs, their 5-on-5 profiles are strikingly similar. Offensively, the differences are negligible, with Samoskevich producing 1.9 expected goals per 60 to Coronato's 1.93. Playmaking-wise, Samoskevich carries a slight edge with 1.31 to Coronato's 1.28 in expected primary assist (expected goals but with credit assigned to the passer of the ensuing shot).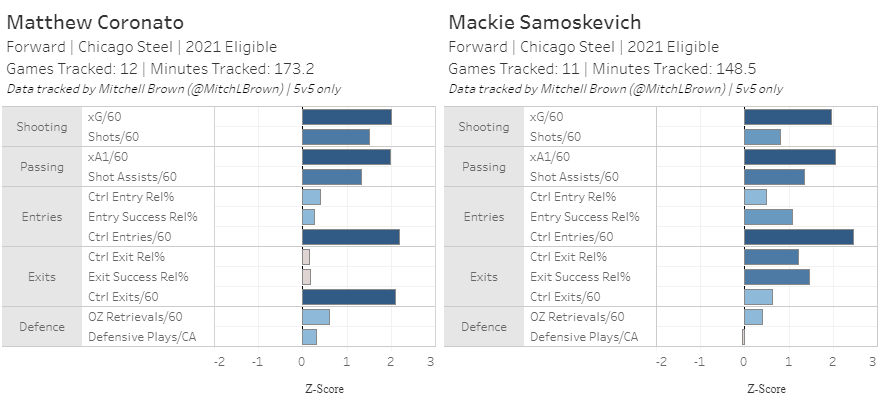 The biggest areas of difference are shooting volume (shots per 60) and transition. Of course, they're linked, but let's start with shooting volume. Most goals in the NHL are scored not by dynamic solo dashes but off of a pass. Players who rely on high-volume shooting off solo rushes to score at lower levels generally don't bring those goals with them to higher levels.
Access this article with EP Premium
Go Premium to access this article
Register your Premium-membership at eliteprospects.com to get access to this article and more quality, in-depth coverage at EP Rinkside
This article is about: