Scouting Reports
Wyatt Kaiser exceeded expectations as a true freshman for Minnesota-Duluth
The University of Minnesota-Duluth deployed Wyatt Kaiser in a high-leverage role for NCAA post-season games as a true freshman. That doesn't happen often. It's a testament to how much value his reliable two-way game has brought to the Bulldogs this season.
The coaching staff has to be confident, particularly on the defensive side of his game. Luckily for Minnesota-Duluth's Scott Sandelin, his confidence in Kaiser, an exceptionally smart defender, is well-placed. Coaches can always refine a players' game, but many are born with a defensive mind. That part of Kaiser's game seems to be innate.
Here are some good moments that Kaiser had in his teams' five OT win against North Dakota. A game like that will eventually reveal one's flaws if they're not careful.
His passing is smooth, calm, and precise. Even under duress, in a big game atmosphere, the blueliner was unflappable.
On this play, Kaiser couldn't have done it any better. It's an indication of why the Chicago Blackhawks drafted him 81st overall in the third-round of the 2020 NHL Entry Draft.
He has maturity in his game and great poise, and all at the age of 18. Just imagine what's next in store for Kaiser as he adds experience. That's when we'll start to see him at his best as a prospect.
Right now, we're only getting a glimpse of his potential.
During the Frozen Four Semifinal game against Massachusetts, the Minnesota native connected on a stretch pass up the gut that turned into a scoring chance, and it made the live crowd murmur. No canned sounds necessary -- the fans that were lucky enough to attend in Pittsburgh reacted accordingly.
Winning puck-battles is a critical part of defending, even in the modern context, and if you can't pull that off, you better have a super active stick and a long reach to compensate. Simply put, the player who comes out of the corner with the puck has a chance to get the puck going the other way. Sometimes just for a clear. Other times, it's the start of a scoring chance, one that rarely shows up on the stat sheet.
He has an active stick on defense. Kaiser will mix it up in the crease but makes sure the puck is gone first. That's something that can be very frustrating to the coaching staff and viewers. So many times, we will see players lay a hit, but they don't win the puck-battle. The hit is nice, but at the end of the day, you want to see your defender leave that skirmish with the puck, otherwise, that hit is just window-dressing.
When UMD was down 1-0 to UMass, Kaiser immediately went to work in the offensive zone. He got some space and weaved past the opposition to snap off a good scoring chance. With just a little runway, he has excellent acceleration to get up the ice.
When the game was on the line on overtime against UMD, he was cool as a cucumber. Even when his side was overloaded, he covered it well.
Kaiser's on-ice shot attempt differential doesn't look great - he's hovering around 41 percent - but there is absolutely zero chance UMD wins that game without him.

Only conceded one on-ice scoring chance, from outside the slot, & put up wild defensive play numbers. #Blackhawks https://t.co/qimEgefqNz

— J.D. Burke (@JDylanBurke) March 28, 2021
InStat Hockey offers us access to unparalleled college hockey data, time on the ice among them. That's so important to know when looking at a defenseman's performance. Kaiser averaged 25.36. That's a big number for a young player. Kaiser played in all situations, and that'll do it. It augurs well now, but it's a trend that's unlikely to sustain itself as he climbs hockey's ranks.
Another data point InStat collects is puck battles. I talked about winning puck battles but winning 58 percent is a solid number that will only get better next year. When Kaiser works out and adds more strength, that's a key area where he should see instant results.
Kaiser will disrupt in the corner, but he won't lay a big hit, not yet. He was credited with only one this season. That will increase in time. Sandelin will get him to be more aggressive.
Even though Kaiser had zero goals this season, that doesn't mean he doesn't possess a good shot. He averaged 3.5 shots per game with 46 percent of them hitting the net. That's a solid number. The big sexy shot is great, but it has to hit the net, if it doesn't, it rarely translates to points, and often comes at the expense of a team's possession. When a shot gets on-net, that's where you have a chance for a rebound or deflection.
Currently, Kaiser plays the role of the modern defenseman. I won't call him a defensive defenseman even though one could form a cogent argument to that end based on some of the stats available to us.

Blocked shots are a key part of a defenseman's game. Kaiser blocked 40 shots in 28 games. His high for the season was five in a late-season game against St. Cloud State. As he moves up the ladder, four-to-five will be a typical game, and the bravery and guts it takes to do this don't go unnoticed. Teammates always appreciate it, but the goalies know how many times that can save their bacon.
Kaiser has a chance to be a second-pairing defenseman in the NHL someday. That's if everything breaks right. So far, there's no reason to believe he's not on that path. He has an elite coach in college hockey, and the Blackhawks will help him stay on track with his offseason training.
---

You may also be interested in: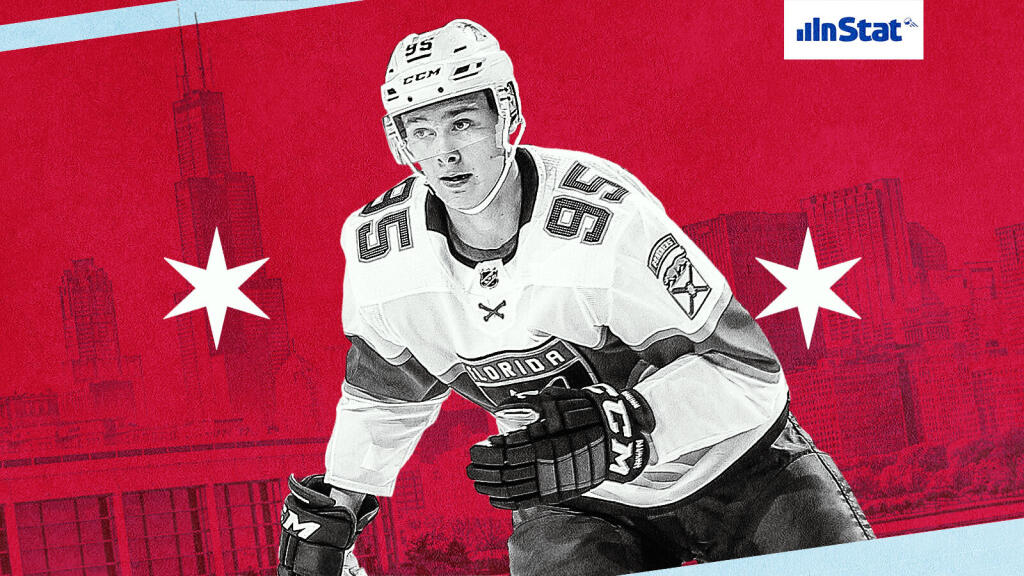 What went wrong for Henrik Borgström, and can the Blackhawks resurrect his career?
This article is about: