U18 Worlds
Meet the Team: Canada's Under-18 World Hockey Championship roster
The Under-18 World Junior Championships always hold some weight for the upcoming draft. Many in the industry would argue that it's too much weight.
With the OHL season no longer a reality, and many WHL teams just starting their seasons, the value of this tournament has skyrocketed. For some of these players, this will be the first hockey they've played this season. For even more, it'll be their games of the season in North America.
With those unique circumstances, Canada's roster has a bit of a different look. With the QMJHL underway with playoffs planned, no players were selected from their ranks.
But there's no shortage of talent. Every player on the rosters could hear their name called in the NHL Draft. There's a trio of potential top-10 picks, not to mention the CHL's two most recent exceptional status players: Shane Wright and Connor Bedard.

Two prospects originally named to the roster won't be able to participate. Carson Lambos will be unable to participate due to a medical issue, while Cole Sillinger will miss the tournament because of Covid protocol.
With that, let's meet the team.
---
Forwards:
After a sneaky-good rookie season in the OHL, Stillman opted to fly for Denmark in the fall. There, he scored a lot in nine games but failed to build upon last season. His shooting and passing skills appear NHL calibre in flashes, just waiting to be unlocked by better details. Stillman's last game was in early December. He might not be a star on this team, but he should be effective deeper in the lineup.
On a team loaded with skill, Othmann stands out as the team's plug-and-play energizer. He's an advanced puck protector, cutting off defenders' recovery routes before working play to the inside. Oh, and he's not short on skill, either; he's a high pace attacker with a precise quick-release wrister and diverse rush patterns that fool even formidable defenders. Whether he's on the first or fourth line, expect him to be an impact player.

Like Othmann, Harrison brings a bit of a jack-of-all-trades skill set to Team Canada. He's physical and active around the slot, engaging with defenders to win positioning for loose pucks. More of a down-low threat than one off the rush, he finds outworks defenders before spinning the puck into the slot. Historically, skating's been the weaker part of his skill set; this is an excellent opportunity to gauge his improvement.

There's arguably no player that could benefit more from the U18s than Pinelli. With the OHL's future uncertain, he headed to Slovenia to play for HDD Jesenice, where his results were suboptimal. His lack of pace and skating stood out, but there's no disputing the talent. A crafty playmaker with the skill to manufacture passing lanes and thread pucks through the tiniest of openings, a strong tournament could launch his draft stock to new heights.
After a breakout U17 World Hockey Challenge, the explosive, hard-shooting Zhilkin's ready to establish himself as a top prospect in the 2022 NHL Draft. He's more than just a shot, too. There are flashes of NHL-calibre distributing, identifying teammates sneaky behind the defender for a chance. He's unlikely to play a starring role, but he could be an effective depth piece.
Stankoven comes into the tournament scorching hot in the WHL, with seven goals in six games. The release, pressured or wide open, is one of the 2021 Draft's few standout skills. The real star of his season has been his playmaking, showing another level of confidence and skill to hit teammates in the slot. His always-in-motion feet and defensive motor round out an exciting tool kit. If he stays hot this tournament, the first round suddenly looks a lot more complex.
Conner Roulette, LW, Seattle Thunderbirds - WHL
In Seattle's heavy-hockey, chip-and-chase structure, Roulette's found ways to shine. Skating's the weakest component of his game, but puck control and playmaking allow him to hit a teammate moving into space, before relocating to get the puck back. He's a burgeoning goal-scorer, showing more confidence in his shot and better timing around the net early in this WHL season. Hopefully, with a more offence-oriented structure, Roulette's puck skills will shine even more.
Shane Wright, C, Kingston Frontenacs - OHL
One of two exceptional status players on this roster, Wright's value comes from details beyond his years – and, well, 99 percent of NHLers. Staunchly opposed to dumping the puck, Wright links controlled exits into entries and scoring chances better than anyone on the roster. A dynamic playmaker with a sniper's release, there's virtually no easy to stop him. He's a strong support player, always positioned to get the puck back. He's going to be a top-six centre on this team, and very likely, one of the tournament's leading scorers.
The other exceptional status player, Bedard isn't eligible for the draft until 2023. Bedard's season started in Sweden, where he was fine. But that experience set the stage for his insane start to the WHL season. He has 28 points in 15 games and usually looks like the player on the ice in a division full of NHL draft picks or prospects soon to be. If this WHL starts anything to go by, he's going to be electrifying. The player to watch this tournament.
When the tournament starts, it will be nearly 14 months since Johnston played his last game – that's a significant disadvantage. But if there's a player that could overcome it to re-establish himself as a top prospect in the draft, it's Johnston. It's all details: supporting the puck, working give-and-goes, and making well-timed movements into space. He's already an advanced defensive player in the OHL, linking together breaks up and retrievals into set-ups for teammates. It's been a while, but he could put himself in the first-round discussion.
Ryan Winterton, RW, Hamilton Bulldogs - OHL
While many players have found temporary homes overseas, Winterton played a single game this season. He has a shooter's mentality, but inconsistent shooting mechanics and playmaking limited his effectiveness as a rookie. Something to watch: He's a puck thief on the backcheck. He's more than likely a depth player on this team, but he's likely to hear his name called at the 2021 NHL Draft.
Dylan Guenther, RW, Edmonton Oil Kings - WHL
Arguably Canada's top forward prospect for the 2021 NHL Draft, Guenther is likely to be among the tournament's best. He's scoring a goal and an assist per game through 12 in the WHL. Sure, it's a weak division, but he's also shown legitimate improvement as a skater, playmaker, and defender. The shot remains an explosive goal-scoring tool, enhanced by his top-of-the-class off-puck timing and instincts around the net.
Mason McTavish, LW, Peterborough Petes - OHL
In the discussion of Canada's top forward prospect for the 2021 NHL Draft, McTavish is right there with Guenther. Like Guenther, McTavish thrives on finding space. Those instincts combined with a booming shot will allow him to pile up goals at any level. Don't underestimate his playmaking: he moves the puck effectively, hitting teammates with one-touch passes in scoring areas. Every part of his game looks improved in Switzerland. He'll contend for the tournament's scoring title.
Defencemen:
Nolan Allan, D, Prince Albert Raiders - WHL
Ignore the meagre counting stats; Allan's an effective player. An efficient defender, he chokes out plays and gets them moving back up the ice. He's selective in transition, opting for the safe play too much, but showing the ability to beat forecheckers when he senses an opportunity. There's more skill than he's shown so far, too. Perhaps the U18s are when that skill starts to shine.
Olen Zellweger, D, Everett Silvertips - WHL
After a solid rookie year, Zellweger established himself as a top-pairing defenceman this season. Mobility's the biggest selling point, leveraging explosiveness to choke out attacks in the neutral zone, join the rush, and activate off the point. His skill with the puck continues to improve, placing him firmly in the mix for top-two rounds for the 2021 NHL Draft. He doesn't come with the name power of the others, but don't be shocked if he ends up playing huge minutes.
A divisive prospect, Ceulemans has the opportunity to prove the high-end skill is real. The star of Ceuleman's game is his shot and the ability to activate off the point to fire it. There are flashes of an aggressive rush defender with physicality. The decision-making comes and goes, even against weak competition. But perhaps all he needs is a step up in competition.
For 2021 NHL Draft purposes, Clarke's arguably the player to watch. He's long been a top player in the age group, thanks to skill that rivals many first-line forwards. If there's an opportunity to join the rush, he does it; if there isn't, he creates one and joins anyway. He's never content to stick to the point. His defensive zone coverage looked great in Slovakia, where he killed heaps of plays and diffused tricky situations. A star-level tournament will cement his status as a No. 1 overall contender. He's the top defenceman on the team, without a doubt.
Ethan Del Mastro, D, Mississauga Steelheads - OHL
Take your preconceived notions based on points and throw them into the garbage; Del Mastro's legit. When not leading the rush, he's activating into it. Flashes of manipulation and deception appear when he's starting the rush or setting up a teammate in the offensive zone. He's physical but passive through the neutral zone and overaggressive when making up distance. He's a project pick for the 2021 NHL Draft, and he hasn't played since last season. This tournament provides an opportunity to gauge his game.
Casually watch a game, and Richard will probably slip into the background. Watch closely, and he's impossible to miss. He blows up the cycle, suffocates his man around the net, and kills plays at the top of the circle. Details, rather than tools, drive his puck game, where he takes pucks in motion, looking off his target, and quickly moves the puck. He's likely to get picked in July's draft.
Of the WHL's 2004-born defensive prospects, Mateychuk's arguably been the most effective. Weeks into the season, he's established himself as a top-pairing defenceman. He's always up in the play, and when he gets the puck, few defencemen create more opportunities. He's a confident, aggressive defender, too. He's a top prospect for the 2022 NHL Draft.
Matier's in a similar boat to Del Mastro: Both haven't played this season, and they're two of the 2021 Draft's more raw prospects. Matier's mobile, and occasionally explosive and cunning. The puck skills come and go, but the mindset's all about making controlled transition players. If he's improved despite the lack of game reps, his stock could take off.
Goaltenders:
Thomas Milic, G, Seattle Thunderbirds - WHL
Playing in the CSSHL U18 last season, Milic wasn't really on my radar until this season. A stint in Seattle and the Under-17 World Hockey Challenge brought intrigue, and now, he's Seattle's starter. His .913 save percentage is second in the U.S. division.
Sarnia was horrendous defensively last season, but Benjamin Gaudreau was a terrific backstop as an OHL rookie. Based on his resume, he's Team Canada's starter. The issue? He hasn't played this season, while the other two goaltenders have. He's eligible for the 2021 NHL Draft.
Tyler Brennan, G, Prince George Cougars - WHL
After a season spent as Taylor Gauthier's backup, Brennan seems ready to take over Prince George's net. One problem: Gauthier's still around. In Brennan's four games, he's actually outplayed Gauthier, and maybe that's a sign of what's to come. I'm not sure he'll be the starter here. He's eligible for the 2022 NHL Draft.
You may also be interested in: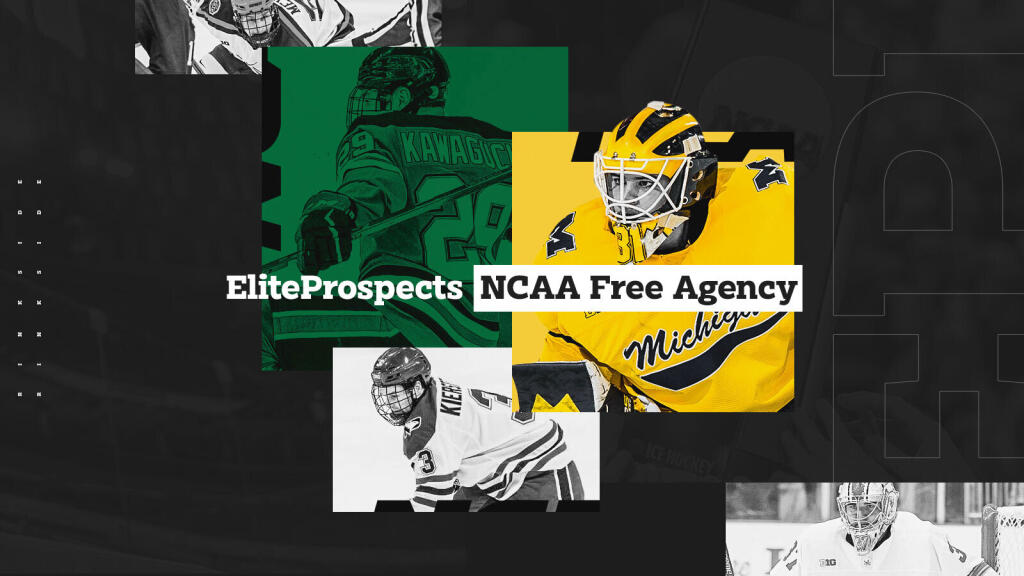 The EliteProspects Rinkside Guide to 2020-21 NCAA Free Agency in the NHL
This article is about: