U18 Worlds
Meet the Team: Finland's Under-18 World Hockey Championship Roster
Team Finland is looking to take some significant steps up from their seventh-place finish in the 2019 U18 Worlds. And if their goaltending holds up, this roster has just enough talent up front to beat anyone else in the tournament if things break right. There's a wide array of skill and speed upfront, as well as some worthwhile depth on defence.
Let's check them out.
---
Forwards:
Though he struggled a bit during his first full Liiga season, Brad Lambert is still the top talent on this Finnish team, and he'll be expected to lead them offensively. He's a dynamic offensive threat, combining high-end skating with excellent handling and dual-threat capabilities. A potential top-three pick in the 2022 draft.
Niko Huuhtanen, RW, Tappara U20 - U20 SM-Sarja
Huuhtanen strung together a productive campaign in the U20 league with his new team and added four goals in February's two national team intra-squad games. The 6-foot-1 winger brings a heavy release, good skill, and a heavy dose of meanness and physicality to the table. Huuhtanen will likely start the tournament in a top-nine role and on a power play unit.
Oliver Kapanen, C, KalPa U20 - U20 SM-Sarja
One of the biggest draft-eligible risers in Finland this season, Kapanen ran at over a point-per-game player in his debut season at the U20 level, and also added five points in five games during a brief loan in Mestis. Kapanen's game is all about off-puck instincts and good scoring touch in tight. Though he's mostly played center this season, I'd expect to see him on the wing in this tournament.
Juho Järvelä, C, Jukurit U20 - U20 SM-Sarja
Järvelä wasn't part of my initial roster projection, but a rather strong ending to the season in the U20 league playoffs likely pushed him over the top and onto this roster. He's got some scoring touch, but on this team, he's going to be playing in a fourth-line role with maybe some penalty kill duties presuming he makes his way to the lineup.
Joakim Kemell, RW, JYP U20 - U20 SM-Sarja
The only 2004-born forward on the roster, Kemell has been on scouts radars for a long time, and he put together a very strong debut season in the U20 league to warrant the attention, leading his team in goals and points by a wide margin. In April, Kemell also became the first 2004-born player to debut in Liiga. He's a skilled winger with very good shooting skills but also improved his off-puck play this season. A potential first-rounder for the 2022 draft, Kemell should feature in a top-nine role and be used on the power play.
Ville Koivunen, RW/LW, Kärpät U20 - U20 SM-Sarja
Koivunen's seamless transition from the U18 level to the U20 league has been nothing short of spectacular. He added 23 goals and 49 points in just 38 games with Kärpät's U20 squad and went on to claim a well-deserved Rookie of the Year award. Koivunen's smarts are high-end and he's got a large box of other very projectable tools at his disposal. He'll be a top-six winger and an important power play piece for this team.
Miko Matikka, RW, Jokerit U20 - U20 SM-Sarja
After being the leading scorer for Jokerit's U18 squad in 2019–2020, Matikka put together a promising first season in the U20 league even if it was cut short due to pandemic-related restrictions. A six-foot-three winger with deft hands and heavy release, Matikka will be taking his talents to the University of Denver for the 2022–2023 season.
Verner Miettinen, C, Kiekko-Espoo U20 - U20 SM-Sarja
After leading the U20 league in points among draft-minus-one players last season, Miettinen found himself on a gutted Kiekko-Espoo team that lost players like his brother and league-leading scorer Veeti Miettinen and fellow 2021-eligibles Huuhtanen and Jimi Suomi during the off-season. He only managed 10 points in 19 games this season and didn't look very good overall, which means that the upcoming tournament will be hugely important for Miettinen's draft stock.
Päivärinta had a strong campaign as Lukko's top-line centre, leading the team to an eventual championship while being over point-per-game in the playoffs. Päivärinta plays a sound two-way game while contributing offensively with his playmaking. He should be a stable part of the bottom-six, and will likely get used on the penalty kill.
Ruusunen's current season was a rather mediocre one. He added only two goals and eight points in 21 games in the U20 league, but it tells you something about his game that he still was chosen to this tournament by the coaching staff. Ruusunen is a good complementary winger to any line given his combo of skating, energy and two-way play.
Samu Salminen, C, Jokerit U20 - U20 SM-Sarja
If Jokerit's season hadn't been ended early by the restrictions, Salminen would have been a prime candidate to win the scoring title after adding 26 points in just 17 games. The 6-foot-3 centre is a very skilled and smart playmaker who recognizes and uses empty space really well. Salminen will be one of the key forwards in the top-six and on the power play. He's committed to the University of Denver for the 2022-2023 together with Matikka.
Samu Tuomaala, RW, Kärpät U20 - U20 SM-Sarja
Tuomaala has been one of the top snipers of his age group for a long time. He finished the season with 15 goals and 31 points in 30 games with Kärpät's U20 program and also played five games up with the men's team, being one of the few players on the team with Liiga experience. Tuomaala's game is all about speed and shooting, sometimes even to his detriment.
Väisänen has made solid strides during the past year and was over a point-per-game for TPS at the U20 level. Though he's listed at six-foot-four and brings a decent amount of physicality, Väisänen is primarily an effective playmaker with decent skill and speed. Though he's played some games with national teams in the past, this is his first showing in Finnish colours at a big tournament.
Sisu Yliniemi, C, Kärpät U20 - U20 SM-Sarja
Though his role was rather limited this season due to being on the most talent-rich team in the U20 league, Yliniemi managed ways to be effective and improved his play throughout the season, which ultimately landed him a spot on this team. Though he's physically very raw, Yliniemi has good two-way instincts and can be used effectively in a fourth-line role and on the penalty kill if needed.
Defencemen:
Kalle Ervasti, D, Lukko U20 - U20 SM-Sarja
Another key player in Lukko's championship team at the U20 level this season, Ervasti added seven points in eight post-season games. A solid all-around defenceman, Ervasti's rush defence and vision are his strongest suits. He's also a potential penalty killer on this team.
Heimosalmi's draft stock has been on a rise in public scouting circles in recent months. He played big minutes for Ässät's U20 squad and contributed on both special teams. Heimosalmi is a rather smooth skater who can occasionally rush the puck through the neutral zone and defends competently with his stick and positioning.
The clear-cut top defenceman for this age group just over a year ago, Juusola struggled to ascend to a top-four role on Kärpät's U20 team this season, which eventually paved his way to Sweden. He was originally supposed to play for Luleå's J20 team, but due to restrictions, he ended up playing in the third-highest men's league HockeyEttan. At his best, Juusola shows a lot of offensive skill and has a big shot from the point.
The only 2004-born defenceman on the team, Kulonummi had a good first season with Jokerit's U20 program, regularly playing over 20 minutes per game and getting opportunities on both special units. Kulonummi is a smooth puck-mover and someone who can be trusted by his coaches as an under-ager in a tournament like this.
Tomi Leppänen, D, Lukko U20 - U20 SM-Sarja
Leppänen finished second in scoring among draft-eligible defencemen in the U20 league this season with 18 points in 40 games. Despite the point totals, his role on this team is likely going to be more defensive and he's another solid penalty kill candidate. Leppänen is a rather fluid skater who closes space proactively and looks to disrupt plays early in the neutral zone.
Malinen is coming off of his first full season with JYP's Liiga team, averaging over 13 minutes per game on the worst team in the league. Malinen is one of the better skaters on this team, moving very well in every direction. He had really good flashes of puck-rushing and OZ play during the season and mostly held his own defensively. He's a candidate for one of the power play units.
Jimi Suomi, D, Jokerit U20 - U20 SM-Sarja
With the pandemic ruining his plans of joining the Chicago Steel of the USHL for this season, Suomi decided to play for Jokerit's U20 team, adding 11 points in 15 games in his second season at that level. Suomi is a fluid skater who flashes a deceptive breakout game and can run a power play competently with his passing. He's probably better off with getting paired with a more defensively-minded player.
Topias Vilén, D, Pelicans U20 - U20 SM-Sarja
The second full-time Liiga defenceman on this team, Topias Vilén added eight points in 35 games with the Pelicans while averaging just under 13 minutes per night. While he's not the flashiest player on the ice, Vilén has quiet skill, moves well and defends competently. Maybe the most versatile defenceman on this team, Vilén can be plugged into any pairing and will probably do fine.

Goaltenders:
Aku Koskenvuo, G, HIFK U20 - U20 SM-Sarja
Though Finland doesn't have a clear-cut number one goalie this year, Koskenvuo is probably the likely starter at least at the beginning of the tournament. Though his stats from this season are rather mediocre, he's been the go-to guy during the national team camps. Koskenvuo is committed to joining Harvard University as the first Finnish player ever.
Jani Lampinen, G, HIFK U20 - U20 SM-Sarja
Koskenvuo's backup on HIFK's U20 squad this season, Lampinen's stat line from this season is more impressive and he's gotten occasional starts with the national team in the past. He's presumably battling for the backup spot on this team.
Juuso Helomaa, G, Ässät U20 - U20 SM-Sarja
Helomaa has long been touted as one of the better Finnish goalies in this age group and even though his season with Ässät's U20 team wasn't as good as expected, he's probably the likely backup for this team and can even steal the starting role depending on how the tournament will unfold.
You may also be interested in: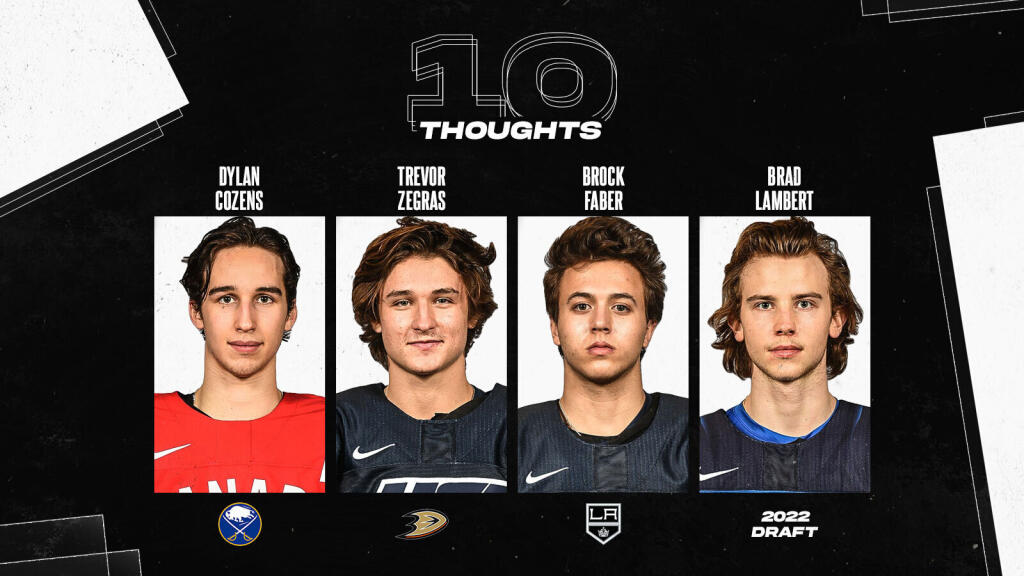 10 final thoughts on the World Juniors using manually tracked data
This article is about: