U18 Worlds
Meet the Team: Sweden's Under-18 World Hockey Championship roster
With last year's tournament landing on the funeral pyre of events taken from us as a result of the ongoing pandemic, Sweden remains the reigning champion at the World U18 Hockey Championship. They won as hosts in 2019 after a hat trick in the final from Lucas Raymond on Yaroslav Askarov.
With so few international games and so few junior games all season it is hard to know where any team stands this year, but there's a lot to like about this group of Swedes. They're not a favourite for gold but have some top-end skill that could take them there nonetheless. Every top player in the country is available other than the top two centres Victor Stjernborg, who is playing in the SHL playoffs. Sweden has an okay blue line, skilled wingers, and some smart centres. The goalies might be the most uncertain position beforehand.
This is the team:
---
Forwards
Lysell will be the most notable forward on the team. He plays at a high pace, with high-level skill creating a lot for himself and others. If he can use his assets to make his linemates better then he will be an effective force and the top point producer on this Swedish team. Lysell can be one of the best wingers in the tournament.
Isak Rosén, LW/RW, Leksands IF - SHL
Another creative winger who can drive play and do numbers, Rosén had a tough time protecting the puck in the SHL but is highly skilled with strong skating, a strong shot, and elite puck skills. He can be a bit sift and plays too much in the perimeter at times but if he can find ways to effective, he can be a good point producer as well.
A 6-foot-3 winger with speed to burn, Strömgren is a great skater with strong puck skills to match. He likes to create on his own, breaking from in-game patterns. He's acquitted himself well in the HockeyAllsvenskan when he has gotten a chance to play. He's still a raw prospect, but a fun one to watch nonetheless. A good tournament might bump him into the first round of the draft.
Sweden´s captain and top center, Dower-Nilsson is a smart two-way pivot who makes excellent reads in all three zones. He's a creative thinker in the offensive zone, and that skill informed his ability to produce well in both the junior league and in the Hockeyettan (the third-tier senior league). He lacks a bit in speed and strength but makes up for it with his brain.

A dangerous winger with a good shot, Robertsson plays a smart forechecking game and was effective in the junior league. Had a tougher time producing in senior hockey but has good tools. The skating is fine and so are his puck skills. He will probably play on one of the top lines and is a name for the latter half of the first-round in 2021.

A speedy winger with good hands, Persson plays with intensity and works hard every shift. His skating stands out, and he strung together some good outings in his scant few opportunities to prove himself in the SHL. He is not an overly creative and productive forward but can play at a high pace and with a late birthdate, he is an interesting player for the 2022 draft.

Noah Östlund, C, Djurgårdens IF - SHL
In the absence of Stjernborg, Östlund is the second-most offensively gifted centre on the Swedish team. He is born in 2004 and scored 1.5 points per game in the top junior league in Sweden. He plays with intensity and is always on the move. He's equal parts creativity with a high-end work rate. He drives play well and looks interesting for the 2022 draft.

Arvid Eljas, C, Köping - HockeyEttan
A hard-working, intense centre who can drive play, Eljas may not be the most beautiful skater but is explosive and effective anyway. He is more of a two-way player than an offensive one, and I suspect he'll feature in a more defensively calibrated role. He makes stuff happen.

Gabriel Kangas, LW, Västerås - HockeyAllsvenskan
An intense forechecker with some skills in his hands, Kangas played well in the HockeyAllsvenskan this year on a fourth-line role, and an unrelentingly difficult player to face off against. He doesn't have a particularly strong skating stride. He's a late birthdate, so not available for the upcoming draft either.

Arvid Sundin, LW, Brynäs IF J20 - J20 Nationell
A good skater with some nice hands but with limited offensive hockey sense, Sundin plays with speed and can handle a checking role well. Has only played junior hockey this season, so he has not played a game since November coming into the camp.

Albert Sjöberg, RW, Södertälje - HockeyAllsvenskan
A hard-working winger with a good shot, Sjöberg made his way into the HockeyAllsvenskan during this, his first year of draft-eligibility. He scored 10 goals in 18 junior games and found the back of the net in Allsvenskan as well. Could be a late-round pick in the upcoming draft. Will probably play on one of the bottom lines on this team.

Noah Hasa, C, Frölunda HC J20 - J20 Nationell
Noah Hasa is a two-way centre likely destined for a bottom-of-the-lineup role, fitting of his limited offensive potential. He skates well, works hard off the puck and is strong in puck battles. He plays with good awareness off the puck and is a solid team player.

Oliver Moberg, RW, AIK J20 - J20 Nationell
Good size, decent hands, and okay skating -- this is Moberg's makeup. He made his professional debut this season with AIK in the HockeyAllsvenskan. With his size, you often end up wanting more when you see him play. He has tools but the instincts are not always there. Has not been able to earn a spot in Allsvenskan this season and only got to play two games after the junior league finished the season in November.

Joel Holmli, LW, Brynäs IF J20 - J20 Nationell
A speedy winger who made his way into this team with a strong camp, Holmi is speedy off the rush and has a good shot that he does damage with from within the slot. He has not been that productive in the junior leagues, and consistency remains elusive.

Defencemen
Simon Edvinsson, D, Västerås - HockeyAllsvenskan
A 6-foot-5, strong-skating defender with a nice set of hands, Edvinsson will be one of the premier defenders in this tournament. He defends well with his reach, maintains strong gap control, and is slippery when controlling the puck. His offensive game has yet to blossom, even though the skills are all in place. Sometimes Edvinsson suffers from being overly creative, and he needs to work on his shot, too. He's going to be a top-10 pick in the upcoming draft.
Elias Salomonsson, D, Skellefteå AIK J20 - J20 Nationell
Salomonsson debuted in the SHL as a 16-year-old this season after scoring at over a point per game pace in the junior circuit. He's a good two-way defenceman, and one that has a projectable frame at that. He's still only 16-years-old, and he's set to be one of the youngest participants in the 2022 draft, where he has first-round potential. He's a credible puck-mover, strong both on and off of the puck.
Simon Forsmark, D, Örebro HK J20 - J20 Nationell
A poised two-way defenceman with good size, Forsmark plays well with his reach and moves the puck up-ice in an orderly fashion. He's not particularly potent in either phase of special teams but has shown some quality at evens. He's sometimes sloppy with the puck under pressure but mostly takes good care of it.
Mattias Hävelid, D, Linköping HC J20 - J20 Nationell
An '04-born offensively skilled defender who can move the puck, Hävelid is a creative player with some real utility on the man advantage in particular. He's a little short on stature but compensates with strong awareness. He'll probably play a specialized, offensively calibrated role on this team.
The only full-time SHL defenceman on the team, Olsson is a strong, competitive force on the blue line. He counts his strengths mainly in the defensive zone, but he's got decent puck control and passing ability to boot. He suffers from fairly limited hockey sense, but he will prove to be a reasonable second or third-round pick in the upcoming draft, with bottom-pairing potential in the NHL.
Victor Sjöholm, RD, HV71 J20 - J20 Nationell
A hard-working, small defenceman, Sjöholm skates well, boasts good touch, and brings it every shift. He's played in a few SHL contests this season but has mostly featured in the Swedish third-tier men's league, the HockeyEttan, where he's responsible for five points in 12 games.
Oskar Asplund, D, Almtuna - HockeyAllsvenskan
A regular in the HockeyAllsvenskan, Asplund is a smart, skilled defenceman. He's always looking for offensive opportunities to exploit with his plus passing ability. His skating is something of a weakness, but he compensates with a calm game on and off the puck that doesn't waste movement.
Simon Aho, D, Växjö J20 - J20 Nationell
The inclusion of Aho on this roster came as something as a surprise to me. He's a 5-foot-8 defenceman without many points to his credit in the junior ranks, and not a particularly strong skater either. He's shown the ability to read the game well defensively, at least. He comes from a big hockey family, with both brothers and sisters playing professionally, including New York Islanders defenceman Sebastian Aho.
Goaltenders
Carl Lindbom, G, Djurgården IF J20 - J20 Nationell
It was only three years ago that Lindblom's brother, Olof, was the top goalie of the tournament. Carl is a quick, athletic goalie, quick on his feet, and ultra-competitive, too. He's the most likely option to start for Sweden in this tournament, with a track record as a go-to choice internationally already established. He's only featured in eight contests this season besides national team camps though.

Viggo Andrén, GK, Frölunda HC J20 - J20 Nationell
An aggressive technically skilled goalie with good athleticism, Andrén struggles a bit with consistency. He likes to play the puck a bit more than the average goalie. Like Lindblom, he might be a bit rusty, as he's only played nine games all season besides national team camps.

Hugo Hävelid, GK, Linköping HC J18 - J18 Region
The son of former NHL defenceman Niclas Hävelid and the twin brother of Mattias Hävelid, Hugo is an undersized goalie with a strong hockey sense. It's a bit surprising to see him on this team as he's only played at the J18 level with Linköping. As an '04-born, Hävelid will be eligible for next year's draft.
You may also be interested in: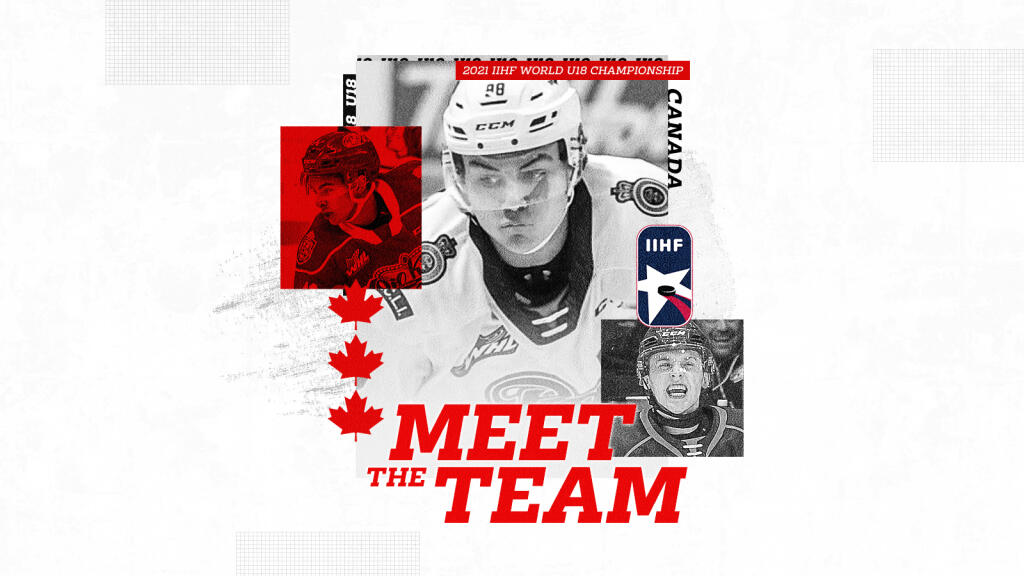 Meet the Team: Canada's Under-18 World Hockey Championship roster
This article is about: