U18 Worlds
Meet the Team: Team USA's Under-18 World Hockey Championship roster
This American team really has a chance to prove something with a strong performance in this tournament.
It's tempting to look at the United States' roster this year and be underwhelmed, especially relative to the 2019 iteration of this team that boasted household names like Jack Hughes, Cole Caufield, Matt Boldy, Cam York, and Alex Turcotte. Make no mistake, though, this year's team brings a tonne of talent to the table in its own right and includes a multitude of players who will be selected in the early rounds of the 2021 NHL Entry Draft.

They've got revenge on their minds too, as strong a motivating force as any, after suffering a heart-breaking semi-finals loss to the Russians in 2019, one that shan't be soon forgotten.

With that, let's take a look at the United States 2021 Worlds roster, and size up their chances to exact revenge.
---
Forwards
Cooley won't be eligible to walk the draft's stage until next year, but he hasn't let his relative youth get in the way of some great hockey during the short time he's spent with the U18s this season, with 10 points to show for his 12 games thus far. A strong two-way forward with good numbers in the face-off circle, Cooley comes from a strong hockey family with older brothers in the NCAA and NAHL. He is committed to the University of Notre Dame.

Much like Cooley, Devine won't be eligible for the NHL Draft until 2022, though he certainly would merit a pick in this year's crop of talent. While only standing at 5-foot-11, 172 pounds, Devine is a slippery skater with high-end offensive instincts that allow him to facilitate playmaking for his wingers. He'll spend next year at the University of Denver and more than likely be a high-round selection in next season's draft.

Dylan Duke, F, USNTDP U18 - USDP
One of the most prolific scorers on the NTDP 18s squad, Duke has a knack for finding soft areas around the net and making himself an option for the easy goal. He's also a force to be reckoned with on the forecheck, pursuing opponents with as much tenacity as one could possibly fit in a 5-foot-10 frame. Duke will be an early round pick this summer before heading to the University of Michigan.
A 2023-eligible, 16-year-old Stramel has split time between the 17s and 18s this year, having a great deal of success with the former. While he won't see much ice at the Worlds Tournament this year because of his age, Stramel has demonstrated high-end hockey IQ and passing ability in all areas of the ice that will make him a staple of this roster for the next couple of years. He is currently uncommitted.

A Shattuck St. Mary's alumnus, Gilmartin has played a complementary role for the NTDP's offence and acquitted himself well in so doing. The tall, stocky winger possesses a silky set of hands for his size that he employs well in 1-on-1 situations against defenders. He's also a capable passer who can work the puck inside to his teammates. While not the most fluid skater, Gilmartin is off to a strong Providence College program next season where he'll have plenty of time to work on honing his edges.

Yes, you read that correctly: There's another Jack Hughes in the Development Program system and like his counterpart on the New Jersey Devils, he is also pretty damn good at this hockey thing. This Hughes, a November birthday, won't be eligible for the draft until next season, though he certainly has impressed this year anyway. With 32 points in 34 games and a plus-20 rating, Hughes No. 2 has demonstrated that he is one of the NTDP's most well-rounded forwards. He'll spend next year at Northeastern University.

Another 2022-eligible, Howard is already an offensive dynamo, putting up 54 points in 34 games in his time with the NTDP 17s. Howard has a natural instinct for scoring, moving to soft areas on the weak side of the offensive zone without the puck and finding ways to gain to the middle lane off the rush. He's a deceptive shooter, changing the angle on goalies before ripping pucks home. He's committed to the University of Minnesota-Duluth, but will likely play another year with the NTDP before he ships off.

Janicke plays with a high-intensity night in and night out, on both ends of the puck. He's tenacious on the forecheck and plays physically along the boards. Offensively, Janicke wields a wide array of rush patterns and uses high-end skating ability to force defenders on their heels. He will most likely be a mid- to late-round pick this summer before he heads off to Notre Dame in the fall.

One of the most renowned forwards on the NTDP 18s squad this season, Lucius is a high-octane offensive player with exceptional problem-solving skills. A threat with the puck anywhere in the offensive zone, Lucius combines crafty hands with a quick release on his shot to make for a goal-scoring weapon. While he'll need to round out his defensive game to sustain a career in the pros, he will have plenty of time to develop that area of his game at the University of Minnesota. (Editor's note: Lucius has had to withdraw from the tournament, but here's a nice little scouting report anyway. He's someone worth knowing about for the 2021 NHL Draft)

A 6-foot-4 power forward with 27 points through 41 games, there's a lot to like about Gasseau's game. The Boston College commit has smooth hands for his size and plays well in tight areas, along the boards, and in corners. Gasseau has some credibility as a two-way installation too, finding a man in his own end and replacing his defenseman along the point. More likely than not, he'll be a late-round pick this year. (Editor's note: Andre Gasseau has had to withdraw from this tournament as well.)
McGroarty, an '04 birth year, won't be eligible until the 2022 draft. He's been a tour de force with the U17 team this year, however, putting up 35 points in 34 games. McGroarty shines in the offensive zone, displaying elite goal-scoring and playmaking ability. He's a slick puck handler who, if he can develop better skating technique, will be a high-round pick in next year's draft. He's committed to the University of Notre Dame.

One of the more contentious prospects at Rinkside, I find myself on the pro side of the aisle, seeing a tonne of merit to Pastujov's game. The Biosteel All-American Prospects Game MVP is a fantastic passer and puck-handler; he's constantly creating scoring chances for himself and his teammates in the offensive zone. While not a fantastic straight-ahead skater and a bit erratic defensively, Pastujov's offensive game is so undeniable that he merits a high-round pick. He's off to Notre Dame next year.

Red Savage, F, USNTDP U18 - USDP
Besides having the coolest name in this year's draft, Redmond Savage probably has the highest work ethic of anyone on this squad, proving to be a problem for opponents on the forecheck and an absolute beast on the penalty kill. He's got a refined offensive game, showing the ability to beat defenders with a slick dangle or stickhandling move, but also occasionally dropping his shoulder to turn the corner on guys. Whether his skill is high enough to translate to the pros is another question, but he'll be a useful piece for this US Worlds squad. He's committed to Miami of Ohio.

The son of Hall-of-Famer Martin St. Louis, Ryan should be a nice complementary piece on this roster. He's not especially involved away from the puck, but occasionally finds soft areas offensively to support teammates for scoring opportunities. With the puck, St. Louis struggles a little bit with decision-making and vision, often putting himself in a difficult position on the ice to create anything (e.g. trapping himself along the boards, failing to find support on the inside). Hopefully, he can continue to develop at Northeastern next season.

Defencemen:
With Luke Hughes as he recovers from foot surgery, Behrens will bear a substantial burden as a top piece on this American blue line. Behrens is a two-way defender with great habits in his own end, taking good angles to opponents and sealing off the rush high in the zone. With the puck, he's capable of finding seams through the neutral zone to gain the offensive third, and is adept at drawing pressure and dishing to teammates. Behrens will be an early-round pick this summer before heading to Denver in the fall.

Gallagher was a stabilizing presence for the NTDP defense this year, offering decent rush defence and transition ability with the puck. He's not an exceptionally skilled skater or puck-handler, but he uses the tools he has well and makes the simple play wherever it's available. Gallagher, while he may not be a draft pick, will have time to prove himself at the University of Notre Dame next season.

A valuable top-four defenceman for the NTDP this year, Hreschuk is a high-calibre defender with the ability to defuse the rush high in the defensive zone. He plays a physical brand of hockey without overpursuing and will be a valuable asset for the US Worlds roster. He needs to work on decision-making under pressure and his offensive zone play, but will have time to develop these areas of his game at Boston College next season.

At 5-foot-6, Hutson packs a tonne of skill into a little frame. While not eligible for the draft until 2022, Hutson is a fantastic skater with second-gear acceleration. He possesses great vision of the ice and is reliable for a good first pass out of the zone. Hutson is also dynamic in the offensive zone, activating without the puck to provide high support. He's committed to Boston University.

Martin shines in the defensive end of the ice, and is particularly adept at keeping play from the zone entirely with potent defending through the middle-third; though his minutes don't quite reflect his quality. He uses his stick to take opponents wide and then seals them off on the half-wall. In the defensive zone, he has an active stick and takes away options and passing lanes. His play with the puck leaves a bit to be desired, especially when it comes to finding breakout options. Nonetheless, he'll be a serviceable depth piece on the US defensive corps. Martin is committed to the University of Wisconsin. (Editor's note: Martin has also had to withdraw from this tournament.)

Murchison is a cerebral defenseman who sees the ice well and identifies good options but is inconsistent in his execution of passing and playmaking. He shows flashes but needs to iron it out to prove himself a bonafide draft pick. Murchison is committed to Arizona State.

A rangy, decently mobile defender, Schmidt is a polarizing player among our Rinkside scouts. He plays a passive, slow brand of hockey that will not translate to the NHL without significant work. He'll get a chance to iron out the kinks in his game at Boston University next year, a program that will be stacked with its fair share of NTDP prospects.

Straky is a bit of a wild card, clearly uncomfortable handling the puck, with alarmingly erratic defensive habits, ones that are especially profound while defending the rush. He will likely be in and out of the US World lineup, but he'll certainly get minutes over the next few seasons with the Notre Dame Fighting Irish.

Goaltenders:
Braden Holt, G, Everett Silvertips - WHL
Like his similarly named counterpart on the Vancouver Canucks, Braden Holt (without the -by) is an athletic 6-foot-2 goaltender with an impressive WHL stat line. The Montana native posted a .926 save percentage and a 1.26 goals-against average through eight starts last season as a 2003 birth year -- not too shabby.

Not eligible until 2022, Homer is a mammoth of a goaltender clocking in at 6-foot-5. As the "starter" for the NTDP 18s squad, Homer achieved pretty average (at best) numbers, with a .876 save percentage and a 2.86 goals-against average. He's committed to Miami of Ohio where he'll join his pal, Savage.

A product of the powerhouse Little Caesars AAA organization, Mbereko saw a good number of starts this year despite being the NTDP's consensus backup. Mbereko saw an .873 save percentage and 3.19 goals-against average through 18 games. He will likely be the third string goalie on the roster but could be given the chance to prove himself in the event of an injury. Mbereko is currently uncommitted.

You may also be interested in: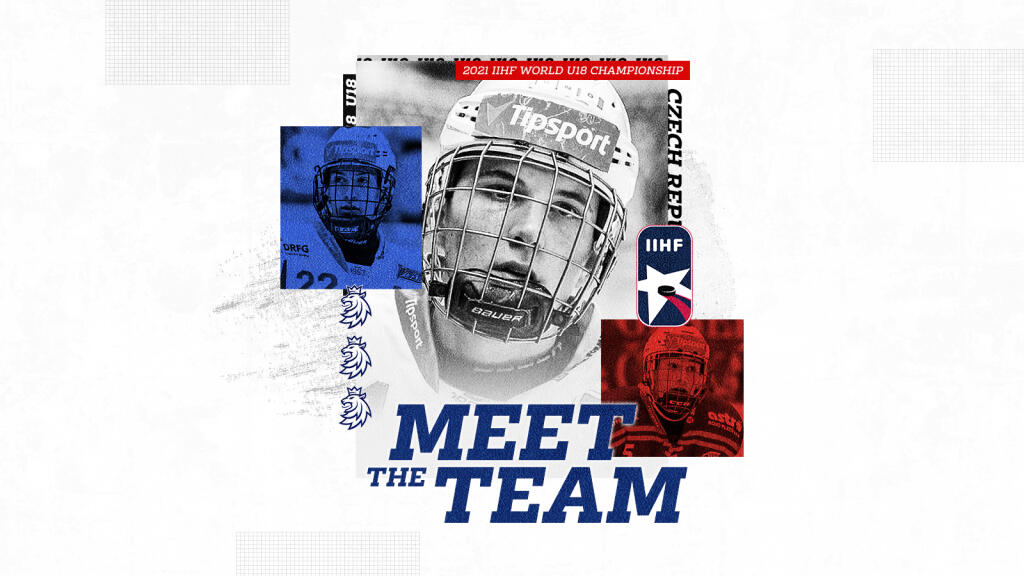 Meet The Team: Czechia's Under-18 World Hockey Championship Roster
This article is about: