U18 Worlds
Nikita Chibrikov goes from zero-to-hero in Russia's daring comeback win
You'll never get the full story by scanning a scoresheet, but
Nikita Chibrikov
painted a pretty vivid picture of the part he played in the Russian's daring, come-from-behind 7-6 overtime win over the host Americans.
Check this out: Chibrikov left Monday night's action with one goal, two assists, four shots, 12 penalty minutes, and a plus-two rating.
Let's start with the penalty. That's where our intrepid Russian protagonist's story takes off -- with a high, late hit to Team USA forward Justin Janicke in front of the American bench. The charge? A two-minute minor for elbowing, and a 10-minute misconduct -- there's your 12 penalty minutes right there.
A late, high hit from Nikita Chibrikov (#2021NHLDraft) earns him a two minute minor and a ten minute misconduct. Team Russia will be without their captain for an extended period of time. #U18Worlds https://t.co/Ll1lzltGoL pic.twitter.com/ZjaESiBFZQ

— Eliteprospects (@eliteprospects) April 27, 2021
The Americans scored on the ensuing power play, and then twice again before Chibrikov finished his sentence; doubtless a gruelling stretch for the hyper-competitive forward to have to endure from the box.
"The referee decided it was a penalty, and it obviously was one," Chibrikov admitted to EliteProspects in the post-game press conference. "Obviously, I wasn't happy with myself; I [told] the team that I was very sorry about this situation."
"These guys are very young, and sometimes the emotions are sky-high," Russia's head coach Albert Leshchyov added. "Sometimes, you see this in junior hockey. I think our guys understood that this came from the emotions."

By the time Chibrikov left the box, Russia was down 5-1, and the outcome of this hockey game seemed a foregone conclusion.
But then Matvei Michkov scored to make it 5-2. All of a sudden, this didn't seem out of reach.
It didn't take Chibrikov long to start making amends either. The Russian winger peeled away from coverage, toe-dragged his way into a shot, and bounced it off of his teammate Vsevolod Gaidamak's stick to get Russian mere minutes after leaving the box, getting the Russians within two.
The two sides batted goals into one another's net like a PE class trying their hand at badminton for the week, but eventually, though, Fyodor Svechkov, our top-rated Russian in the 2021 NHL Draft, worked some magic in the slot to get the puck to Ivan Miroshnichenko for the tying goal.
We have a tie game! Russia levels it at sixes. #U18Worlds

?? Fantastic play by Fyodor Svechkov (#2021NHLDraft) to wait for the lane to open and then finds Ivan Miroshnichenko (#2022NHLDraft) for his second goal.https://t.co/E3MnSHY6Yh pic.twitter.com/OaARMfCkVJ

— Eliteprospects (@eliteprospects) April 27, 2021
And just like that, the stage was set for overtime. Russia had come back from a 5-1 deficit, and they had a chance at victory. All it would take was one well-placed shot.
Wouldn't you know it -- Chibrikov had just those sorts of heroics up his sleeve. He collected the puck in the defensive zone, skated it past Sasha Pastujov as he gained the American zone, and beat Gibson Homer from a tough angle.
COMEBACK COMPLETE! #U18Worlds

?? Nikita Chibrikov (#2021NHLDraft) goes coast-to-coast, burns Team USA, and scores from a sharp angle to win the game for Team Russia. Final score: 7-6.https://t.co/Ll1lzltGoL pic.twitter.com/IWmkgVuTOc

— Eliteprospects (@eliteprospects) April 27, 2021
"I saw the opportunity, and I just shot the puck, and it was a good goal," Chibrikov told reporters in a post-game press conference. "It was such a good effort from the team. We were able to change the way this game was played.

"Hockey is a game where you have to believe, every moment, and that was obviously the point [for us] -- that we believed we could change the course of this hockey game, and we did it!"
You may also be interested in: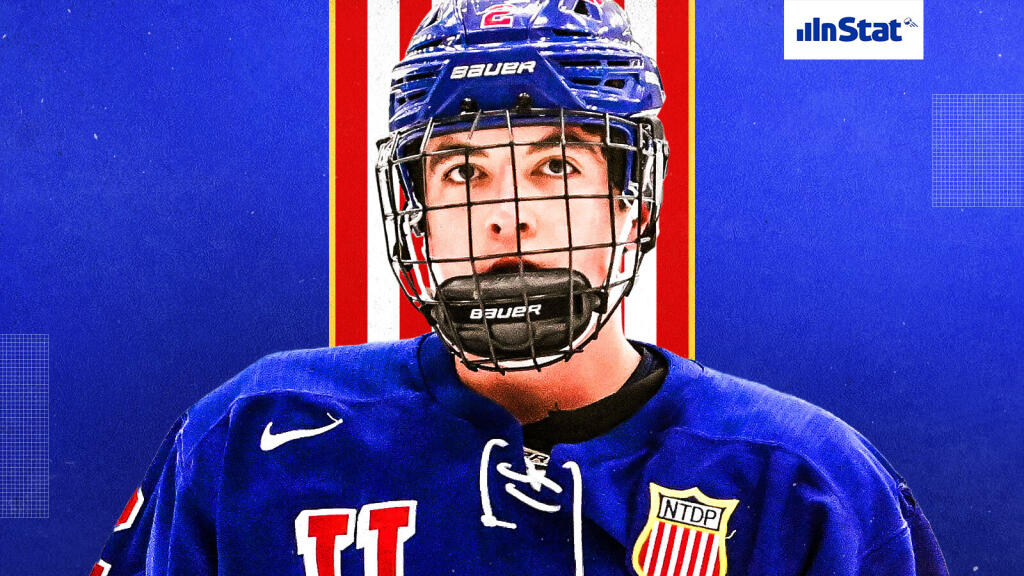 Film Room: Sean Behrens is a first-round prospect in the 2021 NHL Entry Draft
This article is about: