NHL
Where it all went wrong for West and North Division teams outside of the playoffs
Continuing from Part I, I'm going to take a deep look at the unhappy teams of the West and North Divisions who find themselves out of the playoffs at the end of the shortened 2020-21 season. Stats are taken from TopDownHockey unless noted otherwise.
Anaheim Ducks
What Happened? They're not a good team, folks. General manager Bob Murray was unable to trade anyone and the team ambled off a cliff. On paper, this team has some good pieces on the tail ends of their primes: Hampus Lindholm, John Gibson, Rickard Rakell, Jakob Silfverberg, Josh Manson, Cam Fowler, etc. But these players have inescapably declined since the Ducks were a contender, and the top of the lineup is utterly lacking in creative offensive talent. The Ducks were already pretty bad at generating scoring chances for and preventing them against, but on top of that their finishing was non-existent aside from rookie Maxime Comtois (who lead the team in scoring at a 23-goal 82-game pace) and their goaltending was just plain bad.
Bright Spots? Comtois's efficient scoring in low second-line minutes as a 22-year-old sophomore was impressive, and it's good that Trevor Zegras and Jamie Drysdale got some looks in.
Where Should They Go From Here? Trade someone. Rakell is still a Duck because the club couldn't get a deal done at the deadline. There is no reason that Manson should be on this team either. This team has basically no identity, and honestly, at this point it's pretty easy to completely forget about them. If they're rebuilding, they need to actually get to it.
Los Angeles Kings
What Happened? They stank in a curiously different way than last year. In 2019-20, the Kings played an excruciatingly boring point-shots-and-rebounds style that was actually relatively effective at generating scoring chances even if they didn't translate to goals. A 51.2% xGF% was 12th and their PDO was third-lowest in the league, suggesting that they might actually be able to regress their way back into the playoff hunt this season. Instead, they suddenly and dramatically changed their style of play, becoming the second-most rush-reliant team in the league and generating basically nothing off of the cycle or the forecheck. Their possession stats tumbled and their goal shares did as well.
Bright Spots? Drew Doughty wasn't Norris good this year, or anywhere close really (there's more to life than PP point totals folks) but he wasn't outright bad, and that's a huge change from the past two seasons. Matt Roy continues to be quietly great as well (nice bit of work on that extension).
Where Should They Go From Here? The Kings have two options here: full patience, or moving this thing along a bit. According to EP Rinkside (a source I tend to trust), Los Angeles has the No. 1 prospect pool in the NHL and will probably select ninth in this summer's draft. Quinton Byfield and Alex Turcotte is a hell of a one-two punch down the middle, not to mention that guy Anze Kopitar, who has led the team in scoring for the 4 years in a row. What's missing in this organization is a No. 1 defenceman of the future, or really anyone who projects to be a no-doubt legitimate top pair guy. With all this in mind, would it be the right use of assets to acquire Jack Eichel from the Buffalo Sabres? How close does he bring them to competing? If I were running the Kings, unless I could get him below what he's worth, I would stay the course. But we'll see how patient they are.
San Jose Sharks
What Happened? A once-contending franchise firmly fading into oblivion. Any hope that last season's fiasco might have been a one-off was stamped out this season as the Sharks matched uninspiring underlying numbers with poor finishing and absurdly predictable bad goaltending. Going into the season with Devan Dubnyk and Martin Jones as your tandem was so obviously a bad idea that it actually defied the usually-correct maxim that goaltending performance is borderline random; they were doomed from the start. Erik Karlsson, who some (including yours truly) believed could benefit tremendously from a pandemic-extended offseason, instead put together the worst season of his career by far, finishing with the worst defensive wins above replacement of any blueliner in the league.
Bright Spots? Tomas Hertl has really come into his own as a superb two-way forward, and I hope he gets the opportunity to shine somewhere else soon.
Where Should They Go From Here? The Sharks have locked themselves into such a spiral that it's difficult to envision a way out. Between Karlsson, Jones, Logan Couture, Marc-Édouard Vlasic, Evander Kane and Brent Burns, they have an aging, mostly washed-up core making huge money for the next several seasons. Their prospect pool is poor (20th-rated by EP) and won't be fixed by a seventh overall pick in a low-end draft. Doug Wilson claims he's not looking to rebuild, which is just as well considering he doesn't really have the ability to. Timo Meier and Hertl are the only players on the roster with actual significant value, and while they should probably be moved this summer it's hard to envision them returning franchise-altering pieces. If I said I knew how to solve their problems I would be lying.
Arizona Coyotes
What Happened? Sometimes bad things happen to bad organizations. Contrary to expectations, the Coyotes almost shot their way into the playoffs instead of relying on goaltending, but it wasn't quite enough. Phil Kessel did the team a huge favour by looking a lot more like Phil Kessel than he did his first season in the desert. Some nice but not world-beating progression from Conor Garland and Clayton Keller didn't hurt either. But fundamentally this team is still really stunted offensively. According to LogiqBets they were a bottom-three team in terms of rush chances and scored fewer rush goals than anybody - only 19% of their goals in the first three months of the season came off those transition plays, less than half the league average.
Meanwhile, Oliver Ekman Larsson seemed determined to prove the 30 teams that didn't trade for him last summer right, continuing his post-extension decline, and the Coyotes were just as bad at preventing rush chances as they were at generating them.
Bright Spots: Jakob Chychrun's Norris Trophy case may hinge on how much you value defenceman goal scoring, but the guy continued to be by far the best defenceman on the team and stack up well compared to other No. 1 guys around the league.
Where Should They Go From Here? The Coyotes don't have a first-round pick this season, their prospect pool is below-average, and their development record is not exactly sparkling. The apparent franchise saviour, 2018 fifth overall pick Barret Hayton, has seven points in 34 games so far in his career and put up poor numbers in the AHL after a demotion. The good news is that around 30 million dollars is coming off their books and Conor Garland is the only big raise they need to give out this summer. Given their internal cap, they might be a bit limited in what they can do, but they should make serious runs at whatever talent is available, whether it's Eichel, Dougie Hamilton, or even… Johnny Gaudreau?
Vancouver Canucks
What Happened? They fell back to earth. It took a lot of things going very very right for the Canucks to sneak into the playoffs last season - a shocking career year from J.T. Miller, one of the best defenceman rookie seasons of the past two decades from Quinn Hughes, and an arguably elite performance from Jacob Markstrom among other things. But Miller struggled considerably, Quinn Hughes had an enormous sophomore slump, and franchise centre Elias Pettersson missed significant time after looking unlike himself to start the season.
But this team is not good. Not good at all. They are extremely poor at generating offensive scoring chances; too slow to create dangerous rush opportunities and reliant on the cycle more than any other team in the league. Defensively, they're an absolute nightmare, the worst team in the league at defending the rush and the one that allows the most slot passes in the league, per LogiqBets. This makes them one of a select few squads that dramatically underperform their public expected goals measures in the private model, and were it not for top-five finishing and goaltending they would have been the worst team in the league this year.
Bright Spots? Thatcher Demko was superb, hovering around the top five goalies for most of the season in the public models and a firm 4th place in the private one. He kept the Canucks looking almost respectable almost singlehandedly for long stretches.
Where Should They Go From Here? The Canucks seem to have the core pieces of a contending team in place but lack any idea of what to do to build around them. In other words, the hard part is over. The easy part is supposed to be surrounding your young franchise players - the kinds of guys that most of the other teams in this article would kill to have - with complementary pieces and a strong system. Apparently, that has been the part that the front office is incapable of. Obviously, the top priority is signing Hughes and Pettersson (borderline blank check situation of course), but once that's sorted they need to find a partner for Hughes who can cover up his defensive issues. If he's not going the team is dead in the water. The line last year was the Canucks had bad contracts coming off the books soon that would unburden their cap, but the counter-argument that there is no reason to believe that they will not be replaced with bad contracts seems pretty credible right now. We'll see what happens.
Ottawa Senators
What Happened This Year? They were worse than could possibly have been expected, and then a little too good. In the first half of the season, unfathomably bad goaltending from Matt Murray and Marcus Högberg coupled with abysmal finishing and quite poor play to drive the Senators into parts of the basement previously explored only by the Detroit Red Wings. But they put a nice run together to end the season, fulfilling both D.J. Smith's well-deserved reputation as somebody who can rally a team to strong results as well as, of course, the iron law of PDO.
The Sens' biggest problem is getting trapped in their own end for a long time. They were second-worst at preventing cycle chances and worst at preventing forecheck chances per LogiqBets. Some of their top offensive players also happen to have very poor defensive results - namely Brady Tkachuk and Tim Stützle - which is something that will hopefully, and presumably improve with time. That being said, the speed of some of their young guns helped them be one of the better teams in the league off the rush at both ends.
Bright Spots? I'm going to highlight Josh Norris and Artyom Zub, two guys who put up very solid defensive results in their first NHL seasons. Before Jason Robertson stormed in, Norris was looking like the closest thing to a challenger that Minnesota Wild forward Kirill Kaprizov had for the Calder Trophy and Zub stepped in and did exactly what the Senators hoped he would.
Where Should They Go From Here? If there's one problem the Sens have, it's that they might have gotten okay a little too quickly. As it stands, they look likely to get a late top ten pick, which (assuming they don't trade it) would land them yet another B+ prospect in a pool filled with them. It would appear as though the "tanking" stage of the rebuild is over, and the biggest question is what they got out of it. Their three top-three picks, Tkachuk, Stützle, and Jake Sanderson will be the standard-bearers of this franchise's youth movement - the question is whether the Sens can contend with them as their top players. Stützle's underlying results this season were poor, to say the least. But like Hughes before him, he showed glimpses of offensive flash en route to a respectable 42-point pace, so it's probably safe to project him as a legitimate top line difference-maker. Tkachuk is beloved by Senators fans, but his ultimate upside isn't clear; his often-cited expected goals totals (second since he entered the league) are dulled by the fact both that no player has underperformed them by a larger margin in that span (minus-28) and that public models appear to be overrating the point-blank net-front jam plays he makes his living on. The fact is, his point totals have remained pretty much identical in all three of his NHL seasons: A 52-point pace. Is there reason to believe that he can massively exceed that? All this matters enormously for the rebuild. If they're no longer going to be drafting in the top five then they've basically got their core; the question is whether or not it's good enough.
With this in mind, they have to figure out their pro scouting this summer. Their player evaluation has been demonstrably terrible at the NHL level, and they've spent serious money on terrible players for no reason. They need to surround their young players with actual talent; it's no coincidence that once Erik Gudbranson, Braydon Coburn and the like were removed from the roster the team improved.
Calgary Flames
What Happened? With the exception of Gaudreau, the stars weren't stars. Mark Giordano struggled significantly this season, and his pairing with Rasmus Andersson went from one of the league's best to a total anchor that was far worse than any other on the team. Sean Monahan continued to underperform his contract and seemingly eternally assured spot with Gaudreau, and didn't even score goals - the one thing he's supposed to be able to do. Matthew Tkachuk had a down year by his standards. Jacob Markström, who was acquired to finally be the answer in net after years of instability, was actually well below-average. Johnny Hockey was great, Elias Lindholm is still an automatic goal machine, and the depth was mostly fine, but this team ended up where it belonged.
Bright Spots? Holy moly Christopher Tanev. Talk about proving people wrong. Tanev had so many red flags entering free agency last year that he almost overshadowed the Flames giving a goalie six years at $6-million with a no-movement clause. But he absolutely turned back the clock, putting up arguably the best season of his career. He finished fifth in WAR among defencemen and first in defensive WAR and formed an unstoppable duo with Noah Hanifin. Andrew Mangiapane stepped up his TOI and continued to be a pure two-way analytical darling, which you also love to see.
Where Should They Go From Here? This team is not built for a rebuild, but it's hard to envision how this core could realistically win a Stanley Cup. There's potential for some real awkwardness at the expansion draft since Giordano is the natural exposure, and Gaudreau's future with the franchise is legitimately in doubt considering he has only one year left on his contract. Would they even be able to move Monahan if they wanted to? General manager Brad Treliving will have to navigate some rocky waters and really think about where this team will be in two years if he doesn't start making changes right away.
You may also be interested in: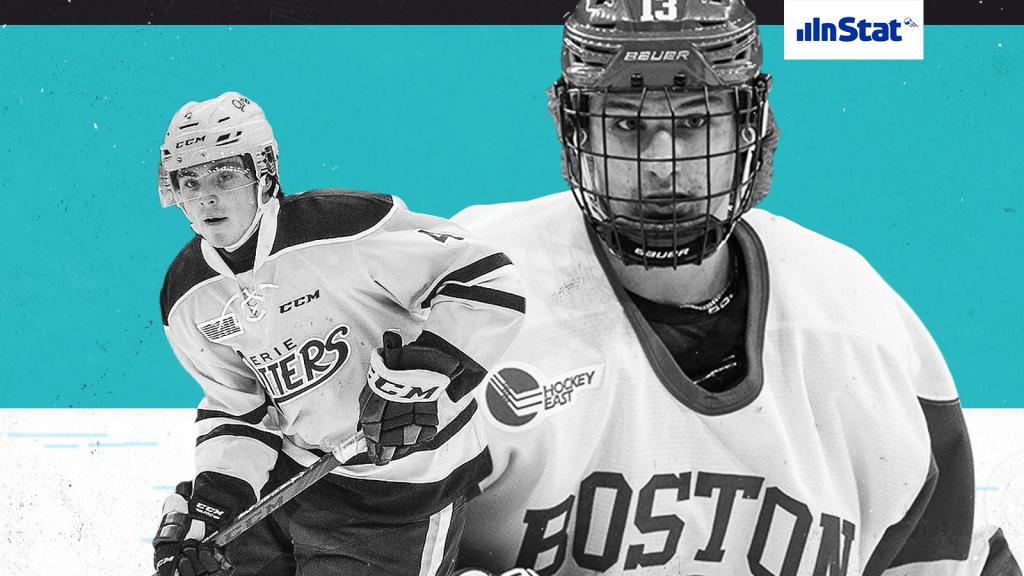 The EliteProspects Rinkside 2020-21 Off-Season Prospect Pool Rankings: the No. 12-ranked Anaheim Ducks
This article is about: