NHL
Central Division Playoff Previews
Continuing my series of playoff breakdowns, this time I'll be looking at the Central Division matchups. Macro-level stats come courtesy of TopDownHockey and microstats are from SportLogiq's new public betting platform LogiqBets.
Carolina Hurricanes vs. Nashville Predators
This is an interesting series from a geographical perspective - two of the league's flagship southern organizations going head to head for the first time - but don't expect a lot of fireworks from this one. Both of these teams play low-event hockey at five-on-five when it comes to scoring chances and mostly find success through defensive play and particularly goaltending. The Predators are one of the weaker teams to find themselves in the playoffs but the upside of some of their top-end pieces, including their three excellent defencemen and their goaltender might allow them to pull off a surprise upset.
Offence and Shooting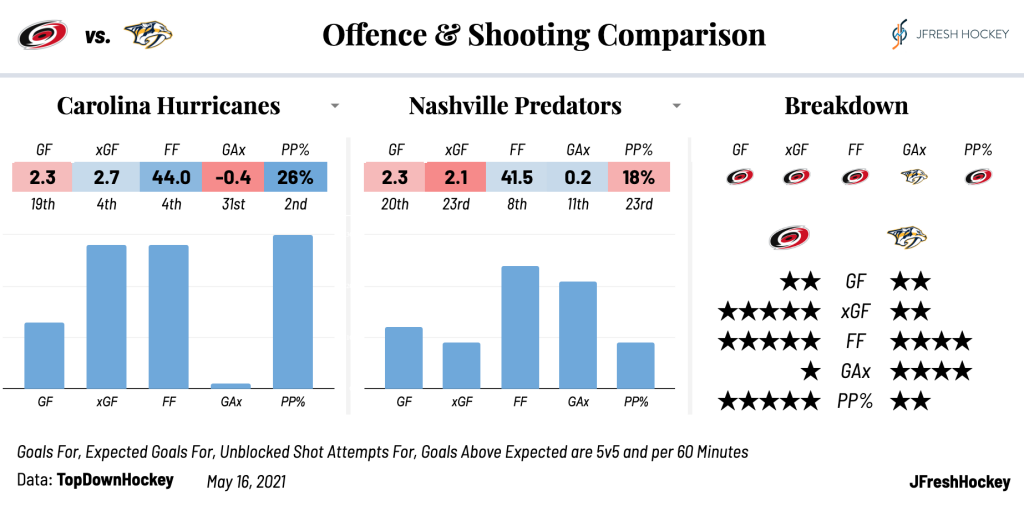 I wasn't kidding about the offence. The Hurricanes do all of their scoring on special teams and are a decidedly below-average five-on-five scoring unit; we also have some reason to believe that their expected goal counts, which have always ranked quite high, are a bit of a mirage. By SportLogiq's xG model, the Hurricanes ranked a strong 8th in all situations xGF compared to an elite 4th in the public model. They play a forecheck-intensive game, grinding out chances off of the forecheck rather than attacking off the rush. This style has become something of a calling card, as no team exited the zone with possession of the puck fewer times than they did this season, and only one dumped it in less. In a league where many contenders are turning towards more "progressive" ways of playing, focusing on transition and controlled plays, the Hurricanes have found a way to mostly succeed by doing the opposite. Defencemen, especially Dougie Hamilton, take barrages of point shots and forwards battle for the rebounds into corners, trying to create second-chance opportunities. This has paid limited dividends offensively at 5v5, but could be suited for a tightened-up playoff game.
The Predators on the other hand are are resolutely below-average offensively as their forward group would indicate. Their offence runs through their blueliners, particularly Roman Josi who carries the puck into the offensive zone far more than any other defenceman in the league. Their eagerness to throw shots on net from the point buffers their shot attempt numbers but they struggle to follow up with anything more dangerous. Unlike the Hurricanes, who at least can produce on the powerplay, the goals don't really come from anywhere for the Preds.
Defence and Goaltending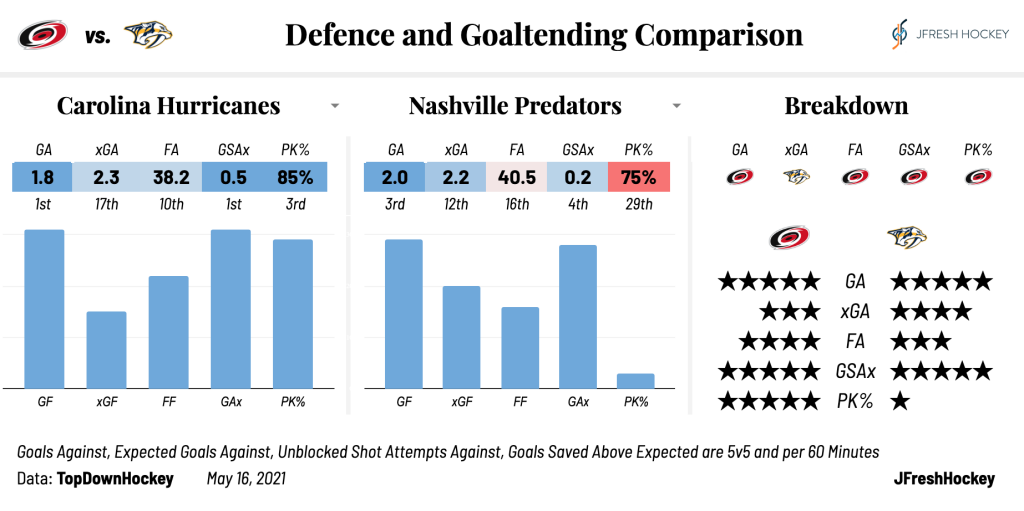 The defensive battle is a lot more intriguing. At five-on-five, both of these teams kept the puck out of the net at some of the highest rates in the NHL due partly but not entirely to elite goaltending. In Carolina it was a little bit by committee, with Petr Mrázek putting together a crazy run early in the season before being injured and Alex Nedeljkovic - a former blue-chip prospect who cleared waivers at the beginning of the year - going on a great run down the stretch. Meanwhile in Nashville, it was all Juuse Saros, who rescued the Preds' season from the brink of disaster halfway through and is the primary reason they're here to begin with.
The Canes are probably a bit better defensively than the public models estimate, and ranked first in preventing cycle chances against. The forechecking that powers them in the offensive zone also limits the space opponents have to make clean play, but most importantly their puck possession and o-zone battling drains the clock. It's only on defending the rush that they dip below average, suggesting that they are a bit vulnerable to the counter-attack and the Preds aren't particularly equipped to exploit that.
The key difference here, once again, is special teams. The Hurricanes, for all of their lack of exceptional defence at five-on-five, are an elite penalty killing team and the Predators are a terrible one. The Canes' power play is a brutal mismatch for them and could decide the series.
Overall and Prediction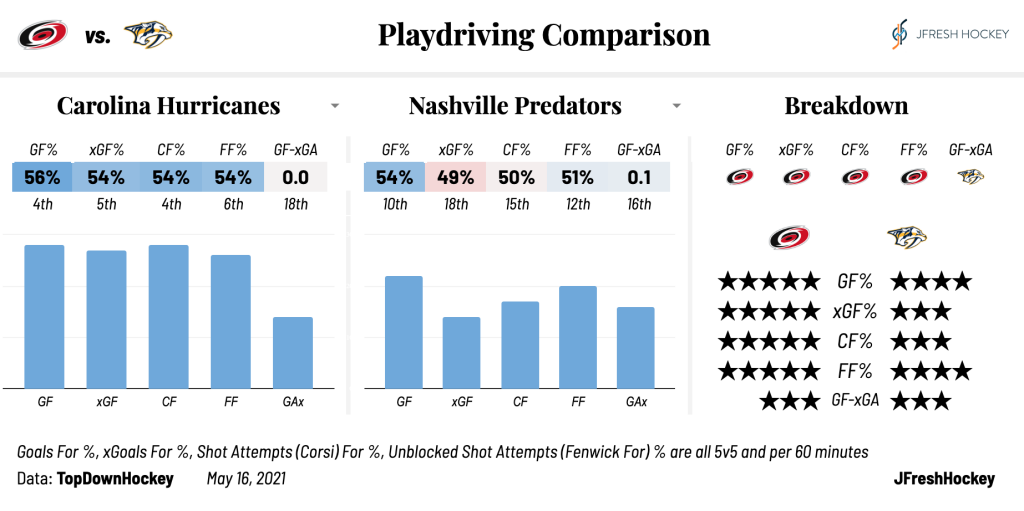 The Hurricanes are the favourites here for a reason. For whatever their flaws are, they still profile as a top five team in the NHL at five-on-five, boast elite special teams and are well-positioned to make a solid run. It is difficult to have too much confidence in a rookie goalie with such a limited track record, but as has been well-documented, unpredictibility is not solely the domain of inexperienced netminders. Saros could steal this one for the Preds but they don't stand much of a chance here. Prediction: Hurricanes in 5
Florida Panthers vs. Tampa Bay Lightning
Now we're talking. A lot of fans are struggling to make heads or tails of this series, in large part because the Lightning look set to be a totally different team when it starts. They put together a totally respectable follow-up season to their Cup run, and did so absent their best forward Nikita Kucherov. With him and Steven Stamkos also set to return to the lineup, this team looks just as dangerous on paper as they did last September. But Florida has really flipped the script this season, coming into the series with home-ice advantage and plenty of momentum from their best campaign in five years.
Offence and Shooting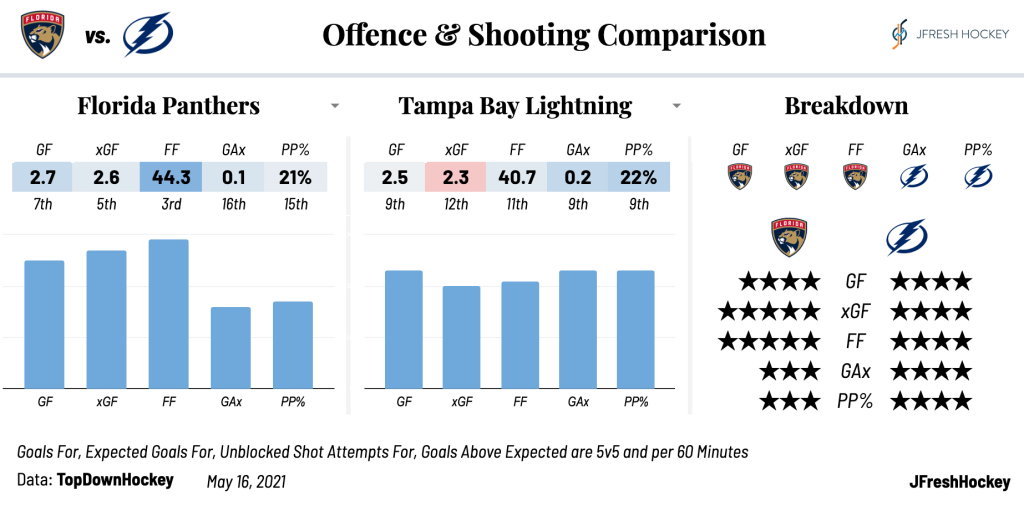 It would be understandable to think that the abruptness of the Panthers' turnaround this season might have something to do with unsustainable percentage luck, but in fact the opposite is true. Florida generated scoring chances at an elite clip this year and only enjoyed average finishing. A dominant offensive season from Aleksander Barkov, a break-out from Carter Verhaeghe, and Jonathan Huberdeau's high-event style can be credited for this. No team in the league generated more rush chances than the Panthers, but they were by no means a one-note team, finishing fifth off the cycle and the forecheck as well. The weak point for these guys is their mediocre powerplay, but everything under the hood at five-on-five looks strong.
As you might expect, the absence of a top-three winger in the league from the Lightning for the full season put a dent in their offence at even strength. A relative down-season for Anthony Cirelli also didn't help things. But they were still a respectable team at generating chances and goals, even if the offence did run through the blueline more than any other team in the league. Balancing their attack and involving their elite forwards more should pay off in the playoffs.
Defence and Goaltending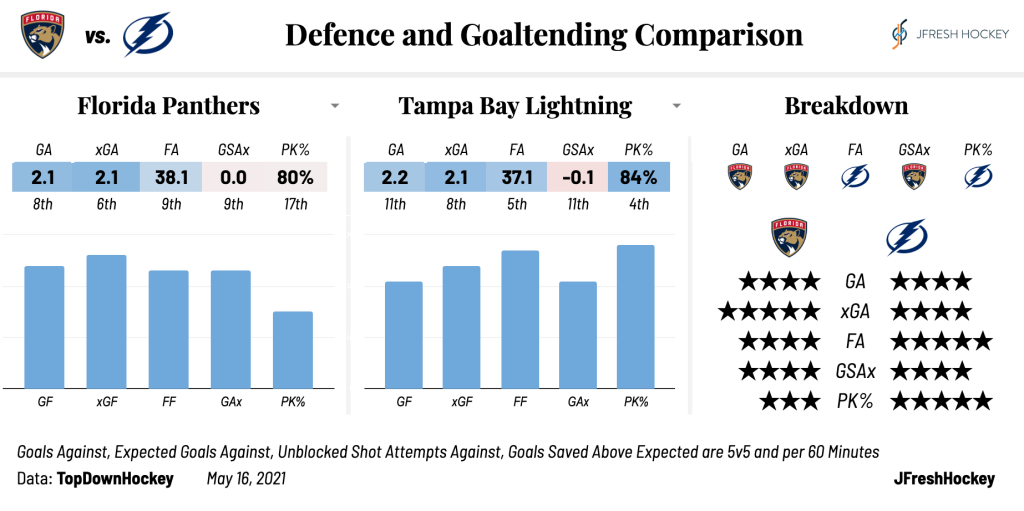 The goalie battle is about as open-and-shut as you can really get in the playoffs. Andrei Vasilevsky was the league's best goaltender this season, ranking first in most goals saved above expected models. The Lightnings' overall goaltending numbers are weighed down heavily by Curtis McElhinney, who barring injury will not be seeing much if any time in the net, so the outlook right now is extremely positive for the Bolts. They were a good but not top-end defensive team this season, so having a reliable netminder to stop dangerous rush chances was a godsend. At the other end, the Panthers started Sergei Bobrovski in game 1, praying that the former two-time Vézina winner can tap into a level of play that he has decidedly lacked since joining the team in 2019. Bob has been below-expected by a longshot as a Panther and other than the natural unpredictability of goaltending there isn't much reason to expect a sudden turnaround.
Fortunately for the Panthers, at five-on-five they made life pretty easy for their netminders. They outrank the Bolts in goals against and expected goals against, having tightened up their system considerably from the free-for-fall it was last year. The emergence of MacKenzie Weegar, whose stunning success without Aaron Ekblad has made it impossible to deny his elite defensive play, is by far the biggest factor. Aside from him, there isn't really anybody on the team equipped to win the tough matchups defensively, and the Lightning will need to target him specifically to take down the whole unit. The Panthers were as good at preventing rush chances as they were at generating them, thanks in large part to Weegar's quick preventative neutral zone play, but the Bolts could do well to pin them in and win board battles with their superior forecheckers like Yanni Gourde and Blake Coleman.
Overall and Prediction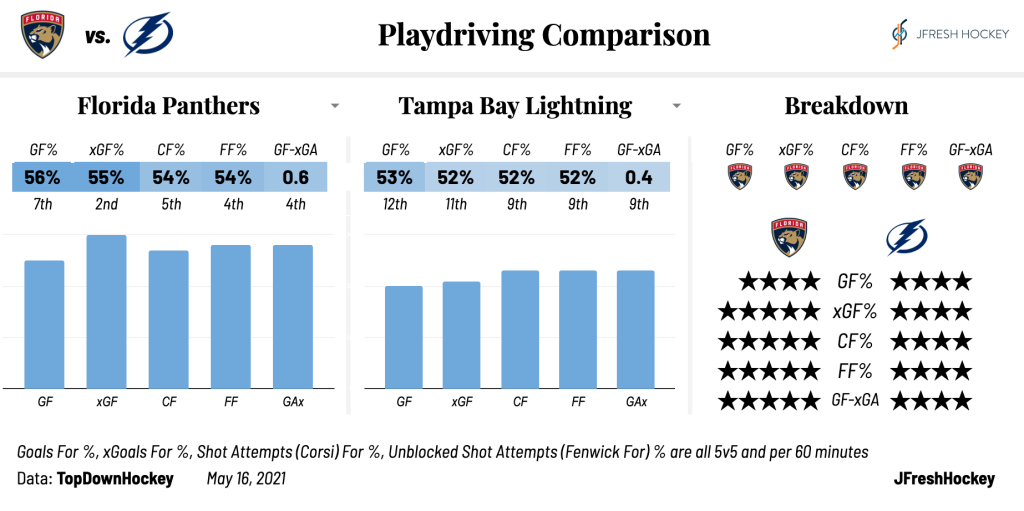 This is one of the tightest series this year, and it's possible to see it go either way. Is the return of Kucherov counter-balanced by the unignorable second-half struggles of Victor Hedman, who has played poorly and even been sheltered from top competition by his coach? Can Bobrovsky put together his first strong run of hockey as a $10-million man? Will the Panthers' lack of established defensive depth give way under the Bolts' forecheck? There's a lot of uncertainty here; there's no doubt which team had the better season, but I think Tampa Bay are still well-positioned to come out ahead here. Prediction: Lightning in 7
You may also be interested in: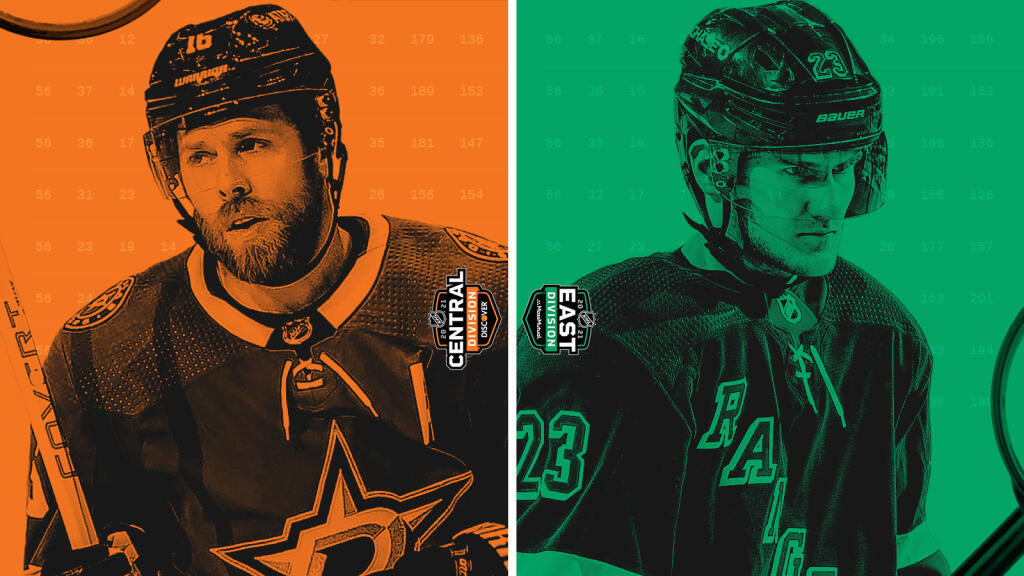 Where it all went wrong for Central and East Division teams outside of the playoff picture
This article is about: