NHL
A review of the Buffalo Sabres 2020-21 season, and where they go from here
Yet another NHL regular season has come and gone, and the Buffalo Sabres find themselves in familiar territory -- the bottom of the standings.
It's been a long time since you could use the words "Sabres" and "good" in the same sentence. In fact, it has been 10 seasons since they last qualified for the playoffs, tying the NHL record shared by the 2000 to 2011 Florida Panthers and the 2006 to 2016 Edmonton Oilers.
Things looked promising for Sabres heading into the 2020/21 NHL season. They secured the biggest fish in free agency in Taylor Hall and they secured a veteran centre in Eric Staal. They had young, budding talents in Rasmus Dahlin and Dylan Cozens who they hoped could take that next step in their development.
They looked like a team that could maybe push for the playoffs with the amount of talent on their roster and if things broke right.
Few saw the absolute tragedy that was the 2020-21 Buffalo Sabres season coming. An 18-game losing streak, six goalies, two head coaches, a neck injury, an ACL/MCL injury, COVID infections, the scratching of a $9-million winger. The past Sabres season had a little bit of everything.
So let's take a look at some of the main things that went wrong with the Buffalo Sabres in 2020/21 and what the outlook is for this team going forward.
---
Taylor Hall and his shooting woes
The Taylor Hall era in Buffalo is one that every party involved would probably like to forget. Ok, maybe not the Boston Bruins who were able to acquire him for pennies on the dollar at the trade deadline. Just give it a few years and a Hall Sabres jersey will be the new Mark Messier Canucks jersey or Teemu Selänne Avalanche jersey.

The first number that jumps off the page when looking at Hall's tenure in Buffalo is his two goals. Just two goals. This is coming from a player who won the Hart Trophy just three seasons prior.
Many are quick to accuse Hall for lacking effort or the will to win while in Buffalo, but there is little evidence to suggest those criticisms resemble reality. Corey Sznajder's manually tracked micro-data shows that he was second on the team in recovered dump-ins per 60 at 5-on-5, something that we would not see from a player who was checked out. Honestly, the roster as a whole was a bit of a disaster and Hall was dragged down by it.
Hall's playmaking in Buffalo remained awesome, Sznajder's data placed him 13th in primary shot assists per 60, third in chance assists per 60, and first in high-danger shot assists per 60. This placed him in the same tier of playmakers as players like Connor McDavid, Leon Draisaitl, Artemi Panarin, and Jonathan Huberdeau.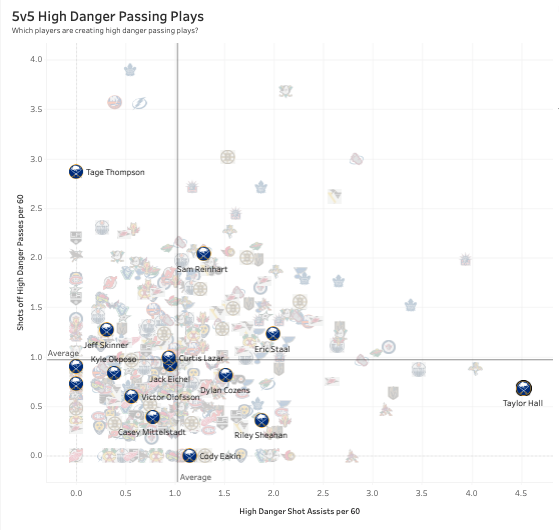 The main reason for Hall's two goals and perceived lack of success? Bad luck marked by a 2.3 percent conversion rate on his shots.
Prior to 2020-21, Hall checked in with a career expected Fenwick shooting percentage of 8.1 percent. Simply put: 8.1 percent of his unblocked shot attempts were expected to result in goals. Hall managed to convert 7.8 percent of his unblocked shot attempts into goals. So he's not an elite finisher by any means and has always been somewhat of a below-average player in that regard.
Hall's time in Buffalo saw him post a 7.7 percent expected Fenwick shooting percentage, so the quality of his shots was pretty much on par with the rest of his career. He managed to convert only 1.5 percent of his unblocked shot attempts into goals. That gave him the fourth-worst differential between his expected Fenwick shooting percentage and his actual Fenwick shooting percentage this season.
The whole Hall debacle in Buffalo is really nobody's fault. The Sabres front office placed a one-year bet on the top free agent available this offseason. Hall delivered some fantastic playmaking and skill, but could not provide any finish. At the end of the day, it was really just
pure unluck that contributed to most of his shortcomings in Buffalo. It's unfortunate, but that's just hockey sometimes.
The submergence of Rasmus Dahlin
There may never have been as much hype surrounding a defenceman prospect as there was with Rasmus Dahlin. Sure, one can certainly make the argument that a player like Victor Hedman was the better prospect, but Dahlin was pulling off moves that a 17-year-old defenseman in a professional setting simply shouldn't be capable of executing. Some even dubbed him as the "McDavid of defencemen" in his draft year.

Producing at a 0.49 point-per-game pace and holding a 60.4 5v5 CF% in the SHL before his 18th birthday, it's easy to see why Dahlin was so lauded. Prospects like him come around once a decade, if that. He seemed like a virtual lock to develop into a top pair, Norris-contending defenceman at some point in his career. Not even the Sabres could mess this up, right?
Well, I think you may be underestimating the negative energy that's enveloped this franchise whole. In 2018-19, Dahlin had an all-around solid rookie season under then-head coach Phil Housley. According to Evolving-Hockey, he led all Sabres defensemen in goals above replacement and posted a solid 50.1 5-on-5 xGF% on a mediocre team. He recorded 44 points in 82 games with 20 of them coming on the man advantage. He would also finish in third place for the Calder Trophy.
Enter head coach Ralph Krueger in 2019-20, and Dahlin's form starts to erode. Krueger preached a "defence first" system where players had to adhere to its principles and could not roam as freely as they once did in Housley's system. This is when Dahlin's form atrophied.
The 2019-20 season saw Dahlin's offensive impacts sustain themselves while his defensive impacts started to plummet. The 2020-21 season saw everything, even his offensive numbers, take a nosedive. His defensive profile somehow worsened. He looked like a prospect that was developing in reverse, and that is certainly not something a team wants to see from a first overall pick.
Sure, you could probably place some of the blame for Dahlin's freefall on Krueger. After all, his game began to fall apart as soon as his system was installed. However, there were so many mistakes made by Dahlin in the defensive zone last season that it would be silly to place all of the blame at the coach's feet.
Maybe the mental strain of the new system completely transformed his game? That's probably unlikely since these mistakes continued under a brand new head coach.
It was clear that Dahlin was playing with much more hesitancy in his game, especially under Krueger's system. He was so afraid to make a mistake that he ended up making the mistake
anyway. Hesitancy when pinching at the blue line, hesitancy when closing gaps, and hesitancy when anticipating the play. That confidence that we saw from the defenseman who excelled in the SHL at 17 years old vanished.
Krueger's system was certainly simplistic, somewhat passive, and was designed to play a low-event style of hockey. The defensemen were not very involved on the attack in this system, which led to Dahlin's transition plays per 60 dropping from 7.2 in 2018/19 to just 3.2 in 2019/20. One could argue that the lack of puck touches and neutral zone involvement could have played a role in the destruction of his confidence.
The 2020-21 season offered us a sample of Dahlin away from this system when Krueger was relieved of his duties as the Buffalo Sabres head coach on March 17 and was replaced by Don Granato. Looking at the splits of Dahlin with both head coaches this season, we saw his 5-on-5 xGF% jump from 44.1 percent to 48.6 percent and this is largely due to an increase in expected offence (2.09 xGF/60 to 2.38 xGF/60). He also managed to surrender less quality against under Granato with his 5v5 xGA/60 dropping from 2.65 to 2.52 despite allowing more shot attempts in the new system.
So Dahlin did show some hope in the second half of the season, but he was largely a major disappointment for the Buffalo Sabres in 2020-21. The defensive mistakes would continue but were less frequent. He finished with the 26th lowest goals above replacement total via Evolving-Hockey, coming in at a brutal -2.6. He certainly did not look the part of an elite defenceman prospect despite just turning 21-years-old.
There is certainly still time left for Rasmus Dahlin to turn his game around and I do believe it is essential to see more minutes of him in a new system before making any sweeping statements about his future. However, it no longer appears that he is a shoe-in to win a Norris someday and this is largely due to his lackluster play at 5v5, particularly in the defensive end. The power play ability is there, the skill is there, the mind is there, but expectations may have to be adjusted if he can't be a consistent net positive player on both ends of the ice. The clock is ticking on Dahlin eventually reaching his draft day potential.
The worst line in hockey
One of the underrated moves that the Sabres made this past off-season that contributed to the team's last-place finish was the signing of Cody Eakin. The front office made the decision to let Johan Larsson, one of the top shutdown defensive centres in the league, walk in free agency where he would sign a two-year, $2.8-million deal with the Arizona Coyotes.

As a replacement for one of the bottom-six center roles, the Buffalo Sabres decided to sign Eakin to a two-year, $4.5-million deal. At the time of that deal, that decision looked... not great: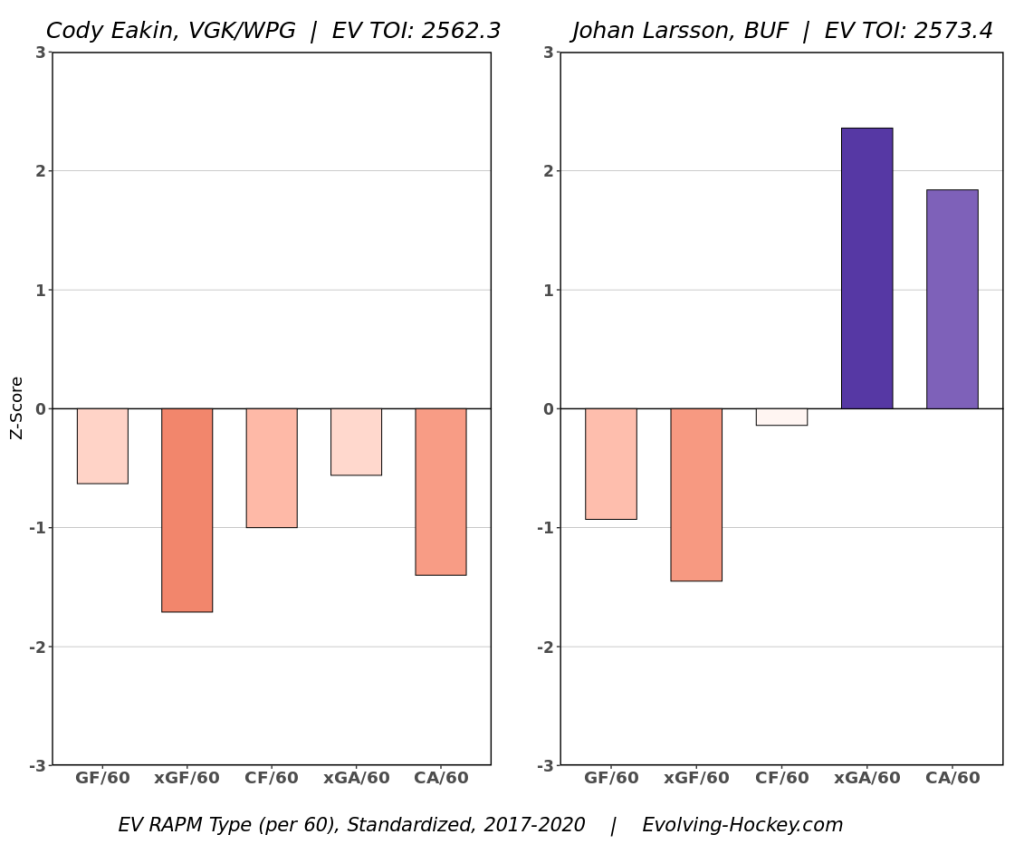 While neither player showed the ability to produce much of anything at 5-on-5 (outside of Eakin's 2018-19 season where he shot 18.3 percent), one of these players was significantly better at defending than the other. Larsson is your prototypical grind-it-down, in-your-face type of forward; one who can win matchups against other teams' top lines. Eakin is just not that.
Among forwards with at least 1,000 minutes of 5v5 ice time in 2018-19 and 2019-20, Larsson had the 16th lowest on-ice xGA/60 (expected goals against per 60). Eakin? You can find him at 216th on that list.
What about the penalty kill? According to the Sabres coaching staff, that is one of the many reasons why Eakin was brought into the fold. Over the previous two seasons, Evolving-Hockey has Eakin at 0.3 shorthanded goals above replacement with Larsson at 0.8. So once again, not an area where Eakin represents an improvement.
At the end of the day, we are just talking about swapping out bottom-six forwards here. It can't make that much of a difference, right?
Well, let's just say Eakin was a part of history in his first season as Buffalo Sabre, as were his linemates. Krueger really leaned on the line of Eakin, Tobias Rieder, and Kyle Okposo during his time in Buffalo. It was one of the few lines that appeared to be safe after the weekly line shuffling.
This line managed to put up the worst 5v5 xGF% of any line with 130 minutes of 5-on-5 ice time since the NHL upgraded their tracking system in 2007-08. They bled chances to the tune of a horrid 29.6 percent xGF%, which narrowly beats out the next lowest 5-on-5 xGF% (29.8%) set by the Darren Helm-Frans Nielsen-Luke Glendening line on the 2019-20 Red Wings.
However, the 2019-20 Red Wings were in the midst of a hardcore rebuild while the 2020/21 Sabres were "trying" to make the playoffs. The Sabres would trot out the Rieder-Eakin-Okposo line for 27 games where they managed to be one of the worst lines in the league both offensively and defensively, seemingly having no purpose in the grand scheme of the lineup.
Krueger praised the line for its "ability to play against any of the top lines of the other team." Just watch this clip of Cody Eakin attempting to defend Mathew Barzal to see how that line of thinking worked out in Buffalo:
Lol pic.twitter.com/sHPmJaCSSI

— Sabremetrix ? (@Sabremetrix) March 5, 2021
While the Rieder-Eakin-Okposo line was just a small, albeit horrible, part of the 2020-21 Sabres, their work offers us a window into the stubbornness behind the bench that led to a last-place finish. And the Eakin signing reveals the troubling player evaluations in the front office after downgrading on a player while paying more money for the privilege.
One plan and one plan only
It is truly a tale as old as time. The Buffalo Sabres going into a season with only one plan (whether it be personnel or system) that must be executed to perfection to drag this franchise out of the bottom of the standings. Typically, these plans have a high probability of failure that is somehow visible to everyone but the Sabres front office.

Let's take it back to the 2018-19 NHL season with the Sabres fresh off trading Ryan O'Reilly for depth pieces and a pick. The team now had a massive gap down the centre of the ice, but it was ok because they had a 19-year-old Casey Mittelstadt ready to ascend to that position. Spoiler alert: That failed miserably. Who would have thought that you could not replace one of the top two-way centres in the league with a teenager that was not even a point-per-game player in the NCAA a season prio? Well, apparently not the Sabres who would go on to finish in 27th place that season.
Despite a new general manager in place for 2020-21, the season was no different than any other Sabres season this past decade. They traded for a 36-year-old Staal to be their No. 2 centre and their de facto No. 1 centre if Jack Eichel happened to get injured (which he did). Staal had managed to be a consistently good hockey player well into his 30s, but NHL players past their mid-30s are like rusty railings -- you can lean on them for now, but they are bound to break apart at any moment.
That is exactly what happened to a 36-year-old Staal who had to learn a new system and was heavily relied upon to lift a mediocre roster out of the basement. He would finish the 2020-21 campaign with the worst goals above replacement number of any player in the league according to Evolving-Hockey. The Sabres solution for a No. 2 centre didn't just fail -- it failed miserably.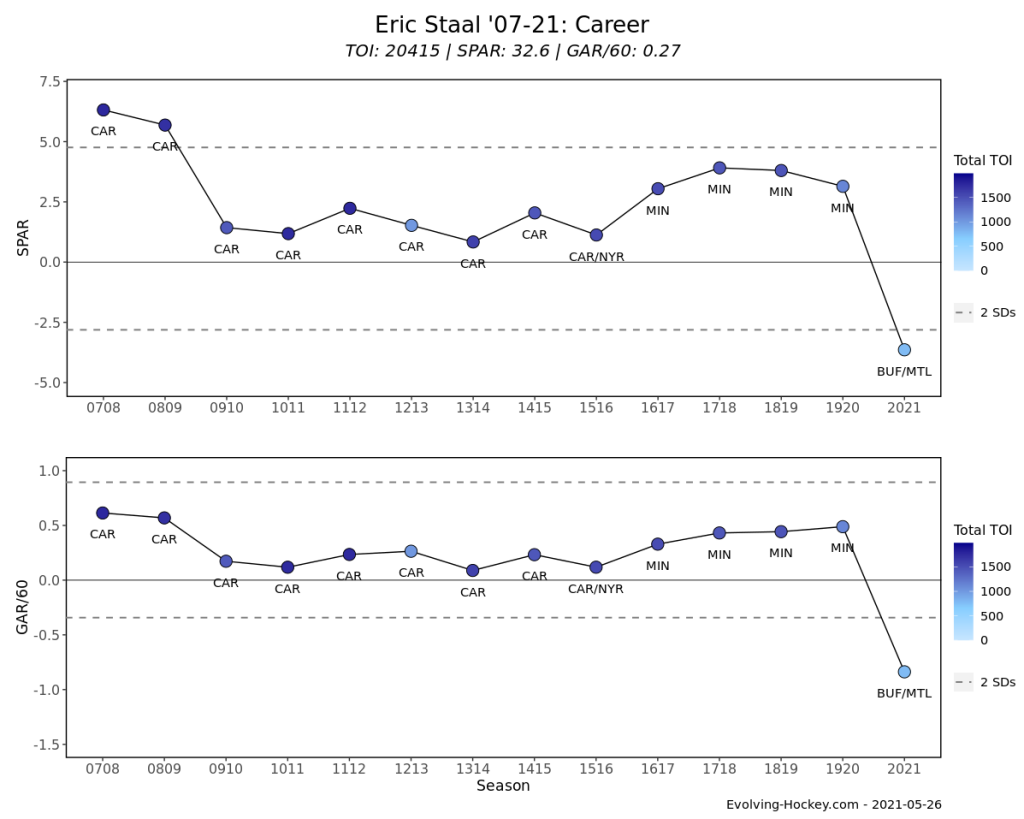 They eventually tried out Sam Reinhart at centre which worked decently, but that came at the expense of moving him off the right wing which is a position where the Sabres already lacked depth. Mittelstadt finally showed that he may have the ability to play down the middle in a third line role as the season progressed. But at the end of the day, these small wins did not make up for that huge whole that was left in the forward group after the departure of O'Reilly, and the rebuild has seemingly stalled since.
Moving past the 2020-21 season
I don't think anyone is envious of the position that Sabres GM Kevyn Adams finds himself mired in presently. The franchise coming off of their fourth last-place finish in the past eight seasons, tension is building around the Eichel situation, and Reinhart is a restricted free agent who is just one season away from unrestricted free agency.

The 2020-21 season was nothing short of a wild one with the shortened schedules and COVID cases, but I still think that enough evidence was collected to reveal that the Buffalo Sabres are a deeply flawed hockey team. There were flaws in the way the team was constructed and there continue to be flaws in the way this team is set to be constructed going forward. Combine a bottom-of-pack roster with a middling prospect pool and you find yourself in NHL purgatory.
We have seen time and time again that this spell in purgatory doesn't have to last for eternity. Franchises like the Carolina Hurricanes and Florida Panthers have built their way out of long playoff droughts with their innovation, whether it be in their scouting departments or through their on-ice tactics. All of these changes took a change of mindset and I challenge the Buffalo Sabres to do the same. Maintaining the status quo has gotten this franchise nowhere, so it's time to get a little creative with it. The worst that can happen has already happened.
Whether the Sabres' plans involved Eichel and Reinhart moving forward is still to be determined. The franchise truly needs to re-think and re-invent all of their processes from the top down. Also, it may not be the worst time to click the reset button on the current roster with two solid draft classes coming up in 2022 and 2023. A fresh-thinking hockey department overseeing a rebuild through to its finish may be the Sabres best plan going forward. The great fans in Buffalo, New York deserve a winner.
You may also be interested in: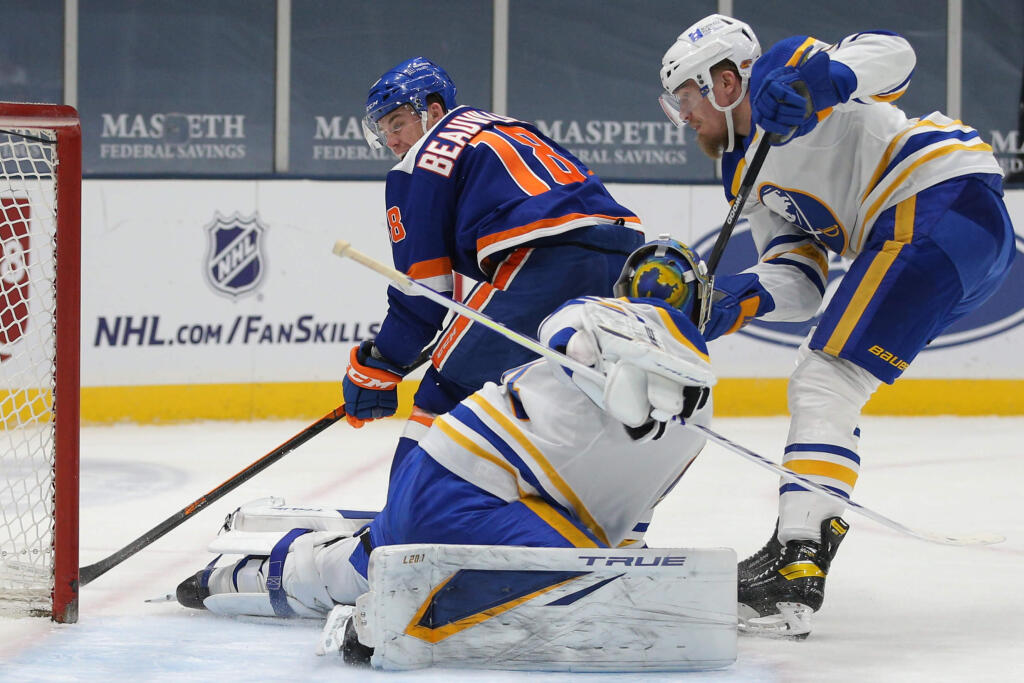 Where do the Buffalo Sabres go from here?
This article is about: