Fantasy Hockey
Fantasy Focus: Failure to launch, centre edition
These are the lean days of fantasy hockey content. The focus is on the playoffs, barbecues, beaches, babes, boards and all sorts of other alliterative words. But you know that won't slow me down. I continue to dig up (hopefully) interesting content to sustain you until next season.

This week, I've decided to shine a light on a few young centres with lofty pedigrees that have failed to take the next step. To elevate their game on the ice enough to warrant the fantasy hype they held or continue to hold.

Without further adieu, let's dive in.
Cody Glass, C - Vegas Golden Knights
What the hell are we going to do with Cody Glass? Vegas' first-ever draft selection - sixth overall back in 2017 has run into a touch of the Matthew McConaughey syndrome. No, he's not still hanging around the local watering holes enjoying the benefit of getting older while the high school girls stay the same age. It's a "Failure to Launch" situation.

At 22 years old, Glass has seen just 67 games of NHL action. That number includes just a single playoff tilt despite the Golden Knights having skated in 60 postseason games since drafting him.
This past season saw the 6-foot-2 centre bounce between the bottom-six, pressbox, taxi squad and the American League. Not exactly what you want to see from the player selected to be your top-line pivot by now. Just think, Vegas was a single draft slot away from having Elias Pettersson fill that role.
Do you ever think about how Elias Pettersson was one measly pick away from being the Golden Knights top line centre?

Because I do and it makes me *shudder*

— /Cam Robinson/ (@Hockey_Robinson) June 5, 2021
So, why exactly has the former Portland Winterhawk superstar failed to live up to expectations so far? Well, first of all, he's the only regular roster player for the Golden Knights who could freely move up and down without requiring waivers so that helped facilitate his bouncing. But if he was providing true value, this would be a moot point. He wasn't providing substantial value despite scoring at a 30-point pace.

Here's what general manager Kelly McCrimmon had to say about Glass upon his demotion to Henderson back in April,
"I just wanted to see him get a little more confidence 5-on-5. So we'd like him to go down there and play games, contribute and be an offensive player, come back and give us some juice when he returns."
The issues at even-strength have plagued Glass from the get-go. This past season, he failed to record a single even-strength goal and just five even-strength assists in his 27 NHL games. He managed just four even-strength goals and two even-strength assists in 39 contests the season before.

As the kids like to say, if you can make it happen at evens, it's going to be hard to draw a regular shift. OK, I made up the saying but I think the kids would like it. It could, well, launch!
But on a serious note, Glass not producing much offense while seeing just 10-12 minutes of even-strength action a night isn't overly surprising. However, it's not like he's skating with bums either. He gets a healthy dose of action next to players who know how to convert - including stints up with the big boys on the top line.
I loathe giving up on players too early. But it's not too often a high pedigree skater like Glass struggles so mightily to first, make the NHL and then to stick and be productive. We keep wanting those guys to figure it out, but…. There are far more Dylan Stromes and Alexander Nylanders than there are Ryan Stromes.
If you've been holding onto Glass all these years, I hate to be the final hammer to swing on this nail, but it seems like the time to cut bait is upon us. The only true hope is that since Vegas lacks explosive centre depth, he'll likely be given a few more cracks at the can…. That is, of course, if Vegas even decides to protect him.
Oh, right. Vegas doesn't need to worry about the expansion draft. That half a billion sure did buy the expansion club a boatload.
---
Barrett Hayton, C - Arizona
For our next focus, let's head to the desert where Barrett Hayton has yet to match up with the production levels of those selected around him.
Unlike Glass, Hayton is just three years removed from being drafted compared to four. That extra season is important for context and expectation. As is the teams they play for. However, like Glass, the 2018 fifth overall selection also had the opportunity to skate alongside talented players but failed to produce at an impactful rate.

Hayton's most common linemates this season were Phil Kessel, Nick Schmaltz, Conor Garland and Clayton Keller. He started 67 percent of his shifts in the offensive end. And yet, he managed just three points in 14 games - all at even-strength. He failed to register a power-play point while seeing over two minutes per game on the man-advantage. Additionally concerning is his shot generation. He managed just 0.7 shots per game this season in the NHL. It's going to be hard to generate much with that level of volume.

The result was a trip back to Tucson of the AHL in February where the results were unnervingly similar. He skated alongside the top offensive weapons for the Roadrunners but failed to generate substantial offence: Just 10 points in 26 contests.
The bright side is he upped his shooting to two shots per game. But that still shouldn't be considered noteworthy. Especially when rookie AHL defender Victor Söderström produced similar numbers while firing more shots on goal.

So what's next?
Honestly? We wait. We wait to see where he fits into the depth chart next season. We wait to see him skate more than nine minutes per night at 5-on-5. We wait to see if he can elevate his shot rates while starting to showcase those deft puck skills and in-your-face rush patterns that made him so demonstrably good as a junior player.
With just 69 professional games under his belt, there is time. But we'll need to see some of those habits and metrics reappear next season to remain buoyed by his long-term upside.

If they don't, well, we'll be comparing him and Glass even further.
---
Robert Thomas, C - St. Louis
It was step-back city for Robert Thomas this season. The soon-to-be 22-year-old had witnessed steady growth in each of his first two seasons with the Blues.
It began with an impressive 33-point rookie performance and an important depth role in St Louis' Stanley Cup run in 2019. He backed that up with 42 points in 66 games during the COVID-shortened 2019-20 campaign. That production was produced almost exclusively at even-strength which was a terrific indication for future success.

That success was not sustained in 2021.
This past season, the 2017 20th overall selection saw his shot rate dip from an already-low 1.3 per game in 2020 to just 0.7 in 2021. It came with over a minute of lost ice time at evens, a failure to record a single power-play point, and just 12 points in 33 games overall. He spent his time bouncing between the bottom three lines without ever really finding a comfortable duo to work with.

But here's the thing, of the three players we've discussed so far today, he's the one with the least hype and pedigree, but he's also the one with who I have the most confidence in returning to form and finding a new level.
This might be because he produced so well in 2019-20, or maybe it's because he has the most secure position on his squad - a squad with a fair amount of talent to work with. But most importantly, is that he remains a very strong defensive player for the Blues. According to Patrick Bacon's model, his even-strength defending sits in the 83rd percentile league-wide.

That's not bad.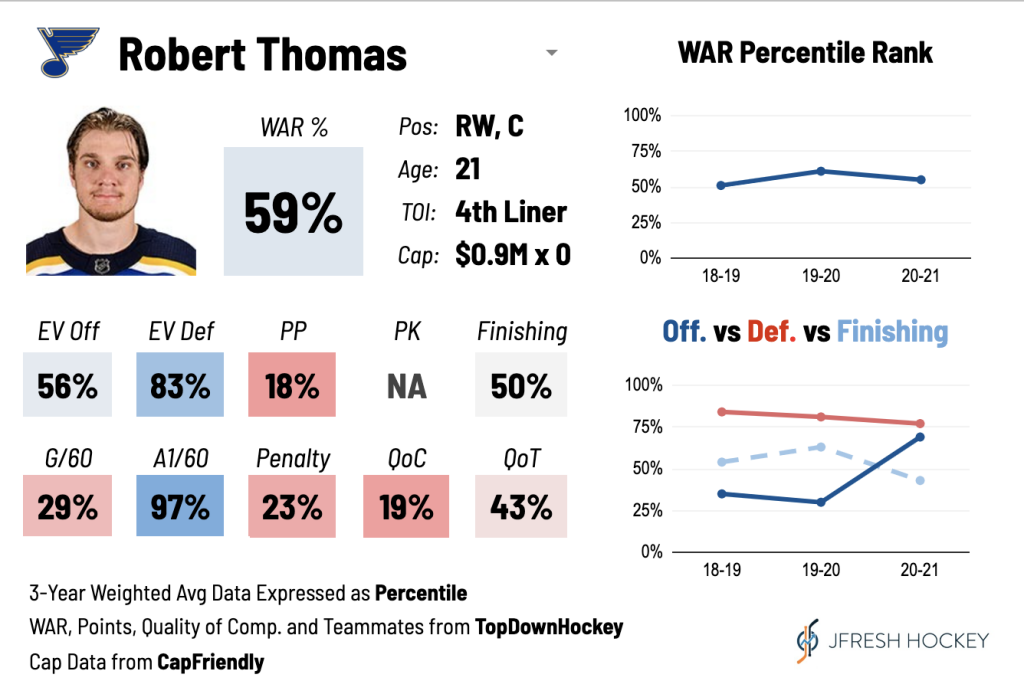 As far as the remaining advanced analytics go, the metrics don't exactly scream that he was a victim of poor puck luck. According to Natural Stat Trick, he was pegged at 2.8 expected goals. He scored three. His IPP was 30 points lower than the year before, so he was definitely low on chiselling some secondary helpers. But it doesn't explain away the entire picture.

It's a gut feeling, but I think this may have been the dip before the spike. He's heading into his fourth season in the league in 2021-22, and as we know, that's prime time for a statistical leap. If he can even get back to the 50-point pace he had in 2019-20, owners will take it. But I want even more. Let's see a jump to 60.
The three points in four playoff games add just a tad more strength to this belief.
You may also be interested in: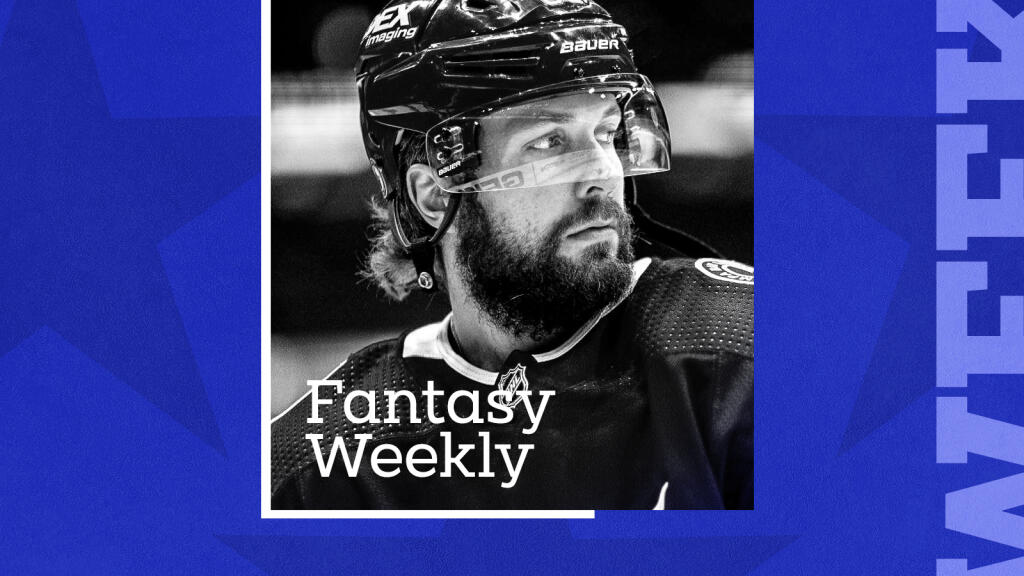 Fantasy Weekly: Kucherov Re-establishing his Dominance, Tyson Barrie: The Grenade Waiting to Blow, Marchessault, Mangiapane, and Toffoli
This article is about: