NHL Entry Draft 2021
Tyler Boucher is going to be a draft day commodity
USNTDP forward Tyler Boucher could land somewhere in the second or third round of the 2021 NHL Entry Draft if everything breaks right.
Every team in the NHL wants a player like this second-generation prospect, and the trick of it is deciding where to take him and what sort of development path lies ahead.
"I see myself as a guy who can play anywhere in the lineup. That's what is kind of special about my game," Boucher stated. "I can play anywhere. I see myself as a top-six guy. I can be a first-line guy, or I can be anywhere in the lineup and still be effective in all spots."
The 2020-21 season was an odd one, and Boucher only played in 14 games. He was a point-per-game player with nine goals.
"Boucher is a power forward. He's big and powerful. He's aggressive and physical. He creates offence by powering himself and pucks to the net. He had a tough draft year with injuries and Covid pauses but when he was healthy and rolling, he was a force. It's getting harder to find guys like him and they're so valuable come playoff time," one NHL scout told EP Rinkside.
Having a famous father in Brian Boucher, who had a terrific NHL career helps, but that's not enough for most teams. The kid has to prove himself.
"I think I'm pretty dangerous around the net. I'm a big body and I score a good amount of goals there but also I think my shot is pretty lethal too. It's pretty hard and heavy and I think I can score from almost anywhere with it," Boucher said with full confidence. "Anywhere tops of the circles, in the slot, in front of the net is where I'm going to be most games."
Brian has a gym in his garage that Tyler was able to use when the ongoing COVID-19 pandemic put the world on pause, his games included.

"I think that first year the kids have to get acclimated to a new competitive environment and a new school. Now you're dealing with the best kids in the country all on one sheet of ice. He's a strong kid who hits hard. I don't know if there are a lot of kids who play like that anymore. He's trying to blend the physicality with playing the game the right way with some speed and skill. I'm proud of him."
When the other team is on the attack, Boucher is there to rub out someone along the wall.
"Yeah, that's kind of my style of play. I play with an edge. That is what might separate me from a lot of the other power forwards. The edge that I play with," said Boucher. "My goal is to separate them from the puck if I see a play where I can hit somebody. I'm going to finish him. I'm going to finish him pretty hard."
Sometimes, the opposition brings the heat, too. Growing up in New Jersey, he is proud to be from the Garden State, but a lot of people have an arsenal of New Jersey-based jokes to wield at his expense.
"All I hear about is the show Jersey Shore. We all brag about where we are from, and I brag about New Jersey," he laughed, clearly unperturbed by it all.
Working around the net is where he's most likely to score as he moves up the ladder. As a big guy, whenever he goes to the net, whether he scores or not, it creates havoc and opens rebound opportunities for his linemates.
"I think as a power forward, you work on certain different moves and because you have to read and react. You can't shy away from taking it hard to the net," Boucher emphasized.
I like Boucher's willingness to be a target of other teams and then dish it out. There are a few players around the NHL who play that way and Boucher is modelling his game after one of those players.

"As I've gotten older, I started watching players I want to play like, and Tom Wilson is a guy I watch a lot," said Boucher. "He gets to move around. He gets on the power play sometimes. That's a pretty good example. You are going to have a target on you, and that's not something I'm going to shy away from."
Boucher has a solid two-way game already, and there are times after making a play that he will bring the puck up the ice. Not sure how much that will happen at the next level but that's something we may see develop when he attends Boston University this fall.

"It's a little bit of both. My wall play is pretty good as a winger. I make a lot of strong plays to break out of the zone. There are a lot of times I am slashing across too on the weak side. I think I've done more this year to show my skating ability. That's something I'm looking to do more in the future is to skate more pucks up and use my size and speed."
This year, Tyler had to overcome some adversity.
"When I was away I just did everything I could to get back, My knee was hurt, now it's fine. I still have an upper body, so I worked on that and the small muscles around my knee. We have great trainers here at the NTDP. I can't thank them enough for what they did for me this year and last," Boucher revealed.
"I think I'm still the same player. I don't think I lost anything. I think I learned to deal with some hard adversity. I went through a lot this year. Probably the hardest year of my life. I learned some good lessons that will help me in the future. If anything, it will make me more hungry and more ready to go."
---

You may also be interested in: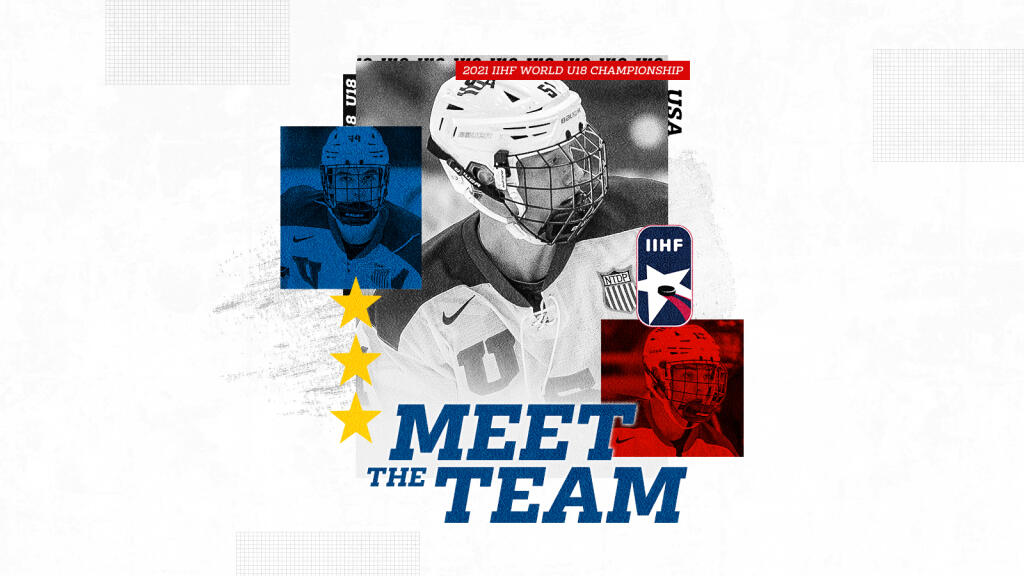 Meet the Team: Team USA's Under-18 World Hockey Championship roster
This article is about: