NHL Entry Draft 2021
Chaz Lucius may surpass pre-draft expectations
Chaz Lucius is a prospect for the 2021 NHL Entry Draft with a tonne of upside.
The job of an NHL scouting staff is to decide what a player is now and what he can be in the future because all young players have room for improvement. Lucius may not be earning the pre-daft buzz that his talent merits, but a good scouting staff should know that he'll get his due with time.
I spoke to one NHL scout who believes in him hook line and sinker -- he's already on board.
"In terms of goal-scoring ability, puck skills, and intelligence, he's amongst the best in this draft," this NHL scout told EP Rinkside. "He will need a couple of years in school to get stronger and faster."
One way that the Grant, Minnesota native generates offence is off of solid defensive plays. That's a very underrated part of how he plies his trade.
"I feel like when I'm playing my game, that defence leads to offence with turnovers turning into chances," Lucius told EP Rinkside. "If I can play better defence and continue to do that, I feel that it just benefits my game in the sense that I can keep going into the offensive zone and maneuvering around guys get the puck and go on the rush with speed."
Some players talk about going to the net and playing in traffic, and others just do it. Lucius is in the latter camp. He's that guy, and that's when he's dangerous. Wait until he gets physically stronger after a few seasons under his belt at the University of Minnesota. This pivot will be a handful.
In a game like the All-American Prospects Game, Lucious wanted to put on a show, and you can't blame him for that. He registered an assist and created a lot of chances for his teammates.
"It's one of those games, you are a little looser. I definitely wasn't going to dump the puck in for sure. I was trying to do some moves, some different things," he admitted. "That was a fun game, and thanks to USA Hockey for putting that on especially last year."
Lucius had to overcome a knee injury to battle his way back this season. If you've ever had a serious knee injury, then you know how difficult rehab can be.
"With the knee, it was different things. For me, it was just coming back and getting acclimated again. The best thing for me to do was continue to play hockey and get in that shape."
That was the physical part. The mental battle can be harder and if you clear that hurdle, it helps you in a way that you didn't imagine.
"I feel like my whole game got better. It was mentally. I feel like I was mentally stronger and mentally tougher," Lucius accentuated. "When I was going through rehab there were a lot of long, hard days. I couldn't even bend my knee for three months. In [physiotherapy], when I could start to move it, it was hard to move and a process, you have to work your way up and that was something I had to tackle each day. Getting the movement back is one of the toughest things to do, to be honest with you.
"I was saying to myself in 3-4 months I want to be playing hockey again. That resonated with me and that's why I kept pushing and going."
Lucius feels playing against college teams gives him an edge over some other talent in the draft since they are facing older players.
"I think for the NTDP and the group as a whole, that's a key thing in what they do just to get you ready for the college game or where you may go after that," Lucius opined. "Overall, those games help a lot. They give you a where you're at when you play the college hockey game, and that's a lot of us next season."
When you watch Lucius, there is a point where he determines he can beat the defence with his skating.
"I'd say when I gain the red line with speed," he said confidently. "Try to attack the defence and try and make a play. That's probably when I feel most comfortable there."
Lucius will be in Michigan with a lot of his teammates for the World Junior Summer Showcase. His box of hats was shipped to his Michigan residence.
"It's a dream when you start hockey to get drafted into the NHL. You want to get drafted as high as you can. It will be a special moment for me," said Lucius." We will all be at World Junior Camp in Michigan. I got the box of hats. I haven't thought about what I'll do with them. Maybe give them away to family or whoever wants the hat."
Minnesota is a state that loves their hockey, and he explains why that is.
"In general, hockey is very competitive in Minnesota. The majority of people I know have played hockey here at some point in their life. With that aspect of it, it's very competitive," Lucius added. "There are a lot of really good players pushing each other to be their best. There are a lot of good hockey players there."
Lucius is checking off a lot of boxes in his hockey career and attending the University of Minnesota is another one.
"Growing up in Minnesota, I always wanted to be a Gopher. To have the opportunity to play at that school is a dream come true. I want to take the opportunity as it comes and be in the moment."
Lucius could be a draft riser. He's cleared all the important hurdles at the right time.
You may also be interested in: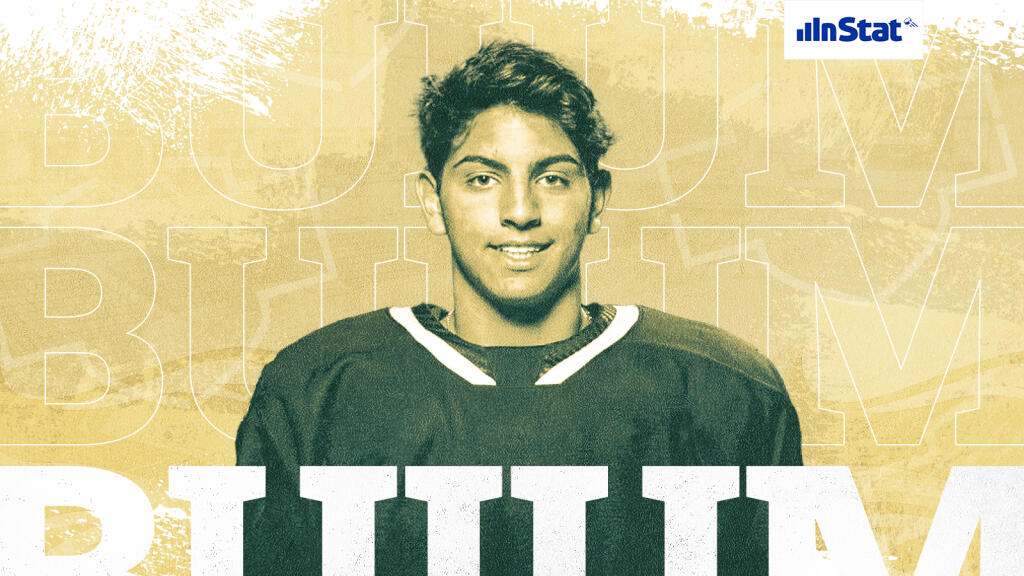 Film Room: Making sense of Shai Buium's high-end skill and miscues
This article is about: