NHL
Philadelphia acquires Ryan Ellis for Philippe Myers and Nolan Patrick; Nashville acquires Cody Glass for Nolan Patrick
In a move few likely saw coming, the Nashville Predators decided to move on from Ryan Ellis, an analytics darling who is also 30-years-old and signed through 2027 at a decent-sized cap hit. In return, they got a perfectly acceptable lower-end defender in Philippe Myers and a reclamation project in 2017 No. 2 pick Nolan Patrick, then flipped the latter to Vegas for another reclamation project, 2017 No. 6 pick Cody Glass.
For the Preds, this feels at least a little bit like kick-starting the rebuild they arguably should have kick-started in the middle of last season, and if Roman Josi publicly disliked the Viktor Arvidsson trade last week, he's going to really dislike losing his long-time partner, without whom he likely would not have come close to winning the Norris Trophy last season as the league's best defender.
In defence of Preds general manager David Poile on this trade, where he certainly did not get equal value, Ellis has played just 84 games over the last two (abbreviated seasons) and his scoring numbers are starting to decline, right around the age at which you'd expect that to happen. Myers, on the other hand, is just 24-years-old, and a big boy at 6-foot-5, so you can perhaps talk yourself into "He hasn't reached his ceiling."
Myers should not be thought of as an Ellis replacement, because this is not the kind of defenceman you use for 23-plus minutes per night. Not really anything close. But he's not without value for a team that seems to be moving on from its glory days of the mid-2010s, maybe just a couple years too late.
For the Flyers, Ellis is a bit of a long-term risk but the kind of guy they can convincingly pair with Ivan Provorov for at least the next few seasons, and have some amount of confidence that he's not going to implode. The move is also shrewd because Ellis is a known quantity in terms of what he brings to the table and, perhaps just as important in a flat-cap league, what he's signed for. They needed defensive help and it looked like they might have to spend big in free agency to find it. They don't have to do that now.
Giving up on Patrick might not be totally desirable for the Flyers organization, but it was necessary. He has a history of health concerns, having missed the entire 2019-20 season with migraines, and after coming back this year, didn't really produce at his pre-migraine level. Golden Knights general manager Kelly McCrimmon has a pre-existing relationship with Patrick through the Brandon Wheat Kings, and perhaps feels as though he can get something out of the player.
As for Glass, this is a reclamation project for Nashville. He came in with a lot of hype but has played just 66 games over the first two seasons of his NHL career, scoring nine goals and 22 points. This is the kind of player you can afford to move on from without much concern, and that's especially true because, if Patrick turns into absolutely anything, he likely provides a bit more value than Glass has already shown.
If not, well, it wasn't going to work out anyway. This isn't a Nick Suzuki situation where they traded him despite the high value to get a difference-maker. This is trading one iffy 22-year-old prospect for another.
You may also be interested in: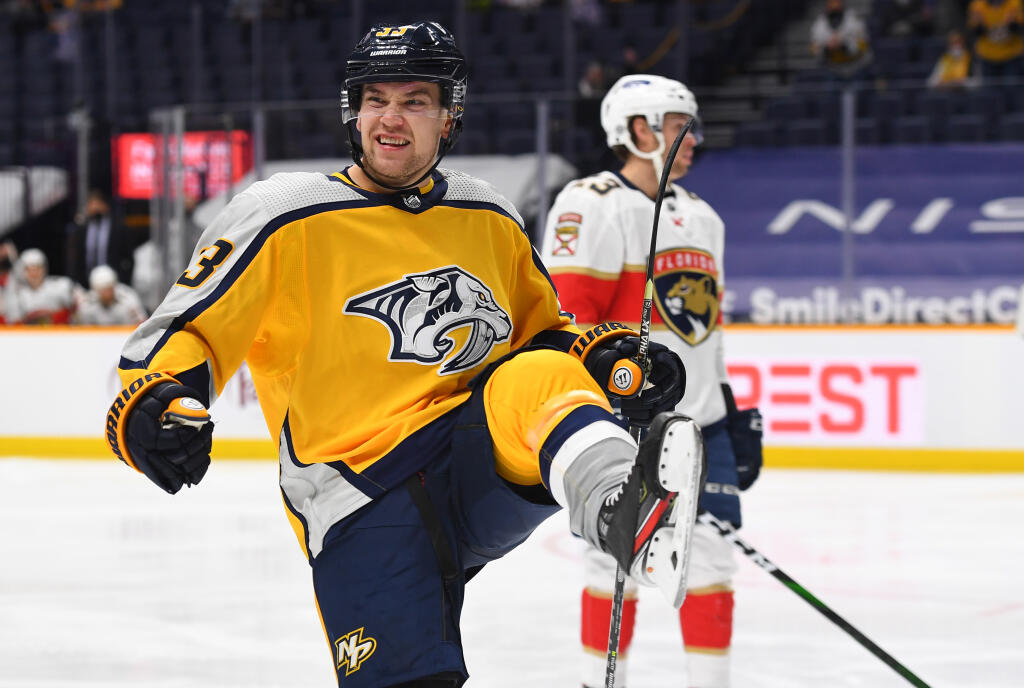 Trade Analysis: The Los Angeles Kings Acquire Viktor Arvidsson from the Nashville Predators
This article is about: