NHL Entry Draft 2021
Matthew Knies gave the Toronto Maple Leafs first-round value
There was no shortage of conversations centred on Matthew Knies' value going into the 2021 NHL Entry Draft. Some were very high on the University of Minnesota commit, rating him as a first-round prospect. Others viewed him as a player fitting of the round that followed.
In the end, everyone knew he was a player, someone every team could benefit from adding to their system. The Toronto Maple Leafs knew that better than anyone, and they made a smart selection when they grabbed Knies 57th overall, in the second round of this year's draft.
At 6-foot-3, 205 pounds, Knies has the measurables of a future NHL pro at left wing. Playing that position means playing strong off the wall, and Knies takes to that part of the job with aplomb. Here is one scout's take on Knies.
"Knies is a power forward with skill. Big, strong, and heavy body. Can play the power game and finesse game. Skates well for size and has a bullet shot. Needs to be more consistent. Struggles when he gets away from the power game and tries to be all finesse."
His three-year career with the Tri-City Storm was a strong one. They play in Nebraska and that experience sat well with Knies.
It was a little different. A smaller town. I kind of lived out on a farm. Got to meet some great people and play with some awesome players," Knies told EP Rinkside. "It was a huge stepping stone in my career. I'm thankful for that, and I'm glad I went there. I'm excited for what's ahead of me at the University of Minnesota."
Seeing a player in successive years allows scouts to see their progression as a player. The 2019-20 and 2020-21 seasons were great years for this prospect on the scoresheet. You're not always going to have a great viewing, but you can find some traits that set players apart. A strength of Knies is his puck possession in the offensive zone.
That showed up stronger in the second half of 2021 for Knies. I saw an uptick in his play and many others did as well.
"The first half of the season was a little chaotic for me. I got COVID, and my games started to get cancelled a bit. I was in quarantine away from my family locked in a room. That's something I couldn't have imagined. Getting out of the room and out on the ice after two weeks was cool.
"I couldn't get into a rhythm in the first half," Knies admitted. "Once the second half came around and games weren't being cancelled, that's when our team took off. Obviously, a disappointing loss in the playoffs. In the second half, I turned it around a lot. I was able to bury my head in my work. Work harder and focus on the players around me making sure they were better. It was a chaotic season, and I think I developed a lot as a leader and a person."
John Lilley, the Leafs former Director of Amateur Scouting, had a lot to say about Knies and why they chose him for their first selection in the 2021 NHL Draft.
"Matthew Knies is a really good player. We valued his game as an underager in the USHL. He had a really strong season. I wouldn't say struggle, but he didn't have the first half that people anticipated but bounced back in the second half and really showed people what he is capable of. Our scouts in the U.S. Scott Bell and Tony Martino liked this kid for two years. Ryan Hardy is an added bonus. He knows the league. It was a staff decision. Where we got him, I know it's a bit of a cliché, but we were surprised he was there."
When the Toronto Maple Leafs drafted Knies with the 57th overall pick, Auston Matthews shot him a text. From one Arizona resident to another and now future teammates. He was so excited and almost at a loss for words.
"An original six team. A player like Auston Matthews on the team. I couldn't be more excited and I'm comfortable with what's to come."
Knies had 87 points in 90 games with Tri-City. 31 of them were goals. He's not going to be a big-time goal scorer, but he is effective around the net, and that sort of thing translates at the next level. There is no substitute for hard work. That can get you to the NHL way before the finesse in your game in many instances.
Knies will make the necessary improvements in Minnesota to get to the next level. His chances are excellent because he already had to overcome a lot of adversity last season. Hard times are good for a young player to experience especially when they come out the other side of it being drafted by a franchise like Toronto. A lot will happen to Knies in the next three to five years as he continues to develop, but nobody could have predicted what happened to him this season, especially two years ago so in a way this winger is already battle-tested, mentally and physically, just to get back out on the ice. That lesson will stick with him for the rest of his career.
You may also be interested in: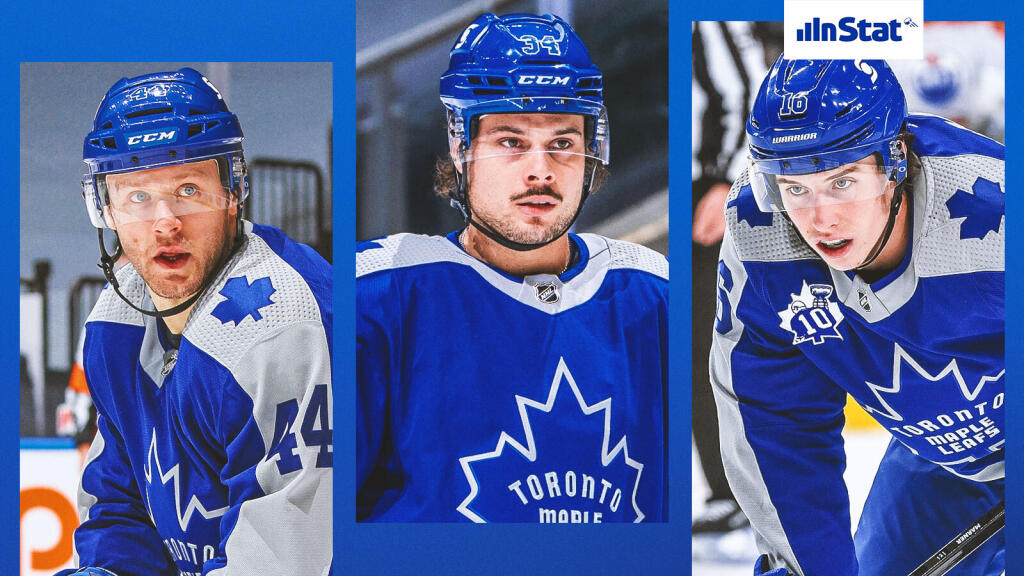 Systems Analysis: An examination of the Toronto Maple Leafs unique, effective approach to creating offence
This article is about: