NHL
"I had begun to lose faith in myself": Filip Gustavsson bounces back from AHL struggles to earn his NHL keep
Going into last season, Filip Gustavsson wasn't sure if he'd be back in North America for the 2021-22 campaign. Since leaving Luleå back in 2018, the now 23-year-old netminder had only seen game time in the AHL or the ECHL, and his patience was beginning to wane.
With Belleville, he'd seen seven other goalkeepers get the nod in the Ottawa Senators crease ahead of him. His stat line from the season before last year wasn't great. An .889 save percentage in 24 games on a Belleville team that was in first place in the AHL's North Division before the pandemic cut their season short only hurt Gustavsson's confidence that much more.
"I had begun to lose faith in myself," Gustavsson admits.
Today, Gustavsson's situation couldn't be any more different. In March, after an impressive start to the season with Belleville, Gustavsson made his NHL debut against the Vancouver Canucks, replacing an injured Joey Daccord in the third period. Gustavsson saved all eight shots he faced during regulation and overtime, ultimately losing in the shootout.
"I just had to go out there and take the chance I was given. Before I faced the first shot, my knees were shaking quite a bit. It almost felt like I'd never been a goalie before," Gustavsson says with a laugh.
"The first shot was a pretty easy one that I could kick out with my pad. Later, I managed to freeze the puck and it was at that time I started to settle a bit. I also saved a breakaway moments after that, which made me feel as comfortable as I could be. It was a pretty good feeling. Things would have been a whole lot different if I had let that first shot in, though. Then I would probably not have been able to save a beach ball."
A few nights later, Gustavsson made his "real" NHL debut starting in Senators 2–1 win over the Calgary Flames saving 35 out of 36 shots in the game. Gustavsson was named First Star of the game.
"It was extra special to go up against Jacob Markström in that game. Then I kind of felt like 'Damn. Here I am, playing against one of the best Swedish goalkeepers that we have.' To see him doing his thing on the other side of the ice... It was kind of surreal".
Gustavsson finished the season with an impressive .933 save percentage in the nine games he played for the Senators. Only two goalkeepers, Jeremy Swayman and Alex Nedeljkovic, both of whom played more games than Gustavsson, posted better numbers than him.
In late August, the 23-year-old Swede signed a new two-year deal with the Senators, the first year being a two way-deal turning into a one way-deal in the second year.
"I'm very pleased with the new deal. To sign a two-year deal feels very good. Over the last couple of months, Ottawa has shown that they believe in me," Gustavsson says.
"I was pretty relaxed during the negotiations. I had a good season, and I knew that there would always be teams interested in me. I said to my agent that I could sit at home and just take it easy, waiting for him to make the best possible deal for me. Honestly, I wouldn't have had any problems waiting another two weeks, either".
The Senators weren't the only team interested in Gustavsson this summer, though. Since his contract with Ottawa expired in July, he had some interest from teams in Europe. Gustavsson admits that he had an open mind to where he could end up playing next season, but also states that a return to Europe wasn't a "real" option.
"If I would have gone back to Europe and played, I would have burnt all my bridges in North America, I think. When Ottawa started to show how much they thought of me, I didn't see why I would go back to play in Europe right now. Now I can play another two years in North America before considering my future again.
"But if Ottawa wouldn't have given me a great deal as they did, I would have explored my options."
Earlier this summer, the Senators made a big showing of confidence in Gustavsson as they protected him in the Expansion Draft over two-time Stanley Cup champion Matt Murray, who had cost the Senators a second-round pick and prospect Jonathan Gruden less than a year prior to the Seattle Kraken Expansion Draft.
A scenario that wouldn't have seemed possible before last season.
"I probably made the decision very hard for them when I played as well as I did. Everything turned out great when they chose to protect me and now, I feel that they believe in me. That gives me a peace of mind going into this coming season."
Over the years, the NHL has had a great share of goaltenders one could categorize as "one-hit wonders". In recent years, both Andrew Hammond and Mike Condon had some good outings between the pipes in Ottawa and received a fair bit of praise, before fading away and disappear from the NHL scene.
Gustavsson is determined to show that his performance last season wasn't a fluke.
"That is important to me. I want to show that last year wasn't a coincidence, that I just rode a wave of luck. My goal for the upcoming season is coming into camp and show that I can be a reliable option for them and start to build my NHL career."
This upcoming season, Gustavsson competes with fellow Swede Anton Forsberg as well as Murray for the spot between the pipes. Both Forsberg and Murray are signed on one-way deals, which makes the situation a bit trickier for the 23-year-old.
"Murray is on a big contract and is the first choice in net. For me, it's all about playing well wherever I play. If Murray gets injured, I must be ready to deliver, regardless of if I'm backing him up in Ottawa or playing games in Belleville.
"In one way it's probably better for me to be playing games with Belleville instead of sitting on the bench in the NHL. I mean, it's great to be in and around the guys in the NHL, but at the same time, it's fun to play games, keeping sharp, building my game up and gain some confidence. But I would of course never say no if Ottawa want's me backing up in the NHL".
With a full 82 game NHL season around the corner, the 23-year-old hopes to play more than the nine games he starred in for the Senators last season. He also wants to experience what an NHL arena packed with screaming fans could be like.
"I'm of course happy with all the games I could get in that league (the NHL), but I obviously want to play more games, especially if there will be a lot of fans in the stands. It's like a drug, coming out from the tunnel and being welcomed by a packed arena and playing against the best players in the world.
"That's the goal I have right now."
You may also be interested in: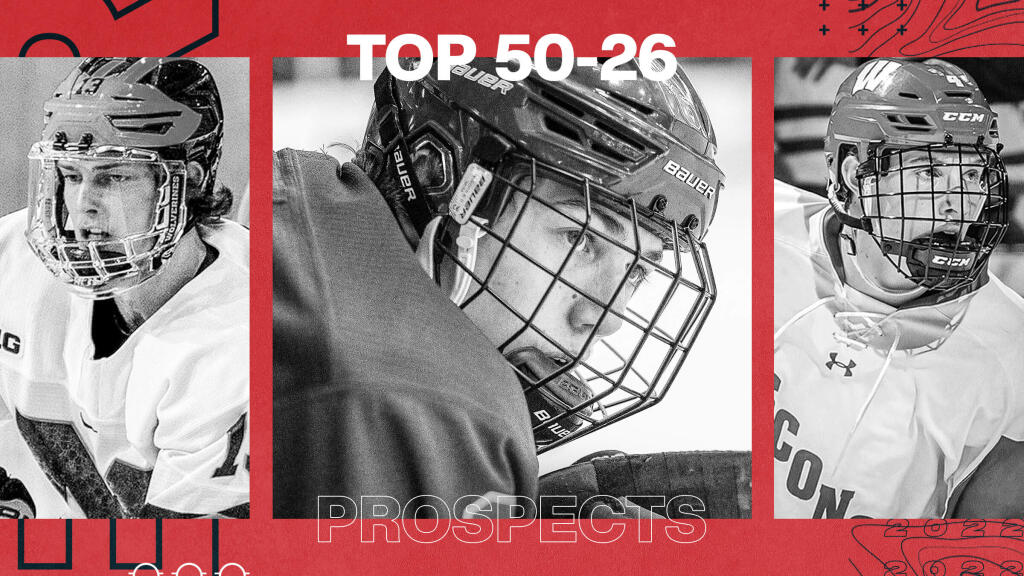 Ranking the NHL's top 100 affiliated prospects in 2021: Skaters 50-26
This article is about: