NHL Prospects
Ranking the NHL's top 100 affiliated prospects in 2021: Skaters 25-1
It's time for the EP Rinkside top affiliated prospects ranking, and this year, we've expanded our scope to include 100 skaters and a handful of honourable mentions. The timing allows us to include players from the 2021 NHL Entry Draft too, providing a valuable measuring stick for your favourite team's newest top prospects.

This stands in stark contrast to last year's countdown, in which we ranked the NHL's 75 best affiliated prospects, in a three-piece article series that concluded mere days before the 2020 NHL Entry Draft. You can read those articles here:
For the most part, particularly in the mid-range of this exercise, you're going to see players from last year's ranking tumble a few spots. As the range of possible career outcomes shrinks, our rankings will reflect that. We've also added two drafts worth of talent to the field since our last ranking series.
You're going to see a handful of different statistical outputs on each player card, including tools grades, pGPS, and Future Value.
The tool grades (skating, shooting, passing, etc.) are pretty straightforward. We grade a player's tools on a 1-to-9 linear scale, with a 5-grade representing a skill that is at about NHL replacement level. For further clarity, I've clipped the section of the EliteProspects 2020 NHL Draft Guide that outlines our rating system.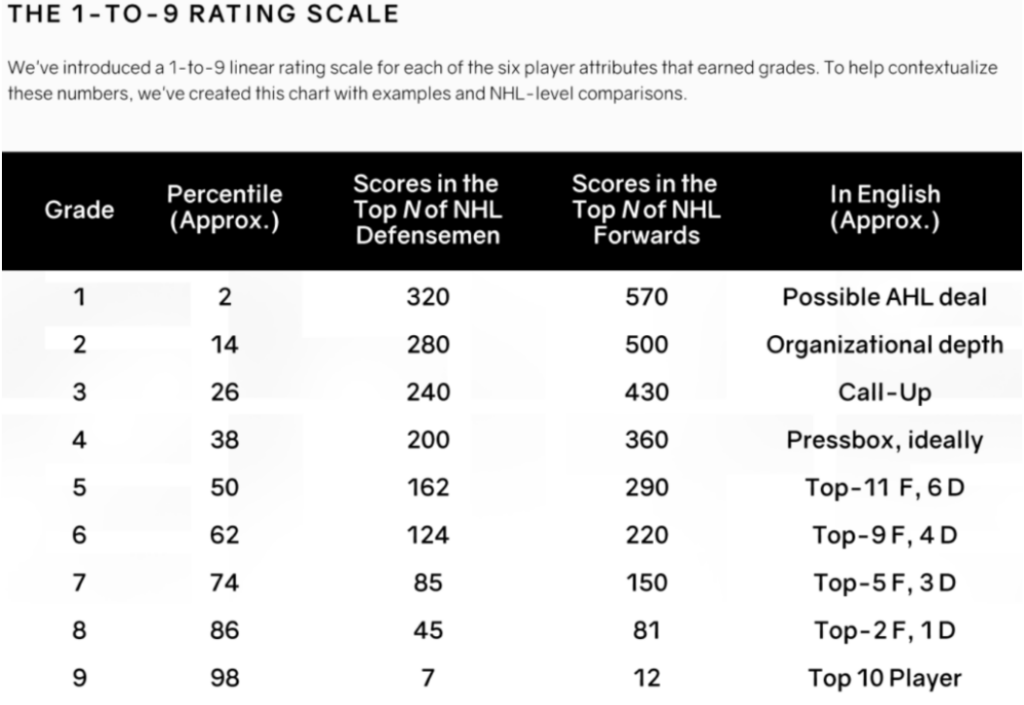 Lastly, there's the pGPS system (prospect Graduation Probabilities System), which informs a player's XLS (Expected Likelihood of Success) and XPR (Expected Points Rate per 82 Games). Jeremy Davis crafted this metric, and we're happy to offer their outputs on each player in our affiliated ranking.
For a thorough, numbers and math-heavy breakdown of the pGPS system, I'd recommend following this link. If you want a simple, easily digestible version; I've got you covered. I've clipped that portion of the Elite Prospects 2021 NHL Draft Guide, too.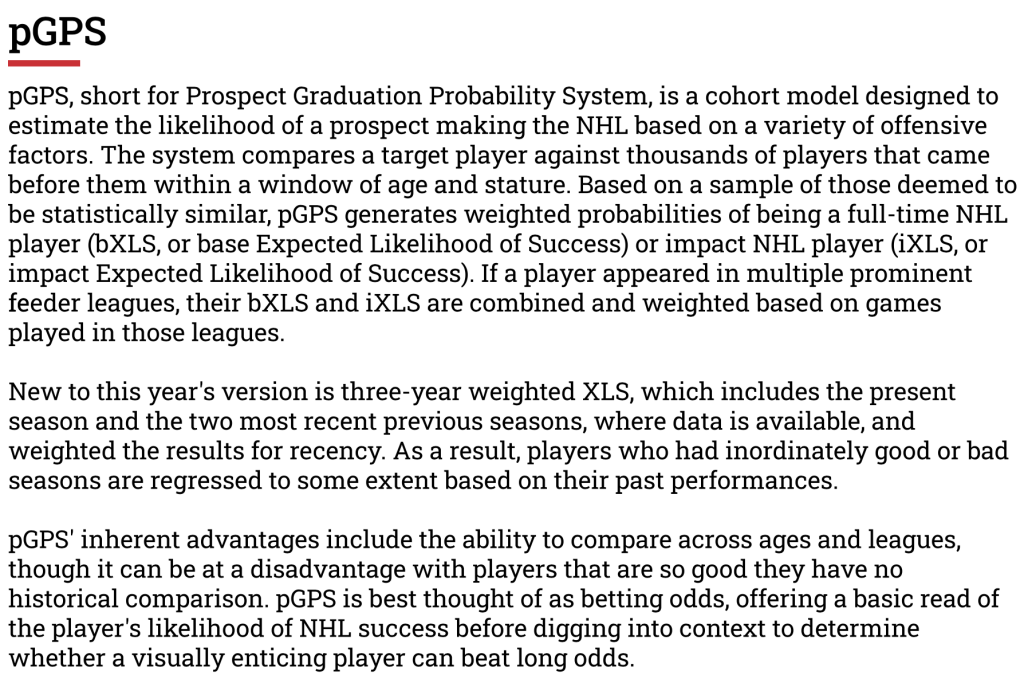 Lastly, you'll want to familiarize yourself with our Future Value metric, a statistical measure that Mitch Brown developed to provide a holistic, one-size-fits-all rating tool for prospects. If you're unfamiliar with the term, it's a tool that we've adopted from the baseball scouting sphere, and modified to our own ends. You can read about it here.
For this exercise, we've determined that a prospect is any player who is eligible for the Calder Trophy, awarded to the NHL's best rookie in a given season.
With that, let's get to it.
Access this article with EP Premium
Go Premium to access this article
Register your Premium-membership at eliteprospects.com to get access to this article and more quality, in-depth coverage at EP Rinkside
This article is about: