NHL
How can the St. Louis Blues re-sign Robert Thomas?
The answer to the question in the headline, how can the St. Louis Blues re-sign RFA Robert Thomas, is a simple one: They'll figure it out.
That's always the answer with RFAs, unless you're the Montreal Canadiens, because teams control these players and their options are highly limited. But with the Blues re-signed Tyler Bozak yesterday, so an already tricky puzzle becomes a potentially unsolvable one.
Which means the follow-up question is, "Alright, they'll figure it out, but uhh, how?"
Bozak might have only signed for $750,000, but he pushed the Blues to within $780,000 or so of the salary cap ceiling. They might be able to stuff someone like Steven Santini back in the minors (no problem, he's really not a full-time NHL defenseman), and perhaps put another forward like MacKenzie MacEachern or Kyle Clifford on waivers.
They could also start the season with Oskar Sundqvist on the long-term injured reserve, but one suspects he wouldn't spend too long on the shelf after his season-ending knee injury last year, so the savings likely wouldn't be significant.
So, suppose Doug Armstrong can find another $1.5-million or so in cap flexibility, even that might not be enough. The fact is that Thomas isn't likely to sign for short money even if it's a one-year deal.
The Athletic reported just a few days ago that Thomas and the Blues are "not close" and "nothing is imminent." Bozak might have been a bit of housekeeping or even brinkmanship to some extent, and the fact that Thomas is working out with teammates in St. Louis can potentially be seen as heartening, but it's clear that Thomas is looking at the Jordan Kyrou deal from earlier this summer — two years, $2.8-million against the cap — as a baseline, not a ceiling.
Thomas has 70 more NHL games played than Kyrou, 40 more points, better underlying numbers and so on (especially defensively). He also played a key role in the Blues' Stanley Cup win, while Kyrou did not. An NHL general manager might say he's also more than a full year younger, coming off a down season plagued by his own health issues (a broken thumb and minor shoulder injury), and does not have arbitration rights, so, therefore, cannot demand the $2.8-million Kyrou did.
But if Ivan Barbashyov is worth $2.25-million to the Blues, well, that would seem to set the floor as well.
This would appear to be needlessly squeezing a player who seems like he'll be a long-term fixture for the organization and, more importantly, still pushing the team right up against the cap even with some brilliant maneuvering. In theory, this also leaves them vulnerable to an offer sheet but it feels like if someone were going to offer one, it would have happened already and the Blues probably would have matched it. And, again, they could figure out the rest later.
Of course, Armstrong is lucky that seemingly no one wants to give Thomas an offer sheet because he could sign for just north of $4.1-million against the cap and only fetch the Blues a second-round pick as compensation. That would really put the Blues in a bind, but again, it's not likely to happen so we can just set it aside.
And, in theory, Thomas is the kind of guy GMs should be bashing each other over the head to offer-sheet: A defensively responsible 22-year-old who can play in the middle or on the wing anywhere in your middle six, already has a Stanley Cup ring and puts up 40-ish points per 82 games. If he had the same track record as a UFA, he'd have received 10 offers on the first day of free agency.
All of this goes without mentioning the elephant in the room around the Blues, which is the Vladimir Tarasenko situation.
It seems as though the team has resigned itself to bringing the player back, however uncomfortable that may be, though perhaps just temporarily. If the Blues trade him without getting back equal value in terms of cap hit, then the whole question of Thomas's compensation goes out the window. They're more than comfortable against the cap even with salary retained.
But of course, the beat goes on with that, with both sides apparently digging in their heels. I wouldn't expect a resolution to the Tarasenko saga before a Thomas contract extension, let alone the start of the season.
It's hard to see Thomas trying to pull a William Nylander and sitting out for months at a time, and so what it all boils down to is that Armstrong is going to have to really put in the work on this one and figure out some cap gymnastics.
Thomas is an excellent middle-six forward who, at 22, still has plenty of room to grow. It would seemingly behoove the Blues to accommodate his wishes even if it means making some crafty transactions or even opting to jettison a perfectly good lower-end player. Forcing him to accept a deal he doesn't want when others in his position really didn't have to do that doesn't lend itself to a strong long-term relationship.
I think about everyone outside the organization that views Thomas's reported demands as being eminently reasonable. After that great summer the Blues had, it's hard to see why they worked themselves into this corner with a guy who should be around for the long haul.
Maybe Armstrong has one last shrewd trick or two up his sleeve to make it all work out in the end, but this contract should have been a no-brainer.
You may also be interested in: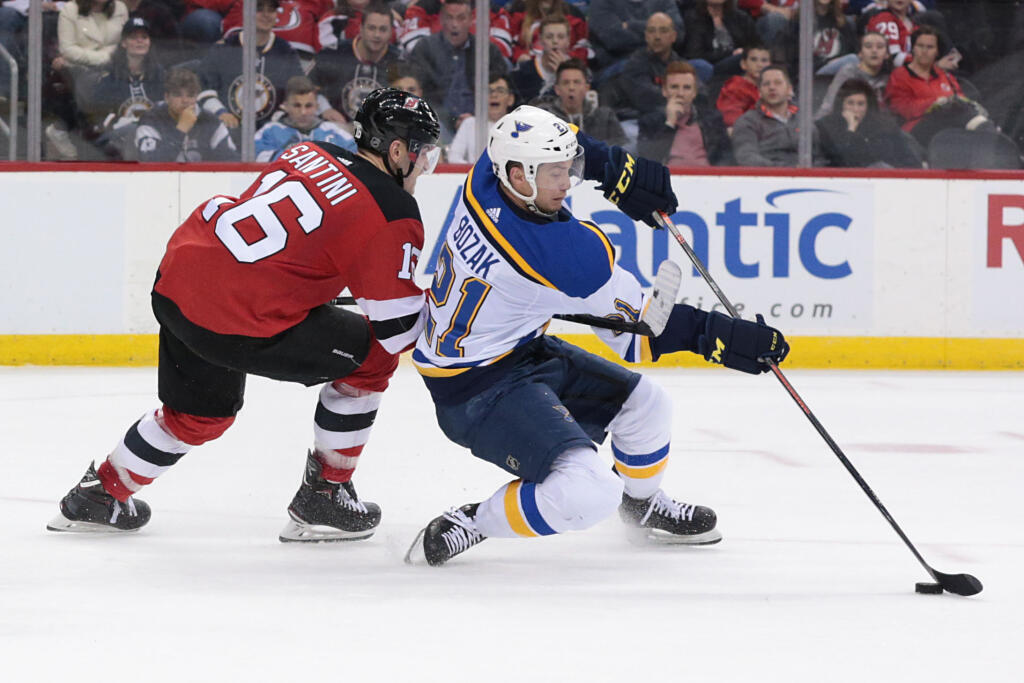 What We Learned: Remaining free agents worth a look on a PTO
This article is about: