NHL
Stan Bowman resigns amid fallout of Chicago Blackhawks sexual assault investigation
The Chicago Blackhawks made public the findings of the independent investigation into 2010 sexual assault allegations conducted by the Jenner & Block law firm Tuesday afternoon. The report confirmed the disturbing allegations that other media reports had published over the summer: a former player reported being sexually assaulted by video coach Brad Aldrich during the 2010 Stanley Cup Playoffs and senior club leadership failed to appropriately respond.
General manager Stan Bowman and senior vice president of hockey operations Al MacIsaac resigned from their roles as a result. Kyle Davidson has been named the interim general manager. The club was also fined $2-million by the NHL, with $1-million going to organizations in Chicago that, "provide counseling and training for, and support and assistance to, survivors of sexual and other forms of abuse."
The Chicago-based Jenner & Block was commissioned by the club to conduct an independent investigation after two lawsuits were filed: one by John Doe 1, alleging Aldrich sexually assaulted him during the spring of 2010, another by a former Michigan high school student that alleged being abused by Aldrich after he resigned from the Blackhawks and took a job at the school.
According to the report, on May 23, 2010, MacIsaac was told there may have been a sexual encounter involving Aldrich and John Doe. MacIsaac asked mental skills coach Jim Gary to speak to John Doe about the incident. Doe told Gary that Aldrich pressured him to have sex with him and Aldrich threatened his career if Doe said no.
Later that night, the Blackhawks clinched a spot in the Stanley Cup Final by completing a sweep of the San Jose Sharks. Following the game, a group of senior club officials comprised of Bowman, former team president John McDonough, former coach Joel Quenneville (now with the Florida Panthers), former executive vice president Jay Blunk and former assistant general manager Kevin Cheveldayoff (now the GM of the Winnipeg Jets) held a meeting to discuss the allegations.
McDonough said he would report the incident to human resources, but no such report occurred until after the Cup Final, which was a violation of the club's human resources policy. Chicago went on to defeat the Philadelphia Flyers in the Stanley Cup Final on June 9, and Aldrich was found to have made an unwanted sexual advance to a 22-year-old Blackhawks intern at a party one day after the series concluded.
McDonagh finally reported the information to HR on June 14. The reason he gave for waiting so long was so the team would not have to deal with a "distraction" during the playoffs. Aldrich was approached by HR and given the option to resign or face an investigation. He chose to resign.
However, he was given a bonus, he was still paid for several months, his name was engraved on the Stanley Cup, he was given a Stanley Cup ring and he was allowed to have a day with the Cup in his hometown.
Aldrich later went on to hold positions with USA Hockey, Miami University (Ohio), Notre Dame and Houghton High School, in his hometown of Houghton, Michigan, where he was alleged to have assaulted a student. Records for all schools were collected and no recommendations from the Blackhawks were found and no blemishes on his background were found either.
In 2013 while in Houghton, Aldrich was arrested and pled guilty to fourth-degree criminal sexual conduct involving a minor. The following year he was sentenced to nine months in jail and five years of probation.
The investigation found no evidence that owner and managing partner Rocky Wirtz, or his son, CEO Danny Wirtz, had any knowledge of the allegations.
"This organization, beginning with the Wirtz family, has been extraordinarily good to my family and to me. That is why today, after discussions with Rocky and Danny, I have decided to step aside," Bowman said in a statement. "The team needs to focus on its future, and my continued participation would be a distraction. I think too much of this organization to let that happen.
"Eleven years ago, while serving in my first year as general manager, I was made aware of potential inappropriate behavior by a then-video coach involving a player. I promptly reported the matter to the then-President and CEO who committed to handling the matter. I learned this year that the inappropriate behavior involved a serious allegation of sexual assault. I relied on the direction of my superior that he would take appropriate action. Looking back, now knowing he did not handle the matter promptly, I regret assuming he would do so.
"I am confident that this organization and the Wirtz family will continue to do what it takes to win championships, with integrity and with the goal of doing what is right."
In a separate statement, the Blackhawks said they have updated their policies and procedures since 2010 in an attempt to prevent abuse. Danny Wirtz said he has directed the team's legal counsel to reach a settlement agreement with John Doe 1 and John Doe 2.
You may also be interested in: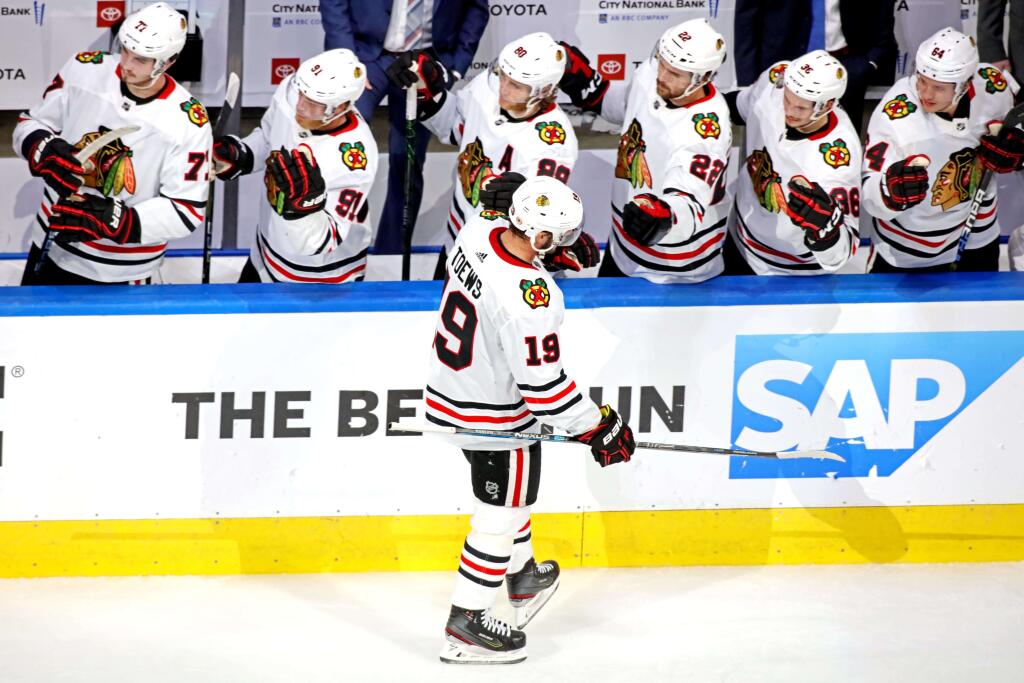 What We Learned: How good could the Blackhawks really be next season?
This article is about: